The sound of the rolling ocean is the backing track to the rhythm of the weekly drum circle that meets on the beach in Cherry Grove an hour before sunset every Wednesday, weather-permitting. 
"We come here for connection, we come here for healing and we come here to set a new vibration and to bring in new energy, because really, at the end of the day most of us have had things to go through… that weren't easy," said Christy Williams, a Little River massage therapist who helped organize the gathering. "But whenever you come here to the drum circle, you can come and be around like-minded people who are bringing their good energy, or bringing just themselves as they are, needing good energy."
The patriarch of the drum circle and several others in the area is Steve Pruett, 54, a music store owner who said he provided the drums for the first first Full Moon Drum Circle event that now meets monthly in Myrtle Beach State Park. He also holds a Thursday drum circle outside his shop, The Different Drum, at Inlet Square Mall and other drum circles at retirement facilities and community centers. 
Williams and her fiancé, Patrick Boulter, first met Pruett during a Police cover band show at Tin Roof in Myrtle Beach, about a year-and-a-half ago, where Williams' brother was performing as Sting, Boulter said. Boulter was a drummer in high school but had never been part of a drum circle before. Williams had, and she wanted to bring one to the North End. 
"I like old drum sets, and [Pruett] actually has a hundred of them," Boulter said. "So we kind of hit it off, and with her being a massage therapist and spiritually being connected, that's what this is kind of about. She's actually taught me a lot. I'm a nuts and bolts guy and she's kind of taught me the spiritual side. I believe in the Lord, but there's a lot more to it." 
Naturally, Pruett provides the drums. Any skill set is welcome. 
"As long as we're in the same tempo, everything goes together," Pruett said. "And somebody who's never done anything can sit there and just 'tap, tap, tap,' that kind of thing. Of course, somebody can really go off and jam, so it's mainly to get people into music, get people into playing, kinda tell 'em they're not expected to perform or anything. Just play along with what you feel, you can't do anything wrong."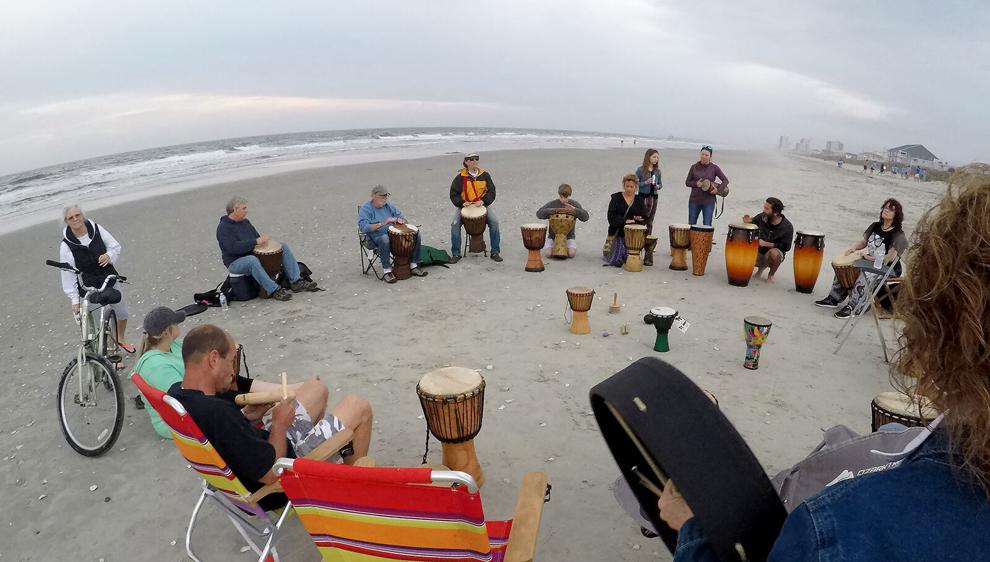 A lifelong drummer who first opened his music shop in 1993, Pruett credits Babatunde Olatunji, who mentored Grateful Dead drummer Mickey Hart, with popularizing the African style of drumming in the U.S.
"He came and played in Myrtle Beach for a weekend through Coastal, and I got to play with him," Pruett added. "He's like the godfather of all this. That's what sort of inspired all this type of gathering. He blessed my store and my drums." 
After meeting Williams and Boulter, Pruett started buying more drums, and that's when the pandemic hit. Boulter said they had one drum circle at his farm in Little River before he suggested moving it to the beach, and for the past year, that's where the group has been meeting. Social distancing is easy and allowed, of course. 
"The police came down a couple times, but they realized we were no harm," Boulter said.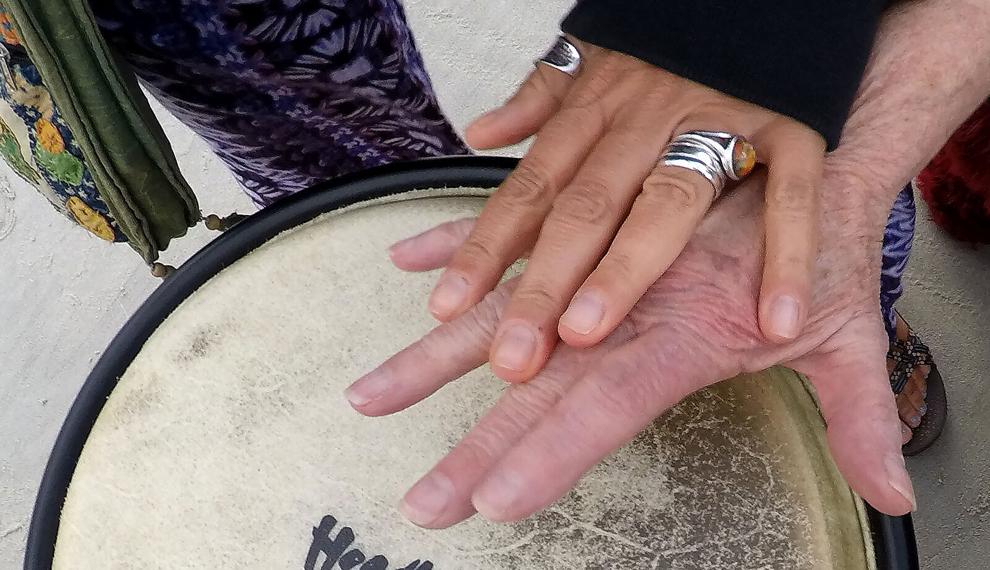 The drum circle meets at 53rd Avenue North in North Myrtle Beach, and any age is welcome. There are a few ground rules: other instruments are discouraged, because they can throw everyone off the beat, and gabbing about politics isn't allowed. 
"We want to be all connected and not divided, so we kinda all let the drumming and the music talk," Pruett said. 
During the most recent circle, there were about a dozen-and-a-half folks spanning the generational spectrum slapping away on the drums, which are as diverse as the people who play them. 
As the summer comes, the regulars anticipate more people will join them. 
"We have a lot of new people showing up, a lot of new faces," said Craig Steven, a friend of Pruett and a producer with SunSlice Records in Myrtle Beach. "It's kinda cool. The community's growing."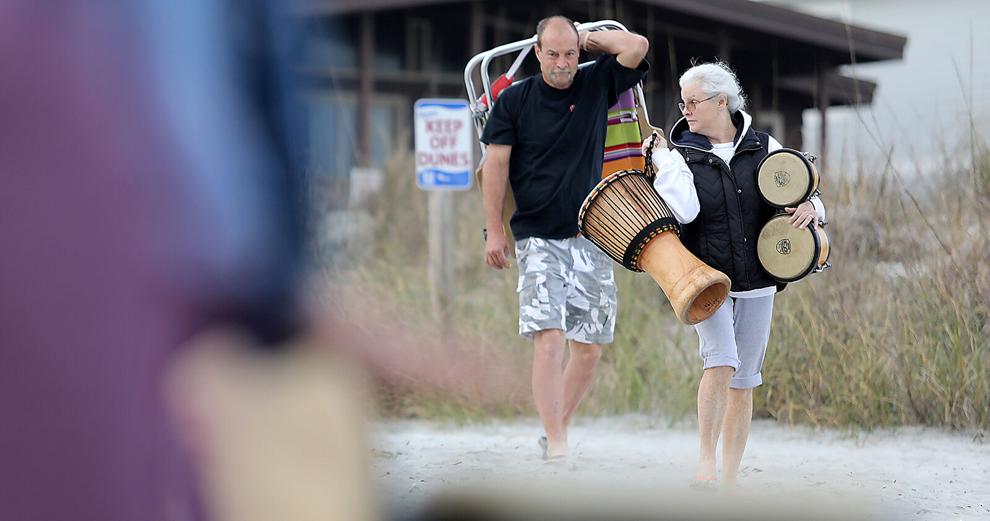 The folks who come all have different specific reasons for joining, but the common conjoining theme is community. 
"It brings a lot of people together just to feel good and relax at the end of the day," Boulter said. "Everybody's got their stress for the day. Well, this is what we're about, relieving stress, and it's a good way to do it." 
The drums are a fine foundation for the group, Williams said, "because anybody can drum. Everybody is at heart, I believe, a dashboard drummer. So it's really easy for people to come in and catch a beat."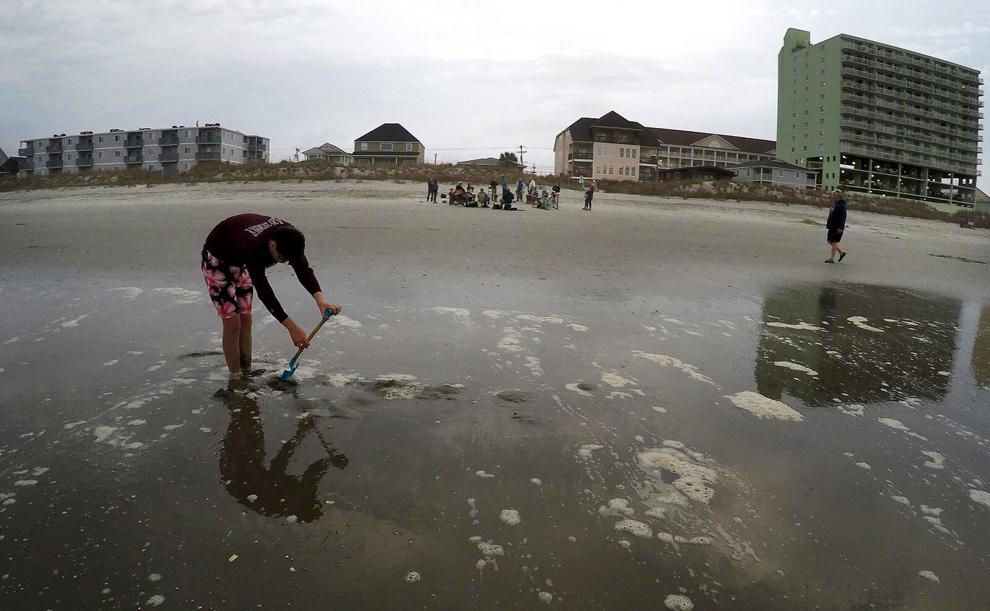 Gloria Alsop said she first started going to drum circles after husband died. She goes to the Cherry Grove drum circle as well as several in North Carolina.
"I started drumming to help with the grieving because I was having a terrible time," Alsop said. "I wasn't eating, I lost 30 pounds. So this rewires my brain. Because what happens, you cannot think of anything else but those drum patterns."
She believes the good energy generated from the drum circles has healing powers.
"This is all energy and what we're doing here is, you can, if you want to, envision a vortex going up and all that positive energy spewing out like a fountain," she added. "A friend of mine had to have some radical surgery, so we all, at different places, we all got together and drummed for her. She said they could feel the energy, so quantum physics is in the air, I think."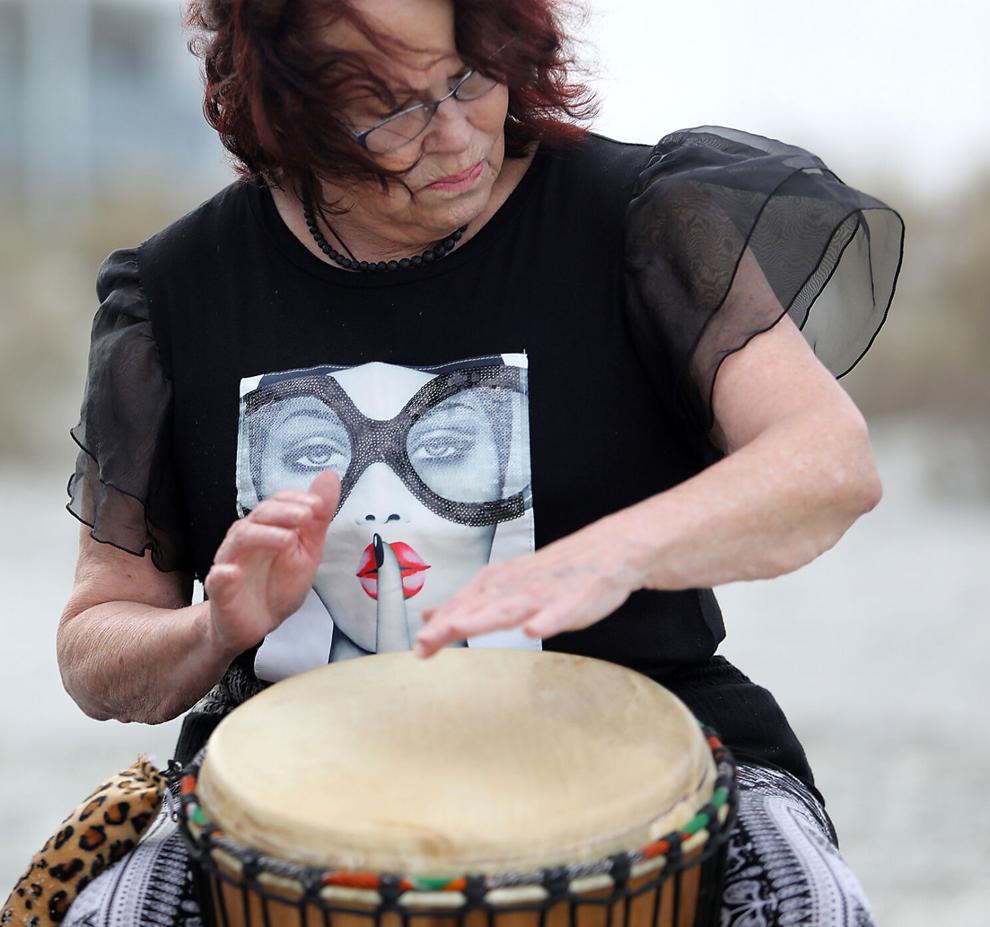 Clarification: Steve Pruett says he provided drums for the first Full Moon Drum Circle event at Myrtle Beach State Park. Cheryl Christopher, who organized the event for around 10 years starting in 2003, said the it was the brainchild of herself and Scott and Lynn Mann.