Since June of 2019, Brown Bethune's and Bill Rippy's 44 & King restaurant and bar has served up southern classics and craft beer. But for the first week of service, the restaurant didn't have a liquor license, and couldn't get one until it agreed to a particular caveat: the South Carolina Department of Revenue won't let the "Southern pub" buy any beer from wholesale distributor Better Brands Inc., owned by Brown Bethune's wife and Myrtle Beach Mayor Brenda Bethune.
"I don't think they saw what was going on, but Better Brands has 70 percent market share," Brown Bethune said. "We are trying to promote South Carolina local crafts to the area. I can't even carry Tidal Creek. I can't carry New South, because they're in Better Brands' distribution. I can't carry Stella Artois, I can't carry Guinness, I can't carry Corona, Michelob, none of that stuff. They have the market down here. And every time you get a local beer that has a little bit of traction, they end up picking it up." 
In South Carolina, the beer business operates on a three-tier system: manufacturers are the first tier; they can only sell to one wholesaler in each wholesaler's distribution territory. Those wholesalers, representing a second tier, then must sell to retailers within the distribution territory specified in their contracts with the manufacturers. Retailers, the final tier, sell to the drinking public, and can't buy or sell beer to each other. And no one with a financial or ownership interest in any one tier can also have a financial or ownership interest in another tier.
Specifically, the law says, "A person or an entity in the beer business on one tier, or a person acting directly or indirectly on his behalf, may not have ownership or financial interest in the beer business operation on another tier."
Bethune said he doesn't have any ownership or financial interest in Better Brands, and neither does his wife have any interest in 44 & King. And they don't have joint banking accounts, he added.
"Bill and I have a separate corporation; Brenda and I file separate tax returns," Brown Bethune said. "I've signed an agreement that I can't own or inherit any of Better Brands. It's not mine. Likewise, she's signed an agreement that she can't inherit any of this. It goes to my daughter."
Furthermore, South Carolina's code of laws doesn't explicitly bar one spouse from owning a business in one tier if the other spouse has an interest in another tier. 
Since neither Brown Bethune nor Brenda Bethune owns any interest in each other's business and have separate financial lives, the 51% owner of 44 & King thought there would be no problem with buying beer from Better Brands, which distributes more than 3,900 products in its distribution area, according to DOR.
"The department of revenue might give you a different answer," said Ken Allen, a liquor attorney from Columbia, S.C. who spoke with direct knowledge of Brown Bethune's situation.
So how does S.C. DOR justify the restriction? 
In a 2013 private ruling about whether or not a brother and sister could each have an ownership in businesses of different tiers, the department said there was enough separation between siblings, as long as neither one of them had an interest in the other's business. 
In that same ruling, the department touched on the relationship between spouses. 
"A question then arises whether 'ownership or financial interest' in beer and wine wholesale or retail businesses includes certain interests by relationship," the department wrote in the ruling. "An obvious example of this type of interest is the interest of the spouse of the owner in fact. The relationship between spouses is such that an interest held in the name of one spouse only is presumed to benefit the other spouse even without a legally enforceable right of possession — in other words, a financial interest even in the absence of an ownership interest."
Bethune said the department didn't tell him about that restriction until the last minute. 
About three weeks before opening, Brown Bethune said a State Law Enforcement Division officer came by to perform the inspection required for all liquor license applicants.
He said the SLED agent was a former Myrtle Beach police officer who asked if he was married to Brenda Bethune; he answered in the affirmative. 
DOR initially denied the application because 44 & King's managers weren't listed on the license application as required by law, Bethune said, adding that he fixed the problem and resubmitted. 
"We got right up to the day of opening and no one said anything about it," Bethune added.
Then on opening day, DOR told him they couldn't give him the license, citing his marriage to the Myrtle Beach mayor and the previous private letter ruling. Bethune had to acquiesce. 
Allen, a former chairman of the South Carolina Alcohol and Beverage Commission before it was disbanded, didn't agree with DOR's interpretation. 
"I'm a lawyer and they have their lawyers, and lawyers often disagree," said Allen. "We disagree. But he had no choice. To get his license and get his restaurant open, he had to agree to those restrictions."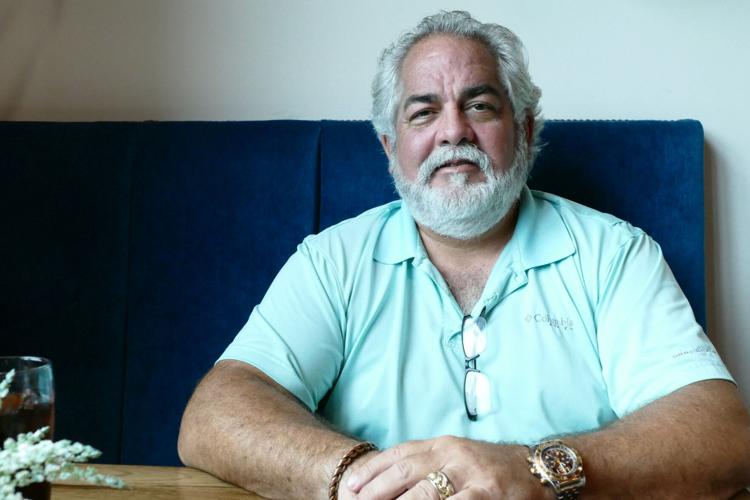 Bethune initially pleaded with DOR to change their ruling. He and Allen both pointed out that the license application doesn't ask about marriage.
"They just caught Brown by surprise at the last minute" Allen said. "That question is not there."
Bethune also called up DOR Director Hartley Powell to plead his case.
"So I asked Hartley, 'If I got divorced, could I have a license?" Bethune said. "He said 'Oh yea.' 'So, if I was living with her, could I have a license, just living in sin?" He said 'yea.' So, I said 'You don't really have a problem with me having a license, you've just got a problem with me being married.'"
DOR did not respond to a request for comment on Bethune's account of the conversation.
Because it would have taken months to appeal DOR's decision, and since he couldn't afford to operate for that long without a liquor license, he accepted the restrictions and opened up the pub.
"After the SCDOR presented the statute and the private letter ruling, the license holder agreed that he would not purchase from Better Brands and Better Brands agreed that it would not sell to the license holder," said Department of Revenue spokesperson Bonnie Swingle in an email. 
Bethune hasn't given up the fight though, and in February, District 28 State Senator Greg Hembree wrote the South Carolina Attorney General's Office to ask for an opinion. 
"In talking with everybody, I've talked with Greg Hembree; he said 'You know, you might want to get the AG to write an opinion about what the ruling was,'" Bethune said. "To get the AG to do that, you have to get a representative to ask the question, to request it. So Greg was nice enough to do that for me." 
Attorney General Alan Wilson's Office received Hembree's letter on February 25. 
In the letter, Hembree asked Wilson specifically whether one spouse who operates a beer retail location has a "financial interest" in the other spouse's wholesale distribution business, if they keep separate financial lives and the distributor sells beer to the spouse's retail location at standard prices. 
While the attorney general's office said the DOR was acting within its authority to set the criteria under which a liquor license may be granted, the opinion also offered an analysis of other cases where South Carolina courts ruled that marriage does not necessarily equate to financial interest. 
Marriage aside, the question of whether Brown or Brenda Bethune have a financial interest in each other's business requires a determination of fact.
"Therefore, we recommend a court, who can resolve any questions of fact, make the determination of whether a particular spouse in fact holds a financial interest in another spouse's ownership interest in a beer distributorship," wrote Assistant Attorney General Cydney Milling in the opinion. 
"If they didn't get married and just lived together, this wouldn't even be a question," Hembree said. "It does seem like an antiquated approach. Back when married people didn't have two jobs, when you didn't have two careers and family, that definition would work back then, but that doesn't really work anymore. It seems very discriminatory." 
If Brown were to bring a legal challenge in South Carolina, he would likely have to file through the South Carolina Administrative Law Court, which handles disputes with state regulatory agencies.
"He's got a very legitimate argument," Hembree said. "If I was his lawyer, I'd advise him to appeal it." 
But the administrative law court isn't the only option. 
"I may go administrative law court and appeal the ruling, or I may go federal and file a discrimination [suit]," Brown Bethune said. "Because really, it comes down to that I'm married."
And that doesn't set well with him. Bethune pointed out that because he and his wife file sperate tax returns, he's given up any tax benefits that come with being married. "We couldn't be any more church and state," he said. 
So far, the mayor's husband said he's spent about $25,000 in attorney fees fighting DOR's decision, and has shouldered all the costs himself because he doesn't want Rippy, his business partner, to bear the burden also. 
And while Bethune said he expects the restaurant to be successful even without buying from Better Brands, he said not having access to so many South Carolina beers is an unfair restriction for a restaurant fighting for customers in the era of COVID-19. 
 "As a lawyer and a lawmaker, it's a very interesting question," Hembree said. "I'm glad that Brown is considering challenging.  A lot of people wouldn't, because it's just too expensive. You really need to question regulators sometimes to make sure they stay within the boundaries of what they're supposed to do."