Some holiday traditions are made for social distancing.
Although COVID-19 has canceled many seasonal events, driving past houses lit up in Griswoldian glory still allows families to enjoy annual pastime.
"[The lights] will relax you," said David Maxwell, who treats visitors with an elaborate light show set to music at his home at 7678 Browns Way Shortcut Road, which is about 15 minutes outside Conway.
Maxwell has been stringing up lights for "decades," but he turned things up a notch a few years ago.
"These lights are set up by a controller, a software program called xLights," Maxwell said. "It requires programming, it requires a bunch of controllers for stuff out there."
This is his fifth year using the software program. Those parked outside his home can turn their radio to 95.3 FM and watch the lights sync up perfectly with the music. Not only that, on top of Maxwell's garage there are four little light-up Christmas trees that mimic the lyrics to the select songs on the radio.
Maxwell and his wife Michele begin their preparations for the holiday season in October, so that the lights were ready to go by Thanksgiving.
It takes about 10 hours to have one minute of a song set up properly, which is why he works year-round on making sure everything is in order.
"Each item has to be individually set up and programmed to do what I want it to do," Maxwell said.
All this planning and set up can become overwhelming but Maxwell says that seeing the look on people's faces as they show up makes it all worth it.
"When you're working on it and you run into problems and stuff, you're beating your head up against the wall, you say you're not going to do it again, and then the people show up," he said. "The little kids send you a note, then you turn around and say, 'Yeah, that was well worth it.' One little note is all it takes."
This year, Maxwell's house is one stop on myhorrynews.com's "Horry County Christmas Lights Trail," the media company's effort to document some of the best light displays at area homes. The idea is to give people a list of local houses they can drive by to enjoy a safe, fun Christmas scene. If you know of a home that should be on this list, please email editor Charles Perry at charles.perry@myhorrynews.com. This trail is separate from the Swift Services Christmas lights contest (also on myhorrynews.com), although homeowners may participate in both the trail and the contest. Here are some other stories from local lights enthusiasts. The growing list of addresses will remain on myhorrynews.com through Christmas Day.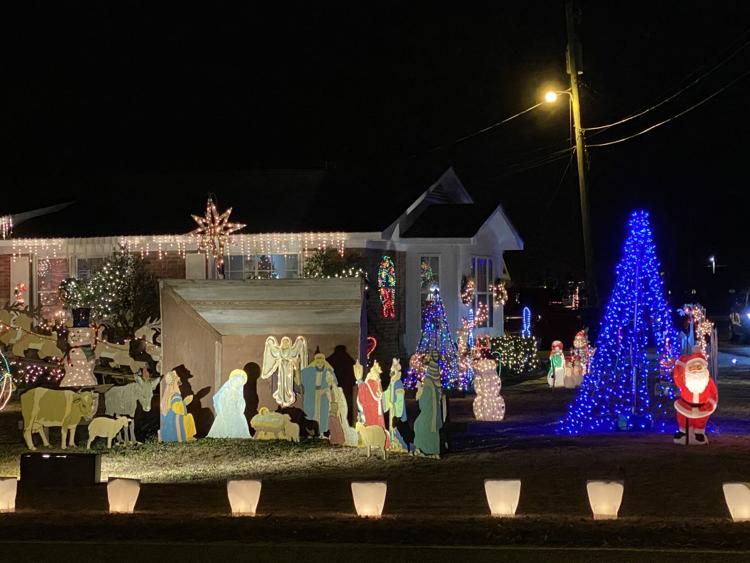 Sessions Street, Conway
Some festive folks in Conway have been lighting up their neighborhood for nearly 50 years.
The Skipper and Cummings families on Sessions Street, right across from North Conway Baptist Church, have an elaborate display with gleaming lights, along with a manger scene and inflatable snowmen.
Aside from his time in the U.S. Air Force, Eugene Skipper has lived in Conway his entire life. After building the home he lives in now at 1607 Sessions St. from 1973 to 1974, he and his family put out Christmas lights. The tradition has continued ever since.
"It almost feels like something we have to do," Skipper said. "You enjoy doing it."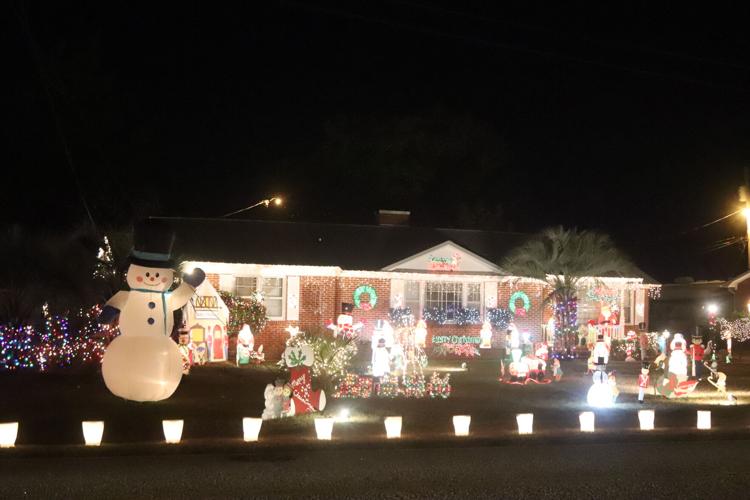 Eugene's son Randy added that he has noticed generations of Christmas lights viewers come by their home year after year.
"Kids come by and they grow up to be adults and they bring their kids by," Randy Skipper said.
The homes of 1609 and 1611 Sessions St. are home to their in-laws, who also have their lawns and home covered snowmen, Santas and variety of gleaming characters.
Seeing people drive by makes it feel "like old times" — before COVID-19.
"It's good to see everyone enjoying themselves," Randy Skipper said.
'The Christmas House in Berkshire'
Maureen and Richard Butwin remember the year a little boy touched every blown-up Christmas decoration on their Berkshire Forest lawn.
That's what the Butwins want their daughters, 10-year-old Helena and 8-year-old Elin, to remember.
For years, the family has offered hot chocolate to onlookers in their cars, out and about looking at neighborhood houses, as part of a fundraiser.
Some people offer a donation, some don't, and either is fine with the Butwins.
The first few years, the donations were given to Hope House of Myrtle Beach, a Myrtle Beach High School effort, to honor Barbara Butwin's mother.
"That was near and dear to her heart because all my siblings and I graduated from Myrtle Beach High School," Barbara Butwin said.
Now, with both of their children attending River Oaks Elementary School, the donations go to that school.
This year, the fundraiser was on Saturday, Dec. 12 and about $50 was raised. The community knew about it because of Butwin's Facebook page and the community's Facebook page.
"It goes where the administration needs it the most whether it's for class trips or lunches or if they know of a family in need," Butwin said.
The decorations at 816 McGarvey Court stay up until the Catholic holiday of Epiphany in early January.
Handing out the hot chocolate has been a tradition for the family, and Barbara Butwin said her girls "needed some normalcy" this year because of all the traditions that have been canceled because of COVID-19.
Most of the homes in the Berkshire Forest cul-de-sac where the Butwins live are decorated, so it's a fun stopping point for carloads.
The Butwin lawn is decorated with traditional white icicle lights and Disney display as well as two manger scenes and new this year, a Star Wars display.
"We're known as 'the Christmas house in Berkshire,'" Butwin said. "The adults sit back and relax, but the children and their friends give out the hot chocolate."
A red train
As soon as she came to America, Alda Amorim started making up for decorations not being part of the Christmas tradition in her native Portugal.
Their daughter Catarina Amorim and her three children, 11, 9 and 21-months, live with Alda and Jose Amorim, and their decorations create a child's wonderland.
The Holiday Express red train, Santa and his sleigh on the roof, several snowmen and sleds filled with gifts are pure eye candy for the younger crowd.
But the extensive Christmas village and manger scene attract the adults who bring the little ones.
Catarina Amorim said her mother adds a Christmas tree and a snowman for each grandchild, and that each year, the display increases.
As soon as Alda Amorim starts decorating, people start snapping pictures.
"I tell them to wait because I'm not done, but they say it's already pretty," she said.
Amorim said she's decorated for Christmas each of the 41 years she's been in this country, whether it was in New York, where she used to live, or in The Farm where the family has lived for a couple years.
"She puts it all up at one time," Catarina Amorim said about her mother. "She goes to the sales after Christmas and gets something new."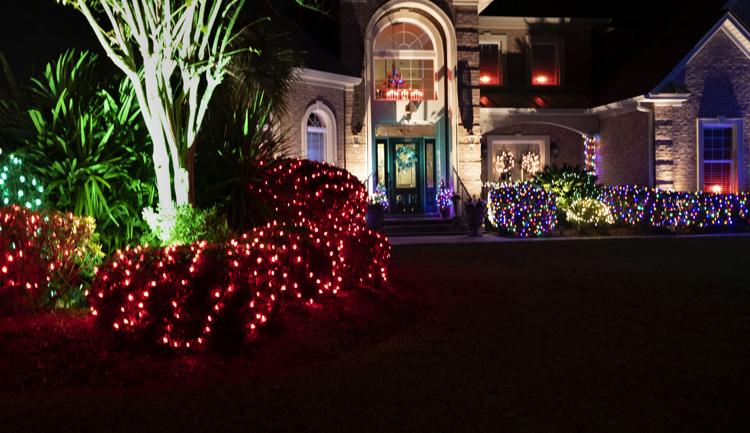 Fun in Carolina Forest
What do a golf ball retriever and a two-pronged meat fork have to do with Richard and Barbara Galante's gorgeous Christmas decorations?
That's how they get the lights onto their palm trees.
"I get a golf ball retriever and tape a large two-pronged meat fork to it and extend it out," he said. "You can walk around the palm tree and using the golf ball retriever and the fork, you can put the lights on easily as you work your way down."
It's a two-person job they do together, but Barbara Galante does most of the closer-to-the-ground lights, a five or six-day job.
It takes that long because every tree, palm and otherwise, every bush and every shrub in the Galante yard, all the way around the house, is decorated with white, green, blue or red lights.
"We've been doing lights around our house for the 48 years we've been married," she said, adding that as the years went on, they added more and more lights.
"Hopefully, there aren't any more trees or bushes or shrubs."
These folks are serious about their Christmas activities, decorations included. Barbara Galante even dressed as Santa in the Plantation Lakes' boat parade.
The view of the Plantation Lakes home is even picturesque from Shoreward Drive, from across the lake. The sides and back of the Galante home are as shiny as the front, and it's mostly LED lights that are used.
What's the plan for next year?
"We can probably outline the sidewalk and driveway next year," Barbara Galante said.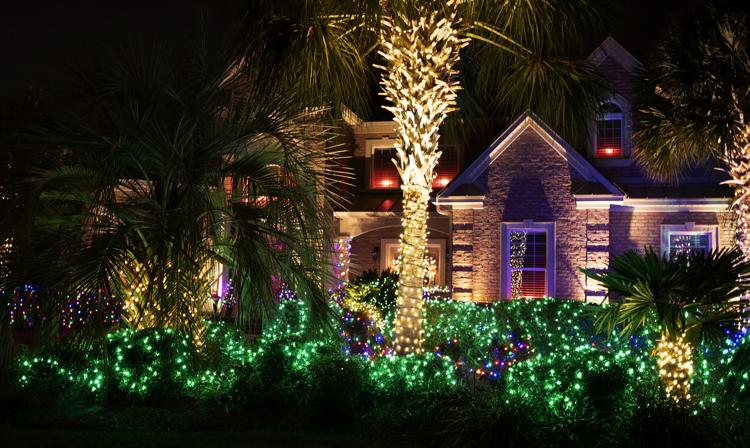 Other addresses on the trail:
576 Circle Drive, Myrtle Beach
895 Hemingway Road, Loris
710 Luttie Road, Myrtle Beach (Socastee area off S.C. 707)
2778 Joyner Swamp Road, Galivants Ferry
5809 Oakbury Court, Myrtle Beach
3841 Camden Drive, Myrtle Beach
224 Hamilton Way, Conway
600 Calypso Drive, Myrtle Beach
3480 Poplar Church Road, Aynor
664 Johnson Ave., Myrtle Beach
522 Crusade Circle, Conway