Pat Anderson felt "liberated" when South Carolina allowed her back into to her favorite watering hole, Bar 19 Twelve in North Myrtle Beach. 
The bar opened around Christmas, but has remained closed since mid-March, thanks to Gov. Henry McMaster's executive order closing all bars and restaurants to dine-in customers as part of a state-wide strategy to slow the spread of COVID-19. 
On Monday, Anderson and her friend Wally Cumberland stepped back inside to have a drink for the first time in more than two months. Monday was the first day that dine-in customers were allowed since McMaster's order. 
"My husband and I have been married 45 years, and we have spent more time together in the last couple of weeks than we have in 45 years," Anderson said, adding that she wasn't scared of catching the new disease. 
"I've been through a lot, and I've fought through it, so no, it doesn't scare me that much."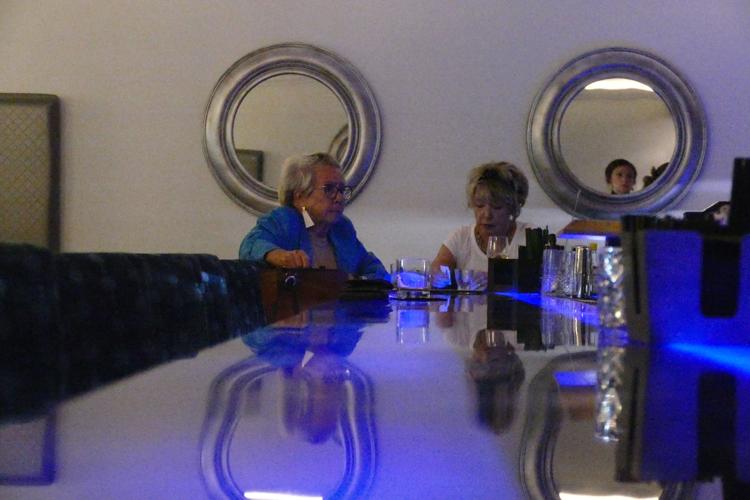 Anderson and Cumberland live in Calabash, North Carolina, where bars and restaurants haven't opened yet. They were regulars at Midtown Bistro next door before the bar opened. Both the bar and Midtown Bistro are owned by restauranteur Jeff Martini.
"I drive all the way down here to have a drink with this establishment, because it's classy, it's nice, it's clean," said Cumberland, a New York native who remembers hiding in bunkers as a child during WWII in case of a feared German bomb.
"You've got to live your life," she said. "You can't just hide. You've got to be careful, but you have to live your life. We're only here for a short time."
But, Cumberland added, COVID-19 is scary also. "Whoever thought you couldn't have no toilet paper?"
Martini and other restaurants hoping to host dine-in customers should space their tables at least six feet apart, max out their customers at 50-percent capcity and follow a rigorous cleaning schedule, according to re-opening guidelines published by the South Carolina Restaurant and Lodging Association. Condiments and salt and pepper should no longer be kept at tables.
Restaurants have been permitted to offer takeout during the duration of McMaster's order, and last week they were allowed to offer outdoor seating. 
But business has taken a hit. Martini said that the sales he did on Mother's Day were only 25 percent of what he did at Midtown Bistro on Mother's Day last year. 
It's especially hard on his new venture, Bar 19 Twelve. Martini said it usually takes years to recoup on an investment in a new restaurant.
"We put a lot of money in here, I didn't expect it to take turn like that," Martini said. "This is probably gonna set us back another year, to two years." 
Down the road at Brisket, Ron King was having a drink at the bar, a red banana tied around his neck. 
The retirement consultant splits his time between North Myrtle Beach and his home state of Connecticut, which had more than 33,000 reported cases of COVID-19 as of Sunday. South Carolina had less than 8,000 lab-confirmed cases that day. 
"I came down here a few weeks ago and sort of self-quarantined for a while," King said. "Up there everything is so tight; mask on everywhere you go. And here, it's a lot looser. I have this weird dilemma. I feel guilty for being here, sitting at a bar when I haven't done that in six or seven weeks. But it's also like 'Thank God I can do this again.'"
Brisket owner Shane Whitehead said business has taken a hit. To reopen, he said, the restaurant is adopting more rigorous cleaning standards than the SCRLA guidelines recommend. 
But the silver lining is his outdoor seating. He set up the area before the pandemic, but it didn't get much use. Now, people who want to social distance themselves can sit outside even though indoor dining is now an option.
"We're glad it's going well outside, because it wasn't being utilized and we had done a lot of work to make it nice out there and nobody was using it," he added. 
At the Mediterranean Bistro in Myrtle Beach, Ted and Anne Pappayliou from Southport, North Carolina were "pleasantly surprised" to find it open. The couple was celebrating their 34thWedding Anniversary and had planned to just get takeout.
"We didn't even know that they were open," Ted Pappayliou said. "It's one of our favorite places and we wanted to support them. We found out we could sit down and eat. It's great."
Mediterranean Bistro is usually filled with people, but it was noticeably empty Monday evening. 
"These tables are always filled up," said Anne Pappayliou. "We'll come in and sometimes we'll have to sit at a big table and it's just the two of us, because there's no place else to sit. What we like here is that the food is so good, consistently good. And it's Greek food and we're Greek." 
Owner Dena Paparis said she took out six of her 12 tables to reopen. Hand sanitizer is readily available within the restaurant, and servers all wear gloves. They are allowed to wear a mask if they want to. 
"I don't think most of the people know that we're open," Paparis said. "I was shut down for one whole month." 
She reopened a week ago when McMaster allowed outdoor dining, limiting her customers to takeout or one of two small tables outside. 
Despite losing lots of money from the shutdown, Paparis isn't mad about it. 
"They're doing what they need to do," she added. "I think they should do what they need to do, because we don't want any more sick. It's already 80,000 people died in the United States. I'm trying to be careful."