Myrtle Beach's Boardwalk looked just as it does on any other sunny summer weekend with high temperatures in the low 80s: hundreds of people spread out on the sand, cars packing the boulevard and sunburned beach-goers grabbing some food at any of the sea-side eateries. 
License plates on the cars parked in the Pavilion Parking Garage on 9th Ave. North showed the usual suspects, proof that the city wasn't lacking in visitors from North Carolina, New Jersey, Alabama and other states whose residents enjoy the South Carolina summer.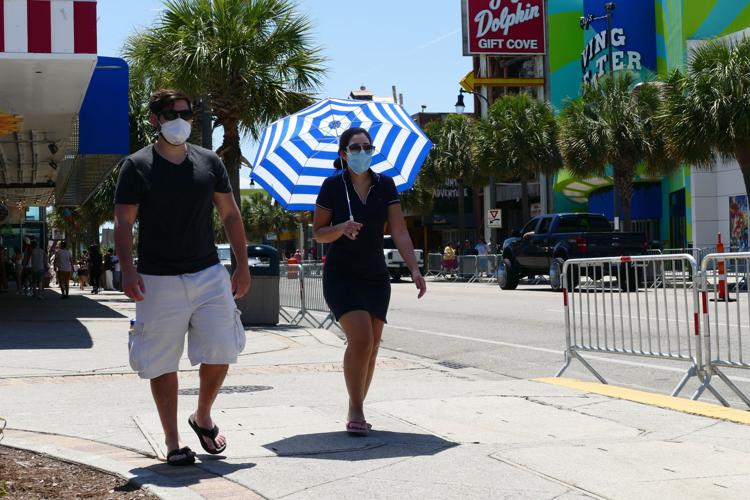 But the normalcy is what made Saturday afternoon so unique.
Thanks to COVID-19, there was no rumble of motorcycles packing the boulevard and there were no shoulder-to-shoulder crowds flanking the lines of bikes. The town of Atlantic Beach cancelled Bikefest this year, but Myrtle Beach, still anticipating a few riders, turned Ocean Boulevard into a one-way street, with the north-bound lane reserved for emergency vehicles only. 
Dave Ruvolo and his girlfriend Reyn Eslava were grabbing a drink at Peaches Corner after spending some time on the beach. 
"It's wonderful," said Eslava. "After three or four months, I had my manicure and pedicure for the first time again." 
Coming from outside of Philadelphia, where a quarantine is still in effect, the freedom of Myrtle Beach was a welcome relief to the couple.
"To come down here and actually eat food at a place and grab a beer outside rather than going to the grocery store, buying your beer, buying your food and running back to your place and just sitting at home, it's a nice change," Ruvolo said.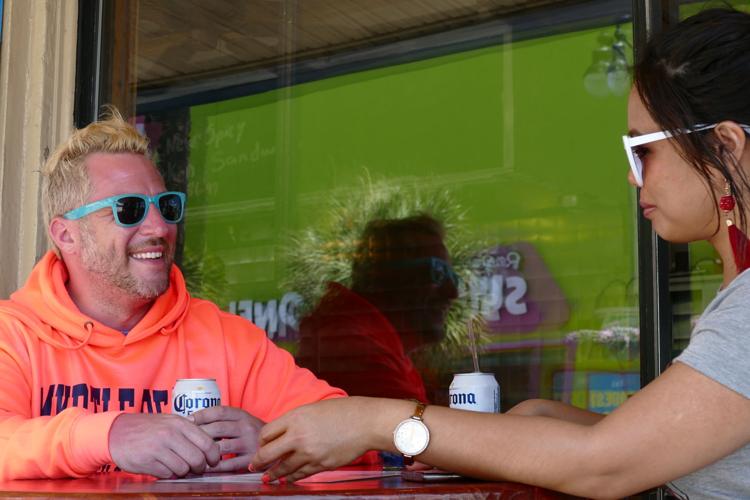 His parents moved to the beach more than 10 years ago, and Ruvolo said he tries to visit them about once a year. He's never been here during Bikefest but said that Saturday was just like any other weekend. 
"If I come down here, like in August, it's pretty similar," he said. 
That's a stark difference compared to this weekend in years past. 
"Myrtle Beach is dead right now," said Cory Ellis, whose birthday falls over Memorial Day weekend. "Compared to usual, half-capacity. Normally looks shoulder-to-shoulder." 
Ellis was in town to celebrate his birthday with his brother Zack and their friend Rocky Murano.
The friends from Fayetteville, North Carolina normally come to town for their birthday, holidays, or random weekends.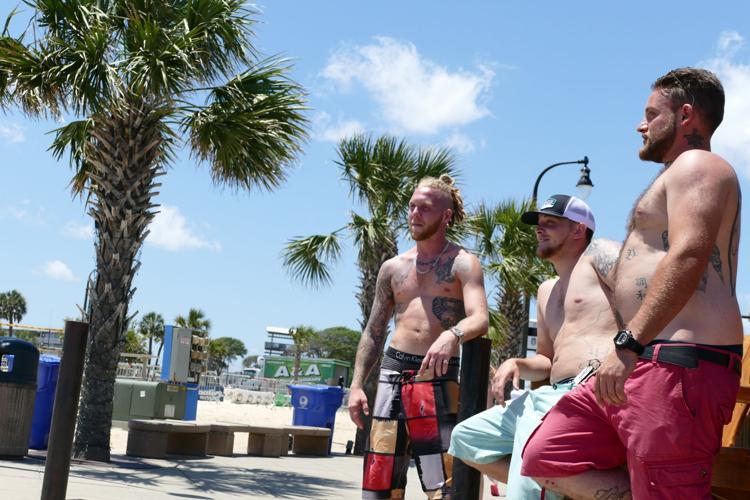 They were posted up in front of Ocean Front Bar & Grill trying to get the attention of any ladies who might venture by.
"We like the pretty girls here, we get more chances here," Zack said.
"The more shots you shoot, the better your chance of hitting something," quipped Cory. "We go to the clinic right after." 
On the beach, Jasmine Coleman and Kuran Mitchell from Beckley, West Virgina were watching their 6 year-old son play in the sand. 
They've been to the beach a few times before and wanted to do something fun for the weekend. The family planned to walk the boardwalk to see what which businesses had reopened after state-mandated closures due to COVID-19. 
"We'll probably just be at the beach," Mitchell said. "We might do a plane ride or something like that. We want to see if Ripley's Believe It or Not is open, it's definitely something we want to go to." 
Nearby, Aly Kostrub and her friend Kris Fales of Richmond, Virginia, were learning a dance called the Cumbia from Rick Rodriguez of Atlanta, Georgia.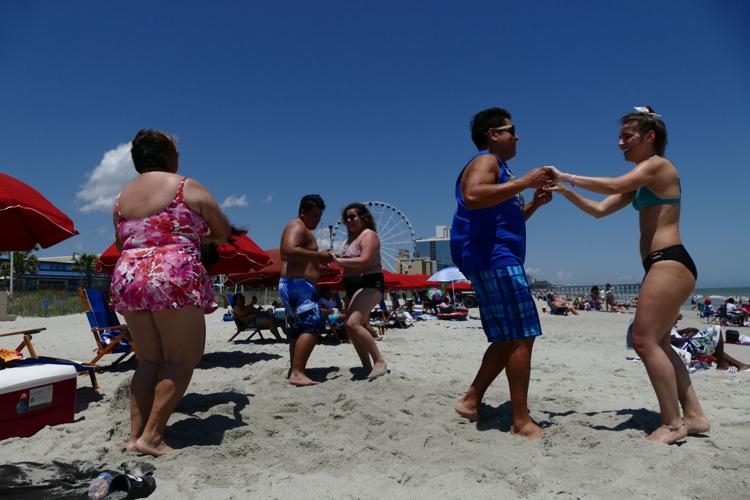 Rodriguez' family had set up their beach tent next to the friend from Virgina and Rodriguez convinced Kostrub to dance with him after first striking out with a reluctant Fales. 
"It was fun, it was cool to learn it," said Kostrub, who used to attend Coastal Carolina University. "It was different from anything I've ever done. The sand made it hard but a good teacher definitely helped." 
Eventually, Fales got up to join Kostrub in the dancing. 
"Happy Memorial Day, God bless America," Fales said. "Thanks to those who paid the ultimate sacrifice for us to be able to enjoy this nice-ass weather."