Propelled by the endorsement of former President Donald Trump, Russell Fry emerged as the victor in a crowded field of candidates Tuesday to win the 7th Congressional District Republican Primary.
Fry, a state representative who lives in the Surfside Beach area, first decided to run for the 7th District after U.S. Rep. Tom Rice, R-Myrtle Beach, cast his vote to impeach Trump for the former president's role in the insurrection at the U.S. Capitol on Jan. 6, 2021.  
"Republicans expected our U.S. representative to accurately represent us and our conservative convictions in Washington," Fry said in a victory speech at his election party Tuesday night. "But this is not a win for Russell Fry. It's a huge win for we the people. And it's because of every one of you that made it possible."
Around midnight, with more than 95% of precincts reporting, Fry had received 43,347 votes, or 51.07% of the 84,937 votes counted thus far. If he hadn't received more than 50% of the votes, there would have been a runoff election.
"We had to craft the speech just a second ago and work on it, because today was supposed to be about a runoff," Fry told the cheering crowd at the 8th Avenue Tiki Bar in Myrtle Beach. "But the voters have spoken and Tom Rice is coming home. And we did it. What everyone said could not be done. We didn't just send a message, we screamed it at the top of our lungs, a message too loud and too powerful for the Washington swamp and the mainstream media to ignore."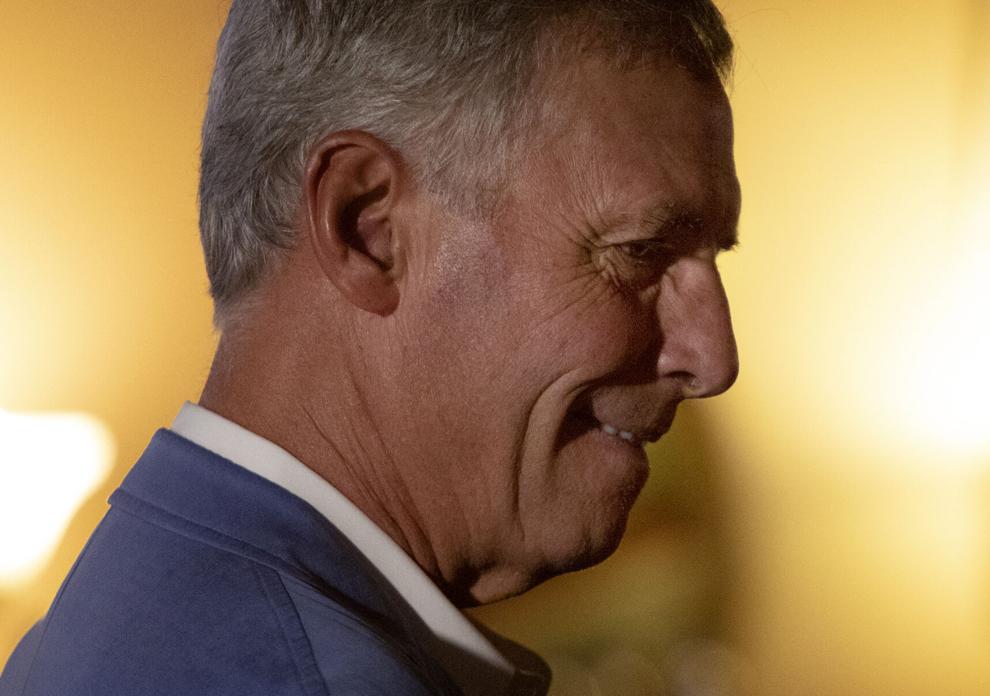 Rice has repeatedly stood by his vote to impeach Trump, saying it was the right thing to do. He could not be reached for comment Tuesday night. Around midnight, with 92% of precincts reporting, he had 20,846 votes, or just under 25% of the vote.
Ken Richardson, the Horry County school board chairman who was one of the first candidates to announce a run for the seat, received just over 7% of the votes cast. He thanked his family, team and volunteers in a statement. 
"The fact of the matter is Russell Fry did not win this election on his merits," Richardson said in the statement. "Donald Trump won it for him with an endorsement. When I started on this quest 15 months ago, I started with a message that we need to drain the swamp in Washington and locally. I still believe in that message but the voters of the 7th District opted to vote for a candidate directly tied to the local swamp."
Fry has served in the South Carolina House since winning a special election in 2015. His term ends in November. If he wins in the general election, he'll be sworn in to Congress in January. 
"I received a very gracious call from Congressman Rice earlier and I want to thank him for that," Fry said. "Our work has just begun. We will wake up each day between now and November, committed to reach out to Republicans, independents and anybody else who is dissatisfied with current trajectory of our leadership in Washington D.C." 
Around midnight, candidate Barbara Arthur had received just over 12% of the vote. She could not be reached for comment.
Mark McBride, Garrett Barton and Spencer Morris all received less than 3%.
In November's general election, Fry will run against Democrat Daryl Scott and libertarians Larry Guy Hammond and Keenan Dunham.