Attorneys for the family of Tristan Vereen on Wednesday questioned why a state trooper pursued Vereen, chased him as he fled on foot, then tased him before fatally shooting him during a struggle.
"When I received the call from the family, my first question was 'Why? Why was he stopped?'" said attorney Chantel Cherry-Lassiter during a news conference. She's representing the family along with attorney Harry Daniels. "Why did Trooper Benton decided to pursue him with such force? And the question still remains as to why. Why was it necessary to shoot Mr. Vereen in his chest?"
Vereen, 33, died Sept. 11 after he was shot once in the chest by S.C. Highway Patrol Master Trooper W.B. Benton, authorities said. The State Law Enforcement Division (SLED) is investigating the shooting to determine whether the use of lethal force was justified.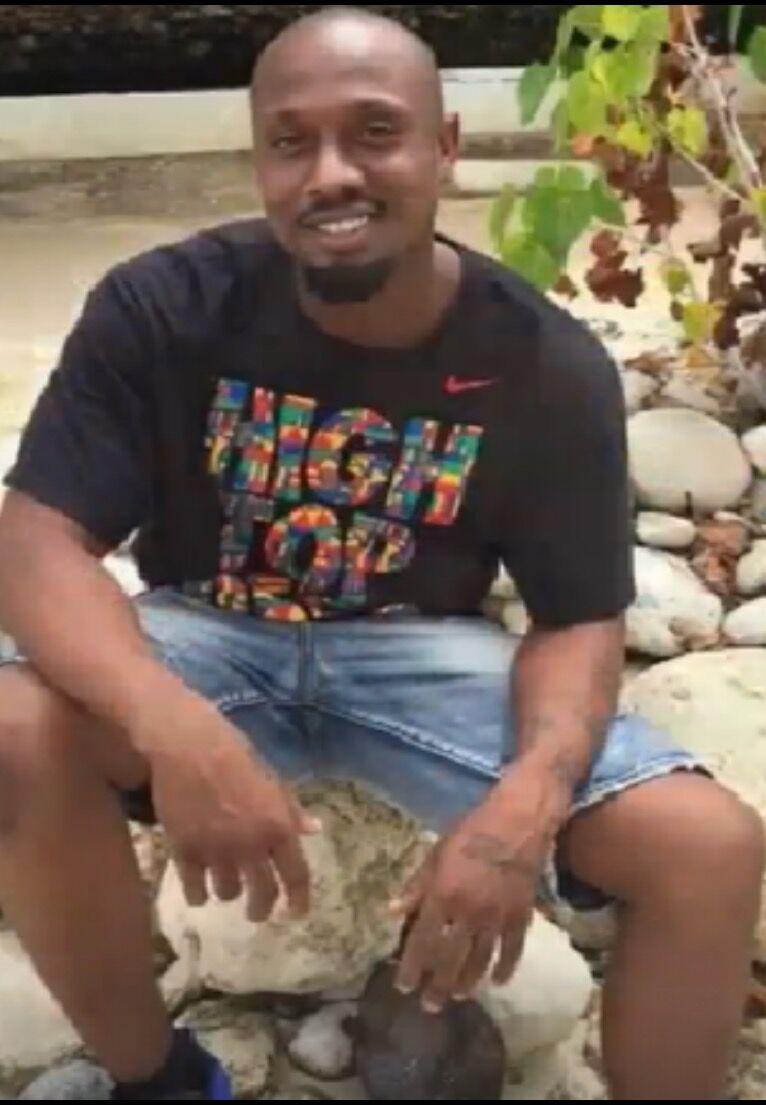 State officials have not said what led Benton to pursue Vereen. 
"The fact that there's still some question about what motivated the stop strikes me as a little unusual," said Seth Stoughton, a former police officer who is now a law professor and policing researcher at the University of South Carolina.
The stop 
Dashcam video released by the S.C. Highway Patrol shows Benton attempting to make a stop on Vereen in the Longs area. When Vereen refused to pull over, Benton pursued him.
The dashcam video doesn't include any clear audio of Benton telling dispatchers why he tried to stop Vereen. Neither SLED nor the Highway Patrol responded to requests for an explanation of why Benton initiated the stop. 
If Benton didn't radio in his reason for the stop, he should have, said Stoughton, who added that if the stop was only for a traffic violation, a supervisor could have told him to stop rather than engage in a pursuit that could pose a risk to the public. 
"What should happen there is a supervisor should get on the radio and say 'if that's the only offense, do not pursue,' or 'terminate any pursuit,'" Stoughton said. "When an officer provides a reason for the pursuit or provides the reason for the stop, it gives the supervisor [the opportunity] to make a supervisory decision about whether or not to authorize that pursuit."
Vereen's family has maintained he was stopped because of a cracked windshield. Solicitor Jimmy Richardson, the chief elected prosecutor in Horry County, has said that's plausible but he didn't know for sure. Richardson will ultimately have the authority to decide whether Benton should face charges over Vereen's death. 
Attorneys for Vereen's family say Vereen could have been within his rights to resist being detained.
"In this state, if a detention is illegal, the unlawful force used in a detention is illegal, then the resistance is legal," Daniels said. "This is the law in South Carolina. This is the law in Horry County. Everybody's making a fuss about and making statements about resisting arrest. Well, he had a right to resist arrest after an illegal detention." 
Benton's attorney didn't immediately respond to a request for comment.
South Carolina law doesn't explicitly make a cracked windshield illegal, and although obstruction of a windshield is illegal, Vereen's windshield was not obstructed, according to pictures shared by Daniels.
Stoughton said a cracked windshield wouldn't be considered an obstruction anyway. Another South Carolina law makes it illegal to operate a vehicle in such an unsafe condition that it endangers people or property, which in some cases could apply to a cracked windshield.
"So we don't have any statute that clearly applies. We have one that might apply depending on maybe the situation," Stoughton said, adding that in a 2012 state court of appeals case, the court upheld the legality of a stop based on a cracked windshield, "but the case doesn't really apply any particular statute." 
And law enforcement officers in South Carolina have been known to pull people over for cracked windshields with the state's blessing. In one instance, Benton was reprimanded for his conduct toward a suspect after pulling him over for a cracked windshield. But the justification for the stop was not the reason for the reprimand. 
Stoughton, citing another federal case, said it's not a constitutional violation for an officer to pull someone over if they merely think the person broke the law. "That is, an officer who makes a mistake about what the law prohibits can still legally make a stop so long as the officer's mistake was reasonable."
But state agencies have not offered any clear justification for why Benton actually stopped Vereen, sending the question of whether the stop was legal into murky territory. 
"All of which is to say: was the stop legal?" Stoughton asked. "Maybe. But that's the best I got here."
Daniels pointed out during the news conference that other members of Vereen's family had been stopped in the same vehicle he was driving but were not asked about the windshield. He suggested Vereen's race may have had something to do with it. Vereen was Black. Benton is Caucasian.
"Tristan's girlfriend, who's a Caucasian woman, has been stopped in that vehicle several times and has never been questioned about the cracked windshield," Daniels said. "His girlfriend's mother, also is a Caucasian woman, has been stopped several times and never been questioned. It wasn't about the windshield. It was about him driving while Black in South Carolina with a broken windshield to give an officer a reason to stop him." 
'He's biting me' 
During his pursuit of Vereen, Benton eventually turned on his sirens, and, in the absence of mitigating factors, failure to stop for a blue light is illegal in South Carolina. At times, Vereen drove on the wrong side of the road, which is also a violation, though he wasn't driving that way when Benton first began following him. 
Stoughton said that if Benton was stopping Vereen just for a cracked windshield, his pursuit wasn't justified when compared to the risk pursuits pose to the public. 
"I haven't yet seen a traffic violation or a cracked windshield that is so serious that it justifies endangering the public welfare with a vehicle pursuit," Stoughton said. "Many police agencies today limit vehicle pursuits to those situations where the risk to the public is justified by some high-level offense that the fleeing party is suspected of having committed."
Eventually, Vereen stopped at a property near McNeil Chapel Road in Longs and fled on foot, according to dashcam and surveillance video. Benton jumped out of his patrol car and gave chase.
Benton repeatedly yelled at Vereen to "get on the ground," during the chase and eventually used his taser to stop him, according to the solicitor's office. Surveillance video shows Vereen lurching forward onto the ground during the chase. The camera's view of the encounter is partially obstructed by a tent, but Daniels and Cherry-Lassiter said Vereen fell after being tased by Benton.
"Why the taser? Why did he need to chase him down and tase him?" asked Cherry-Lassiter. "And even after Benton already tased Tristan Vereen, why did he feel the need to shoot him? The questions are still the same. We're still seeking transparency and accountability."
Stoughton, citing a 2016 federal court ruling, said tasers are considered a serious use of force and are only justified when an officer is protecting themselves or someone else from physical danger.
"Someone who's running away is not a physical threat, there's no credible harm there," Stoughton explained. "So tasing someone who's running away is a problem."
While Vereen was on the ground, Benton tried to detain him. Vereen fought back, and in the video, Benton can be heard telling dispatchers "He's biting me." 
The totality of the injuries Vereen inflicted on Benton is unclear. The solicitor's office said Vereen had gotten control of Benton's taser and tased and bit Benton, and it released photos of the places where Vereen bit Benton and where Vereen allegedly tased Benton. 
The S.C. Department of Public Safety also said Benton required surgery for injuries sustained during the incident, but it's unclear what those injuries were and the department declined to offer any other details. Daniels questioned whether Vereen had indeed tased Benton.
"The person who killed Tristan is the one who's making the allegations about the use of the taser," Daniels said. "Nobody has seen the video of the taser being used on the trooper."
During the struggle on the ground, Vereen eventually got on top of Benton. That's when Benton fired a bullet into Vereen's chest. Vereen would die later that evening.
Stoughton said that use of deadly force is justified if officers are facing an imminent threat of death or great bodily harm, and that depending on the situation, a suspect biting or tasing an officer could create that imminent threat. 
"Assuming everything leading up to the use of deadly force was lawful, which is quite an assumption in this case, assuming that that was all lawful, it's just worth keeping in mind that deadly force is justified against an imminent threat of death or great bodily harm and a taser application or biting might meet that standard depending on the facts," he said.
After Vereen suffered the fatal gunshot wound, Benton told him to turn over or he'd shoot him again. At that time, Vereen was not attempting to attack Benton. 
In South Carolina, resisting an unlawful arrest is legal and has been upheld multiple times by the state's court system. Whether someone should actually resist arrest is a different matter.
"If I was giving someone advice, I don't think I would tell them 'if you think the arrest is unlawful you should resist it' because they may be wrong," Stoughton said. "It may be a lawful arrest. You don't have a right to resist an arrest that you think is unlawful. You have the right to resist an arrest that's actually unlawful. But figuring out if that arrest was lawful or unlawful, that actually happens later. A court has to figure that out after the fact."
And if the altercation spirals out of control, someone could die as both the officer and arrestee both increase their use of force.
"One of us is gonna end up killing the other and we're not going to end up figuring out who had the legal right to do what they did until the matter gets litigated," Stoughton added.
But resisting an unlawful arrest isn't just a physical act. 
"If the stop is unlawful, if the justification for the stop is unlawful, you don't have to stop for them," Stoughton said. "Officers can't stop you for no reason at all. It's not just the physical struggle part of it."
Benton's record 
Benton has worked for the highway patrol since 2010. In that time, he's generally received good reviews.
Once, he and another trooper were once complimented by a citizen whom he assisted while off-duty.  A woman's vehicle had broken down in September 2012, and she wrote in a letter of gratitude that was included in Benton's personnel file.
"The Troopers were very caring and attentive to my needs at that time," she wrote to S.C. Highway Patrol Captain J.N. Nell. "You should be very proud of the staff that you have." 
In 2014, Benton was reprimanded for improper conduct for his behavior during a July 2013 incident. According to a memorandum in his personnel file, Benton had stopped a man for a cracked windshield and discovered the vehicle was unregistered with borrowed tags. 
The memorandum said Benton made comments about the man's painted nails and "girl jeans." When they arrived at the jail, the memorandum says, Benton commented "Home, sweet home. Seems like we've seen this movie before, hadn't we? Maybe it'll be your last," and "Unless that, uh, car comes back stolen then I guess you'll be here for quite a while." 
The letter also says Benton could be seen repeatedly spitting tobacco on the ground during the stop, despite the Highway Patrol's Manual of Operations prohibiting the use of tobacco products. 
Benton was reprimanded for his comments and use of smokeless tobacco, but not for stopping the man with the cracked windshield.  
A month after the stop that led to the reprimand, Benton was involved in an incident where he was accused of "unreasonable and excessive force," according to a federal lawsuit. 
A man named Teko Washington said in the lawsuit that on Aug. 4, 2013, Benton had stopped him for speeding.
When Benton pulled up behind Washington after he parked in his driveway on Sumter Street in Florence, "he made the poor decision to run away" because of a marijuana cigarette in his pocket, Washington said in his complaint.
Washington ran into his backyard. While he was trying to scale a 6-foot fence, Benton tased him, rendering him "incapable of control[ing] his body," the lawsuit alleged. "As a result he fell and his body became motionless." 
The complaint says Benton "began screaming at Washington to turn over," but he was incapacitated from the taser and couldn't do it. The suit says "Benton continued to mock Mr. Washington accusing him of faking his injuries and threatened to arrest him for assault on EMS." 
Washington said in his complaint that he required surgery later that month in an attempt to fix his spinal cord and that "as a result of unlawful use of force, Mr. Washington has sustained permanent injury to his back and wrists." 
Even before the 2016 federal court ruling on the use of tasers, Stoughton said officers in various districts have for years been trained to be cognizant of where their target is.
"For example, officers shouldn't tase someone while they are physically elevated, like in a tree or climbing over a fence because of the risk of an uncontrolled fall," he said.
In a response, to the suit, Benton denied the allegations. The suit was dismissed after the state insurance reserve fund paid out $70,000 to Washington and his attorney to settle the case, records show.
"The prior incident was amicably resolved to the satisfaction of all parties, with no admission of liability on behalf of Trooper Benton," said Scott Kozackie, the attorney who represented Benton during the suit. "That resolution included the payment of certain settlement monies to Mr. Washington, in exchange for a full and final release of all claims against Trooper Benton. At present, I am not currently representing Mr. Benton." 
Washington's attorney did not respond to a request for comment. 
In the Vereen case, Stoughton said criminal charges would be difficult to prove because South Carolina doesn't have any laws on the specific use of force that an officer can employ if he's threatened. He said it would also be hard to overcome an officer's defense that his actions were within the scope of his duties. But civil liability is a different matter. 
"Within that sphere of civil liability, there are both constitutional claims like excessive force as well as state law claims like wrongful death," Stoughton said. "And there are slightly different rules that apply to all of those. But essentially, if the stop itself was no good, if the stop itself was unlawful or even if the stop was lawful, if the force used was excessive, there's the potential for civil liability there."
During the Wednesday news conference, the family asked for justice for Vereen, who would have turned 34 on Tuesday.
"On behalf of my family, we are here to seek justice for my brother," said Tristan's sister Marion Vereen. "He deserves that much. No person deserves to be treated like a dog. We want justice."