On Thursday, residents at the Brightwater retirement community in Myrtle Beach received their first dose of the Moderna COVID-19 vaccine, which will give them immunity from the viral disease once they get their second dose in February. 
"We know the importance of getting the vaccine," said Jackie Carter, 83, who lives in the community with her 85-year-old husband Eric. "It saves you from getting the virus."
Jackie, originally from London, England, and her husband, who's originally from Scotland, left the U.K. in 1966 to take a two-year working holiday in Canada. They ended up staying for almost 20 years and moved to Connecticut in 1984. After Eric retired from his job as the president of a telecommunications company in 1993, the couple moved to Myrtle Beach. 
But their life hasn't been the same since the pandemic hit. 
"I have two sons and grandchildren, and I can't see them," Jackie said. 
One hundred twenty-eight residents and 82 staff started receiving the vaccine around 11 a.m. The facility houses about 230 residents, and those who didn't get their first dose on Thursday can receive it during the next clinic in February. The facility plans to have a total of six clinics to ensure maximum vaccination.
The federal government has partnered with pharmacies like CVS and Walgreens to supply the Moderna vaccine to long-term care facilities during Phase 1a vaccine distribution, which also includes health care workers (Health care workers who aren't in long term care facilities are getting the Pfizer-BioNTech vaccine). Brightwater chose CVS, which brought the doses to the facility around 9 a.m. to let them thaw out from the sub-freezing temperatures in which they're stored. 
Brightwater Executive Director Michael Fink said residents were chosen for the vaccine based on their risk and whether they'd had a positive COVID-19 test within the last few months, which would have given them the antibodies necessary to prevent them from getting sick without the vaccine.
According to DHEC data, the facility has had a total of 24 COVID-19 cases among residents and staff, and three deaths, all residents. In the past 30 days, the facility has had seven cases and no deaths. 
"They don't tend to go out because of what the actual public is having to deal with," Fink said, adding that the biggest concern was staff who come and go from the facility. The vaccine is "very exciting news. They will feel more comfortable to be able to live a healthier, happier and longer life." 
So far, Fink said about 75% of residents and staff have expressed interest in getting the vaccine, an encouraging number which could vastly reduce the risk within the facility. As of Thursday, 1,651 of the state's 5,189 COVID-19 deaths were long term care facility residents.
"My No. 1 job here at the community is life safety; ensuring that every single person who lives in our community, that they feel secure living in a community such as ours," Fink said. "It's going to make me be able to sleep a little bit better at night." 
Eric Carter, who received the vaccine at the same time as his wife, said he felt no pain during the shot in his arm. "A bit of an anti-climax," he said, adding that he felt "very privileged" to take the vaccine. 
But he's hesitant to see life go back to normal this early. 
"Until we've managed to vaccinate about 70% of America, we don't have the benefit of herd immunity," he explained. "So we can only relax when 70% of Americans – that's like 200 million people – have been vaccinated, then we can breathe easier. This could be going on until the end of summer." 
Both Carters said they felt safe living in the facility. 
"We're allowed to go four places: the bank, the pharmacy, the food store and the doctor," Eric said. "That's it. No going to pubs or restaurants or all of that." 
"We're very safe here," added Jackie. "They look after you very well."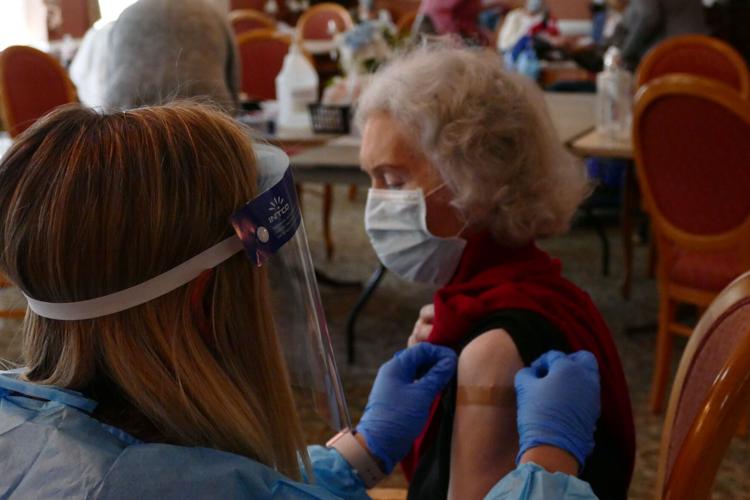 While Jackie was hoping to see their children soon after the second dose of the vaccine, Eric said the couple may have to wait several months until more people are immunized.
Brightwater life enrichment leader Lexi Richardson also got the vaccine on Thursday. She said the shot felt like a "quick pinch." Although she was apprehensive about possible side effects, she wanted to get the shot. 
"I figured the pros outweighed the cons, so I went with it," she said. "I feel fine. Very good." 
After the 200 residents and staff receive their second shot next month, Fink said residents will be able to gather and socialize more often than in the past. 
But as the virus spikes worse than it did during the summer, with Horry County seeing more than 3,300 cases in the last two weeks, neither staff nor residents plan to abandon proven precautions.
"I'll still follow precautions, wearing masks and socially distancing," said Richardson, "but at least it'll give me a little bit of peace of mind."
"We're very happy to be vaccinated," Eric Carter said after getting his dose. "We might go home and have a glass of wine." 
For more on DHEC's vaccine rollout, click here.