Nearly every day at dusk, the sad, enchanting sound of "Taps" emerges from Lash Bragan's backyard.
Bragan, the bugler playing the solemn song, picked up the instrument for the first time last year. Before that, he had never played anything other than a recorder in the fourth grade. But the 54-year-old U.S. Army veteran wanted to honor service men and women with a serious, authentic sound.
"For those of us who served our country, we deserve a real person sounding 'Taps,' not a recording," said Bragan, who lives in the Southwood neighborhood between S.C. 544 and U.S. 17 Bypass.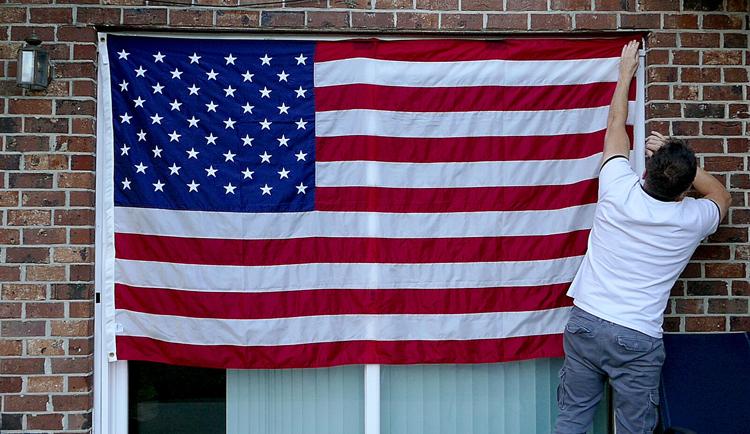 It's called "sounding Taps" when someone's actually playing the tune through the bugle. This is the forlorn, captivating melody that's often played by a single bugle or trumpet and heard at military funerals, wreath laying services and memorial ceremonies.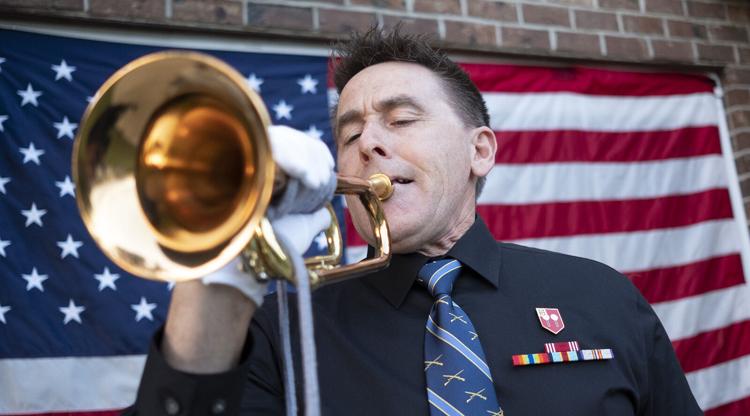 Bragan served in the Army for four years in the late 1980s and was part of a security detail for a mobile nuclear missile unit in Germany. His bugling began after he went to the 30th reunion of his Army outfit. That's where he discovered that five of the soldiers he had served with had passed away. He also learned that many renditions of "Taps" played at funerals come from a digital bugle. 
"The person on the honor guard is holding up a fake bugle," Bragan said. "There's a speaker inside it, and that's the sound that's playing the 'Taps.' … I thought, wait a minute.  That's not right. So I made up my mind. I said, 'I'm going to learn how to sound 'Taps.' . .  At least those five people that I served with that are gone, I can sound 'Taps' in their honor.  They would have a person sounding 'Taps' for them and it's not a recording."
Bragan's family gave him a bugle as a Father's Day gift last year. With the help of a booklet that came with the instrument and a YouTube tutorial, he gradually learned to play.
He sounded his first "Taps" at a gravesite on Jan. 11, and then his daughter helped him create a Facebook page.  It's called "TAPS 'The Last Salute.'"
He's been sounding and posting on that page every night. And then someone from his nuclear missile unit reached out to him and said maybe he could sound for all of the Persian soldiers (members of that missile group) who had died.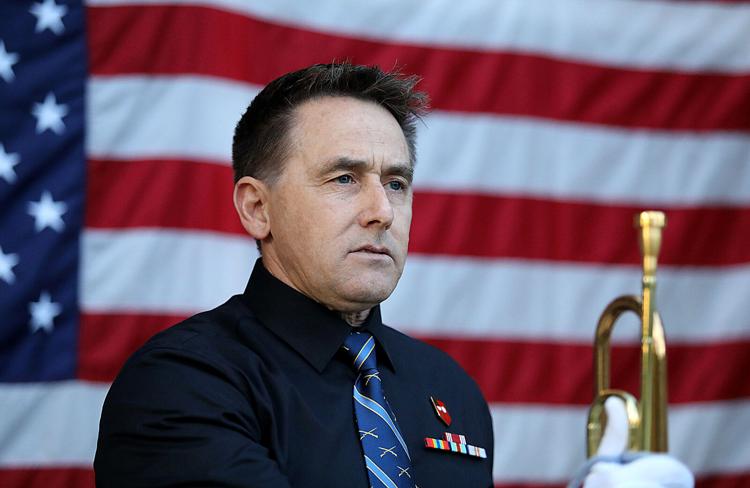 Bragan asked for a list. The one he received included 500 names, and he's working through it now. He's also started getting more requests, so many he's afraid he might not be able to keep up with all of them. 
As of Nov. 2, Bragan had sounded "Taps" for some 275 people. 
And the sounding of "Taps" is just part of what he does.  For each family he plays for — to honor a fallen or deceased loved one — Bragan sends them a short handwritten note, a challenge coin, an American star and a poem.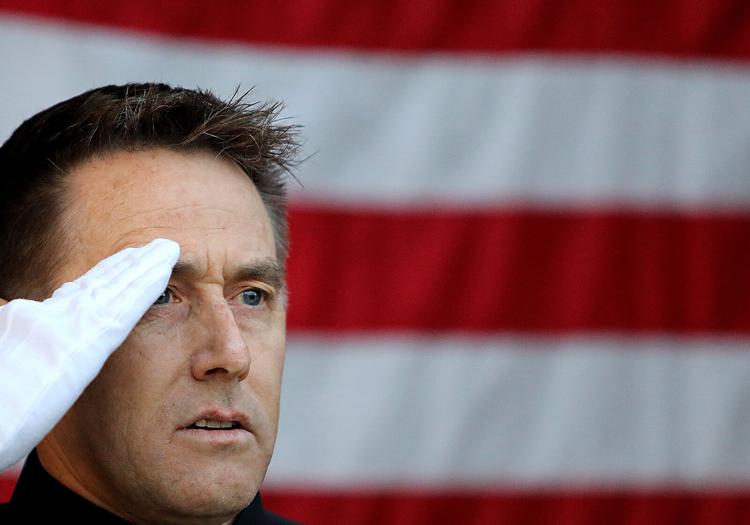 He receives no money for his "Taps" ministry.  Instead, it's all about "trying to give back," and the friends he's made through something that just started as a random idea at an Army reunion.  
For example, a woman who lives just a few blocks away from his home asked him to sound "Taps" to honor her late husband, a U.S. Marine veteran.
"I said absolutely," he said.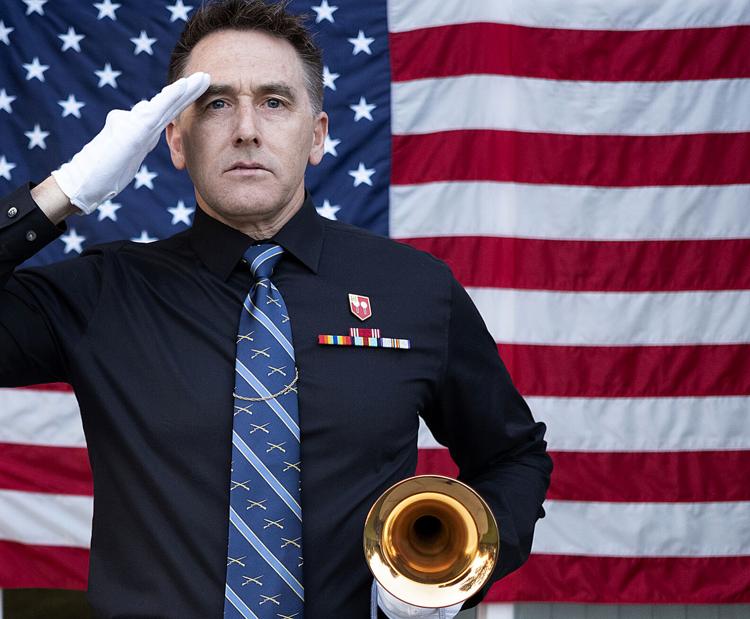 And he doesn't just start sounding "Taps." He does a few things before hitting the first of the song's 24 notes.  
He dresses nicely, wearing a dress shirt and tie and white gloves. He also wears his medal rack with his unit pin and stands near the American flag. All this takes about 30 minutes of preparation, but for Bragan, it's essential.
"The veteran I'm sounding for deserves someone to be dressed properly," he said.  "I don't ever play just to play.  When I play, I'm always honoring somebody."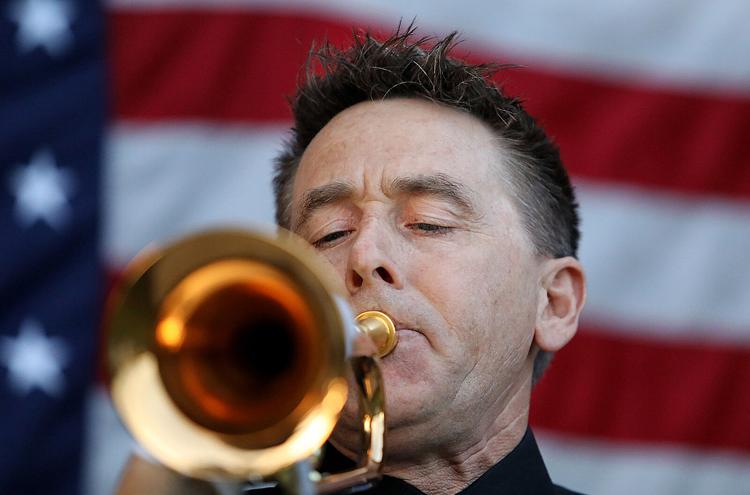 Not everyone appreciates the melancholy music, but he said most do. 
"For every one comment that says I wish you wouldn't do it, I get a hundred that says they're glad I'm doing it," he said.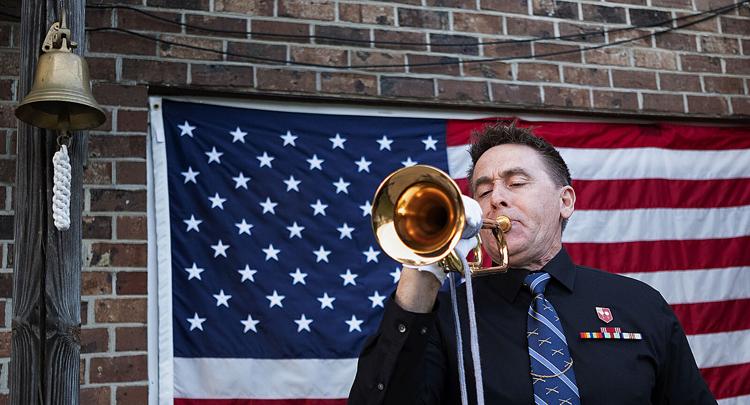 He never knows who will be touched by the tune.
"There was an elderly guy on a bicycle," Bragan said. "He came and knocked on the front door and said he had been riding his bike through Southwood for three weeks to try to find out who was sounding 'Taps.'  He just wanted to thank me. Those kinds of people make it worth it."
Ann Moore, 64, lives a few blocks from Bragan in Southwood and flies both the U.S. flag and the Marine Corps flag atop a 20-foot flagpole in her front yard.  Those flags are there 365 days a year to honor her son James Mitchell Moore Jr., who last month retired from the Marines after 20 years of service, including five overseas deployments.
For Moore, Bragan's bugling keeps her grateful for her son, who suffered shrapnel wounds in Afghanistan and was awarded the Purple Heart.  It also reminds her of the sacrifice of so many others in the military. 
"I stop and I listen and I just am thankful for all the men and women that serve," Moore said.  "I think everybody here really listens for it every day."