Atlantic Beach's Bikefest faithful returned this weekend for the annual Memorial Day Weekend motorcycle rally. 
"Tell the world we're back outside," said Marvin Graham, who rode in from Dillon on his Harley Road King. 
The town was packed with bikers Saturday night as they arrived for the party on the beach, even though officials decided months earlier that they wouldn't issue any vendor permits, citing the potential threat of COVID-19.
"You see a lot of people from different parts of the world get to come down here and see what we got to offer," said Graham, who's been coming to Bikefest since he was a teenager. "You get to see a bunch of different people, get to politick, talk to everybody… It's a big party but it's fun."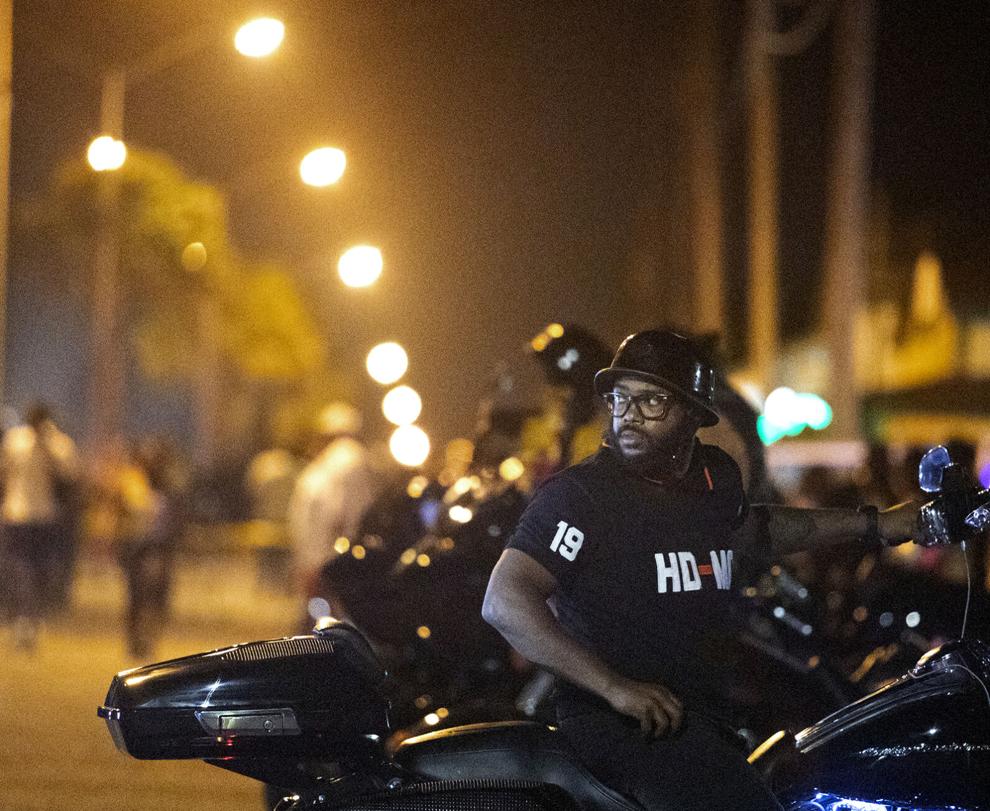 The town was livelier than it was on Friday evening, when the four blocks were relatively quiet. 
That afternoon, pole fitness instructor Tor'keese Moss had set up a pole on the beach and was relaxing with some of her friends and her mentor, Tenesha Black, who was visiting from Gulfport, Mississippi. 
Moss, a former biker, said the atmosphere was disappointing when compared to the pre-pandemic years. 
"I used to actually ride and I looked forward to this weekend," Moss said. "Now that I don't ride anymore and I just hang out, as I was driving down 30th just now to get here, it was sad. They used to have a dance floor and DJs, and it's just dead right now. I'm not used to it." 
The Little River local who owns Teazers Pole Fitness and Dance Studio at the X Gym said she normally comes to Atlantic Beach for some ocean time because it's not as crowded as other beaches, like Cherry Grove, which are lined with hotels. 
Moss said she'd wanted to set up a pole on the beach for years and the timing felt right on Friday. She had gone to her cousin's funeral earlier in the day and with her mentor in town, decided to call a beach day. 
"I was like, 'you know what, let's go from sad to happy, and bring a pole to the beach,'" Moss said. "It's not like we're naked, we're not stripping. I think everybody's actually having a really good time watching, too. The police didn't say anything. It's a good time for sure." 
The pole is a good exercise for core muscles, and gives women in Moss' class a chance to work out without men ogling them in a gym. Moss said it's also good for their mental health. 
"It's all empowerment; that's all I'm about, is women's empowerment, getting in touch with your inner sexy without actually being in the gym," Moss said. "I can have any size on the pole, all body types, all sizes; anybody can take a pole dancing class because we have the free-standing stages. It was all about fun fitness for me."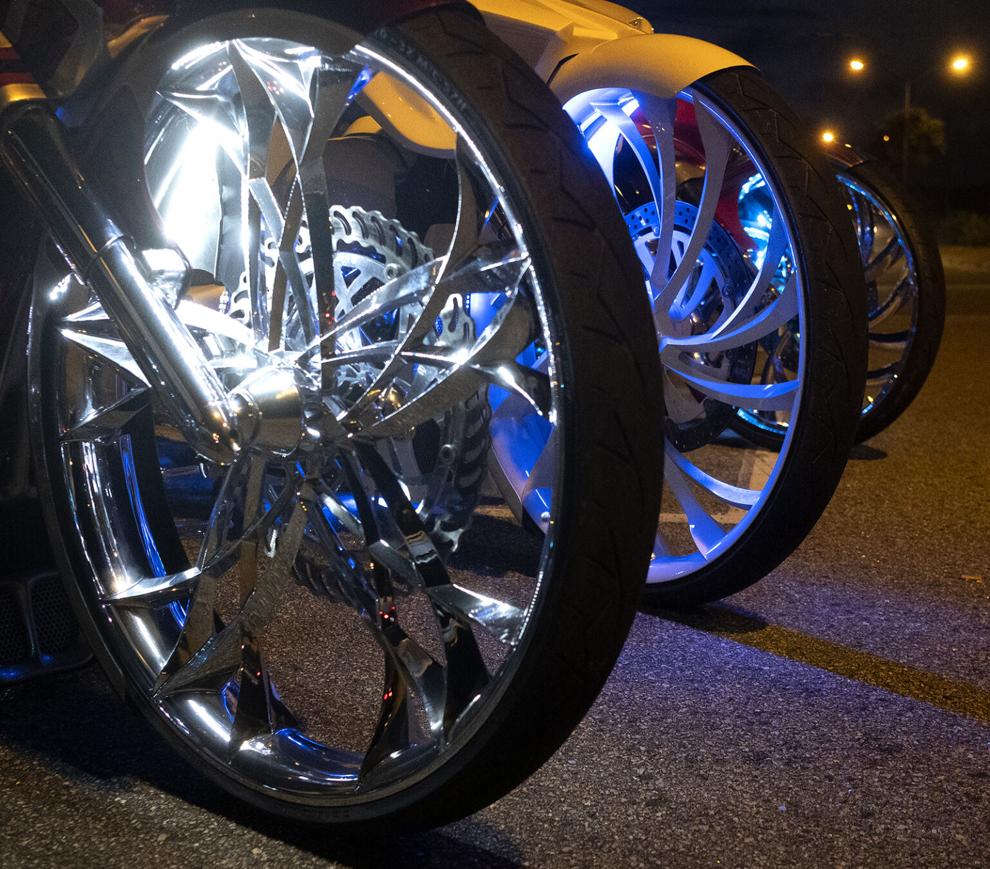 As the night went on, bikers kept rolling into town, packing into the parking lot in the North Myrtle Beach Hooters. On Saturday night, that crowd had grown even bigger and Atlantic Beach was alive, although it wasn't as busy as pre-COVID festivals. 
"It's a little slower but I enjoy it," said Van Wilson, who came to Bikefest with his sister, Valerie Heggins, and his brother in-law, Donald Heggins. 
The trio has been coming to Bikefest for decades. They used to spend time in Myrtle Beach until it became too much of a hassle to ride on the south end, so they began coming to North Myrtle Beach and Atlantic Beach, which are more accommodating. 
"They just kind of looked at it as 'All these people come together and it's chaos and shooting,'" Wilson said, citing the 23-mile loop the city of Myrtle Beach used for several years, ostensibly to control the biker traffic. "For the bikers, it's never been a problem. Maybe an accident or two. The problem has been the sidewalk dwellers and the car cruisers. It's not a car show, it's a bike show.
"They punished us along with all the other bad people that come down here and caused problems." 
Wilson said issues with Bikefest in Myrtle Beach could have been controlled if the city restricted Ocean Boulevard to just bikers during the festival. 
"If they had restricted that to say 'Hey, no cars and no vehicles, bikes only,' then it would have been less chaos," Wilson added.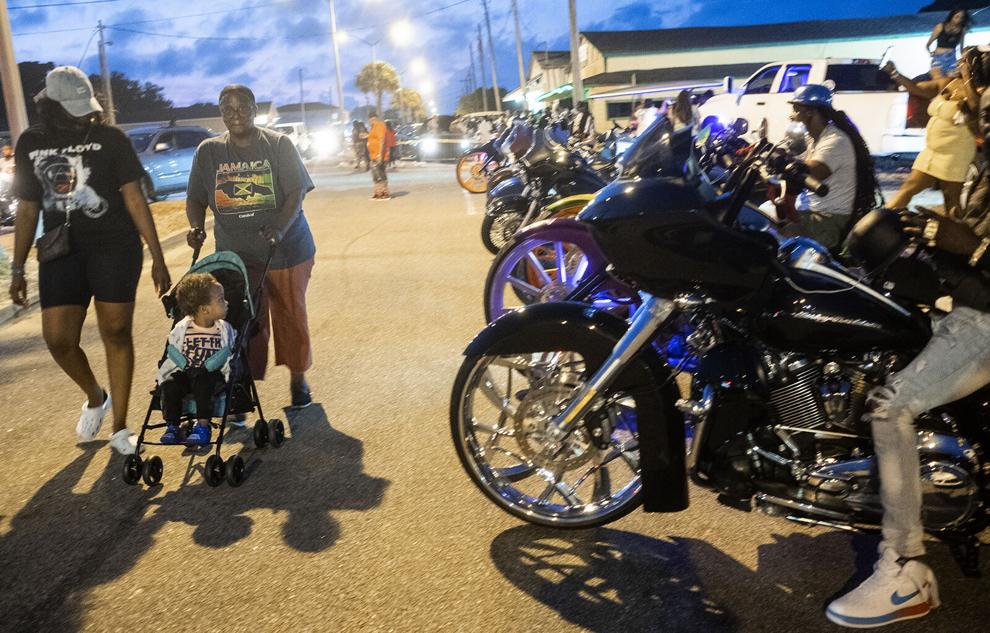 Donald Heggins, who grew up riding dirt bikes, said he comes to see how other riders are rolling.
"These guys put a lot of time into the bikes and show 'em off," he said. "I love that." 
His wife, Valerie Heggins, also grew up riding motorcycles, hopping on her first bike at the age of 6.
She said she likes to see what the women are riding, and noted that there are a lot more women bikers at the rally than there used to be. Heggins herself was riding a 1998 Honda CBR Smokin' Joe's Edition. Only 10,000 were ever produced.
"I was one of the first women to really ride the bikes," Heggins said. "Guys don't want to put too much of a heavy load on their back. So the girls thought 'Huh, I'll just go ahead and get me one.' So then you saw more women that's bigger start being in clubs and start getting in their own bikes because the men didn't want to pull 'em. That's what I saw."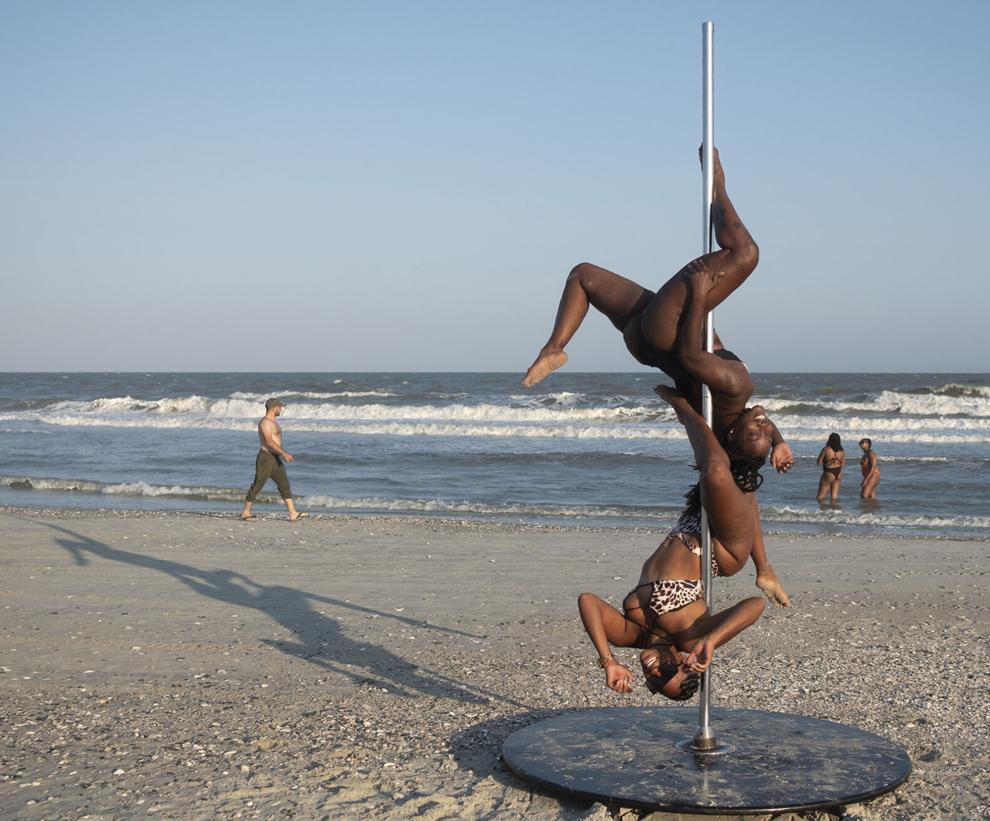 Graham, from Dillon, had recently switched from a so-called "crotch rocket" to a Harley. 
"It's a whole different ride," Graham said. "Crotch rocket kind of hurts your legs. That right there, you can ride for hours and it's fun. It's like fishing, it's relaxing." 
Graham started riding bikes when he was in high school, and got hooked. 
"It's a passion thing," he said "Once you get on it, you'll see. A lot of my friends in high school had 'em. One day I jumped on one, and hey, I loved it."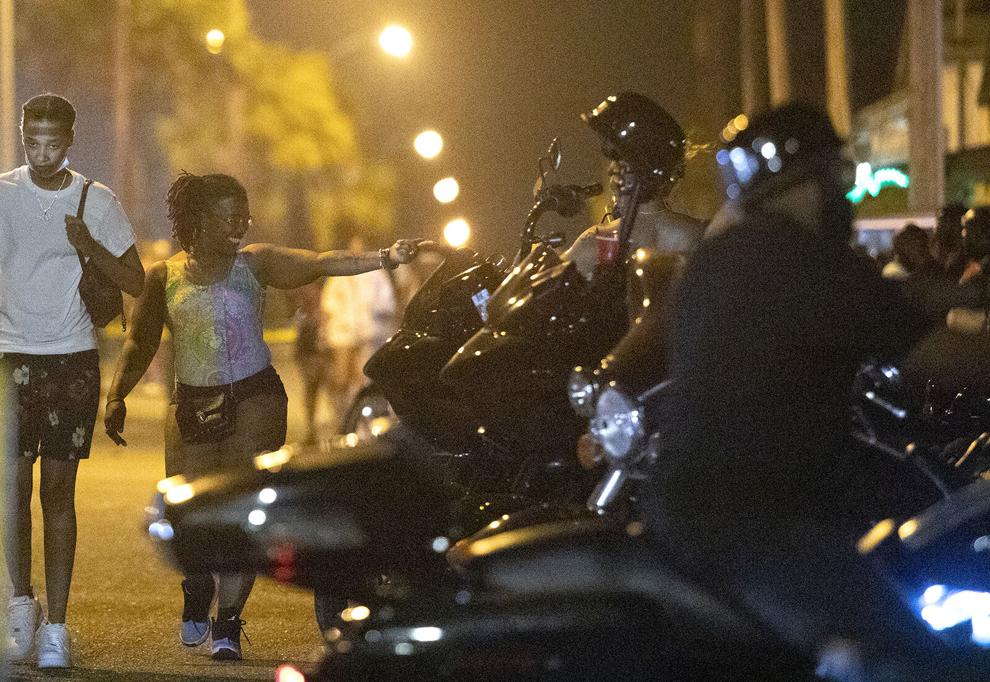 In the months following the town's decision not to issue any vendor permits, vaccines have become more widely available and the CDC has eased up on its recommended restrictions. 
Although there were no food trucks selling turkey legs and pineapples, and there was no stage at the beach end of Atlantic Street, the atmosphere was fun and optimistic. 
"The corona was bad for everybody, so with that being over, it's a good feeling to see the world back like it used to be," Graham said. And next year, "It should be bigger because the world's back open." 
Memorial Day Weekend in Atlantic Beach