The men we call "Dad" come in all shapes and sizes, and not all of them are our biological fathers. Some of the men who "grow us up" are grandfathers, uncles, brothers or just good guys who were given more than they signed up for.
Here are stories about four local men who do more than just fill in the gap.
Happy Father's Day to each of them.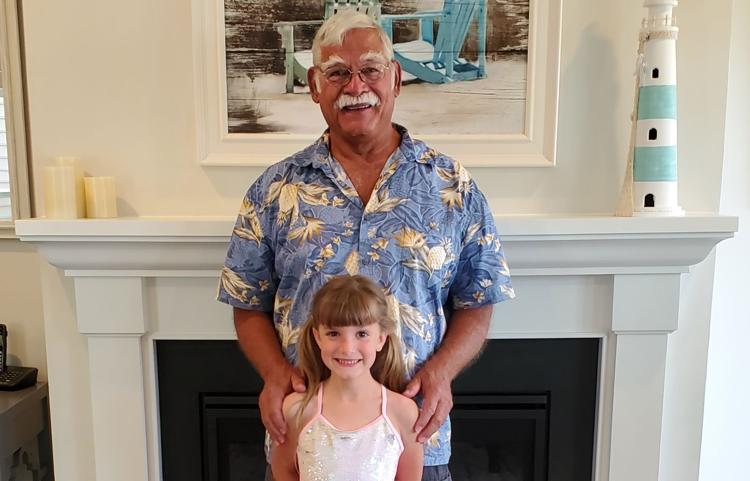 Craig Sasser
Two of 3 million grandparents raising grandchildren in the United States, Craig and Donna Sasser have been the sole caretakers of 6-year-old Gabriella since she was 2.
At 69, Craig has bone marrow cancer, leukemia and other autoimmune diseases. Donna is 59 and is an ovarian cancer survivor.
They both cry, with no apologies, when they talk about the wonderful things God has done in their lives and in "Gabby's."
For example, "It's not curable but it's slow-growing," Craig Sasser says, gratefully, tearfully, about his cancer.
Gabby was born as a result of the Sasser's son's extra-marital affair, and things went south from the start.
She was born drug-addicted with gastroschisis, which means her intestines were outside of her body.
Needing to detox, the baby spent her first couple months in the hospital.
A week after she was discharged, her parents, who were living together at the time, asked the Sassers to take over.
"It's hard to take a child from her mother," Donna Sasser says, explaining that the couple did everything possible to equip Gabby's mother to care for her.
But Gabby's father left the relationship within a year, and Gabby's homelife deteriorated to the point that a babysitter called Social Services.
Long story a little shorter, six years ago, Sasser, a disabled veteran, was a detective sergeant with the Liberty University Police Department living in Lynchburg, Virginia.
That was "before Gabby."
The couple refinanced their home to pay adoption expenses and were given custody of Gabby, with her mother's blessing.
And although her mother has an open-ended invitation to visit Gabby, she never has.
It's been two years since the Sassers have heard from her.
"We've never lied to Gabby, we told her that her mother couldn't take care of her, and when she's older, we'll tell her more," her grandmother, who she calls "Mama" says.
Today, 6-year-old Gabby is a first-grader at Calvary Christian School, she's been active in the AWANA club, she takes ballet lessons at Silver Lining School of the Arts, and one of her favorite things is belting out "Saved by the Blood."
The couple, who lives in the Forestbrook area, has six children and 18 grandchildren.
It's hard, Donna says, explaining to the others why Gabby gets to live with them and they only get to visit.
For Sasser, who Gabby calls "Papa," raising his granddaughter is a second chance at fathering.
"With my other children, I worked so much I didn't get to see them grow up as much as I could have, and I'm spending time with Gabby that I should have spent with my children."
"He takes her fishing, he watches her ride her bike, he helps her with her schoolwork," Donna says about her husband, and they smile at each other as tears of joy run down their cheeks.
Saying his biggest challenge in caring for Gabby are his physical limitations, Sasser says, "We're Christians, and this is a task God has given me…a responsibility He has blessed me with."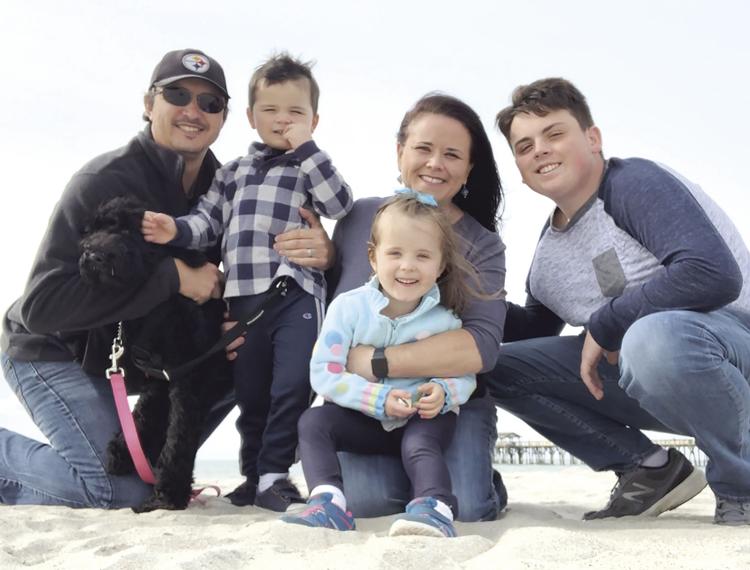 Josh Martin
Other men would have walked away, and Josh Martin knows that.
So does his wife, Fiona, who says, reaching for her husband's hand, "We're the only thing we can count on."
Counting on God is a given.
The sign on their living room wall says "Thankful" and they are. They're thankful for each other, their 17-year-old son Jack and their 5-year-old fraternal twins, Will and McKenna, who are autistic.
Fiona is a counselor at Pee Dee Elementary School where Josh was a PE teacher until a back injury cut that short.
That, coupled with a few back surgeries Fiona had, led to Josh being a stay-at-home Dad taking care of the twins.
Will, who has a device to help him communicate, is non-verbal, which makes it tough to anticipate his needs. He's hypo-sensitive which means, for example, he might fall and not feel it.
McKenna, who attends Silver Lining School of the Arts, is hyper-sensitive. "Her clothes hurt," Fiona says. And McKenna is busy, busy, busy, which makes it tough to keep up with her.
Initially, the couple hoped that by the time the twins were about 5, they could take an extended road trip in an RV.
"But just by the time we get them in the car to go anyplace, we're exhausted," Josh says.
"It's not like, 'Get your shoes on, kids, we're going out.'"
The Martins realized something wasn't quite right when the twins were about 16 months old, and when they were about 2, they were diagnosed.
Frankly, there are times – lots of them – when the Martins feel very much alone. Josh's folks live nearby and help all they can. But the folks are getting older and Josh says, "When Will climbs onto the top of the refrigerator, my Dad can't get him down."
The children's therapists, who came to the house during the COVID-19 quarantine, help too.
But the crux of the responsibilities falls on the Martins, and since Fiona's surgeries, on Josh.
"When one goes one way, you can be sure the other one will go the other way and the emotional and the mental…" he begins, and cuts himself off.
"People don't understand why we don't go places, why we don't do things. It's a 24/7 job and having a come-to-Jesus moment doesn't make everything OK."
The family attends Beach Church when they can and say it's literally a Godsend.
The Martins aren't sad. They're busy. They're grateful. They're committed to God and their three children.
"We have so much to be thankful for," Josh says. "Our children aren't at MUSC with feeding tubes or needing a heart transplant."
But they're also tired. "There aren't any breaks, there are no days off," Josh says.
His biggest challenge, he says, is just not being able to do normal, everyday things. "Just going to the grocery store…"
One of the things that attracted Fiona to Josh is his love for children.
"He's loyal and devoted, and it's hard for some men to stay home, but he's better with them than some Moms would be.
"He doesn't give up," she says about her husband. "Some men doing this would have given up by now."
"I love them. I love my wife. We didn't get a choice," he says.
They hope, when the twins go to school, that Josh will be able to go back to work, although because of back and shoulder problems it probably won't be teaching PE.
"I don't think about the future," Josh says. "Getting through a day is hard enough."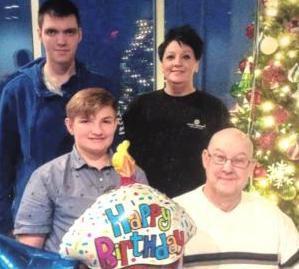 Charles "Chip" Booker
"Raising kids is like riding a bike," Charles "Chip" Booker says. "You don't ever forget how to do it."
He raised his daughter Michelle on his own from the time she was 10. He's been Dad more than Popeee ("That's with three Es," he says) to her sons, now 20 and 15.
"My daughter never left home," he laughs.
His eyes still tear up when he talks about a divorce 30 years ago that left him raising his pre-teen daughter.
She wasn't married when she had her first child, and Booker, who was 51, didn't think twice about filling in the Dad role.
Years later, Michelle did get married, and then she, a new baby, her older son and the new husband lived with Booker. Eventually, she divorced and she and the two boys stayed on with her Dad.
Again, without blinking, Booker picked up where he left off raising kids.
He has Type 2 diabetes, prostate cancer, two knee replacements, degenerative joint disease, has had three back surgeries and it almost hurts to watch him walk.
He was working two full time jobs, one in law enforcement and one as a security guard, when his first grandson was born back in Maryland.
"I wish I could have spent more time with Michelle, but I was busy keeping a roof over our heads," he says.
Booker knew when he retired that he couldn't continue paying Maryland taxes, and with encouragement from a sister who lived here, eventually moved to Myrtle Beach.
He has a couple stories he expects to raise eyebrows, but tells them as true, and says they're what kept him going through the toughest of times.
The first was during the divorce that hit him, he says, "like cancer" and made him think seriously about ending his life.
"But the Lord spoke to me and asked me where my little girl would be without me," he tells.
The second experience was during his third back surgery.
"They lost me twice on the operating table and I had an out-of-the-body experience," he says, matter-of-factly.
"I didn't see Jesus, but I heard Him and we were having a perfectly normal conversation."
Jesus told him, Booker says, that it wasn't his time to die because he had responsibilities here.
His faith has kept him going through those, and he's as active as his health allows at Christ the Servant Lutheran Church.
Raising two generations isn't what he planned, and says meeting Michelle's needs was rougher than helping her with the boys.
"There were times when Michelle needed a woman and those times were challenging. It's not easy for a father to raise a daughter under those circumstances," he says.
But he learned how to braid Michelle's hair and make sure her outfits matched. He took her to birthday parties and went to her school plays.
When the boys were younger, they were, he says, his shadow.
Every couple years, he takes one or the other, sometimes both, to a reunion with his Navy buddies.
He still goes to their school events, just like he did for Michelle, and is proud that they've never been in trouble.
It's important to Booker that both boys are doing well in school, Elijah at Horry-Georgetown Technical College and John at Carolina Forest High School.
Michelle works for the county, and Booker, a history buff, enjoys watching documentaries.
"They're the sons I never had," he says about his grandchildren, adding that "I'd do it all over again in a heartbeat."
And he has advice for other fathers and grandfathers in like situations:
"Instill Christian values in them," he says. "Be there. Listen to them."
Joe Kleman
He's a nurse, but people call Joe Kleman "pastor."
It's not because of his credentials, it's because of his heart.
"He's a student of the Scriptures and he enjoys teaching them, but he's never been ordained," his wife Julie says.
His worldview says it all: "I think of this as a deployment, and I'll serve God whatever way He asks me to.
"When my time is up, I'll go home. This life is a small drop in the bucket of eternity."
A huge part of what Joe calls his deployment is caring for his 25-year-old son Josh, who suffered brain trauma when he was a sophomore at Anderson University.
It was a Sunday in March 2015 when Josh's longboard hit an obstacle. Josh's fall resulted in cardiac and respiratory arrest and he was declared dead in the emergency room.
Five months later, Josh was able to eat food from a spoon.
A year later, he was holding his head up and could hold a cup in his hand.
In July 2017, Josh called out, "Hey."
Couple years later, he said, "I love you" to his Mom.
Now, five years after the accident, Josh is still at home because his parents refuse to turn his care over to anyone else.
"The only way to experience the love of God is when you give it, not when you get it," Josh's Dad says.
Joe is a nurse three days a week at Coastal Cancer Center and has led God First Ministries in the couple's home for years.
The Klemans are foster parents and have an open-door policy for anyone and everyone needing anything from a meal to counseling to a hug.
The couple also has another, older son, Joey, who's in the Army.
"All my life I've had someone who was, whether right in front of me or making things happen in the background, showing me what it took to be a man," Joey Kleman says about his father.
"By living his example, now that I'm grown, I have found my way into joining the United States Army where I have excelled, due to his teachings, and found my own family and friends that continue to push me to be better…to be more like him."
The family lived in Walkers Woods for years and now lives in Conway on land they've planted with every imaginable fruit tree.
"Josh's accident brought out a nurturing side of Joe I hadn't seen before," Julie says about her husband. "I hadn't allowed him to nurture because I was the nurturer."
It's different now.
"Jesus said there's no greater love than to lay down your life for someone and deny yourself," Joe says.
And you can see from the road that he does.
He sees Josh's situation as an opportunity.
"I don't want anyone to think I wake up and dance for joy over these circumstances, but I know God is using every bit of it.
"There's something to look forward to when Josh and I stand together in eternity and laugh about this."
Joe Kleman'll tell you the money is gone. The insurance is gone. The retirement is gone. He'll also tell you he can't remember when any of that mattered.
"Stuff comes and goes," he says. "Relationships are what matters.
"He groans along with me when we say our prayers and when I get to 'God bless Josh,' he laughs," Joe says, also laughing.
They still play wrestle and first thing in the morning, Josh hugs his Dad.
"There's no better part of my day than that," Joe says.
"They have their own language," Julie says about the duo. "When Joe tells Josh he loves him, Josh makes a sound like a baby cooing."
Joe thanks God every morning at 5:30, grateful he'll get to take care of Josh another day.
"God gives me everything I need to take care of my son," he says. "There's nothing awesome about me. I struggle like everyone else, but I depend on a supernatural God."
Joe is quick to say he has no idea what Josh's future holds. But he'll also tell you he knows Who holds that future, and for Joe Kleman, that's enough.