At 1 p.m. with the sun glaring, a crowd of at least 100 people demonstrating against police brutality and systemic racism marched from Grand Park across the bridge, into Market Common, around the lake and back. 
Myrtle Beach City Manager John Pedersen, Mayor Brenda Bethune and police Chief Amy Prock walked in front of the group, but it was Coastal Carolina University student Mia Angelo who led the crowd in chants of "No justice, no peace," "George Floyd," "I can't breathe" and the names of other black people who have fallen victim, including Tamir Rice, Trayvon Martin, Breonna Taylor and Sandra Bland. 
Floyd, a black man, died after a white Minneapolis, Minnesota police officer named Derek Chauvin pressed his knee in the back of Floyd's neck for more than 8 minutes while Floyd was forced face-down on the ground as he gasped "I can't breathe" and begged "Mama!" 
Chauvin has been charged with third-degree murder, unintentional second-degree murder and second-degree manslaughter. Three other officers on the scene were charged with aiding and abetting.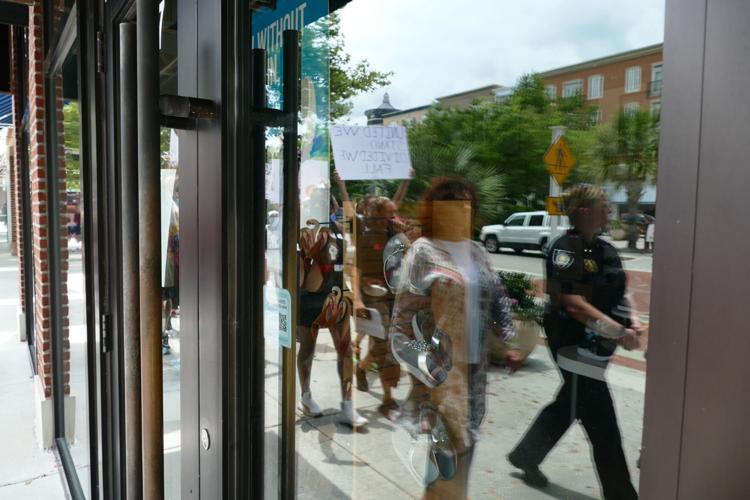 Angelo and several other demonstrators including Sheldon Butts, Denzell Small and Shakira Brockington met each other during the protest last Sunday in front of the Myrtle Beach police headquarters, when several of them helped keep the peace and negotiated the release of six people who had been arrested.
But Sunday's Market Common demonstration was completely peaceful, and the crowd grew larger throughout the day, eventually numbering in the hundreds. 
"The first time that I met Denzell was on the front line, when I saw him standing up there by himself," Angelo said of the protest a week ago. "Today was the first time that we met collectively in person after last Sunday's protest." 
The event was organized via zoom meetings in less than a week, and the organizers now have a name for their collective, called The Peaceful Protest. They plan to hold more events in the future and are taking donations to continue to fund their protests and help pay for event permits and other event costs.
"I feel like it's my responsibility, being a black female," said Angelo, who's grandmother marched during the Civil Rights movement. "Fighting for my ancestors, not letting their blood go to vain, their fight go to vain, and I owe it to my future children to be able to walk the streets and feel safe." 
At Grand Park, the rally grew bigger as speakers, including community leaders, candidates, and attorney and activist Johnny McCoy took turns talking to the crowd.
Butts emceed the event and rallied the group between speakers. 
Conway teen and former The Voice contestant Cecily Hennigan got things going after the march with a song called "The Blessing" by Kari Jobe and Cody Carnes, and performed one of her own songs called "Centerpiece" several hours later.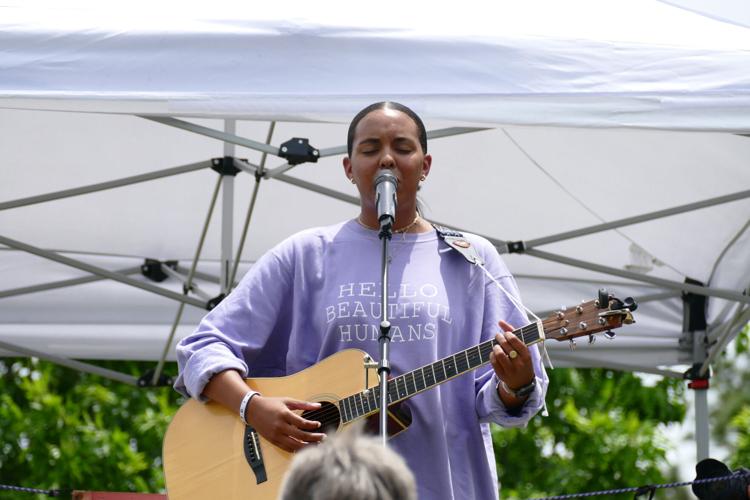 "I wanted to stand up for something that means so much to me, being biracial and having African-American family members too," Hennigan said, adding that it was also an opportunity to spread the gospel during a time of uncertainty. "The only thing I can rely on is Jesus so I wanted to bring that here today, for not only myself but to maybe reach other people who maybe don't have a source of hope in all of this." 
Hennigan wasn't the only artists to come out.
Actor Michael Burgess, who lives in Myrtle Beach, spoke to the audience about George Floyd, cherishing life, and Chauvin, who looked into the video camera as he continued to kneel on Floyd's neck.
"He's looking at you, the audience, and he's saying 'What are you going to do?'" He told the crowd.
He spoke of other police killings, and pointed out that none of the protests that have come before had caused the massive nationwide awakening such as the wave of protests in the wake of Floyd's death.
"It all flows down from the top, and we're becoming more and more willing to tolerate atrocity," Burgess said after his speech. "If a person can stand on camera with a knee on somebody's neck and not care, we've reached a really dangerous place." 
Throughout the day, speakers took turns on a small grassy hill overlooking the demonstration. Common themes were the need for the younger generation to take up the fight against injustice, and the fear that black parents experience when their children leave.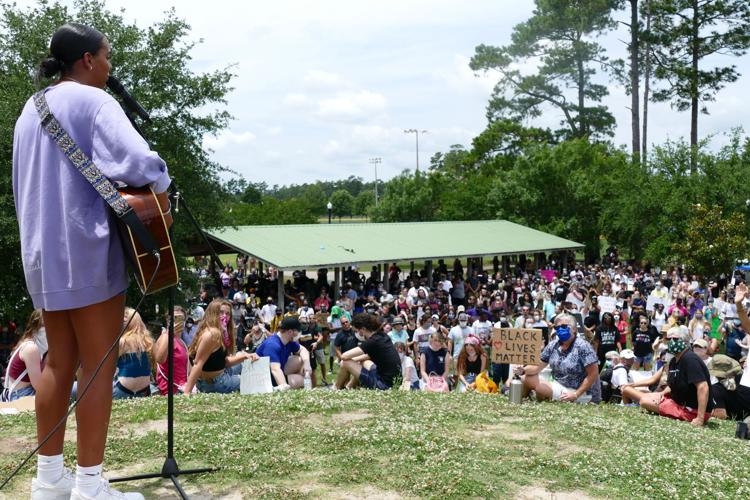 Beatrice Rodrigues of Georgetown held a sign with a message about Breonna Taylor, who died after being shot eight times in March by Louisville, Kentucky, police. Those officers entered her home while she was sleeping.
"I don't want to die because a police officer isn't trained properly," Rodrigues said. "I don't want to die because a police officer is racist. I mean, it's just a matter of fact. And I'm here today because we have a president who is making it so hard for people of color to live in the United States."
She said she has a nephew who isn't even a year old and she worries about him growing up having to navigate conversations with police officers where he must speak and act a certain way to avoid suspicion.
"As a black woman, I've gone to stores and they followed me," she said. "I've had police officers, because my family lived in a predominantly white neighborhood, follow my parents to the house … and say, 'Do you live here?'. That happened in the '70s. It's still happening today. It's ridiculous."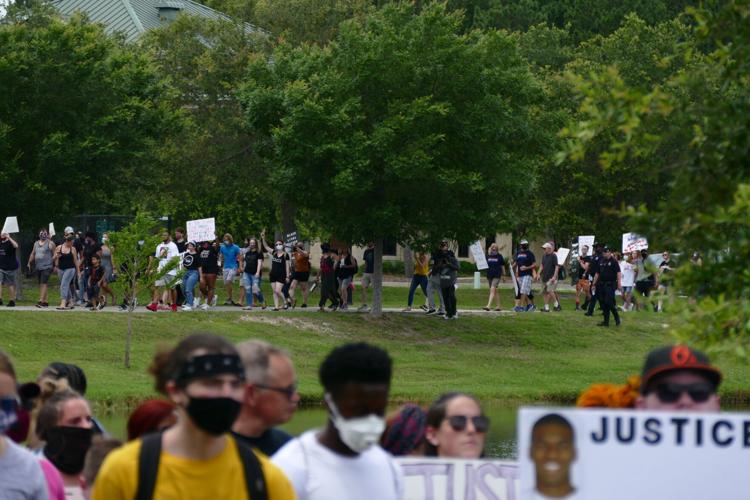 Michelle Gee, who lives on Grey Street in Myrtle Beach, said she decided to speak at Sunday's event because of an encounter she had with police who had detained her son for no legitimate reason.
"After thinking about all that, that's what made me say, 'OK, Shell,' this is something you have to do," she said. "So I stand before you today as a black mother of a young black man."
Gee pointed out how Floyd's death had reenergized the movement against police brutality. She said she disagrees with the looting and violence at some recent protests, but she also stressed that people should seek to understand the source of the outrage. 
"Now don't get me wrong. Please understand, I'm not saying that your lives don't matter," she told the racially diverse crowd. "What I'm saying is please remember that ours do, too." 
Butts has four kids, and his 19-year-old son is following in his dad's footsteps by joining the Army. But the emcee said being a black parent today is painful and uncertain. 
"There's certain things that my son has to be cognizant of, just because he's black," Butts said. "I can't protect my son when he leaves out of the door in the morning time. Because every day he goes out there, he's already accosted by the injustice of what's faced in front of him, social injustice, just because he's black. So it's scary. But through prayer and understanding, I feel we'll be alright." 
This isn't the first wave of protests Butts has taken part in during his lifetime. 
He was attending Shaw University in Raleigh, North Carolina during the Rodney King acquittals. 
"I remember walking and chanting through the streets of Raleigh, North Carolina, downtown and surrounding areas, chanting 'No Justice, No Peace,'" Butts said. "And in 2020, I'm here doing it again and I've got a son who just happens to be the same age I was during that time frame." 
Some speakers talked about the need to defeat President Donald Trump in November. One woman noted that Democratic nominee Joe Biden should not automatically assume black people would support him.
At times, there were calls to remove U.S. Sen Lindsey Graham, U.S. Rep. Tom Rice, R-Myrtle Beach, and U.S. Sen. Tim Scott.
Melissa Watson, who's running for the Democratic nomination to take on incumbent Republican Rice in South Carolina's 7th Congressional District, told the people the story of her mother, who left her home in South Carolina and headed to New York to get away from the Ku Klux Klan. She later moved back, but it wasn't until 2008 when she felt comfortable enough to vote. 
Watson said her mother once told her, "'You have the right to be loud because I remained silent. So you have the privilege of being loud,' she explained. "And I never ever forgot that. Because it took her until 2008 to feel safe enough and believe enough that her vote could matter." 
She said protesting was just as important as voting, adding the risk and exposure that comes with activism is worth the results. 
"I plan to make noise, because my mother couldn't," Watson added. "I plan to make noise, because George Floyd couldn't. I plan to make noise, because Breonna Taylor can't.  Every person who the police has silenced with their brutality can no longer speak. But you know what you can do? You can all get loud."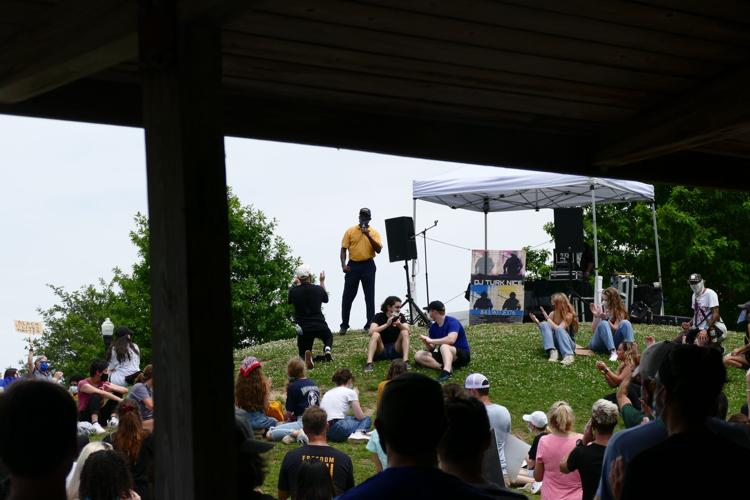 Georgetown NAACP President Marvin Neal, a retired veteran with other veterans in the family, said fighting injustice isn't something they take lightly. 
"When I was turning into Market Common [for] the march today, there were… two young white kids and they were out of breath trying to say 'Black lives matter,'" he said. "There's a message in that. Not only that at one time, we could not say that, at one time, even whites could not say that. But it is a new generation. Nothing will change until we do it all together."
Angelo said she felt overwhelmed and blessed by the large crowd turnout, which gave them the ability to reach more people. 
"This one old man, he came up to me, he had to be around his 60s," she said. "He said 'They taught us slavery in school but they didn't teach us about racism, so I haven't really been able to understand it myself as a white man, but after being here today, I have a little bit more of an understanding.' And that's what we need. So even if it only happened with that one person, I'm so grateful for how this turned out." 
Angelo also had a turn on the grassy hill, where she spoke of her grandmother, who is still marching at 73. And she urged the younger generation to take up the fight where their grandparents left off before performing a poem she wrote called "Two Systems." 
"How many more innocent lives must be taken until enough is enough?" she finished her poem. "How many more mothers must mourn the death of their sons? Evidence shows they weren't even holding guns. Enough is enough."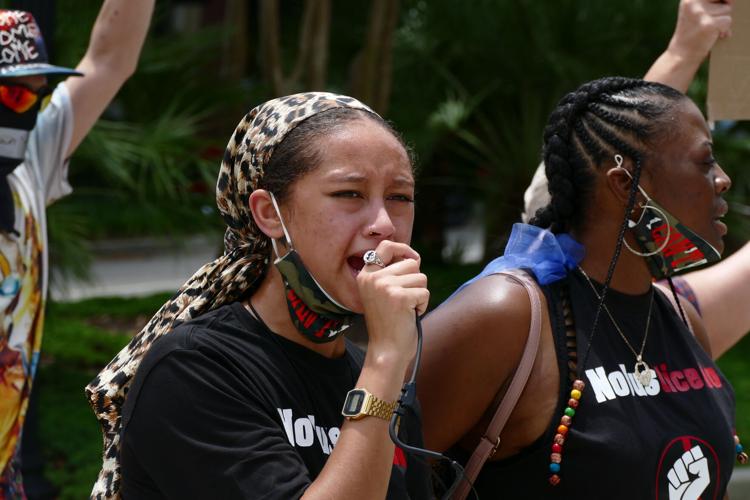 Towards the end of the protest, Butts called for 8 minutes, 46 seconds of silence in honor of Floyd, asking people to sit down or lay down for the duration.
Many of the demonstrators laid down with their faces in the grass. But Floyd didn't pass quietly, and shouts of "Mama!" and "I can't breathe!" once again rang out. 
Unlike Floyd, those on the ground got up again when the moment had passed. 
And once again, they marched.