By the end of the month, Horry County, Myrtle Beach and North Myrtle Beach leaders plan to vote on proposals to pledge millions of dollars to the construction of I-73.
Two court actions — the settlement of the local hospitality fee lawsuit in April and last week's dismissal of environmentalists' federal lawsuit over I-73 construction permits — set the stage for a potential funding agreement. The week before the permit lawsuit ended, a group of elected officials, county and city administrators, and government finance officials met to discuss ways to provide local money to I-73.
"It seems like the stars are starting to align for us," said state Rep. Case Brittain, chairman of the National I-73/74/75 Corridor Association, who attended that meeting. "Something I've been trying to say over and over here lately is every step forward is a step in the right direction. We're not going to get it all in one fell swoop where we're just going to all of a sudden have I-73. … The goal is the important thing, and working with each other is the easiest way to get to the goal."
The target amount for a local contribution is $250 million, Brittain said. Local leaders have discussed putting hospitality fee revenues toward the project, though Brittain stressed that those decisions would have to be made by each local body.
So far, elected officials from Myrtle Beach, North Myrtle Beach and Horry County have said they plan to present the I-73 funding options to their respective councils.
Myrtle Beach Mayor Brenda Bethune said she expects that city council will vote on a resolution this month.
"Our council would be very committed to participating in some type of a funding plan," she said. "We need to all work collaboratively towards this. It's getting the federal government involved, our state government, the county as well as local support. So it isn't something that one entity is going to be able to accomplish alone, but with all of us working collaboratively towards the goal, I believe that we can get there. And we've already had some good meetings, good discussions, and I know that will continue."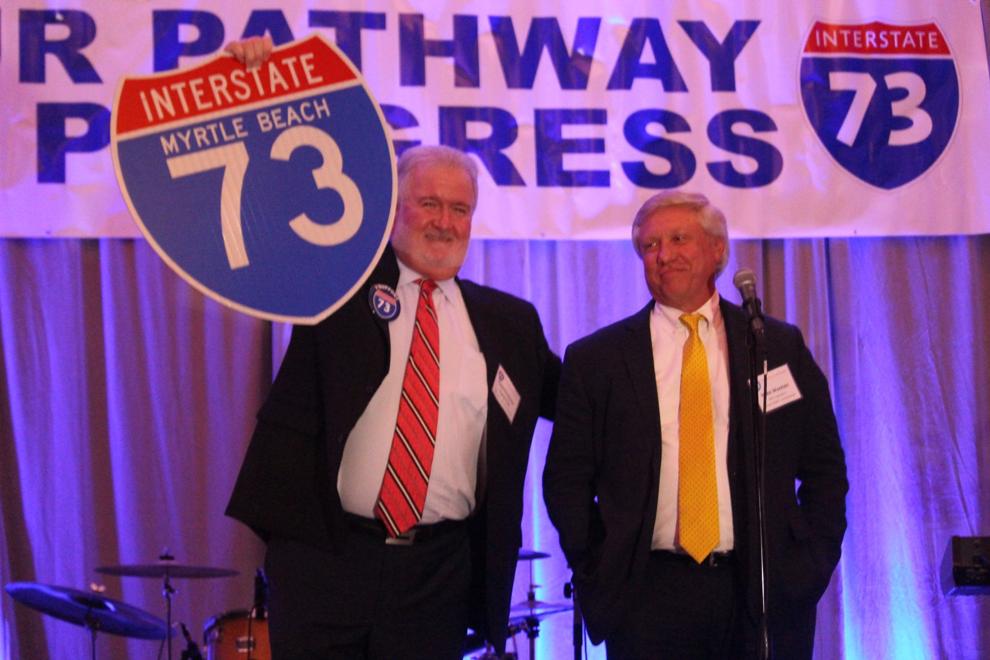 Both Bethune and North Myrtle Beach Mayor Marilyn Hatley emphasized that the specific plans for contributing to the interstate would lie with each council.
"It would be up to each individual city on how they're going to use their funds, where they would get their funding from," Hatley said. "I'm sure the city of North Myrtle Beach would be using their hospitality funds and I think the county is planning on using their hospitality funds. … We have an idea of the amount of money that we all are willing to put in but we have to take that to our councils. One individual can't make that decision for their city."
If the local governments formalize their commitments, Brittain said state lawmakers would use the local offering to pursue state dollars with the goal being a combined local/state funding package of about $750 million.
"We've got to have some real skin in the game," he said. "We're definitely heading that way. Hopefully by the end of the month here real shortly, we'll have a good, strong number to take … a good commitment from the local leaders here that we'll be able to take and talk to our state compatriots and say, 'Look here, we're in. We're 100% in.'"
Local leaders have estimated the cost of constructing the 44-mile section of I-73 from the Grand Strand to I-95 would be about $1.5 billion, but there has been no recent research on that price tag. In 2017, their estimate on the entire 80-mile South Carolina portion of the road to the North Carolina line was $2.4 billion (with the section from S.C. 22 to I-95 costing about $1 billion).
The S.C. Coastal Conservation League, which lost its court fight over the I-73 permits last week, has claimed the South Carolina project would take $3.8 billion to complete.
"Nothing in the court's ruling solves the major hurdle facing I-73, which is the exorbitant projected cost and the lack of funding to pay for it," said Catherine Wannamaker, a senior attorney with the Southern Environmental Law Center, in a prepared statement. The SELC represented the conservation league. "This highway proposal remains a boondoggle while South Carolina's roads and highways are in critical need of repair and upgrade, and that is where taxpayer money should be directed."
Judge Bruce Howe Hendricks ruled against the S.C. Coastal Conservation League, which had argued that the project would needlessly destroy hundreds of acres of wetlands when cheaper, more environmentally sound alternatives are available. Local business and government leaders celebrated the decision.
The lawsuit was filed after the U.S. Army Corps of Engineers issued a permit for I-73 in 2017. The permit, which lasts for 30 years, allows the S.C. Department of Transportation to fill some wetlands in the South Carolina track of the interstate in exchange for preserving a section of Gunter's Island on the Little Pee Dee River.
The environmentalists argued the interstate would needlessly destroy hundreds of acres of wetlands. They advocated for a cheaper alternative: making upgrades to the U.S. 501 and S.C. 38 corridor.
But local elected officials and tourism leaders have maintained the alternative project would be insufficient to address the area's needs. They contend I-73 would provide a key hurricane evacuation route and would be an economic boon by making the area more attractive to manufacturers. Their argument is that in order to create a community that offers more than tourism-dependent jobs, an interstate is necessary.
"It gives us a tool to go out there and diversify the economy into tech and manufacturing," said Horry County Councilman Dennis DiSabato, who has been meeting with the cities about I-73. "We can't do that right now because we don't have any interstate access. For the better, it changes the face of the economy in this county."
DiSabato pointed to his daughter as an example of how the interstate could help.
"When she grows up, if she wants to do something service related — hospitality services, health services, financial services, legal services, real estate services — if she wants to do a service industry job, she's set in Horry County," he said. "But if she wants to do anything else, she's got to go somewhere else. I would like for us to be able to keep the talent in Horry County in Horry County by attracting manufacturers, by attracting tech, by attracting other types of businesses to the area. And I think we can't do that unless we have an interstate."
DiSabato said state lawmakers have asked for a local funding commitment by the end of September, but he said any deal would be contingent upon state and federal support.
"Nobody's in agreement to send any money to the State Infrastructure Bank until we've got a hard commitment that we've got the funding in place for I-73," he said.
Getting that state and federal support has always been a challenge. Local leaders have spent decades trying to build the road.
But in July, U.S. Sen. Lindsey Graham, R-South Carolina, requested $15 million for right-of-way acquisitions needed to accommodate the project. 
Some local leaders would like the state delegation to pursue I-73 funding from the nearly $2.5 billion that South Carolina is receiving as part of the federal COVID-19 relief package.
Yet there's already demand from other parts of the state for that money. Just last week, Gov. Henry McMaster announced that he would like to spend $360 million of that allocation on widening I-26 between Columbia and Charleston.
And there's another road project that's already dominating the local conversation — the widening of S.C. 90.
Horry County leaders followed through on their plan to pass a resolution that seeks to limit high-density development along S.C. 90 in the area between S.C. 22 and U.S. 501 Business until additional infrastructure is in place. Council members stressed that the move is not a formal construction moratorium.
Amid a backlash from neighbors frustrated by a surge of development along that corridor — and the fact that the two-lane road is nearly at capacity — county leaders have scrambled to respond. Last month, they approved a resolution that said they would not support high-density rezonings in the S.C. 90 corridor between S.C. 22 and U.S. 501 Business until infrastructure improvements are made.
County leaders have also discussed how to come up with the hundreds of millions needed to widen and raise that low-lying highway.
One idea that's been floated is spending some of the federal dollars that the county is receiving for COVID-19 recovery on the highway. That funding is separate from the state allocation. County council on Tuesday is scheduled to discuss a plan for spending nearly $68.8 million in American Rescue Plan money. That proposal includes setting aside nearly $25.7 million for road improvements.
In recent weeks, county leaders have privately debated how much they should contribute to I-73 when existing roads like S.C. 90 need work.
Horry County Councilman Johnny Vaught said he won't support funding for I-73 unless there's a clear plan for widening two-lane S.C. 90. 
"Funding 73 is a good idea, but I think that we have to take care of our people first," Vaught said. "And I'm real strong on that position. … If we can do both, then I'm all for it."
DiSabato, however, maintains that the two massive projects need different funding sources. He said he would rather see county leaders spend road maintenance fee money, a $50 fee for each vehicle registered in the county, to update S.C. 90. That fee generated nearly $18 million in the last fiscal year. Another option would be using the unspent millions from the RIDE II road-building program on S.C. 90.
DiSabato said hospitality fees, which are collected on hotel stays, restaurant meals and admission tickets, by law must go toward tourism-related projects.
"The county would be facing significant exposure by using hospitality fee revenue to fund a road that has nothing to do with tourism," he said, referring to S.C. 90. Even the Carolina Pines RV Resort on the highway isn't enough justification to use hospitality fees on that road, said DiSabato, who is also an attorney.
"It's an insignificant amount compared to the feepayers along the coast," he said. "And so I think if we use these funds for Highway 90, for instance, all those feepayers on the coast would file a lawsuit against the county quicker than you could blink."
But DiSabato stressed that funding these projects isn't an either/or decision.
"We can't do one at the expense of the other and I don't want people thinking that I-73 is at the expense of Highway 90," he said.
In some ways, local leaders are in a similar place to where they were four years ago when county council voted to extend the collection of the hospitality fee indefinitely. At that time, the plan was to dedicate money toward the Horry County portion of I-73 with the goal of landing federal and state dollars to cover the rest of the project.
But Myrtle Beach sued the county in 2019, accusing the county of collecting hospitality fees inside city limits without its consent. Other Grand Strand municipalities supported Myrtle Beach's position and the legal saga continued until a settlement was approved by the court in April.
None of the $19 million in the proposed Horry County hospitality fee settlement would pay fo…
As part of that deal, the parties agreed to work together on a separate funding plan for I-73. The latest talks are the fruits of those discussions.
"That strong collaboration and that willpower to make this happen, I think, is exactly what will make this successful," Bethune said. "Because we're all in this together and it's great to see all of us working together towards something that's going to be transformative for our entire area."