Tia Mahaffey-VanFossen remembers driving to Georgetown County several years ago for a beaver call.
The owner of Mindful Pest and Property Solutions, Mahaffey-VanFossen removes nuisance wildlife, everything from bats and rats to raccoons and possums. But this beaver request stood out. New development had pushed the toothy rodents into a golf course neighborhood. Homes that had never flooded were suddenly seeing rising water. Whittled-down trees leaned toward $300,000 homes.
"When you picture the Disney movie and you see the beaver that chews the tree that looks like a toothpick in the middle, that's exactly [the scene]," she said. "If you went down there, it was very cartoonish the way that the trees were. And they were just snapping."
Mahaffey-VanFossen knows the problems beavers can cause. Yet she and other wildlife experts question the wisdom of an Horry County Council proposal to launch a beaver bounty program, one that would involve the county paying hunters a set fee, say $25, per beaver killed.
"I don't know what that program would look like," Mahaffey-VanFossen said. "In areas where they are not in contact with people, beavers are fine. Not a big deal. But as we encroach on their habitat and new developments go in, then they get pushed into areas where they become a nuisance."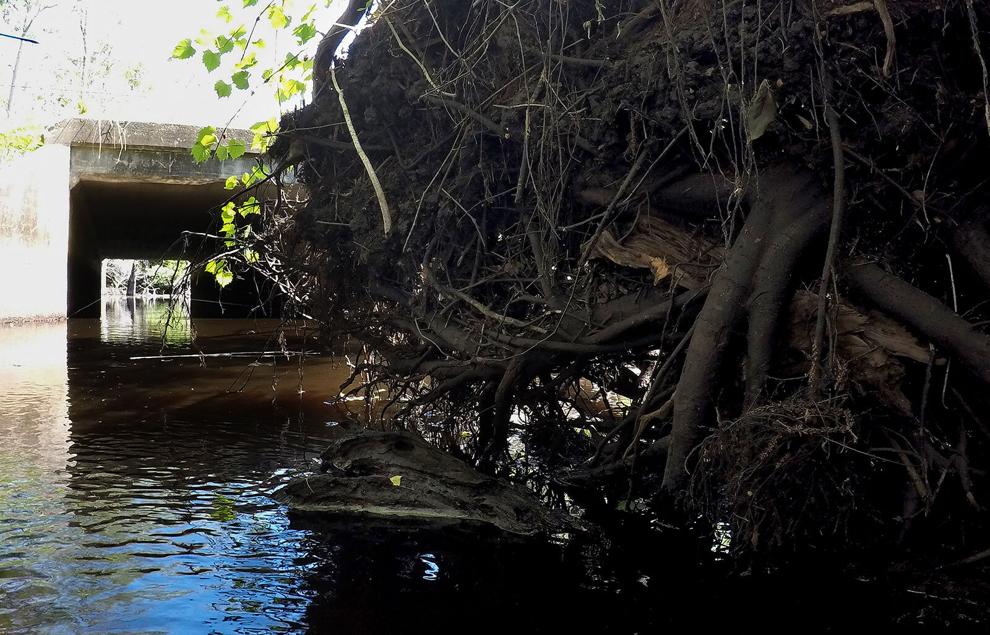 Wildlife experts point out that beaver bounty programs in neighboring states have seen limited success. They also say there are practical problems with the council's proposal. How do you prove a beaver was killed in Horry County? Would people actually hunt a primarily nocturnal animal that shares a swamp with alligators and cottonmouths?
And what if the council's central premise — that paying hunters would be more cost efficient than a contract with federal trappers — isn't accurate?
Hundreds of complaints
Beavers have been causing headaches on the Grand Strand for decades. They gnaw through timber and damage crops. They dam up culverts and canals, sending water into neighborhoods and sometimes washing out roads. The beaver woes here are so severe that when the U.S. Department of Agriculture created a South Carolina program for removing nuisance beavers in the early 1990s, it started in Horry County.
"A two-foot beaver dam can flood a lot of property," said Jay Butfiloski, a wildlife biologist who has worked for the state Department of Natural Resources (DNR) for more than two decades. "They create great habitat for a lot of things, wood duck especially. So in places where people can tolerate them, they can be pretty beneficial. But with an increasing number of people, you tend to have an increasing number of conflicts."
Horry County's stormwater department tracks beaver complaints, and the county has averaged 153 per year since 2018. Last year, the number of complaints rose by 23%.
Experts say the state's beaver population has remained stable, but as more humans clear land and construct infrastructure, the potential for beaver trouble grows. And beavers are particularly problematic in the flat topography of the Lowcountry. While a beaver dam might not cause issues for a pond or lake in the Upstate, that's not the case here.
"As we build more and get more concrete and asphalt on the ground, that water doesn't soak through that stuff," Butfiloski said. "It tends to just run to the lowest point and y'all are the lowest point."
After the Grand Strand saw historic floods in 2015 and 2016, some homes in the Carolina Forest subdivision of BelleGrove flooded. County officials initially blamed BelleGrove's flooding on the deluge of rain, but they later realized their early assessments were incomplete.
Along with drainage pipes that were too small on International Drive, they found beaver dams near S.C. 22 were also to blame for water backing up in the neighborhood. 
The county repaired the infrastructure — and removed the beaver dams — and BelleGrove didn't flood after Hurricane Florence in 2018.
Mahaffey-VanFossen saw a similar situation with the golf course homes in Georgetown County. The drainage system was dammed up.
"In that case, it was our development that pushed them into the golf course where they hadn't been before, but it was also causing flooding and potentially damage to homes," she said.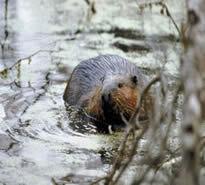 How the system works
Horry County's stormwater department keeps a watch list of infrastructure sites that are prone to beaver activity. 
For example, a pipe leading to a swamp off S.C. 90 often attracts the rodents, regardless of how many have been trapped or removed. River Oaks Drive and Gardner Lacy Road also have hot spots.
"There are some specific areas where we know that we're not going to get rid of them all," said Thom Roth, the county's stormwater manager. "So they'll trap it for a couple months, and then when it doesn't have any more signs, they stop. But they'll periodically go back and check it. Otherwise, a lot of it's based off of complaints."
Once Roth receives a complaint, he verifies that it's beaver related and it's impacting county infrastructure. Then he turns to the U.S. Department of Agriculture's Wildlife Services division. 
The county pays the USDA $210,000 each year for three federal employees to remove beavers and dams in the county. The USDA also has an employee in the county whose work is funded by the S.C. Department of Transportation for that agency's needs.
Statewide, the USDA has 30 full-time employees working on beaver issues, said Noel Myers, the state director of USDA Wildlife Services in South Carolina.
After beginning with Horry County, the federal agency's beaver program has grown to serve about 35 counties. The trappers primarily focus on dams that could harm infrastructure such as roads and bridges, but timber and agriculture are also concerns.
Once the agency confirms there's a beaver problem, federal employees will set traps. The devices function like a mouse trap, snapping swiftly and killing a beaver. Once there is no sign of beaver activity, the workers remove the dam. Sometimes a simple potato rake is all that is needed to get the water flowing. Well-established dams may need explosives to clear them. Myers said that doesn't happen often, but his group has the ability to blow up major dams. In some cases, the county brings in excavators to help, too.
Measuring success
The USDA does not track the number of beavers killed.
"That's a terrible idea," Myers said.
The agency doesn't want to eradicate beavers. The idea is to target those that could cause infrastructure damage or create safety hazards. 
"It's the actual water, the flooding, that's actually the bigger issue," Myers said. "You have to remove the problem beavers that are causing that issue. And a lot of times it might be only one or two in that area. Sometimes it's more. It depends on the habitat, the conditions, everything there."
So if the agency doesn't measure success by the number of dead beavers, how does it evaluate the program's worth?
Myers said the USDA uses a formula that's designed to track damage prevented. The agency makes estimates based on the certain criteria, such as the value of an acre of crops. 
"For every dollar that's spent by the county or by the city or even a private landowner, we know that we're saving them anywhere from a $1.50 to up to $2," he said. "We look at that from the standpoint of … almost from an economic standpoint, a benefit-cost ratio. … This is what we kind of measure in saying, 'What bang for your buck are you getting from us?'"
Statewide, the USDA estimates that the beaver program prevented more than $2 million in damage last year, including nearly $370,000 in Horry County.
From the USDA's perspective, that's worth the cost of the trappers.
"There's a lot more to this than just hiring somebody to go out and trap a beaver and show a dead beaver," Myers said. "Because we're federal employees and we work for the federal government, we have a lot of checks and balances to make sure that we're doing this environmentally soundly as well as responsibly and that we're not impacting our natural resources in a detrimental way.  We constantly have to keep that in mind. And a lot people say, 'You're removing beavers from the landscape.' No, we're removing the problem ones. There's always going to be beavers in the state of South Carolina. We're not going to eradicate them or anything like that. They have a benefit to our environment in creating ponds and habitat for other wildlife."
Other challenges
Hunting beavers isn't easy, Butfiloski said.
He would know. He developed landowner guides for controlling beavers and is known as a furbearer biologist, meaning he specializes in these types of animals.
Just accessing some beaver dams can be a challenge. Wading through the swamps in the steamy summer with the mosquitos, snakes and gators may not be worth $25 to some hunters. 
Another challenge? Beavers are most active at night and they can be crafty.
"You can sort of educate them a little bit," Butfiloski said. "If you're going to attempt to control them by shooting, you better be a good shot."
South Carolina doesn't have a specific hunting season for beavers. The animals can be hunted throughout the year on private land with a valid hunting license. The state also offers a free permit (called a depredation permit) that can be issued to landowners who don't have ahunting license. The permit allows landowners to shoot damage-causing beavers. 
If the county does create a bounty program, the biologist expects there will be initial interest, though he suspects that will wane as hunters realize how elusive a beaver can be, especially in such inhospitable environs.
There's another challenge for the county, too.
"The dam will still be there," he said. "You might get some people to kill a few beavers. But you're probably not going to get them to walk a half-mile into the beaver swamp and bust out dams for you."
Confirming the origin of the beavers could also prove challenging.
"In the past, bounties have been kind of ripe for fraud," Butfiloski said. "You may have trappers from all over the state start saving beaver tails or whatever else they have to turn in for their bounty, and then all of a sudden come rolling in with 100 of them."
Although there are no beaver bounty programs in South Carolina, there are some in other states.
The county doesn't have to look far to see one. Columbus County, North Carolina, which borders Horry, started a beaver bounty program about a decade ago.
"For us, it works well as long as you have trappers that are interested in doing the job," said Lisa Russ with the Columbus County Soil and Water Conservation District, which oversees the beaver bounty program. "Fortunately, this year we've had several."
Still, the program had to increase the bounty from $40 to $60 this year to generate more interest.
"It did bring in more trappers," Russ said. "Some of them, if they are younger of course, are able to maybe go to school and do the trapping on the side."
In Columbus County, landowners who need help call the Soil and Water Conservation District Office and schedule a beaver site visit. The staff goes to the property and evaluates it for safety and health issues. 
The landowner purchases tags that are used to ensure the beavers are from that property. The landowner also receives a list of licensed trappers and they try to match an owner with a nearby trapper. After the beavers are killed, the staff verifies that the animals were properly harvested.
The trappers are also asked to remove the dams, but if the structure is too large the USDA may get called in to help. And the USDA does assist Columbus County. The bounty program hasn't replaced the federal agency.
Unlike the USDA in South Carolina, Columbus County's Soil and Water Conservation District tracks the number of beavers removed. Russ keeps a spreadsheet showing where they were killed. There were about 285 last year.
"It's really important to do so," Russ said. "Whenever you go before your commissioners, you need to know where that taxpayer money went."
What's next?
The conversation about beaver removal spending comes as county leaders debate raising the county's stormwater fee. 
The proposed hike, which would amount to $45 more on a home in unincorporated Horry, could pay for dozens of new positions, including three to four additional beaver trappers (at a cost of $70,000 per trapper). The money would also cover equipment that county staff could use to clear out the remnants of dams in wetlands.
However, some county council members have insisted that a bounty program be implemented before there's additional spending on other control methods.
"It's costing this county and the taxpayers millions of dollars for beaver problems," Horry County Councilman Danny Hardee said last week. "And if we can get some guys that want to earn some extra money that's going to be hunting anyway, let them go ahead and hunt and bring them in and save the taxpayers millions of dollars."
Hardee's comments came during a discussion at the council's infrastructure and regulation committee about beaver bounties. Hardee stressed that the county didn't need an elaborate system. He envisions the county having a list of hunters that landowners could call when they have beaver problems.
"Let's not make this thing complicated," he said. "If you get a phone call and the man says, 'Look, my ditch is stopped up. The beavers has got the water backed up. It's in my field.' You've got to send somebody out there to take care of it.' If you've got a list of people and [a hunter] goes out and brings you 10 beavers, that's a whole lot cheaper putting one piece of equipment there. You can't even move that piece of equipment there hardly for that."
But county staff have urged the council to keep using the USDA services, even if they add a bounty program. They also plan to create a set of guidelines to avoid paying for out-of-county beavers.
But experts remain skeptical.
Mahaffey-VanFossen said professionals can charge $500 to $1,000 for dealing with beavers. The price tends to go up depending on the accessibility of the dam. 
"It's not a cheap thing," she said. 
And while trapping is wildlife officials' preferred method for culling the problem beavers, even that has its challenges. 
"It's very targeted and it's not always successful the first time and you have to rethink what you're doing," Mahaffey-VanFossen said. "They're smarter than we give them credit for."