Before Ben and Amanda Yenicek bought their home in Waterford Plantation nine years ago, they checked out the zoning of the surrounding properties.
They assumed they would always have woods behind their house.
"Looked at that little strip and said, 'No one will ever build there,'" Ben Yenicek said. "It's just too small. … Obviously, this [proposed] zoning completely changes that dynamic."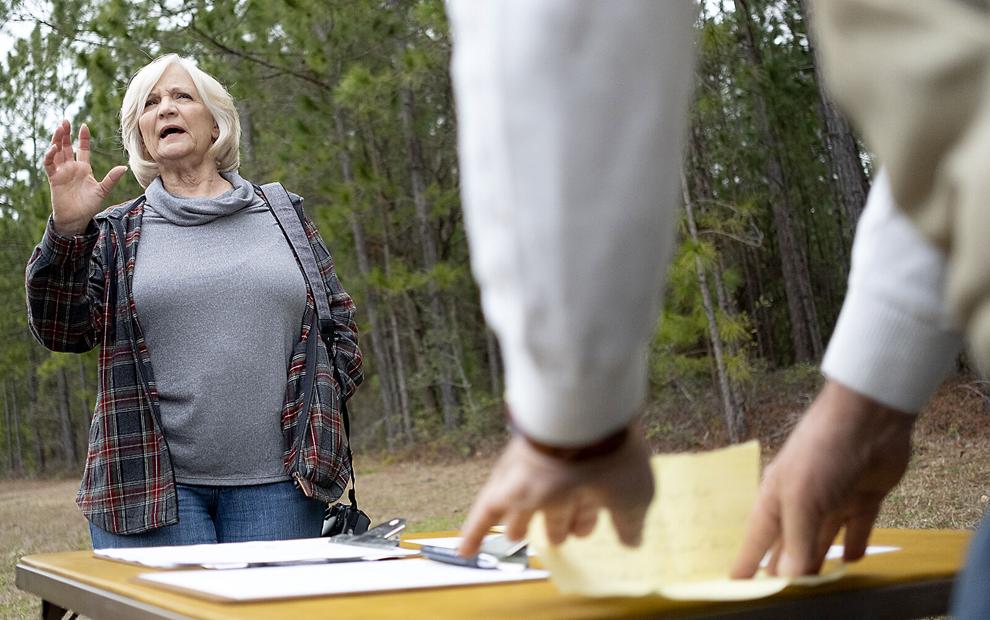 A developer wants to build 97 townhomes on a 25-acre tract along Gardner Lacy Road just past Carolina Forest High School. The project was scheduled to be reviewed at a planning commission workshop Thursday, but the developer chose to postpone that presentation so engineers and county staff could meet with neighbors to discuss their concerns. A community meeting about the project has been set for 6:30 p.m. March 8 at the Carolina Forest Recreation Center.
"No one wants this," said Cherie Reid, who lives in the Southcreek development and has launched a petition drive to oppose the project. "I need to get all the communities involved, not just the one I live in, and let people start working together and let these representatives know they cannot do whatever they want when it's going to negatively affect the residents that are already here."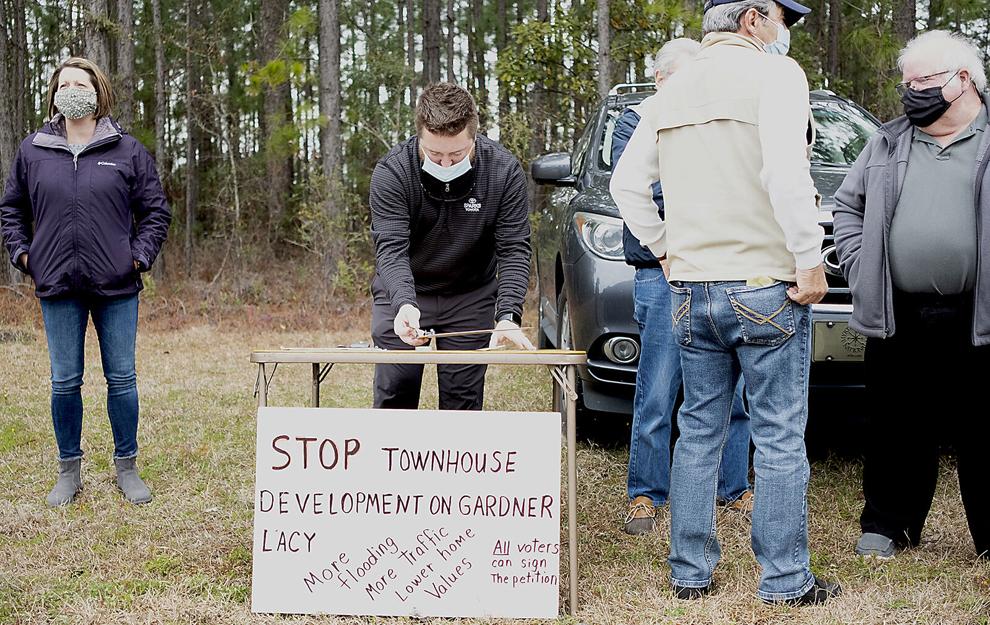 The site is adjacent to multiple major subdivisions, including Clear Pond, Waterford Plantation and Southcreek. For years, area residents have voiced support for constructing another outlet there, specifically a connection between Gardner Lacy and International Drive.
The property for the proposed townhome development holds about five acres of wetlands. Sidewalks would be required along the length of the project because of its proximity to the high school. Nearly 700 vehicle trips a day would be added to the area's roads if the plans come to fruition, according to the county's projections.
Although a rezoning is necessary to accommodate this development, about 60 types of businesses are already allowed on much the land without any vote of council. For example, under the current zoning, about 10.5 acres of the site could be used for mini-warehouses, a gas station, a restaurant, a veterinary office or even a bank. That property could also be converted into townhomes, though the zoning would limit such a project to 31 units, said David Schwerd, the county's director of planning and zoning, in an email. The zoning for the remainder of the property allows for single-family homes on 10,000-square-foot lots.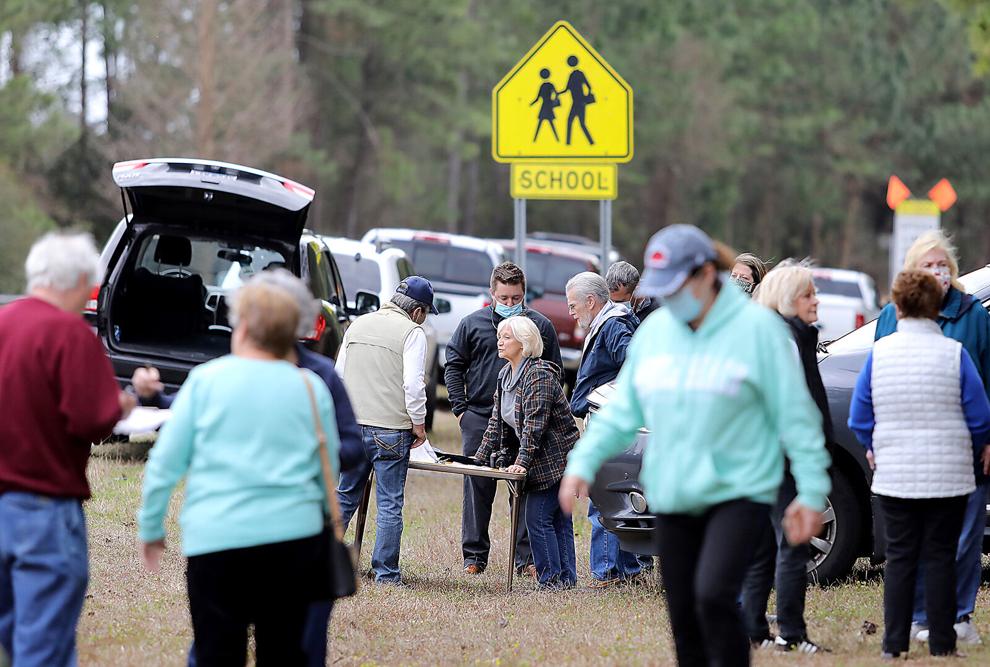 Felix Pitts of G3 Engineering, the firm working on the townhome plans, confirmed he had requested the planning commission deferral Monday afternoon. Pitts said he'd rather address the community's issues before going to the commission.
"It's honestly better that it's happening this way," he said.
On Monday afternoon, more than 20 residents gathered to speak out about the rezoning. They worried about the townhomes adding more traffic to Gardner Lacy, and some noted that homes here already get water in their yards during heavy rains.
"It's not just one thing," said Reid, who has owned her Southcreek home for about 13 years. "It's traffic. It's flooding. It's lower home values. It is such a safety issue."
The Yeniceks live on Goodwill Court, which connects with Tibwin Drive. One point of access for the proposed townhomes would be off of Tibwin. That road is also part of a popular shortcut between Gardner Lacy and Gateway Drive. Waterford residents have discussed the need to close that route for years, and some neighbors fear the townhomes would only exacerbate the cut-through traffic problem.
"They're taking a huge jump in just this small little strip of land," Ben Yenicek said. "And I'm sorry. I can't see any scenario where my property doesn't go down or isn't hurt value-wise."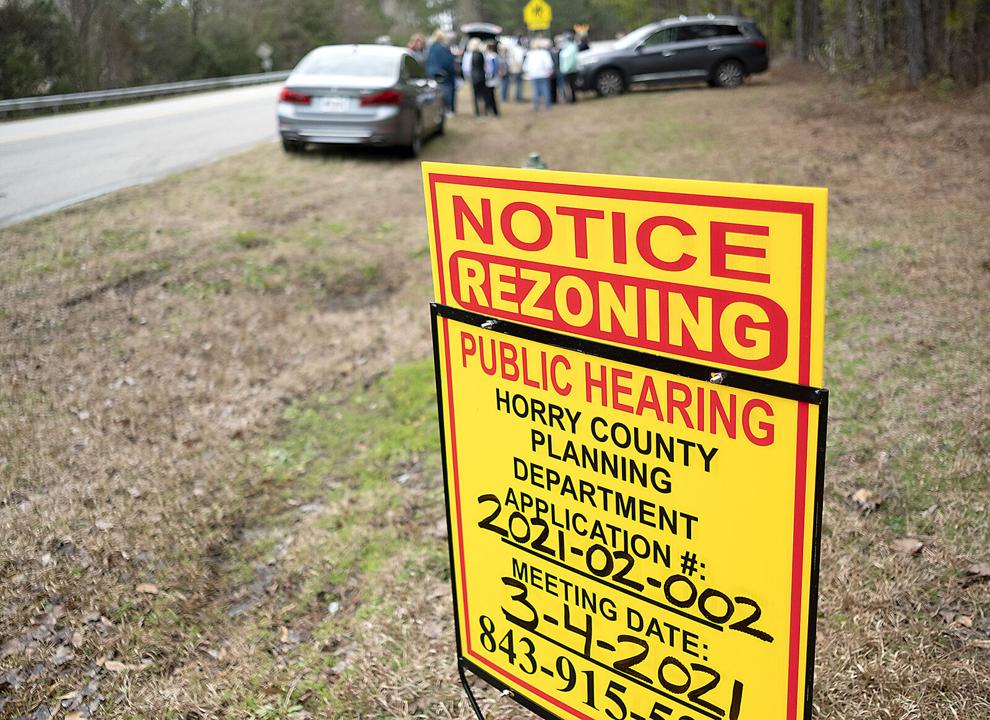 His wife agreed.
"It's going to be in our backyard," Amanda Yenicek said.
The site touches two Horry County Council districts, those of councilmen Johnny Vaught and Danny Hardee.
Vaught said he's waiting on the recommendations from the planning commission and county staff before he decides how he will vote. He encouraged residents to make their case to the commission because the council typically follows the that panel's lead. However, Vaught said the calls and emails from residents also factor into his decision.
"The people out there are concerned about flooding and this is a good time to be concerned about flooding," he said, noting the recent wet weather. "I rode out there and went through Southcreek and Wild Wing and Clear Pond and all that Saturday morning after we'd just had two or three days of pretty heavy rains. I didn't see any major problems. … That doesn't mean that they don't exist, but I didn't see any."
After the community meeting next month, the planning commission is scheduled to hold a workshop on March 25 and a regular meeting on April 1. Once the commission makes a recommendation on this project, it goes to county council for a final decision.
Reid said neighbors are urging council members to vote against the rezoning.
"This is just the beginning of the fight," she said. "You can't do anything about the federal government. It's very hard to do anything with state government. If we can't control our local government, we've got a problem."