When Christy Griffith set out to buy a new home, she worried about flood zones. She also wanted an area with good schools, and a place where her boys could ride their bikes in the streets.
"I never once thought to ask, 'Do I have to dodge bullets in my home?'" she said. "Who does that?"
Since she moved to Harmony at St. James in October, gunfire has been a regular part of her life. Griffith's neighborhood sits on the opposite side of Salem Road from St. James High School, but her property also backs up to a private shooting range. A berm separates the properties, yet that hasn't stopped bullets from striking her home and others in the neighborhood. Still, no one has been charged with any crime.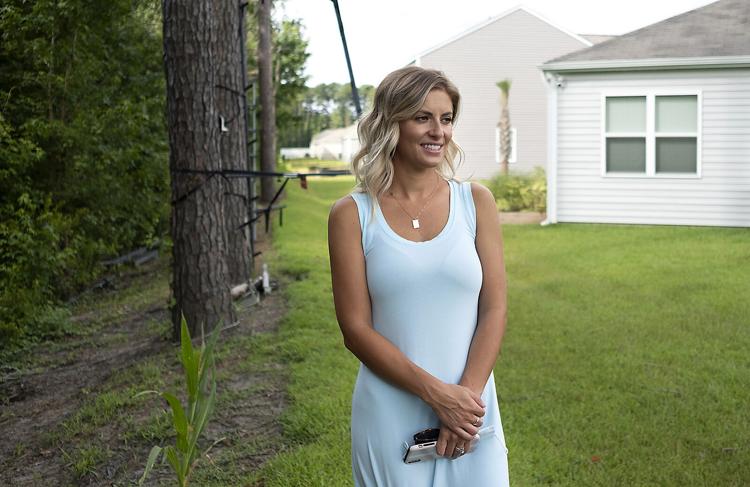 The situation is not unusual in unincorporated Horry County, which saw more than 1,100 complaints about possible gunfire in 2019. Of those, 428 came from subdivisions. The county does have a reckless shooting ordinance, but the policy has seldom led to criminal charges. Since that ordinance was passed in 2017, just 19 reckless shooting cases have been opened, according to county police figures. Of those investigations, only 12 have resulted in charges.
In Griffith's case, police said they could not establish probable cause to bring a criminal complaint. Some county leaders insist that officers struggle to identify suspects in these cases. That's no consolation to frustrated homeowners.
"We're literally in the line of fire," Griffith said. "We're always fearful of when it's going to come over."
Her situation did prompt Horry County Councilman Gary Loftus to call for reforms to the reckless shooting ordinance. What Loftus and some other council members want is for certain areas of the county — specifically the growing urban corridors — to be designated as gunfire-free zones. Local municipalities already already have bans on shooting in city limits.
"People are frustrated," Loftus said during last week's council meeting. "Some of them are very concerned and actually some of them are scared."
Loftus said he's not interested in preventing people from owning firearms or interfering with anyone's Second Amendment rights.
"Along with that comes a certain amount of responsibility," he said. "And these people are just not exercising any responsibility — or any intelligence if you might be perfectly blunt — at all. They feel they can do it because they can shoot guns."
On the day she moved in, Griffith heard the telltale blasts. The shooting was so close to her home, she felt vibrations in her walls. Her husband, an outdoorsman himself, knew this wasn't a group of hunters.
"There's no way someone shoots like that when they're hunting," he told her.
At one point, Griffith and her father walked outside. She said they felt like dirt was raining on them, but it was birdshot. Her father's arm was bleeding.
Griffith said she called the county police, who came out and found a group of teenagers at the range. Griffith thought it was a one-time mistake, a youthful error. She didn't want to see the teens charged.
"I literally thought they would stop," she said.
But police reports indicate the shooting continued.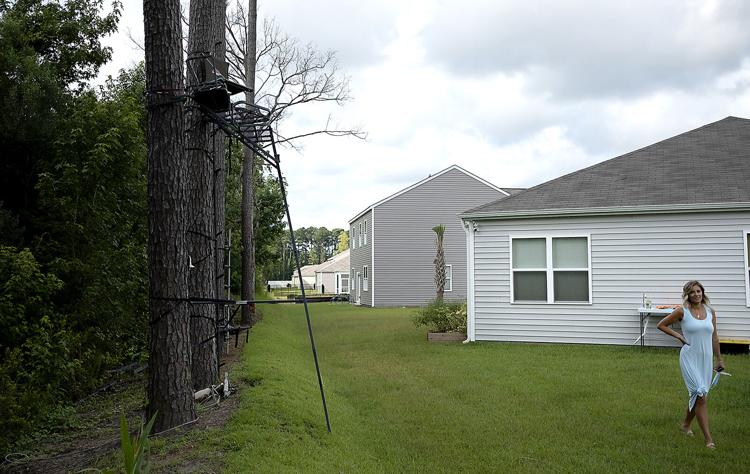 On July 7, a stray bullet tore through the roof of a nearby home, causing $1,500 worth of damage. A week later, county officers again had to respond to an "ongoing problem with an unsafe shooting range," according to a police report.
Officers met with the property owner and accompanied him to the range.
"The rifle stand on the rifle table was pointed directly in the direction of the residences on the other side of the berm," a police report stated. "Homes were visible over the berm."
After a conversation with the range owner, police said he agreed the setup was unsafe and he would change the direction in which he would fire. He also allowed the county to place "no trespassing" signs on his land.
"If he will orient [the targets] the way he's promised us he will do, it will take care of the problem in this particular situation," said HCPD Deputy Chief Lance Winburn in response to council members' questions last week. Winburn said the range has been there for decades, long before Harmony at St. James was built beside it. He reiterated that the property owner, the owner's family members and others used the range, and the owner had agreed to not shoot toward the homes.
But Griffith remains unconvinced. In October — the month she closed on her house — the same property owner agreed to look at moving berms so shooters would not be firing toward a residential area, according to a 2019 police report.
"It's exhausting," she said. "And I feel like nothing will be done until something changes in Horry County. … We're fighting right versus wrong, not Second Amendment or gun rights."
Loftus also brought up that point last week.
"The police have been out," he said. "And you ask, 'Why can't they do anything?' Evidently they can't for whatever reason. … They've talked to the owner of the property, and one day he's all 'Yes, I'll do everything you ask,' and the next day he's back doing what he's been doing."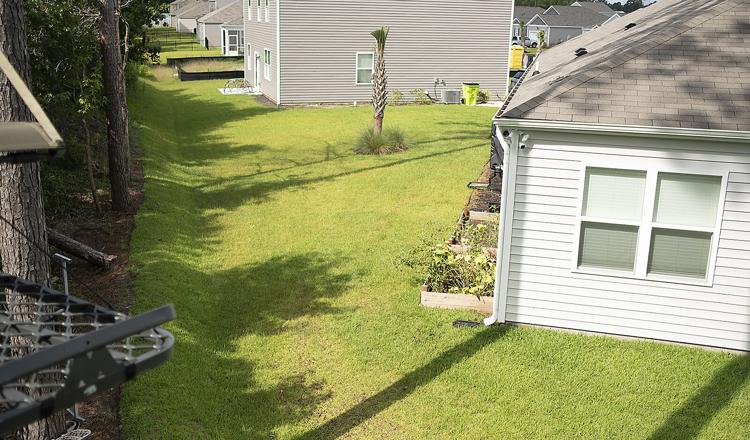 Police reports indicate the range is on the Ferrell Construction property and land records list the owner as George Ferrell III. Neither Ferrell nor anyone at the company could be reached for comment.
For Griffith, who grew up in the foothills of North Carolina, the noise isn't as much of a problem.
"The biggest concern is our safety," she said. "The bullets are coming over here."
That concern is shared by at least some other county council members.
"We need to do something," councilman Harold Worley said. "Has somebody got to die before we do anything?"
County officials have debated ways to crack down on reckless shooting for nearly a decade. The 2017 ordinance was approved, but some county leaders insist that it doesn't do enough to protect suburban residents from unsafe shooting.
During their meeting last week, council members agreed to discuss the matter further at the council's public safety committee, which meets again on Aug. 11. They debated a similar policy last year, though the result was keeping the status quo.
Councilman Dennis DiSabato, who led the unsuccessful push to overhaul the reckless shooting regulations a year ago, said the solution lies in creating zones that protect busy residential areas. He doesn't see any way to enforce a no-shooting ordinance countywide and doubts there's a demand for it in rural communities. Simply put, a zone might make sense in Carolina Forest or Burgess, but not Green Sea.
"There's not a one-size-fits-all resolution to this thing," he said. 
DiSabato would like the council to hear from all stakeholders in the community, including gun owners.
"We need to do something to try and solve the problem for the residents that we have that are in a danger zone, quite frankly, because people don't know how to handle their firearms right," he said.
Griffith agrees. She and her husband have two boys, ages 3 and 5, and two dogs, a Jack Russell terrier and a Husky. The gunfire scares them all.
"This was one of the best places to go," she said of her neighborhood. "We wanted to kind of plant our roots here. … My kids for months would not go outside."
For the 31-year-old mother, the fact that guns can be fired toward her home without repercussions seems outrageous.  
"It's not our fault there's a development here now," she said. "I don't think we should pay the price for their irresponsibility. … It makes no sense to anyone that we tell this story to."