More than 20 dog groomers from South Carolina and across the country converged on Myrtle Beach this weekend to raise money for one of their own.
Award-winning creative dog groomer Adriane Pope of Conway caught COVID-19 a few weeks ago and spent more than a week in ICU and on oxygen, said Gina Shelley, one of Pope's clients who helped organize the event. 
Groomers coming from North and South Carolina, Arkansas, Tennessee, Pennsylvania, Connecticut, Oklahoma, Maryland, Kentucky and Illinois came to the beach to handle Pope's regulars, and groomed walk-ins for a donation. All the money raised will go to help pay Pope's medical bills, Shelley said. 
The groomers on Saturday set up shop at the home of Crystal Langston, another of Pope's clients, but there will be four locations on Sunday where folks can go to get their dogs groomed for a good cause.
"Anybody that walks up, it's kinda like a donation," said Shelley. "It's just like whatever you feel. Whatever you pay your groomer, or whatever you feel you can do, just whatever your heart leads you to do."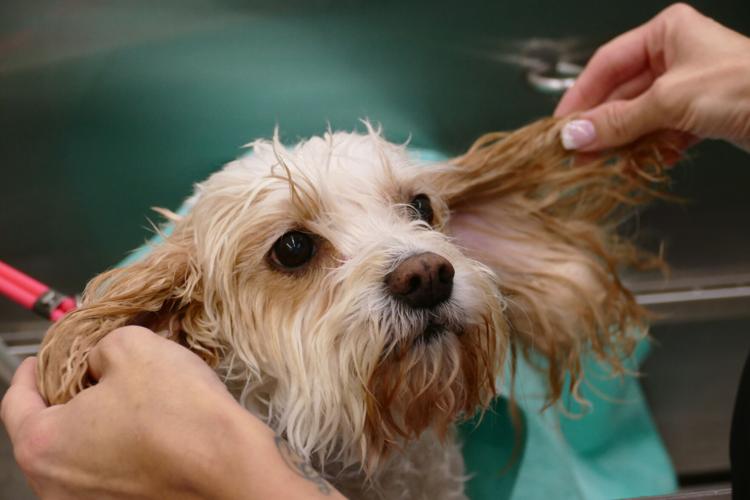 Pope is one of the better-known competitors in the creative grooming industry. She's been quoted in the New York Times and was featured in the HBO documentary "Well Groomed." 
Jordan Peterson, who owns Creative Shears Mobile Grooming in Chattanooga, Tennessee, has been grooming for about 8 years and started her own business in August. She said Pope is one of the leaders that helped grow the competitive grooming industry. 
"Adriane's one of those that just kind of started it and forged the way," Peterson said. "They kinda took it to that next level. There was always creative grooming, but they kinda took it to where they do all the designs, and all the color; made it what it is today." 
When she heard Pope had the virus, she drove to Myrtle Beach to help. 
"The competition world is kind of like a family," Peterson said. "That's our little group and our tribe and our family. We only see each other maybe once a month, but we still love each other and still support each other and everything."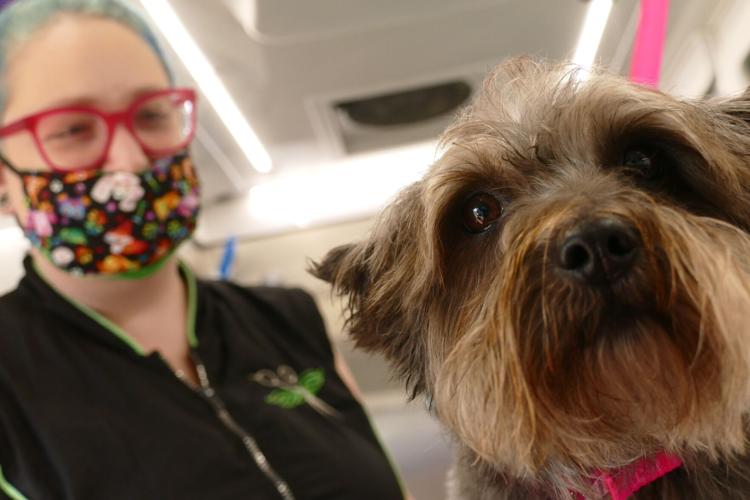 Before Pope got sick, she and several other groomers had planned to host a retreat in the Smoky Mountains to teach other groomers about creative grooming, said Angela Kumpe, an award-winning creative groomer who came up with the idea for the fundraiser and who appeared in the HBO documentary with Pope. 
But COVID-19 caused them to cancel the 50-person event, scheduled at the beginning October, and they hosted a Zoom seminar instead. At the time, Pope didn't know she was sick, and visited Kumpe's house for the seminar. 
"Adriane didn't feel good, thought she just ate something bad," said Kumpe, who runs Designer Dogs Mobile Grooming in Arkansas. "She was fine for two days, then she came home and tested positive, and we didn't get it. We were trying to be safe and she still ended up getting sick. This stuff's nasty, it's a nasty disease."
Groomingdale's Mobile Pet Spa owner Aimee Devers met Pope when she moved to Myrtle Beach and opened up her mobile grooming business. 
"Our industry is awesome," Devers said. "Everybody's just come together to try to help Adriane. And I can't think of a whole lot of industries that are this tight-knit of a group, coming together for one of our own. It's gonna be a long recovery process for her, I think."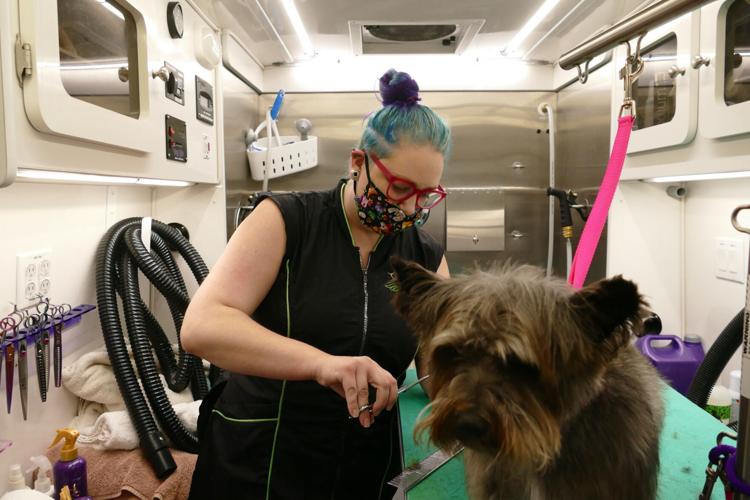 If you want to help out, there are four places on Sunday where your pupper can get a grooming:
Adriane's Groom and Go and Rivertown Bed & Biscuit
1855 Pitch Landing Road, Conway
8 a.m. – 5 p.m.
The Rock Church
1408 Mill Pond Road, Conway
9 a.m. – 5 p.m. 
Treat Your Pet Grooming
960 Cipriana Drive Unit B5, Myrtle Beach
10 a.m. – 5 p.m. 
Market Common Grooming
2876 Howard Avenue Unit C, Myrtle Beach
9 a.m. – 5 p.m.