The emptiest bench in Conway sits beneath a sprawling pecan tree just off Fourth Avenue. 
By Monday afternoon, black bows, a heart-shaped balloon and flowers covered the seat, but a void remained.
Herman Days, the man who often spent his mornings and afternoons on that bench, won't be back to wave at those driving past. Days was found unconscious at his home earlier this month, friends say. He held on for about two weeks — even after Facebook posts said he had passed — but the 69-year-old died of natural causes last week at Conway Medical Center.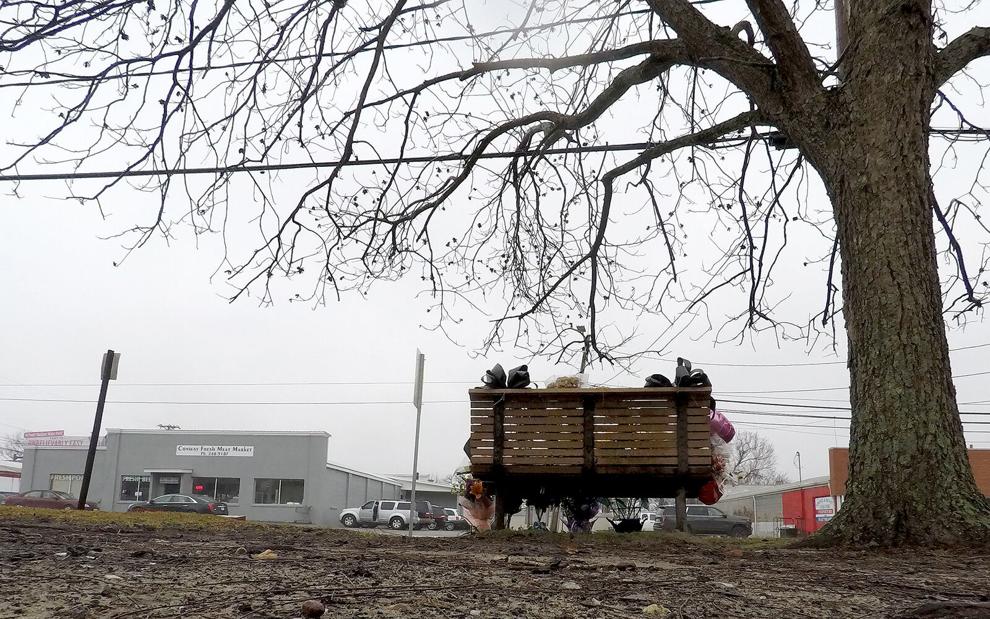 During his life, Conway's unofficial greeter made hundreds if not thousands of friends, most of whom he probably never met. Sitting on a bench that once held a Ronald McDonald statue, Days offered the simplest of gestures — a smile and a wave — and became a landmark of encouragement in the process. 
Children stared out of minivan windows hoping he'd see them. Truckers honked in recognition. Exhausted commuters searched for a reassuring face after a long day. 
"It makes a difference," said Jerry Faulk, who called Days his friend for about 60 years. "As small as it looks, unintentional as it looks … if somebody comes by and you're waving and they're blowing their horn, that means a whole lot."
Faulk first met Days in the tobacco fields of the Sandridge community, which sits just south of Conway in the Cates Bay Highway corridor. He said Days, who was a year younger than Faulk, proved to be a jokester even in his elementary school years.
"Where Herman's family lived on the Ridge out there, my Granddaddy and Daddy had a farm and they planted tobacco and that's kind of how me and Herman got to know each other," Faulk said. "They lived past the tobacco field. And so every day we was putting in tobacco, he'd come by just as free as he could be and he'd yell to the field, 'Crop that tobacco, boy. You'd better crop that tobacco right.' My Daddy would say [to Days], 'You better leave Jerry alone.' … We've been good friends ever since then."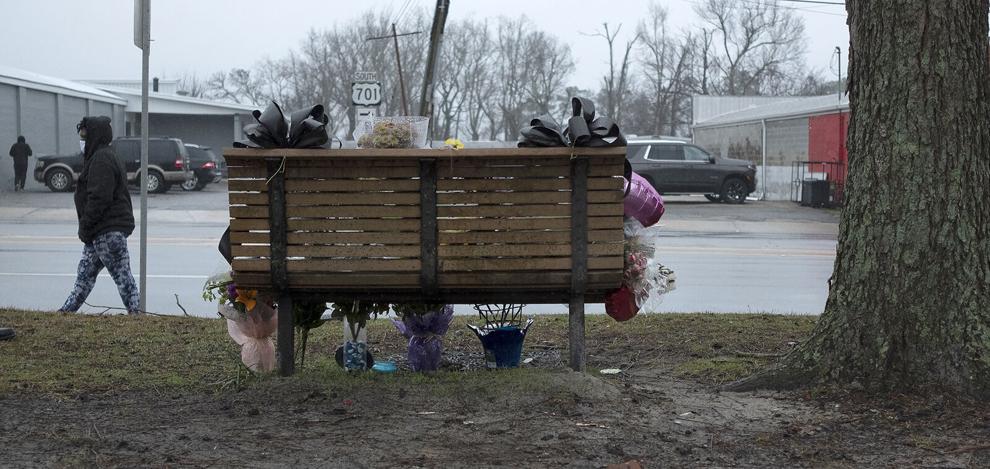 As they got older, they heard stories about the Northeast from their relatives. Looking for a better life, the country boys decided to check it out for themselves and moved to New Jersey together. 
"Didn't stay long," Faulk said. "We recognized that we were out of place."
They then enlisted in the military. Faulk joined the Marine Corps and Days chose the Navy. Even after going their separate ways, they stayed in touch and both men wound up back in Conway again. Faulk's house is less than half a mile away from Days' place.
"Two friends looking after one another," he said.
Each day, about 13,700 vehicles travel the stretch of road that includes Days' address, according to the S.C. Department of Transportation's estimates.
Horry County land records show that Days acquired his Fourth Avenue property in 1999, but Days had said he lived there a few years before he officially owned the place. 
Beige with green shutters, the 912-square-foot house lies just beyond the shadow of the U.S. 501 overpass, tucked next to Apple Lane. Folks who grew up on that street said Days seemed to run this little corner of the world. 
They called him "The Mayor."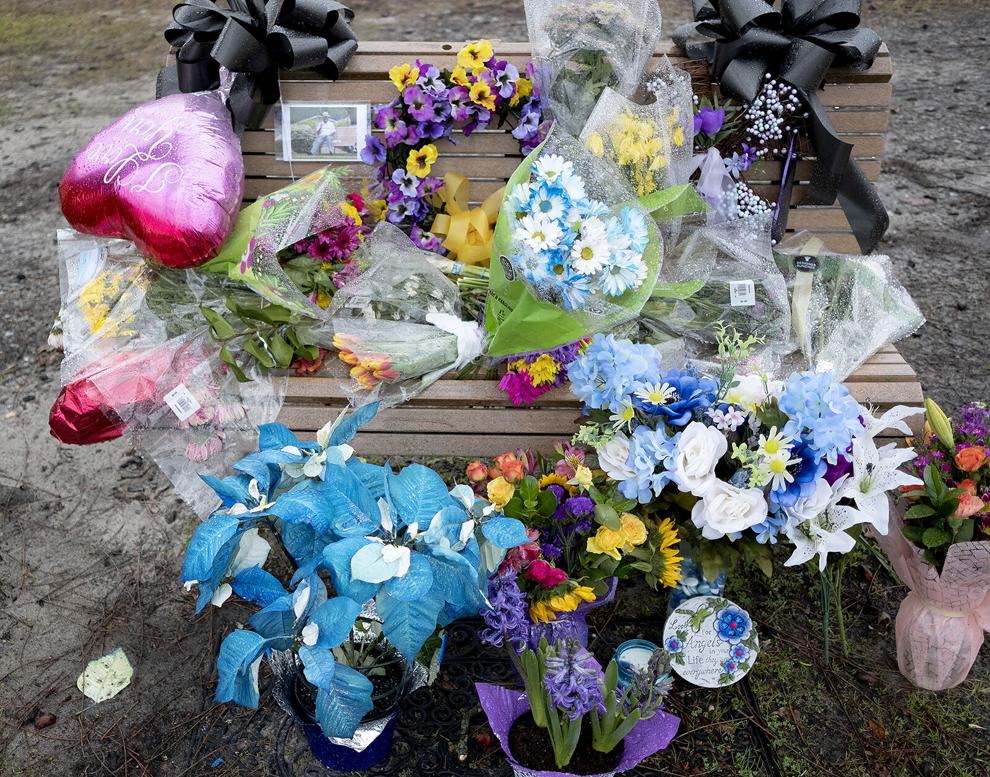 "He's our overseer," said Tashema Britton, who has known Days for most of her 36 years. "He's always been there."
Britton lives behind Days' house. She said everyone in that area looks for him. Even people with no connection to the community recognized the man with his signature fedora, leather jacket and gloves.  
"They're from all over," Britton said. "All over. I've got family members from New York that came down and they was like, 'How's the man on the block doing?' When I got married, that's how they found the way how to get to [my house]. … That's our man."
While Days served as a constant source of kindness to many, his warm disposition belied a difficult life. A severe diabetic, he'd had health problems for years and EMS crews often had to come to his house to assist him. He'd lost his left leg. He'd lost his son. Yet those who knew him said he refused to let his hardships prevent him from showing warmth.
"He was so special to me, just like to everybody else," said Conway's elected mayor, Barbara Blain-Bellamy. "He's touched a lot of lives. It's incredible."
Bellamy laughs when she hears people call Days the mayor.
"If there was a soul that I wouldn't mind sharing my role with as mayor, it would certainly be Herman Days," she said. "He was the epitome of love and gracious sharing in Christianity. Who wouldn't want that kind of partnership?"
Like Days, Bellamy's father had roots in the Sandridge community. She attended high school with him and the two stayed in touch over the years. They also attended Friendship Missionary Baptist Church together. Days was such a committed churchgoer that he would call Bellamy if she wasn't there on Sunday. 
Days was a talented cook with a knack for making Southern staples such as chicken bog and macaroni and cheese. A stickler for cleanliness, he kept his home and yard immaculate. 
Although friends and neighbors handled Days' lawn care, he directed them. He wouldn't let anyone use electric hedge trimmers on his beloved boxwood bushes. He insisted that they be precisely sheared by hand.
Apart from his organizational skills, it was his generosity that was unmatched. If kindness were currency, friends say Days could have bought just about anything he wanted in Conway.
Last October, Days called Bellamy on her birthday. However, he was unaware of the significance of the day until she playfully thanked him for calling to wish her a happy birthday. 
About an hour after they hung up, Days came to Bellamy's home with flowers and a card.
"He enjoyed making people happy," she said. "That's just the way he was. … This is a huge loss, a tremendous loss to the Conway community."
The neighborhood always looked after Days. If someone yelled to him and he didn't respond or looked frail, they would rush to the meat market, buy an orange juice and take it to Days to get his blood sugar up. On really bad days, they called 911. 
Dave Schuk met Days when he moved his business, Above and Beyond Furniture, across from the waving man's house in 2011. His staff quickly learned how to tell when Days was on his perch: the cacophony of honking would begin. 
"All day long, all you'd hear is people's horns," Schuk said. 
The two men often spoke when Schuk would unlock the store in the morning. Some days Schuk would walk over and chat under the pecan tree. Other times Days would head over to the store and speak with Schuk's children. 
About six years ago, Schuk noticed Days' wooden bench was rotting and he worried it wouldn't last long. His store had picked up an old McDonald's bench with a Ronald McDonald figure bolted to it. Someone bought the clown statue, but the store couldn't ship the bench with the figure. So they cut off Ronald and kept the resin bench. The staff had planned on using it for breaks, but they thought Days would be safer with it.
"I just told the guys, I said, 'Bring this over there, grab his rotted old one and throw it in our dumpster," Schuk said. "That way nothing's going to happen to him."
Kate Martin moved to the south side of Conway about three and a half years ago. Her family first noticed Days when they would drive past him on their way to school. After Hurricane Florence closed schools for weeks in 2018, Martin didn't see Days on the bench. She worried that something was wrong. Then one day they saw a familiar sight at the Conway Walmart. 
"Mom, I think that's the guy from the bench," her elementary age son told her.
She was hesitant about approaching the man, not wanting to bother him or have an awkward case of mistaken identity. But her son insisted.
"I went up to him and I said, 'Excuse me sir, are you the man …' and I couldn't even get it out of my mouth and Herman just lit up and he goes, 'Yeah, that's me. That's me,'" she recalled. "He started hugging the kids. … I was just blown away."
After that, the Martins would slow down as they passed his house so her son could call to him. Days always gave an enthusiastic wave in response.
Over the holidays, they decided to get Days a Christmas ornament. They searched until they could find one that was a miniature bench. When her son gave Days the present, the older man pulled out his wallet and handed the boy $10 cash. Martin's son tried to return the money, but Days politely declined.
"It's my Christmas present," he told the child. "You buy something nice for yourself."
After learning of Days' death, Martin and her son visited the bench on Sunday and brought flowers. They talked about the big impact of Days' small act.
"Isn't it crazy that all he had to do was sit here and it really changed people's lives," she said. "Just that small little act of kindness and it's gone out in the world."
She was pleased to see the flood of supportive Facebook posts about Days after his death.
"I wonder if he knew just how many people loved him that maybe had never even spoken to him," she said. "I just wonder if he had any clue."
Conway folks cared so much about Days that they mourned him before he was even gone. 
While he was alive but hospitalized, a post in a Conway Facebook group said Days had died. People began leaving flowers on his bench, so Faulk taped a note to it thanking folks for their kindness and asking for their prayers, though he added that Days had not passed yet. 
Faulk held out hope for his friend. Even though the situation looked bleak, hadn't doctors written other people off who then miraculously pulled through? 
When he went to visit Days at the hospital, Faulk spoke in positive language.
"You and I have been through a whole lot," he said. "You're a fighter. I'm a fighter. You're going to make it."
After Faulk taped a message on the bench that said Days was still alive, a "Get well soon" sign appeared. More arrangements arrived. 
Hours before Days died Friday, neighbors tried to be optimistic. They talked about leaning on their faith, but they still held out hope. Days had seen health scares before. He'd always persevered.
"He's going to be back on his post real soon," some said. "Let him get right."
Then Faulk got a call from Days' brother telling him the news. 
The next day, the hopeful messages had been replaced by black bows. 
Conway's Tanner Massey stopped by the bench when he saw the bows on Sunday morning. He had never spoken to Days, but like many others he pulled off the road to pay his respects.
"It shows that he cared," he said of Days' waving. "If I was having a bad day, I could look over and see his wave. And sometimes you'd see a little smile or something when you'd wave back. … When you saw him, you felt like everything was OK. Now that he's passed, you realize that something's missing." 
Late last year, Days sat beneath his pecan tree and talked about why he enjoyed waving at strangers. He said he simply wanted to make people feel better.
"That's what the world is all about," Days said.
He spoke of watching the pecan tree grow over the years and moving his post from another tree in his backyard to beneath his final natural canopy. More than anything else, he stressed that people have a duty to be kind.
"That's everybody's mission," he said. "Be a positive effect on everybody whenever you can. Have a word of encouragement."
Or, in some cases, a wave.