For Tom Vonderlinn, it still hasn't sunk in.
"It's hard to process," said the Conway area resident who lives off of Riverside Drive.
About a half mile from Vonderlinn's house just off S.C. 90, the street had turned into a lagoon by Sunday morning, a flock of ducks swimming atop the water.
Vonderlinn, who lives with his wife and their four pets, has resided in the neighborhood for over a dozen years.
"It happened all so fast," he said. "All of a sudden [the storm] is right here parking itself over North and South Carolina."
Yards outside the home have seen some flooding in 2015 and 2016, but Florence brought inundation to inside his home for the first time.
"It's never gotten in the house before," he said of the water. "We had to move out for a month in 2015 and 2016 and lost everything in the yards but it never was high enough to enter the house."
This past Wednesday, Vonderlinn, his wife, and their two dogs and two cats evacuated, the family now staying in a mobile home in Conway located off of U.S. 501.
Having some issues with his boat, Vonderlinn borrowed a neighbor's.
"We've been going back and forth to get essentials," he said, adding they were at the home this past Friday where water hadn't yet reached the inside of the house.
Since that time, he said, two feet of water has crept into the home and he expected an additional two more feet of flooding.
"It's going to continue to flood. … I'm going to end up with four feet of water in the home," he said. "All the furniture's still in there. We couldn't get any of it out.
"We worked very hard on that house for the last year and a half" following Hurricane Matthew, he added.
Due to Florence, the Waccamaw River has already reached a record height of 20 feet by Sunday morning.
The river is expected to crest at around 22 feet by Wednesday, roughly four feet higher than levels reached during Hurricanes Matthew and Floyd, according to information provided by the National Weather Service.
"This is just beyond anyone's imagination. It really is," Vonderlinn said. "No one ever expected the river to go up four feet over its historic high. That's beyond belief. If someone would have told me that that was going to happen and I had a bet on it I would've bet everything I owned [that it wouldn't]," he said.
He suspected water could even reach the inside of homes of neighbors who had remodeled and raised their homes.
He anticipated potentially gutting his own home once the water finally recedes.
"It's either that or walk away, which is a very real possibility," he said.
Vonderlinn described his wife as being "devastated" by what happened, he himself remaining shocked.
"It hasn't even hit us completely yet," he said. "It's just a process of getting to that point of acceptance."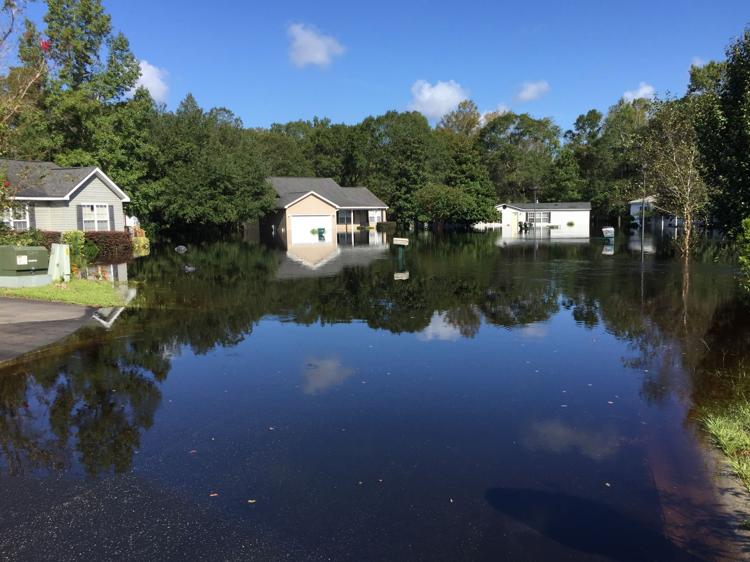 Also located off S.C. 90 the Bridgewater community seemed largely spared by Florence's wrath by Sunday morning other than a cul-de-sac toward the back of the neighborhood.
Cries of birds could be heard nearby as neighborhood residents observed the water that reached over half of some mailboxes.
Just past the cul-de-sac, Dawn Hansen has lived in a house for 11 years.
She resides in the home with her son and daughter as well as their two adult dogs and six puppies and her nephew has also been staying with the family.
"I have no backyard," she said, referring to over a feet of standing water outside her home. "The backyard is completely gone."
The past few days, Hansen said, water has slowly climbed at her home's exterior.
Around Friday or so, the water rose fast and continued to elevate. Because they didn't want to leave their pets, her family didn't leave.
She said her home has seen flooding outside during Matthew but water never entered the house. She recalled neighbors living in the cul-de-sac being forced to leave their residences due to Florence.
"It's sad," Hansen said. "You watch your neighbors pull up and look at their house and there's nothing you can do."
She worried about the water possibly reaching the inside of her home.
"This is the worst … we've ever seen," she said.
If she must evacuate, Hansen said she'd likely stay with her sister, who lives on a hill on Blossom Street.
"I'm feeling a little bit of hope right now it (the water) won't come in the house but I don't know," she said. "It's stressful because it's not like it's a fast moving thing. It's something you have to watch slowly. It's a heartbreaking feeling."