NICHOLS | Bonita Bailey became smitten with Nichols long before she called the tiny town home.
Decades ago, she lived at the beach and would take a shortcut through Nichols on her way to visit her mother who lived on the other side of Dillon County, where Bailey worked as a teacher. That's when she noticed the white cottage with the columns on N. Nichols Street.
"It was just a tiny little house in a quiet little community on a quiet little street where all the other houses just seemed to blend in," she said. "We just liked the charm of it."
When a teacher from Nichols told her the home was for sale, Bailey and her husband bought it. They ripped out the old wallpaper and pulled down the drapes. She's been here 23 years.
But the recent ones have been difficult. Her husband died eight years ago. Then Hurricane Matthew swept through in 2016 and flooded the town, which sits near the confluence of the Lumber and Little Pee Dee rivers. Hurricane Florence brought another round of destruction. Each storm dumped at least 4 feet of water into Bailey's beloved home.
"People don't realize, unless they've gone through it, how heartbreaking it is," she said.
That pain lingers in Nichols. Some people still call town hall after several days of heavy rains, asking if the rivers will flood.
The Marion County town, which sits close to the Horry County border, has a population of around 300 people. Some residents moved away after the floods. Many buildings remain empty. The town had 22 businesses before Hurricane Matthew. That number had been cut in half by the time Hurricane Florence arrived. Now there are nine that remain open daily.
"Nichols is just clawing, trying to get back," said Sarah Devers, whose husband is an owner of The Sunny Mart convenience store, one of the remaining businesses in the town. "We've got a long way to go, but we lost so much in the floods. We lost a doctor, a bank, a drug store, a couple of other businesses. We just have nothing now."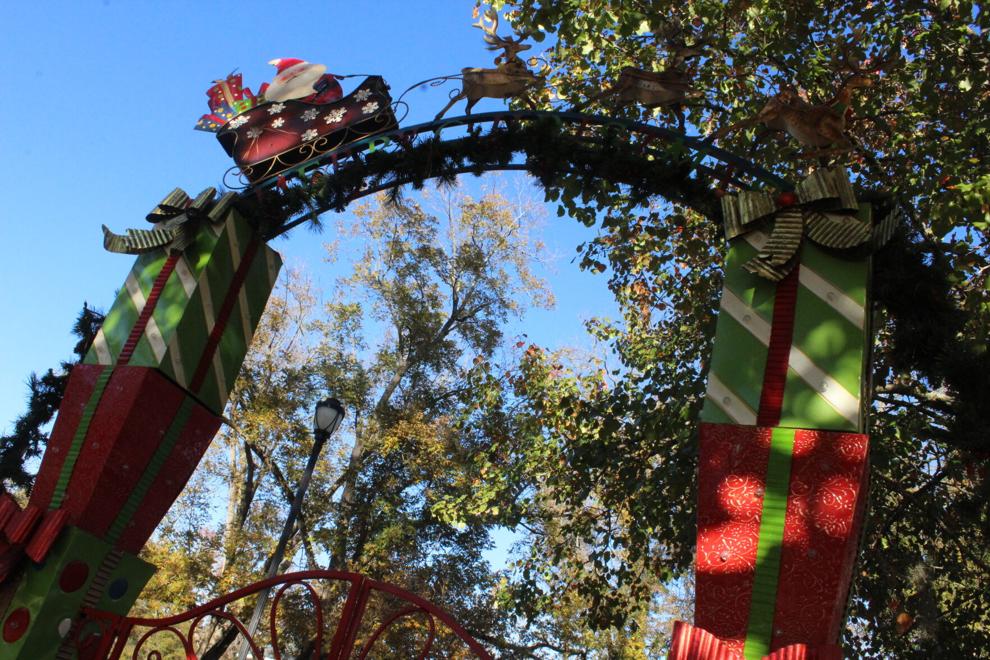 Yet there are small signs of normalcy. There are the miniature sleigh and elves across from town hall. And Centennial Park, which sits beside the mostly empty downtown, is decorated with lights and arches, a Santa seat, a Christmas tree and reindeer.
Smiling snowmen face the plywood-covered storefronts.
And on Saturday, the town will host a Christmas parade.
Folks who live in Nichols and just outside it have planned the celebration, complete with marching bands, floats and a holiday market. For the residents, it's a signal of resilience and hope.
"A lot of people are still literally traumatized from the flooding," said Nicole McDowell, the town's grants administrator. "And to be able to do something fun … that's what people need in this town. … We can't think of Nichols as the flooded town forever."
Some locals insist this is Nichols' first Christmas parade. Others remember one decades ago, but they can't recall exactly when. One part of the history is indisputable: nothing like this has happened since the floods.
"We're so excited," Devers said.
The idea for a parade emerged from another community event in October.
The town held a trunk or treat to celebrate Halloween, and a crowd showed up. They gave away every one of the 220-plus hot dogs they had, and town officials were surprised by the outpouring of support.
"It ended up being an absolute blast," McDowell said. "We probably had at least 400 people."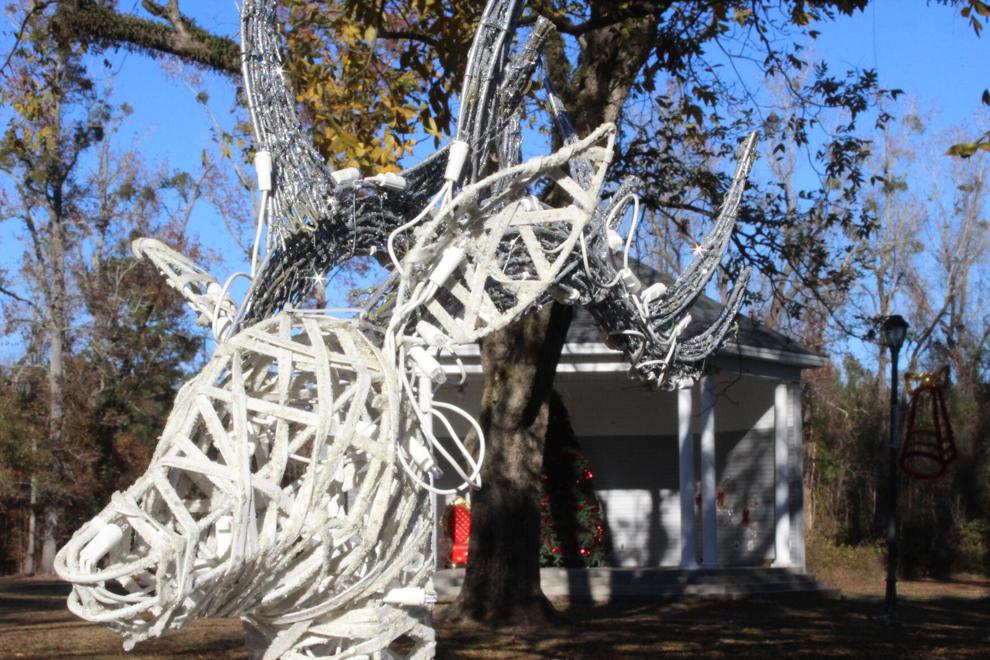 As she handed out candy from her GMC Terrain at Nichols Town Hall, Maria Cartrette marveled at the trunk or treat atmosphere: the popcorn stand, the photo booth and the hundreds of people.
She wanted this to continue.
Cartrette has a background in festivals. For nearly a decade, she helped run the North Myrtle Beach St. Patrick's Day Parade. And after she got married and moved to Tabor City, North Carolina, she assisted with the yam festival there.
Nichols, though, was different. This was home.
"God laid it on my heart," Cartrette said of the Christmas parade.
The daughter of a Freewill Baptist preacher, Cartrette grew up in Floyds Crossroads, which is about three miles outside of Nichols. After she left, she never expected to return home. But when her husband wanted to live in the country, this is where they moved.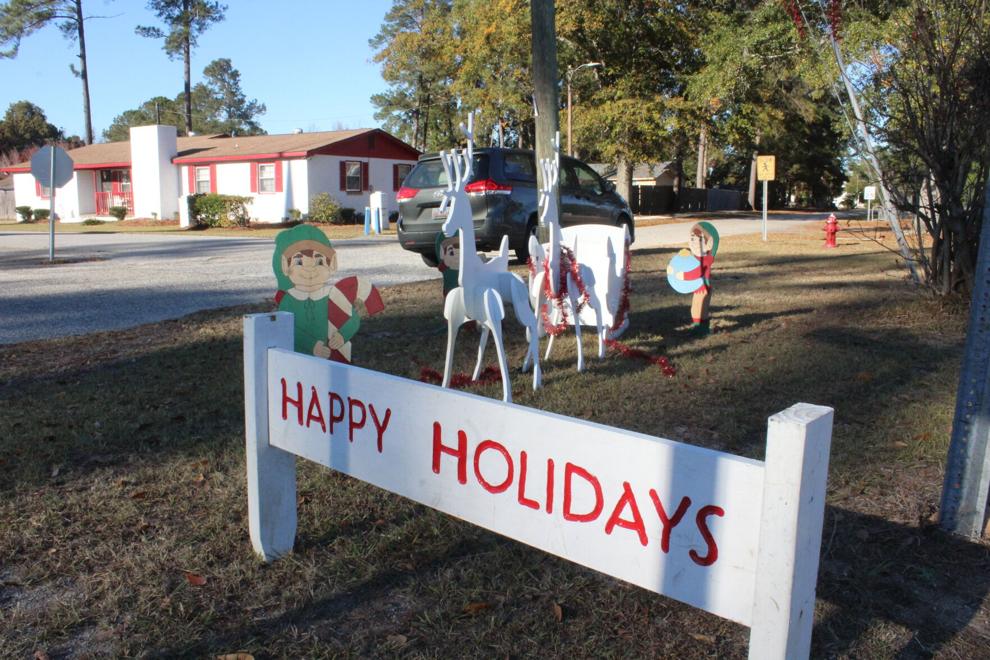 Like other folks in the area, Cartrette has seen Nichols struggle. So she approached her employer, Anderson Brothers Bank, about supporting the event. The bank often takes on special projects during the holiday season, and this year Anderson Brothers agreed to sponsor the parade and a holiday market at Centennial Park. Organizers lined up everything from craft vendors to food trucks.
"They need some joy," Cartrette said. "They need some fellowship. They need some things to get excited about. … It's the time of the year that people need it. And unfortunately, people in Nichols have lost too much already and I really feel like this could help bring some cheer back."
The town embraced the project. McDowell reached out to the marching bands at Marion and Green Sea Floyds high schools, persuading both to perform. She talked Jimmy Collins, the town's volunteer fire chief who has been the City of Marion's Santa for some 20 years, into wearing the red suit for Nichols.
It wasn't a hard sell.
"Just give something back to them," Collins said.
Before Thanksgiving, the town had nearly 40 parade entries signed up. One church even offered to bring "blessing bags" filled with canned goods.
"They've done a lot of hard work to get it ready," said Bailey, who chairs the town's beautification committee. "And we're still working. … We had a big, pretty Christmas tree that was down where Pace's Pharmacy used to be. But we had to take it down because it had grown so and had grown into the power lines. We couldn't put the lights on it anymore, so we had to cut that down."
Nothing comes easily in Nichols, and Bailey understands this.
The first time her home flooded in 2016, she spent the night in her neighbor's two-story house. The next day, she rode in a rubber boat to see how bad the damage was at her cottage. She found her cat on the bed, the one spot of high ground amid the floodwater.
"If that doesn't break your heart, nothing will," she said. "I can still see the first flood."
Two years later, her home would flood during Hurricane Florence's deluge. Again, she put her house back together.
She wasn't moving.
"It was home," she said.
That's why she's worked to bring a spark back to the town. On Saturday morning, her gray Kia Soul will be covered with giant gift packages. She'll hang Santa clings from the windows and decorative gift bags will anchor her open trunk.
A cloth banner for the front says "Merry Christmas."
"This is just like a shot in the arm," Bailey said of the parade, "to sort of put some life back into our little town."