Last Friday morning, a handful of divers swam more than 35 feet down into the murky Atlantic Ocean several miles off the coast of North Myrtle Beach to install two large blocks of cement, each weighing more than 800 pounds, and topped with a cage loaded with sensors and technology to capture data about the ocean environment. 
Among the divers were South Carolina state Sen. Stephen Goldfinch, South Carolina Floodwater Commission Chairman Tom Mullikin, and Coastal Carolina University marine science students.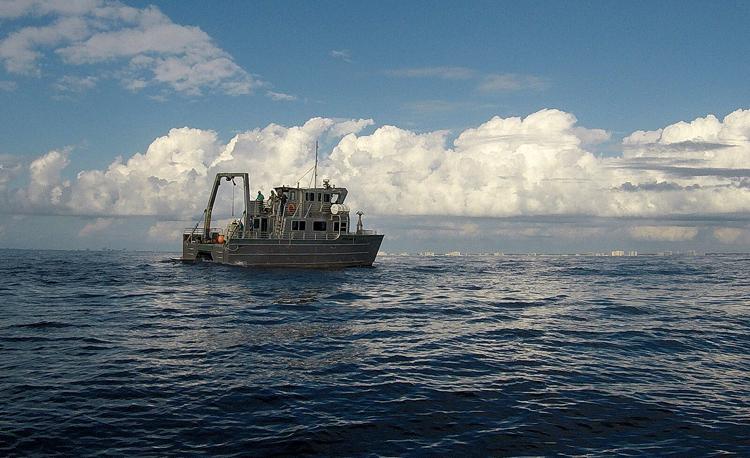 Paul Gayes, the director of Coastal Carolina's Burroughs and Chapin Center for Marine and Wetland Studies and a member of the floodwater commission, looked on from the Coastal Explorer, the CCU research vessel that hauled the "smart reef" out to sea, as the crew lowered it into the water and down into the Ron McManus Memorial Reef.
"We took a cage full of equipment and sensors and whatnot, and brought it from the back of the Explorer there, hooked lift bags to it and slowly but surely dropped it to the bottom of the ocean," said Goldfinch, who also sits on the commission. "Then we anchored it to the bedrock using these big mobile home anchors, basically screwed them into the sand, down into the bedrock, then hooked a wire from the cage that has all the sensors to the mobile home anchors so that that cage won't fly off in the middle of a storm." 
The floodwater commission eventually hopes to install an artificial smart reef system across the entirety of South Carolina's coastline. Right now, there are 42 other individual artificial reef locations in the state. None of them have the smart-reef system. 
"We're going to build a reef along the coast, along the entire coast of South Carolina," said Mullikin. "Reefs are where life begins in the ocean. So there's a great deal of interest with the beginning of marine life. And we will rebuild our reef, which is the kidney of the ocean; it helps cleanse the ocean." 
While the physical artificial reefs are made of concrete, old vehicles and other sunken structures, turning it into a smart reef system isn't as cheap. The sensors and equipment installed Friday cost around $100,000, Gayes said, and the buoy that will collect the data and send it back to shore costs about $200,000. 
Gayes said the school will go out to sea to gather the data once a month until early spring or summer, when funding comes in to install the buoy. That buoy, courtesy of Florida Atlantic University, will use a radio link to send data from the sensors to a cloud-based portal so researchers and students can look at the data in real time.
CCU starts Smart Reef off NMB coast
The smart reef installed on Saturday is loaded with data-gathering equipment. It has a camera system to observe patterns in how the reef attracts fish and other invertebrates, an acoustic receiver to track Tiger Sharks, and can detect salinity, water level, turbidity, wave attenuation, and dissolved oxygen levels.
"This area is known to have hypoxic issues now and again in the summertime; low oxygen levels," Gayes said. "Sometimes it seems it's a great thing; all these flounder come up against the beach and you're catching them like mad on the pier. That's fun for fishing, but it may not be the best thing with low oxygen out there. We need to understand how it's happening, why it's happening and try to minimize those impacts if we can."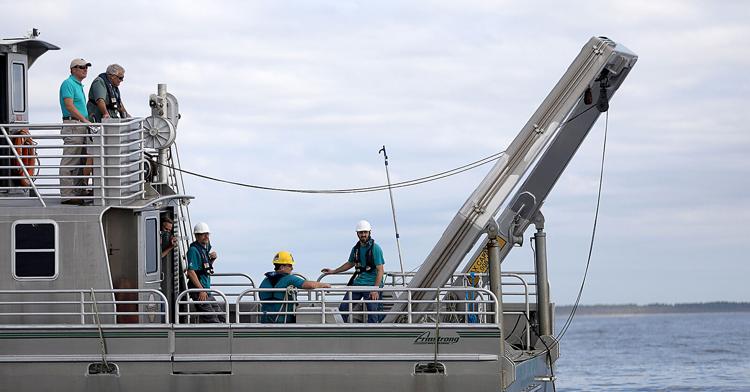 That data will also go to the South East Atlantic Econet, which is a collection of 100 weather stations across the Southeast that feed the National Weather Service's modeling systems.
"It's really an extension of a number of other initiatives," Gayes said. "We're partnering with people with Clemson and Florida Atlantic University, and the whole idea is to get real-time data into a cloud-based, publicly-available portal, which may have a range of direct applications, but also to get that information into modeling systems so that we can get better predictive capabilities." 
Ultimately, the idea is to install smart reefs up and down South Carolina's coast to gather data, but it's an expensive goal, dependent on funding from lots of different sources. And institutions often give grants to study one particular aspect of the environment, whereas the smart reef in its entirety is meant to gather lots of different data points. 
"With the flood commission, some funding came in from the National Science Foundation to build smarter small water-level sensors, so we're going to spread out 40 more water-level sensors around the state that feed into the model systems that will get better real-time information about flooding," Gayes said. "The reef's just a piece of that. The idea is getting instrumentation and technology together to get a better understanding; a higher resolution appreciation of how this environment works."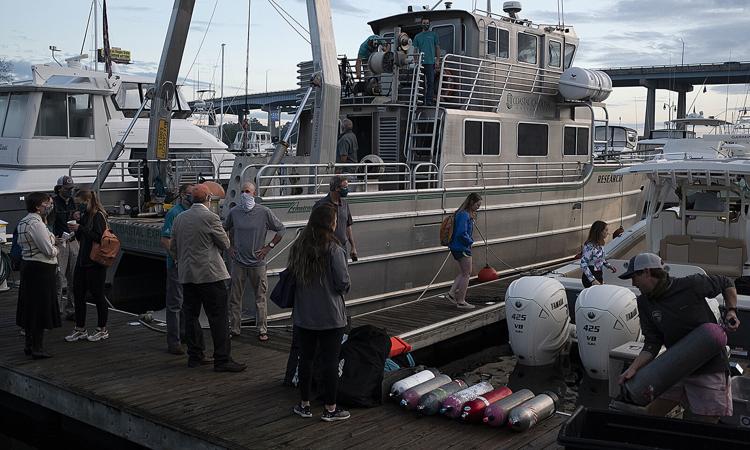 The data the reef collects will also help researchers figure out where to put artificial reefs in the future in such a way to break up storm surge from hurricanes while having a minimal negative impact on the surrounding environment. 
"This is on the floor of the ocean bed, and will begin to help with breaking the wave and the storm surge," said Mullikin. "So we've got to figure out where is the best place? You don't want it too close, and you don't want it too far, and really, it's a very precise science.  And it's different along our coastline, so it's going to be a very involved process." 
But the reef is just one part of a more holistic approach to tackling flooding issues across the state, caused by what Mullikin said are three concurrent challenges: flooding from hurricanes and storm surge, nuisance flooding during heavy rain events that's directly related to sea level rise, and rain from North Carolina making its way  down to South Carolina's coast, eventually flowing into Winyah bay and out to the Atlantic.
The state is tackling those challenges both on the macro level and micro level, Mullikin said. On the macro level, the state is moving away from coal-fired power plants to reduce its greenhouse gas footprint. Steps on the micro level include planting trees and indigenous grasses and cleaning out streams and rivers.
"I'm 60, and I'm gonna keep doing this until it's done," Mullikin said. "While it seems small, what you have going on in South Carolina is we're no longer just talking about doing things; we're doing things. People have talked about the value of an artificial reef for decades. People have talked about cleaning ditches and creeks and rivers for decades. Now [we're] planting a living shoreline, planting indigenous grass and trees. The first step is more than just one."