Bernie Tomayko can't see an upside to replacing the Wizard Golf Links with more housing.
A retired police officer, Tomayko grilled Horry County planning staff last week about new conceptual plans from a developer that outline a project with 400 single-family houses and 283 townhouse units. Well over 150 people attended the informational meeting about the project at the Carolina Forest Recreation Center.
"Everybody here in this building right now is dead set against this," said Tomayko, who lives in the Windsor Green neighborhood. "This is the third time [a developer has] tried to do this. … It's just aggravating."
The concerns raised about the project range from increased traffic and road accessibility to school overcrowding, a lack of sufficient public safety resources and even the impact on neighbors' golf course views. But residents are also asking a more fundamental question: How much more growth can Carolina Forest accommodate?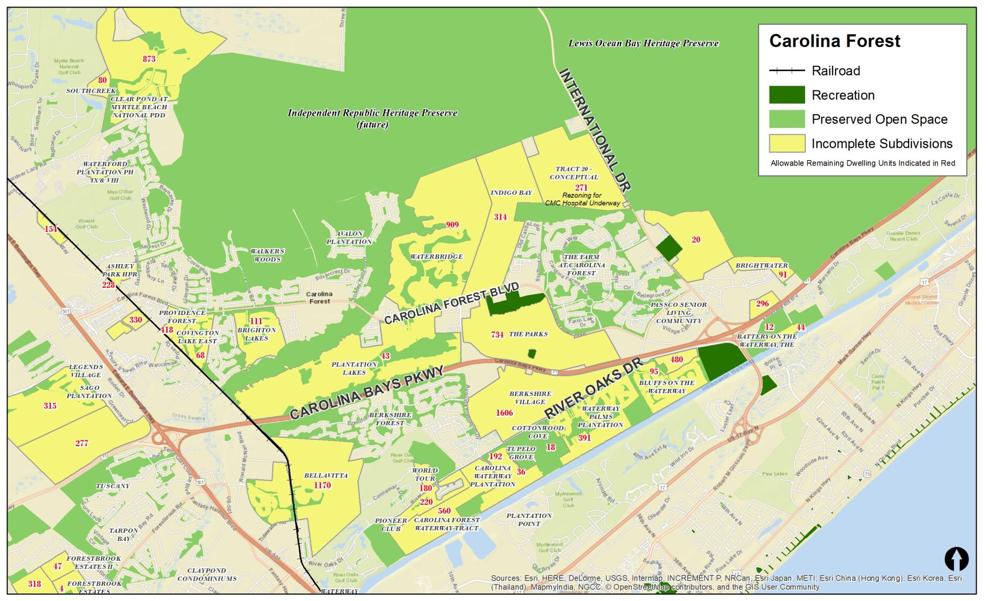 "There's just too much that's already shovel ready available to be built in Carolina Forest and the surrounding areas," said Carole vanSickler, who lives in nearby Waterford Plantation. "We just can't handle it."
Near the Wizard, two schools — Carolina Forest Elementary and Carolina Forest High — are already "redzoned," meaning they are at or above 95% capacity and district officials will not allow out-of-area students to transfer into them.
Throughout Carolina Forest, there are more than 4,200 lots in subdivisions available for home construction, according to county records. That means houses could be built there without a rezoning request.
Some of those neighborhoods — Clear Pond (873 home sites), Southcreek (80 sites) and Nest Communities (154 sites) — are close to the Wizard.
"The whole area's congested already," Tomayko said.
Horry County Council members who represent Carolina Forest have recently shown a sensitivity to public backlashes over development proposals. In May, the council rejected a rezoning request for 58 single-family homes off Gardner Lacy Road after neighbors objected to the plan.
"I'm going to do what the people want done," said councilman Danny Hardee, who represents the section of Carolina Forest that includes the Wizard. "And so far, they don't want any part of it."
Hardee doubts construction projects in this area of Carolina Forest will receive public support until Gardner Lacy Road is extended to International Drive and the U.S. 501 corridor is improved.
"They have traffic problems," he said. "They ain't going away."
One aspect of the latest Wizard redevelopment concept that's designed to appeal to neighbors is keeping the neighboring Man O'War golf course free from development while converting the Wizard into homes. However, Hardee remains skeptical that such a deal would ever win the community's support because it doesn't address their other concerns.
"I don't think they're going to buy that," he said.
So what's on the table?
At this point, no formal request to rezone the land has been made. David Jordan, the county's director of planning and zoning, said the property holding the Wizard is zoned for a golf course and any redevelopment would require a zoning change.
County officials estimate it would take at least several months before such a request could even be presented, but the engineering firm working on the project hasn't decided what that timeline should be.
Felix Pitts, a principal at G3 Engineering, met with residents last week and said he's taking the feedback he received, coming up with a new concept and trying to figure out what path his client should take.
News of the potential redevelopment isn't unexpected. The idea has been floated several times, and county council members were approached by a developer in 2019 about The Wizard, but at that time they said no work would begin until the widening of Carolina Forest Boulevard was completed.
That construction was finished in July.
Owned by D.G. Golf Management, the Dan Maples-designed Wizard spans 6,721 yards. The company also owns The Witch golf course on S.C. 544. Some of the property that holds The Witch was rezoned last year to accommodate residential development.
As for the Wizard, Pitts wanted to hold a public meeting to gauge community reactions to the idea, but he also offered an olive branch: Could anything be done with this project to address existing challenges in the area?
"I just thought that it was important to attack this head on and see if there was anything that could come out of a dialogue with the surrounding residents and the surrounding communities," he said. "I'm trying to identify issues in the community — traffic, stormwater — things that they know, the surrounding residents know, that I don't that this potential development could address and help them improve. … This development does not need to occur unless it improves some of the existing conditions for the surrounding residents."
Yet many residents remain opposed to redeveloping the property.
"I don't care what they propose," vanSickler said. "We don't see it being feasible."
The fear of losing the natural beauty of the area also remains.
"So picturesque," said Bill Berg, who lives in Windsor Green. "It really is. Peaceful, quiet, it adds to the quality of life. Just to sit out on the deck, you hear the birds, you see the turtles. You see the wildlife."
Some residents question how traffic in such a development would flow. One proposal showed an exit onto Gateway Drive with a second exit onto a traffic circle on Postal Way. 
Neighbors see the additional traffic as exacerbating congestion in an area that backs up during school drop-off and arrival times, not to mention occasional gridlock from the workday commuters.
"That's obvious," Berg said. "Right now, if you travel either Carolina Forest Boulevard or even out to 501 between certain hours, it's nothing but a parking lot of cars. It's terrible."
Despite the opposition, Pitts said last week's meeting gave him ideas about reasonable lot sizes, buffers and access. Some folks told him they didn't want to lose their scenic view, which was one of the reasons they moved there.
"It's productive to have that type of conversation," he said. "Those people, they've got an issue there that I think's valid … If you can develop the property in such a way where they can retain their view, well now you're not so much creating an adversary, but you've got somebody more in a neutral position than they would have been otherwise."