Terri Straka lives in a state of uncertainty. But residents of her community may qualify for government-funded home buyouts.
As floodwaters assailed her Rosewood Estates home twice in the past few years, Straka's fearful of what could happen in the future.
"It's a living nightmare," she said. "To live there, it's just a lot of stress, anxiety."
Hers was one of about 2,000 Horry County homes that were damaged by flooding last year because of Hurricane Florence's onslaught. Like many of her neighbors, her home in the Socastee community that borders the Intracoastal Waterway also flooded in 2016 due to Hurricane Matthew.
Wreaths and other Christmas decorations bedeck some of the homes in the community that sits next to Socastee High School, while other houses appear unkempt. Cul-de-sacs feature homes with overgrown lawns like cavities on a full-toothed grin, and some homes in the community show signs that they may have been abandoned.
But it's home and Kenneth Hucks is staying.
Hucks, who's lived in the community since 1982, pointed out his home has been fixed up twice after flooding events. He lives near his daughter, whose Rosewood home was elevated six-and-a-half feet by Samaritan's Purse.
On his morning journey around the neighborhood to pick up trash and let his dogs Mia, Hazel Grace and Bailey run, Hucks stared at the waterway recounting his deep roots to the area.
Nearby, some homes, including ones directly adjacent to the waterway, sit on stilts. The neighborhood was quiet just over a year after floodwaters upended several residents' lives, forcing some to gather their belongings or live in campers.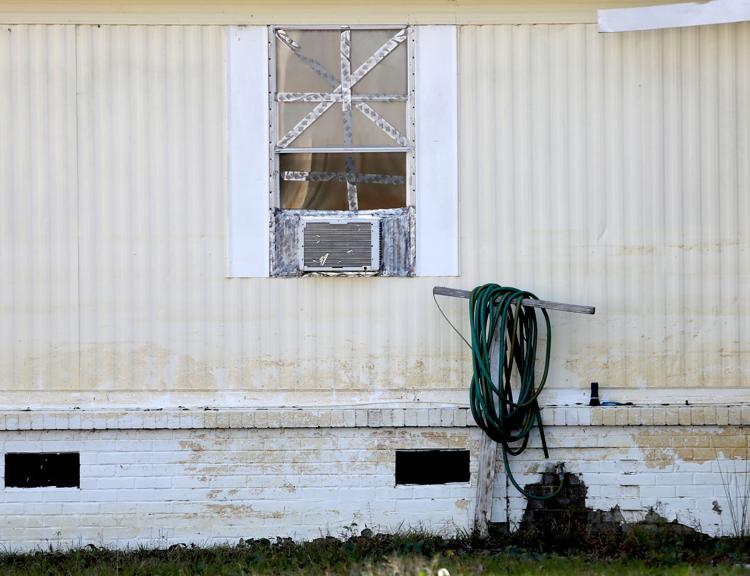 "Socastee's wonderful. The people are great," Hucks said. "You couldn't find a better community that had each other's back."
"If I ever moved, I'd be moving to the Bahamas," he said.
The new program from the U.S. Department of Housing and Urban Development (HUD) won't help with a move to the Bahamas, but it could benefit local homeowners like Straka whose home flooded because of Matthew or those whose homes were impacted by the 1,000-year flood event that preceded it in October 2015. For the first time, the federal agency is utilizing Community Development Block Grant funding specifically for mitigation efforts.
In April 2018, HUD announced the allocation of over $157 million to South Carolina (Columbia, Lexington County and Richland County have also been allocated $18.5M, $15.1M and $21.8M, respectively, as a result of the 2015 event). A Federal Register notice was published this past August.
The South Carolina Disaster Recovery Office (SCDRO) that is under the state's Department of Administration, which is itself under Gov. Henry McMaster's office, was selected by HUD and the state to administer the program. SCDRO oversees grant programs that focus on rebuilding or repairing homes damaged because of severe weather events, managing federal funds that are available to help in disaster recovery.
"While it is impossible to eliminate all risk, these funds will enable states to mitigate against future disaster risk, while at the same time allowing the opportunity to transform local planning," said Ben Duncan, program director.
"Disaster recovery is not for the faint of heart," he added. "It takes many months of planning. ... It's not a sprint, but a marathon."

Earlier this month, SCDRO published a draft of its CDBG-MIT Action Plan, and public comments are being accepted until Jan. 24, 2020. The plan can be viewed at sc.dr.sc.gov/mitigation, and comments may be submitted by 
emailing DROMitigation@admin.sc.gov or in writing to 632 Rosewood Drive, Columbia, SC 29201. Each comment will be included in the draft, which will be submitted to HUD on Feb. 3.
So far, SCDRO has hosted two public hearings — one in November in Kingstree and another on Dec. 16 at Horry Georgetown Technical College's Conway campus that Straka and other locals impacted by flooding attended.
A third meeting is scheduled for 6 p.m. on Jan. 7, 2020, and will be held at Trident Technical College's Palmer Amphitheater in Charleston.
During the meeting at HGTC, officials explained how the federal funds allocated for South Carolina will be used for counties identified as the most impacted and distressed. In addition to Horry, they include Charleston, Clarendon, Dorchester, Florence, Georgetown, Marion, Sumter, and Williamsburg counties as well as Chesterfield, Dillon, Marlboro, Lee County, Darlington, Calhoun, Orangeburg and Berkeley counties.
The plans call for funds to be allocated for infrastructure ($100M), housing buyouts ($35M), planning ($9.7M), program administration ($7.8M) and providing matches for Federal Emergency Management Agency-funded (FEMA) mitigation ($5M). Local governments — specifically counties and incorporated municipalities — will have the chance to apply for projects, which Horry County Community Development Director Courtney Frappaolo noted as a positive.
"The county's been saying for over a year that this type of work needs to happen at a local level," she said.
Ultimately, a governor-appointed steering committee will be responsible for choosing which projects are awarded funds.
April O'Leary with the Facebook group Horry County Rising has been engaging local flood victims, helping them stay informed and have their voices heard. The former program officer for Winyah Rivers Foundation and the Waccamaw Riverkeeper program's own Busbee Street home in Conway flooded last year.
Since then, she has been involved in putting together projects, including one where anywhere from 30 to 60 families' homes in Rosewood would be bought out.
She hopes to identify any other communities that would be eligible for mitigation funding and potential infrastructure projects.
"I think the biggest thing is trying to figure out
 what type of information is needed to meet that grant criteria," she said, also noting there will likely be other competing projects.
O'Leary and Frappaolo both stated that more details regarding the program will be released in the future. It will be spring of next year, at the earliest, by the time the actual application process itself is opened.
As for the mitigation funds, 50% of the $157M allocation must be spent in six years, and all of the funds must be spent in 12 years, though SCDRO Deputy Program Management Director Joe Boyes said the agency expects the funds to be spent well before the dozen years are up.
Also, 50% of the money must benefit low-to-moderate income residents.
 While the mitigation program could end up assisting folks in Horry County, O'Leary acknowledged there will still be unmet needs.
"It's really scary," she said. "We definitely are very behind when it comes to being prepared."
It could take years for flood control projects to be realized, O'Leary added. In regard to SCDRO, the agency has set aside three phases for dispersing infrastructure mitigation funds. There is $50 million for years 1-3; $40 million and any remaining funding from the first phase (if there is any) has been allocated for years 3-6; additionally, $10 million along with any remaining unobligated funding from the two prior phases (if there is any) is to be doled out after that.
O'Leary highlighted the fact that there are community members who can't afford to wait a long period for help. As time progresses following a disaster event, a person whose home flooded might become less engaged with trying to get help.
Even if projects got the funding they would need once the community went through the application process, O'Leary said it still wouldn't come close to preparing the region for the next flood disaster.
"It'll never be enough, so that's really, really concerning," O'Leary said. "Nothing about this recovery process is a quick thing."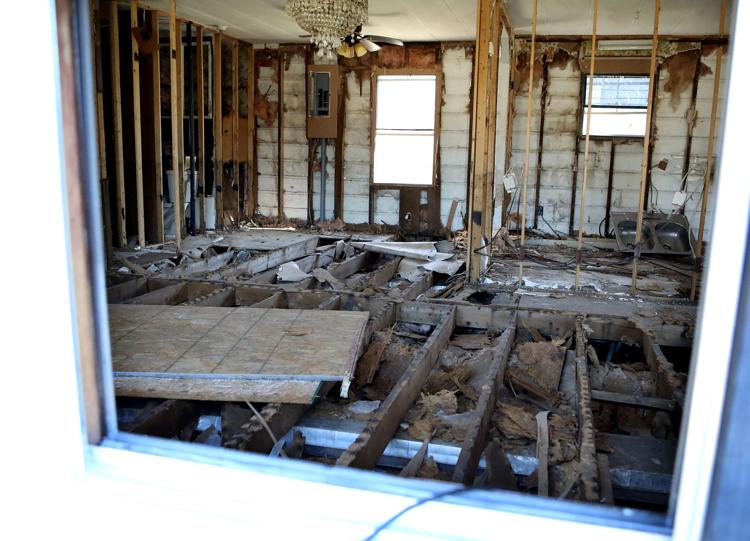 For Straka, the possibility of a buyout for her community is encouraging.
"This was something that we were really hoping for," she said.
If she is not able to elevate her home, Straka would be in favor of a buyout if she is eligible.
Having spent tens of thousands of dollars on her home, though, she would need financial assistance to raise her abode that she was forced to refinance.
At this point, Straka feels ready to move on if it comes down to it. She's afraid of pipes bursting, electrical problems or other issues.
"I need to feel safe and I don't feel safe there," she said. "You're just paranoid constantly. ... I can't like live this."
Still, she added, it would be difficult for her to leave the "tight, close-knit" community she's so fond of.
The same is true for longtime Rosewood resident Billie Sherengos.
Hurricane Matthew brought flooding and "creepy crawlers" into her Rosewood Drive home she's lived in for over two decades, and 2018 saw floodwaters ruin the home once more.
Regarding a buyout, Sherengos would only be interested if she'd be able to pay off her mortgage. The maximum award for a beneficiary of the CDBG-MIT buyout program is $250,000.
Officials said that in screening buyout applications factors will be taken into account that include the low-to-moderate population served, quantifiable flood reduction and benefit-cost analysis.
 The voluntary buyouts are meant to acquire parcels of land for uses compatible with open space, recreational, natural floodplain functions, wetlands management practices or ecosystem restoration. All structures would be demolished.
Also, property acquired through a buyout program has to be maintained in perpetuity for specific uses. No new building would be erected on property where a structure was removed other than a public passive recreation space.
A local government would have to identify an entity to own and maintain the land after the buyout.
"If there's an adjoining property owner that wants to take ownership and agrees to the maintenance obligation of owning that property, then that's perfectly acceptable," Boyes said. "There will be a deed restriction placed on the property that says they basically can do nothing with it other than have it as some additional yard and maybe park a car on it."
While buyouts are one option, another, like Straka mentioned, is to elevate. 
With the help of volunteers, international relief group Samaritan's Purse has worked to rebuild 15 homes — increasing their height — in the area, eight of which are in Rosewood. Six or so additional homes in the neighborhood have each been approved for a lift, according to Frank Antes, project superintendent for North American Ministries for Samaritan's Purse. The nondenominational Christian evangelical organization plans to remain in the area for over a year, hoping to have 70 or 80 homes risen by the end of that stretch.
Sherengos said that if a buyout looked like it could become reality, she would want to know as soon as possible. If she waited too long, she might miss the chance to apply to get her home raised through Samaritan's Purse.
The buyouts are for homes in a flood zone, pre-FIRM (meaning it is a building for which construction or substantial improvement happened on or before December 31, 1974, or before the effective date of an initial Flood Insurance Rate Map, according to FEMA's website) or what SCDRO rules is a disaster risk reduction area. New preliminary FEMA flood maps include Rosewood homes, and the actual maps themselves could be approved by the county as soon as next year. And, SCDRO has yet to define where disaster risk reduction areas are.
After HUD approves the action plan, SCDRO will form at least one citizen advisory committee that will meet in an open forum at least twice a year. A local government pre-application meeting is tentatively scheduled for March.
Frappaolo, the county community development director, said Horry's flood resilience plan is expected to highlight areas such as Socastee where buyouts would be appropriate. The plan, which is to include policy proposals, infrastructure project ideas and other items is expected to be completed by the spring.
Also, a study on improvements to the Socastee Creek area is expected to begin in 2020, according to Horry County spokeswoman Kelly Moore. In addition, a study for the Santee and Pee Dee watershed is anticipated to be completed in March.
As the county has yet to receive federal money for Florence recovery, officials see it as a chance for "more than one bite at the apple," Frappaolo said.