What happens when a rare bird from Florida, applesnails, flooding and an expanding community of 1,000-plus homes all collide?
Well, that's a great question.
It all starts with Island Green, a neighborhood south of Myrtle Beach across from Freewoods Farm. It holds a golf course that is no longer operating and is being redeveloped. Encompassing more than two dozen separate HOAs, Island Green is nestled between S.C. 707 and the Waccamaw National Wildlife Refuge. And it has one entrance point: Sunnehanna Drive, a private road riddled with potholes.
Despite efforts by residents to stop development after the golf course closed, hundreds of new homes were approved in 2019 by Horry County officials.
In comes the Limpkin, a bird long known to Florida — but it has migrated to southeastern states in recent years. Three adults have been reported in Island Green, some showing mating behaviors. And if they reproduce, it would be the second time to be documented in South Carolina history.
Unfortunately for birders and some of the residents in Island Green, the Limpkin does not have the state or federal protection to stop development altogether.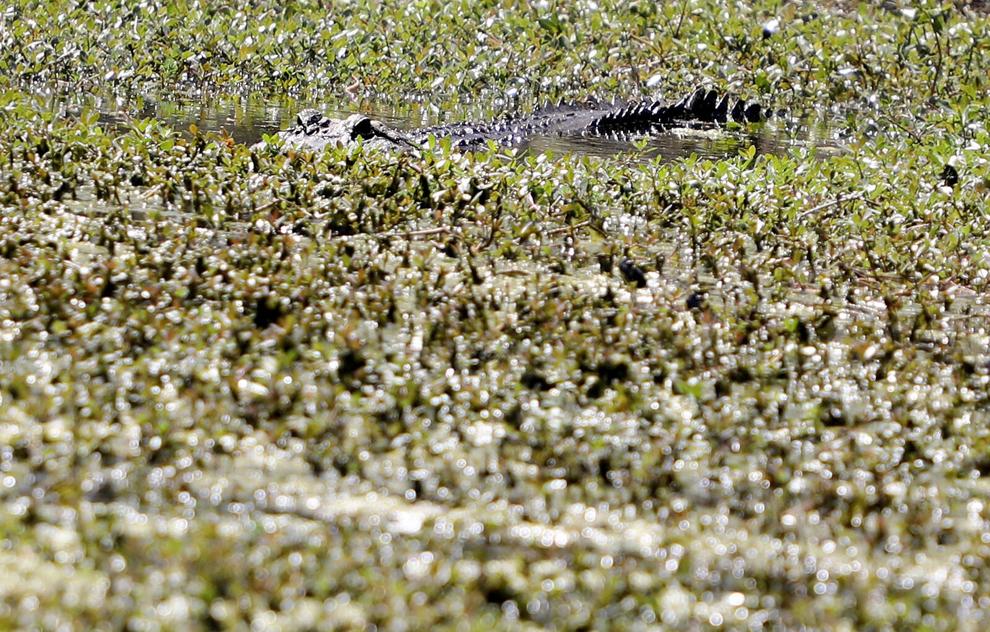 What's a Limpkin?
The Island Green community is an ideal place for bird watchers and nature lovers. In addition to Limpkins, it isn't unusual to hear owls, spot alligators or see a bunny hop along.
A somewhat larger bird, Limpkins look similar to an egret. Their feathers are brown with white spots, while their beaks are longer with a brown and yellowish color.
The species is most easily mistaken for long-legged wading birds, said Craig Faulhaber with the Florida Fish and Wildlife Conservation Commission. Limpkins typically find habitats along rivers, creeks and marsh areas.
The noise the birds can make is hard to mistake for anything other than a Limpkin.
"They do make a noise that sometimes has been compared to a person shrieking," Faulhaber said. Most commonly, the shrieking noise is made to either attract a mate or defend their territory.
Limpkins are one of more than 1,000 birds listed as federally protected under the Migratory Bird Treaty Act, according to the U.S. Fish and Wildlife Service.
Species listed as federally endangered have more protection than those listed under the migratory act, Faulhaber said, adding endangered protection is stricter. It's unlikely that the migratory type of protection could stop development.
Limpkins were removed from Florida's endangered species list in 2017, Faulhaber said, and the removal was due to more reproduction.
Historically, roots of the Limpkin can be traced back to Florida for dozens of years, though in recent years more have also been spotted in Georgia.
While three adult Limpkins have been documented in Island Green, there have been other single-sightings of the bird in South Carolina.
Only one pair of mating Limpkins has been documented in the state, which happened in Hanahan, said Craig Watson with U.S. Fish and Wildlife, who first documented the adult Limpkins and their young. Watson is currently writing a publication of the first nesting in South Carolina.
"It's really exciting," said Watson, a birder for about 32 years.
And what's likely attracting the bird to the area: applesnails.
"This snail is spreading and it's kind of like the Limpkins are following the spread and expansion of the applesnail," Watson said.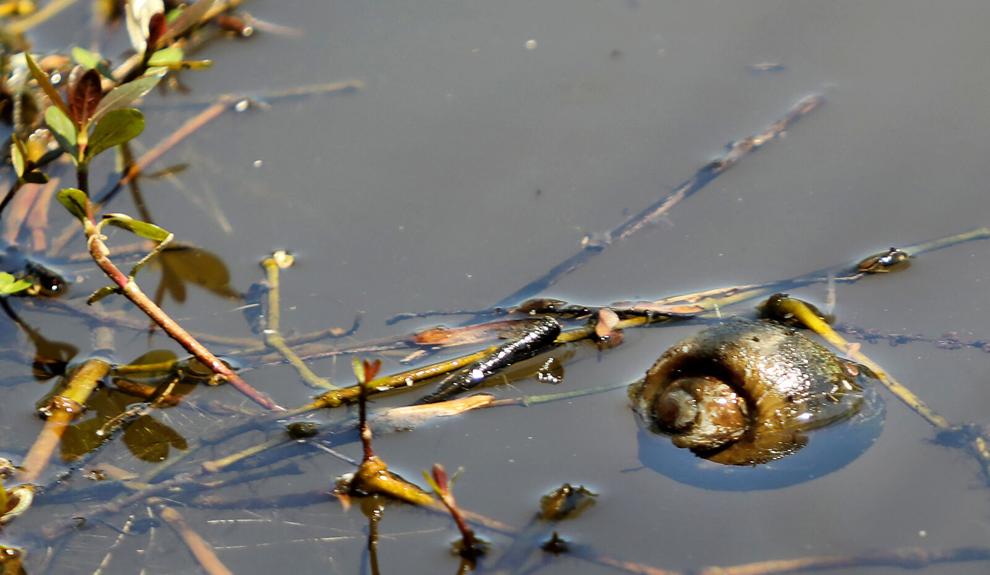 On a lucky day in Island Green, Limpkins can be seen using their long legs to graze along wet, marsh-like areas, bobbing their heads down to grab the meat of an applesnail, leaving the empty shells behind.
Known formally as the Island Applesnail, the species was first located in a retention pond in the Socastee area in 2008, according to the S.C. Department of Natural Resources. It's likely the snails were dumped by someone within the "tropical pet industry or an aquarist," DNR reported, following the discovery. The snails were quickly deemed invasive and a nuisance.
Snail egg masses are pink and commonly found attached to plants along water lines, according to DNR. If spotted, DNR requests people remove the egg casing by pulling it off, crushing the casing and dropping it into the water to help reduce the reproduction of the snails.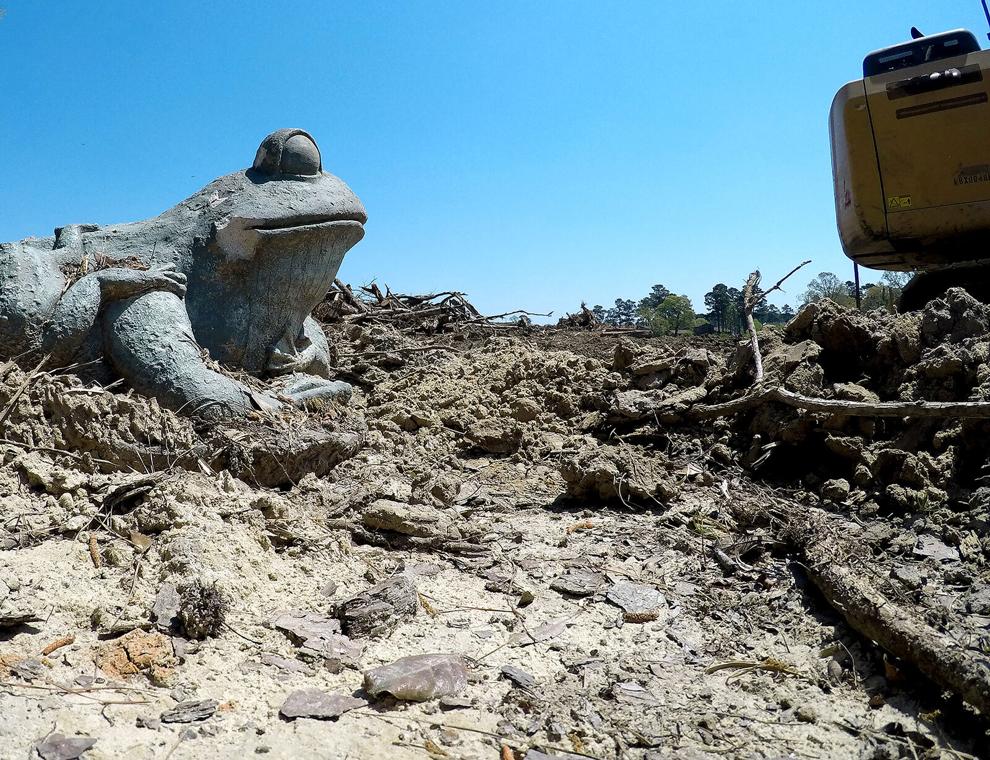 Development continues
For more than one year, Island Green resident Dawne Dunton has worked to stop development, with efforts to document rain, flooding, the creek that flows through the neighborhood and the animals. Dunton's efforts began well before she unknowingly documented the Limpkin on video.
"For almost a year, it wasn't about the Limpkin at all," she said, adding her efforts were directed toward public safety, the issue of having a single entrance, flooding and preserving nature.
According to Horry County Planning and Zoning documents, in Island Green there are a total of 1,425 units, which are broken down by 901 single-family lots and 524 multi-family units. There were more than 145 more units planned in 2019, and construction is underway on new homes.
The area has about 26 separate HOAs and 16 "distinct" neighborhoods within Island Green.
Situated toward the back is a former club house surrounded by overgrown plants and weeds. Some old golf course paths can still be seen, but no greens can be spotted, though some golf balls still lay around the creek.
The only entrance to all of these homes from Freewoods Road is at Sunnehanna Drive. In 2019, the planning commission approved a design modification to allow 1,200 single-family and 639 multi-family units to have one point of access and add improvements to the road, like a turning lane, road widening, better drainage and sidewalks. It's a cost the developers will have to eat, as the HOAs were not interested in helping pay for it, said John Danford, deputy director of planning and zoning.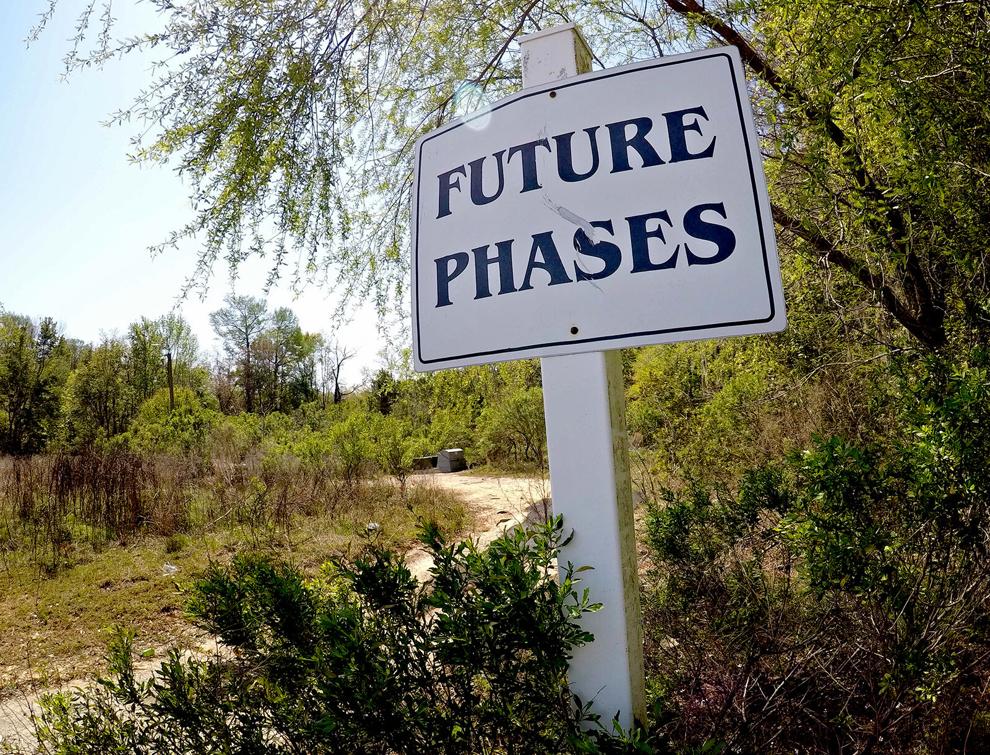 Under today's land regulations, neighborhoods with more than 100 units are required to have two points of ingress and egress, Danford said. But because the master plan for Island Green was created before the planning and zoning department in Horry County existed, it was grandfathered in to allow one entrance. So the county was faced with helping improve a bad situation as best as it could, Danford said.
"We've known for a long time that we've had access issues with Island Green," he said. "There's no easy solution."
Sunnehanna is a private road, partially owned toward the back by a developer and ownership of the portion from the entrance to midway is questionable. The road was built before the planning and zoning department existed, which is why developers were not required to follow modern regulations, Danford said.
Danford said many residents want to talk about safety when it comes to one entrance at the front of the community, but he pointed to the fact some of the HOAs have created barriers on roads so adjacent neighbors couldn't use their roads to travel through.
"They have to pay to maintain their roads," Danford said. "It's a tough nut to crack. When you're dealing with that many HOAs and that many people, it's nearly impossible."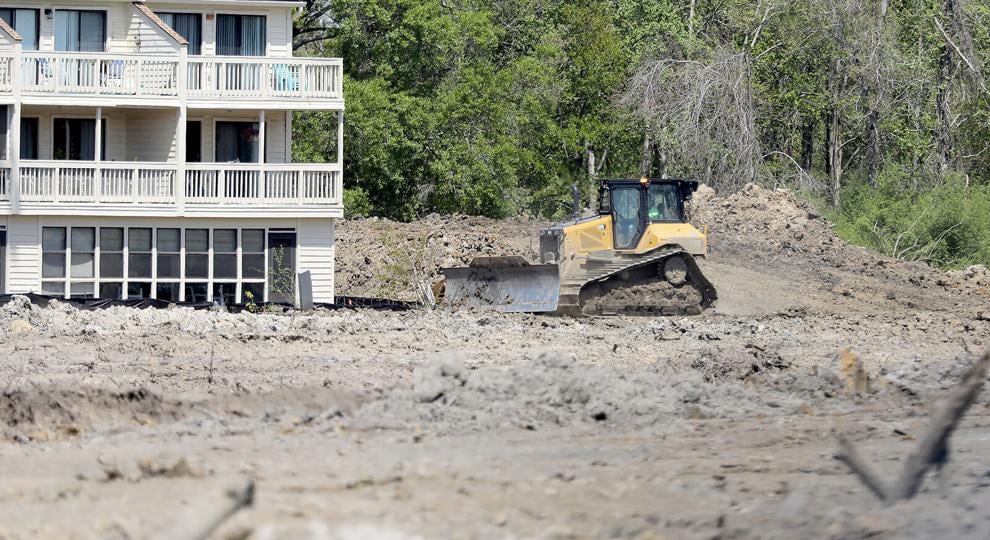 Concerned residents of Island Green in January emailed Horry County planning commissioners, Horry County Councilman Gary Loftus and planning and zoning employees expressing concerns about the number of homes increasing and thousands of vehicles driving through one entrance.
Planning commission chairman Steven Neeves responded to residents by email saying he has never seen a subdivision "as messed up as Island Green" in his eight years on the planning commission.
"Why the County allowed it to be developed the way it was is inexcusable," Neeves' email states.
Neeves did not respond for comment when asked to elaborate on his response to residents.
"It is not the result of any decisions made by Horry County in the recent past," Danford wrote.
Danford's reply to residents states that a second ingress/egress is a best-case scenario, but there were no viable options. "Stopping or prohibiting redevelopment would open the door to legal action as the density is allowed under the Grandfathered Master Plan," the email states.
Properties left to be developed are owned by Colonial Charters Lender in Arizona, owning more than 45 acres, and IG Development Corp in North Carolina, which owns a total of about 117 acres across two tracts of land.
Property owners did not respond after multiple attempts requesting comment.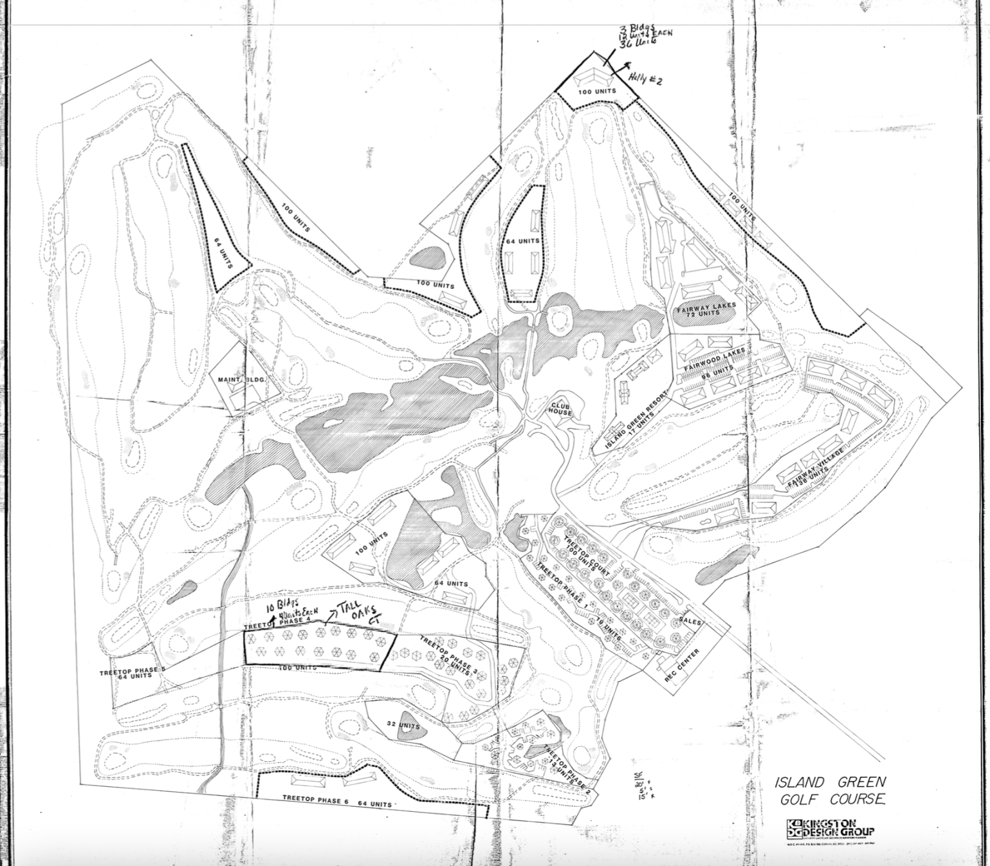 Peach Creek, likely a natural creek, is located on two of the parcels of land toward the end of Sunnehanna Drive. It's where the Limpkins look for applesnails.
Dr. Steven Emerman, a hydrology consultant and owner of Malach Consulting in Utah, recently published a study in March, finding that Peach Creek is a natural stream. Emerman said his research found maps dated back to the 1940s by the U.S. Army Corps of Engineers state the creek is a natural stream that is "all or part tidal influenced" and known as "navigable waters of the U.S."
"It doesn't have any characteristics of a man-made feature," Emerman said.
Emerson's research also states that any thoughts to infill in the creek for residential development should take into consideration that it is in fact natural and not a man-made canal or ditch.
If developers do decide to fill in the creek, it could increase the flood risk in a neighborhood that has already had flooding issues in the past, including after Hurricane Florence in 2018.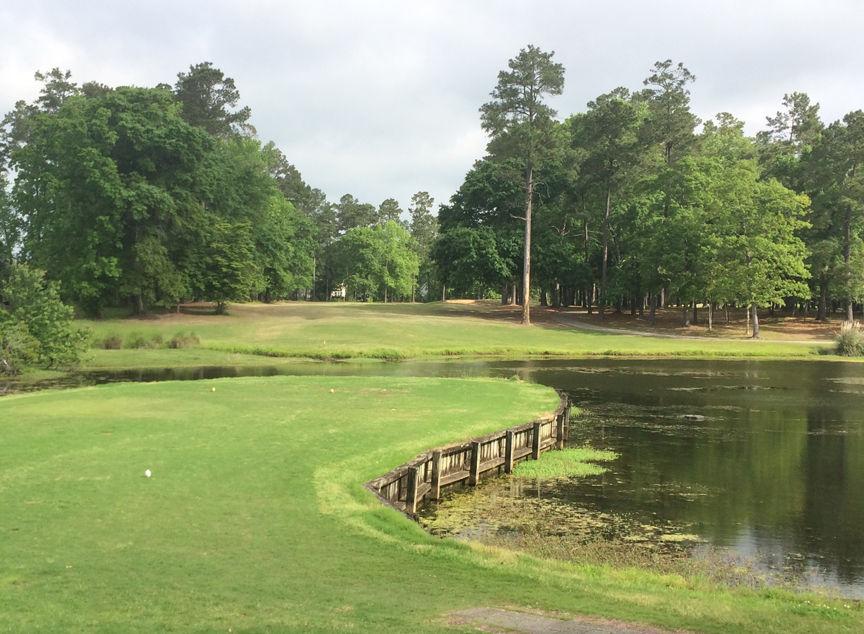 The unknowns and what's next
It's unknown how many Limpkins have found a home in Island Green and how future development will impact the birds.
Though the birds were captured on camera and video in past months, it's unknown how long they have been there and if they will stay or reproduce.
Watson said he believes development will not interfere with the birds' habitat.
"I think they'll be OK," Watson said. "They're obviously very adaptable in the presence of humans. They're not really afraid of people."
But Dunton fears developers will fill in Peach Creek, causing flooding to worsen and impact the Limpkins' habitat.
At this point, Dunton feels like most residents who once fought against development have given up.
And it's likely that it's too late to continue the fight.
But Dunton said she isn't quitting.
"I'm not done," she said.
As for what happens when a rare bird from Florida, applesnails, flooding and a more than 1,000-home community continuing to be developed all collide?
It's all still playing out.