Tucked away from the hustle and bustle of Conway's Main Street is a nearly 100-year-old home that has been renovated into a bed and breakfast.
Owner Janel Ralph purchased the two-acre property in November 2020, and began renovating it along with her husband David. 
The Conway bed and breakfast just began hosting guests last month.
Janel Ralph, who has had a longtime career in the real estate industry and flipping houses, said it's she and her husband's first time renovating a home and turning it into a bed and breakfast.
"It's exciting to be able to do something new," Janel Ralph said. "The restoration has been the most challenging."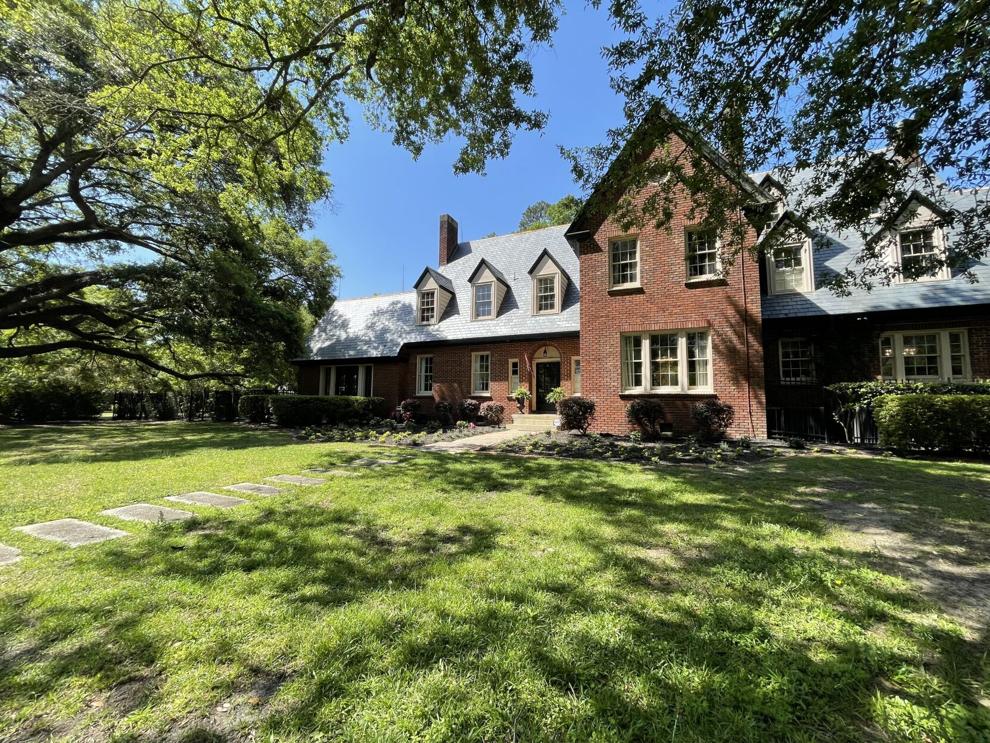 The home's history and character still shines through the renovations and modern decor after the Ralphs have worked the last year and a half to renovate the property. They've done much of the work themselves, Janel Ralph said, which includes intricate but bold crown molding, refinishing the original hardwood floors with a dark stain, and renovating the carriage house in the back, which has a three-car garage beneath.
Sitting on a little more than two acres, the home's finished area is about 7,000 square feet, according to Horry County land records. It has three stories made up of seven bedrooms and 4.5 bathrooms, multiple sitting areas, a library, dining room, an office, butler's pantry and kitchen.
The home is also currently on the market for $1.9 million. Janel Ralph said they are hoping the bed and breakfast will be successful, adding she initially bought the property to either flip it and sell it or flip it and turn it into a bed and breakfast.
Each of the bedrooms has been named after flowers, like the sunflower room and the rose room.
Its top floor is all one rental, with two bedrooms and a bathroom. The space used to function as a kindergarten multiple decades ago.
Outside the property boasts a pool, as well as an outdoor dining area and a sitting area on either end of the home.
The property, at 1503 Elm St., was listed on the National Register in 1986.
Known around Conway as Dr. Lollice Bradford Courtney's home, Henry Ambrose was the first owner of the property. Construction on the home began in 1924 and was completed in 1926.
Ambrose was the general manager of the Conway Lumber Company for just over three decades, according to the South Carolina Department of Archives and History. He built the home for his wife Maude Law Ambrose, a native of Canada, and she nicknamed the home Dunmeade.
"There wasn't any utilities here," Janel Ralph said. "When they built the house, they ran all the major utilities to the house so everyone else that was built around them was able to access those utilities, running water, things like that.
"So it's kinda known as the house that built Conway," she added.
The property is one of two bed and breakfast locations within the city of Conway, according to city spokesperson June Wood. The Spivey House on Fifth Avenue also serves as a bed and breakfast.
As the city of Conway has worked to attract more tourists to its businesses, events and making plans to offer incentives to potential hotels, it welcomes new places for people to stay within city limits.
"We welcome them to Conway and are happy to have new offerings," said Conway City Administrator Adam Emrick.
Janel Ralph said she hopes the property will also be a place where events are hosted.
The entire H.W. Ambrose home, which can sleep about 16 people, can be rented for $1,800 per night through airbnb. Guests also have the option to reserve a single room and can make reservations by emailing info@innonelm.com or calling 843-222-9322.