In her small craft shop tucked off Broadway Street in the heart of Myrtle Beach, Bridgett Bolie works diligently.
A handmade Carolina Panthers sign joins other creations on the open door adjacent to 6th Avenue North that welcomes customers.
"Yes, we sell masks," accompanying signage assures passersby.
"I was so excited," Bolie said of the opening of her store, B-Nice Creations With Love, that opened in early February.
But that was pre-COVID-19 and a weekslong shutdown of South Carolina businesses deemed non-essential.
"I didn't even get to do my grand opening," she said seated behind the counter near a stack of works in progress.
"I'm still behind. I haven't been able to do anything. When I opened, it was like, 'Shut down.' I had no loan or anything. I saved my money and I put it all in … myself, and I was working out at markets and vending and stuff like that. That's how I started my savings."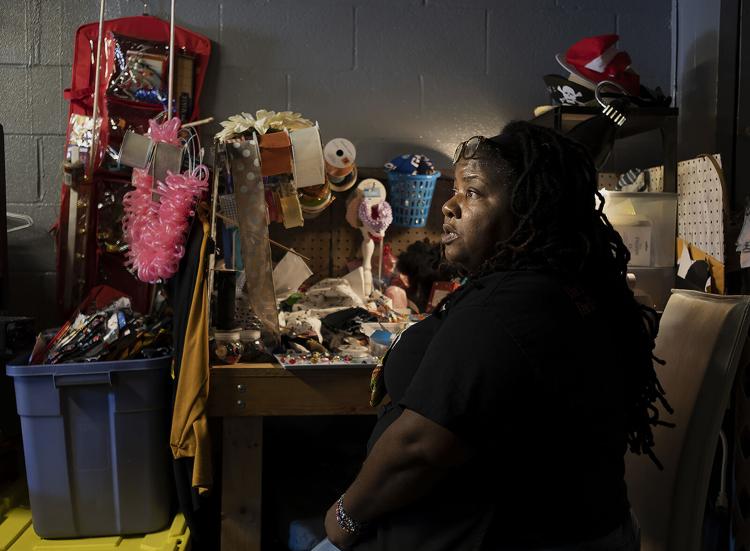 She isn't alone, as Black-owned businesses along the Grand Strand have been forced to endure and adapt after being hit hard due to the coronavirus.
"Although the current strain of the coronavirus is one that humans have never experienced before, the disparate racial impact of the virus is deeply rooted in historic and ongoing social and economic injustices," the Economic Policy Institute reported. "Persistent racial disparities in health status, access to health care, wealth, employment, wages, housing, income, and poverty all contribute to greater susceptibility to the virus — both economically and physically."
In April, the NAACP noted the devastating economic effects for businesses owned by people of color.
At the time, the organization said traditional lenders are less likely to serve borrowers of color.
"Historically, these businesses have less access to credit, and less ability to withstand the loss of income," officials said in a statement. "Businesses owned by people of color are being hardest hit by COVID-19, historically have less access to credit and government-funded programs and have the least amount of cushion to withstand losses of income."
State officials, though, are trying to help through a new South Carolina CARES Act grant program.
The Minority and Small Business Relief Grant program will provide financial reimbursement to eligible small businesses in the state that have suffered financial or operational impacts because of COVID-19.
"A lot of times these great programs come along and nobody knows about them," S.C. Gov. Henry McMaster said at a news conference outside of the International Culinary Institute of Myrtle Beach, where he announced the program. "They miss the boat, they don't apply."
Myrtle Beach city councilman Mike Chestnut, who runs Big Mike's Soul Food on 16th Avenue North, had to catch his breath as he traced the high hopes of the first few months of the new year and the struggles as the year is limping to an end.
It was going to be the restaurant's "knockout year" before COVID-19.
"It's been a challenging time," he said. "We had to close for about three weeks. … We've been open, but people have been hesitant about coming out."
The initiative will reimburse qualified recipients with amounts ranging from $2,500 to $25,000.
Businesses must employ 25 or fewer employees and be located in South Carolina, in operation from Sept. 13, 2019, to the present and be able to show a financial or operation impact related to COVID-19 in order to qualify.
More information about the grant program, can be found at accelerate.sc.gov. The online application process for the grant will run through 11:59 p.m. Sunday. Anyone who needs help with the application process can call the SC Cares Call Center at 803-670-5170 or email SCCares@admin.sc.gov.
Delores Porcher-Dacosta, executive director of the South Carolina Commission on Minority Affairs, said communities such as African-Americans, Indigenous peoples and Latinx have seen many of their businesses shut down because of the virus.
A study from the National Bureau of Economic Research estimated that between February and April, the number of actively working, self-employed Black business owners dropped by 41%, the largest change of any of the groups included in the research such as Latinx (32%), Asians (26%) and whites (17%).
According to survey data from SCORE, a network of volunteer, expert business mentors, Black small business owners are 80% more likely to report that remote work has significantly affected business.
"Despite seeking financial assistance at much higher rates, Black business owners were significantly less likely to receive both government and private funding," the organization said in a release. "COVID-19 has significantly impacted Black business success, with only 8.8% reporting profitability and growth today."
Michele Abraham, state director of the South Carolina Small Business Development Centers said different factors come into play when it comes to small businesses in the state, though they are not exclusive to just Black-owned businesses.
The agency helps about 5,000 small businesses in the state each year through free private consulting, and about 45% of those are African-American-owned.
Though some have been around for a long time are doing well, others haven't had as much success.
A lot of Black-owned businesses, particularly in rural areas, experience trouble getting access to capital, Abraham said.
A lot of folks don't have a well-established relationship with a banker or a connection at all with an accountant.
Some may lack an infrastructure with automation. Take, for example, one that logs much of its financial information manually on sheets of paper.
Some businesses, like Bolie's, haven't been in operation long enough to be eligible for the grant.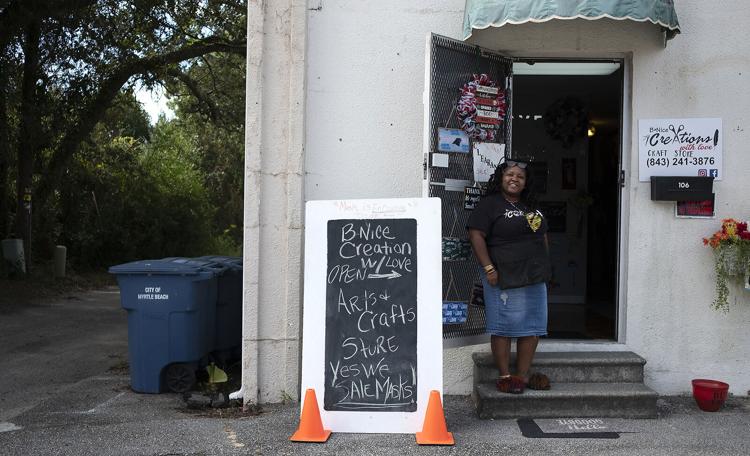 The same is true for the federal government's Paycheck Protection Program.
Not far from Bolie's craft store, hairstylist LeShara Holmes recalled the slow start for her own business, Salon 314, at the corner of Broadway and 5th Avenue North. She said she applied for financial help but was unable to illustrate economic injury.
SCORE's data shows that Black and Hispanic business owners were more likely to apply for federal loans, but much less likely to receive funds.
White business owners were three times more likely to get Economic Injury Disaster Loans, three times more likely to get PPP loans and four times more likely to get other Small Business Administration loans than Black business owners.
Additionally, the data found Black business owners are more likely to report that the government loan process is confusing (31.9%) and are less likely to have a formal banking relationship.
A Georgetown native, Holmes started studying cosmetology in high school, later attending Horry Georgetown Technical College.
After more than six years working at Supercuts, she finally gave in to the itch to run her own salon.
Last fall, rent at the building she'd been eyeing dropped by $200.
"I was like, that must be a sign," she said.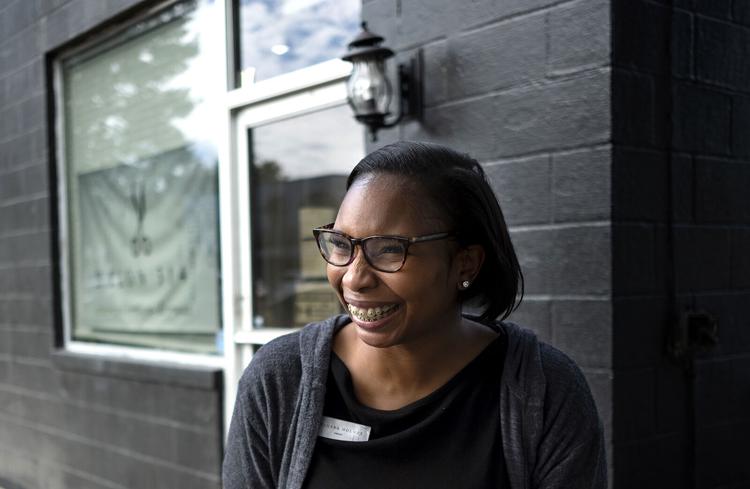 As a mother, Holmes wears multiple hats.
She juggles work with helping her 9-year-old daughter — who attends elementary school virtually — with schoolwork.
Even before the virus came to town, things were slow.
Though she'd had over 160 clients at her old job, Holmes estimates only 30 of them or so followed her to her new salon.
She suspects some folks weren't able to find her.
Others told her they'd prefer not to make the drive to her new spot.
Just like a number of retail shops across the state, her salon also had to shut its doors temporarily starting in April.
"That was actually depressing," she said. "That's probably the reason behind this hair style. I cut it off because I was depressed. I didn't know where money was going to come from."
From the start of April until mid-May, Holmes had no source of income.
"I was so used to getting a paycheck," she said, "or just something."
When the shop reopened May 18, the business was busy.
"When I opened back up, obviously everybody needed a haircut, and it was busy from that point on," Holmes said. "Yelp kind of helped me out some because I had a couple of clients that found me."
By the middle of the next month, though, that died down, and Holmes worried about not being able to spread the word about the new business.
"Every time I would try to go pass out fliers, it either rained or ... I got busy," Holmes said. "I was like, 'Oh my goodness, I'll never get more clientele.'"
She also recalled her unsuccessful attempt to get unemployment benefits from her work at Supercuts.
Bolie, of B-Nice Creations, garnered some sales at her own business following its opening, but things quickly dimmed.
"The first few weeks of February, I did pretty good because I had a lot of people that knew me from the market," she said. "They all came to see me here. They were so excited that I opened up, and I started getting a lot of people coming in."
Then March came.
"I was done," Bolie said. "It was like, time to close."
Despite this, she persisted.
It's evident in the custom wreaths and the colorful hair bows she's toiled to produce.
"I just wouldn't stop," Bolie said. "I said, 'Well, I'll just keep going.' I'd come in here, didn't even open up. I just kept going and making and making and making. I just pray every day that when [this is] over, people come and say, 'Wow, you did all this in a pandemic?'"
The New Jersey native and former childcare center director has always had passion for arts and crafts.
She got her start designing custom pillows.
Bolie eventually turned that passion into her storefront.
These days, though, dealing with the COVID-19 crisis can be frustrating.
"I've just been coming in and out hoping people come in, but nobody has," she said. "It's like I'm stuck in the middle of nothing. Like, what am I going to do? I just spent my savings. I'm doing this, and I'm in a pandemic."
While some folks visit, Bolie said money can be tight.
"They go, 'OK, once I get me some money, I definitely know where I'm going to come to shop at.'"
Next door, longtime tailor Jessie Gettys, the owner of Grand Strand Alterations, greeted customers as he stood near an autographed photo of a young Kobe Bryant — who he remembered played in the city's Beach Ball Classic basketball tournament in 1995 — and other memorabilia.
Getty has been in the business for four decades after first learning the trade in the 1970s.
"I look back, and I wouldn't change nothing," he said with a San Francisco 49ers mask draped around his neck. "Just keep on loving everybody."
Even with his longtime experience, the virus was something new.
"My business went from 10 to zero just like you snapped your finger," said the 70-year-old. "People panicked. Nobody was spending no money. And I said, 'Lord, I can't close up because I'm working in a business where people got to have clothes.'"
While things began to improve somewhat, Gettys compared his sales to a baseball game: "up and down, up and down."
"I just kept the door open," he said. "Then, I started running out of money."
Having abided by the words his father would say to him — save 50 cents for every dollar you make — Gettys said he's paid the bills for both his home and business out of his own pocket.
Still, times are tough despite the racks with clothes on them.
"So far, so good," Gettys said, however. "I don't complain."
Even life outside of work has changed.
"I don't get out and go like I used to because it's too dangerous," Gettys said.
The Thanksgiving dinner he helps plan annually at a local nursing home, where shut-ins and others are invited, won't be held this year.
Abraham, with the state's small business development office, said the organization works to help small businesses make good decisions and set goals (Their website is scsbdc.com.)
That might include having a business think about succession planning or an exit strategy, even early on.
One could also see a business receive assistance getting financial systems in place — think setting up the QuickBooks accounting software, for example.
The group might also help with marketing, establishing an online presence and understanding how to utilize social media, and establishments can get advice on reopening safely, considering whether it is feasible to continue operating, assessing their financial information and looking at assistance available.
While times are tough, local spots are trying to stay positive and do what they can, taking things day by day. Many credit their faith in God.
"It's busy one week, and it is slow the next," Holmes, the salon owner, said. "So that's kind of how I look at it."
She lives by the words from Luke 1:37 that adorn her wall: "Faith, it does not make things easy, it makes them possible."
Fortunately, Holmes said, her husband never lost his post working for an electric utility.
"I'll gradually get there," she said of boosting business at her salon. "I feel like it'll get better because COVID is still slightly affecting things."
She also keeps a monthly spending budget.
"When I walk in here, I get super excited like, 'All right, this is my baby,'" she said. "'We will make it work whether it's slow or not.'"
She's grateful she can take her daughter to work, where she has a space in the back for the elementary student to do classwork.
Her salon, which offers services including haircuts, styling, and waxing, is a place where folks can relax, chat and be spaced out, she said.
Now, Holmes doesn't linger on just having a single client on a given day.
Instead, in her free time, she tries to spend her time marketing. She hopes her business will grow so that she can one day hire an assistant.
"That way you make use of your time," she said.
Similarly, Bolie of B-Nice Creations, has worked to promote her business online through platforms like Google and Facebook. Her kids, now grown, have been able to chip in to help their mom with the bills as of late.
"Everybody's trying," Bolie said. "We're all trying to figure out what we're going to do next, what's going to happen. Nobody wants to lose something that they love doing and got going on."
She hopes to hold an event to foster patronage at her own shop and others along Broadway Street, several of which are minority-owned.
"I didn't even get a chance for a ribbon cutting to say I'm here," she said.
And Gettys, the tailor, plans to stick it out at his store for the next two years before calling it quits.
"I just trust in the good Lord," he said. "Whatever it is, that's what it'll be."