Typically, parents teach their children lessons; what to do and what not to do. But sometimes the roles are switched around, and it makes for a beautiful story.
"He was really training me to be something great," said 31-year-old Cameron Mills, who is running Wolpert's Department Store in downtown Loris. "Looking back at it, I see where he was sharpening me at age 13."
The grandson — who learned from his grandfather — is now teaching his own dad the lessons of running a department store: making orders, measuring customers and greeting them at the door.
"I'd always helped, but not full time," said Tony Mills, whose father Gene Mills has owned the business since the early 1990s.
"It's funny. It's kinda hard to describe it," he said of his son Cameron Mills teaching him the logistics of running the store. "He's kind of had to take me under his wing on the sales side."
Cameron Mills moved back to Loris after completing his undergraduate degree in English at the University of South Carolina in 2014. He initially thought about going to law school, but he began working full time at the store — something he never imagined he'd be doing. That's when he found his true love for the business of selling suits, clothing, shoes and the day-to-day work the business demands.
Cameron Mills recalls the days when he was a boy and his grandfather Gene Mills gave him "all these orders" to stack pants.
Those lessons were crucial.
Gene Mills was diagnosed with leukemia more than 12 years ago — something he kept to himself and immediate family members for a decade. In 2019, he was diagnosed with a second type of cancer in his lymph nodes.
The diagnosis as well as the COVID-19 pandemic robbed him of the time he would typically spend at the store.
"He's a fighter," Tony Mills said. "It's unreal. It's because of his faith."
Wolpert's history
The city of Loris named Robert Wolpert as the city's "outstanding merchant" in 1976, according to the Independent Republic Quarterly's Vol. 10, No. 3 edition.
But the store's history began decades before.
In 1927, Robert Wolpert's father, Bernard, and his family opened the store on Main Street, Maxine Dawes wrote in the Independent Republic Quarterly.
Bernard Wolpert's wife Katie Kroll left Russia and came to America when she was 12 years old. Prior to meeting and marrying Bernard Wolpert, she and her younger sister were "among the innocent Jews who felt the sting of Czar Nicholas II and found themselves on American soil" in the early 1900s, Dawes wrote. An older sister who was already in New York City helped pave the way for her younger sisters, who both went on to work in sweatshops of the garment industry, according to Dawes.
Kroll met Bernard Wolpert after 10 years of "sewing, saving, and learning American ways" and the two married, which automatically made Kroll an American citizen, Dawes wrote.
Bernard and his wife first moved from New York to Lake City and then to Loris. At this time, Robert Wolpert was about five years old.
"The Wolperts were among the few Ashkenazim in Horry, and attending religious services necessitated a trip to Florence over unpaved roads," Dawes wrote. "Neighbors cooked their vegetables and cornbread with that standard of Southern diet "fat back", but Katie adhered to a kosher kitchen."
Dawes writes that Wolpert's Department Store made a "great contribution to this small rural town." The article was featured in the special edition about Loris, celebrating the bicentennial.
The department store survived through the Great Depression, thanks to Katie's encouragement and sales ability, Dawes wrote.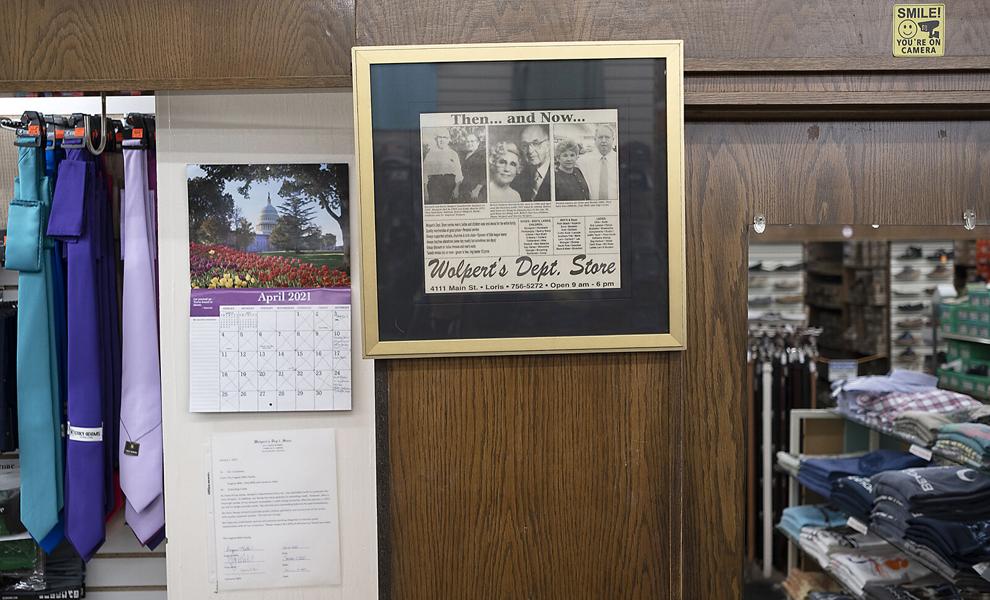 Robert Wolpert's brother was a dentist in Florence, his sister had a job with the government. So after their father died, the store went to Robert.
"He loved Loris," Irene Wolpert said of her late husband Robert. "I can't say enough about how much he loved Loris."
Robert Wolpert kept a clean store, and he would go in early each morning, except Sundays, and stay after closing each day, Irene Wolpert said.
When he came home from work, he would have dinner and then go out into the garden.
"He loved to garden, that was his big pleasure," she said.
Robert Wolpert hired Gene Mills in the early '60s, and the two were inseparable.
"He practically raised him," she said. "They did everything together. He was with him every day."
Irene Wolpert, who will be 107 in September, was married to Robert Wolpert for 40 years. It was a second marriage, she said, adding she married him when she was 53 and he was 52. His first wife had died several years before after battling cancer. Irene had a cousin who was married to a cousin of Robert's — that's how the two were introduced.
The Wolperts and Mills were like family, she said.
When the Wolperts sold the store to Gene Mills, it was like selling the business to a family member, Irene said.
Later, Robert Wolpert became sick and the two had to move to Atlanta to be closer to family.
"It was the only argument we ever had in 40 years," Irene Wolpert said of the couple having to move away. "He didn't want to leave. He was very angry when I said we had to leave. We were both getting very old."
Robert Wolpert lived just two years after the couple moved to Atlanta. He died in 2008.
The 1960s to buying the business
Hustling and bustling with customers, each store on Main Street occupied with business, the streets of Loris were not quiet in the 1960s. Farmers were often in town selling tobacco at the warehouse, locals were visiting the coffee shop — and others were stopping in to be fitted for a suit at Wolpert's.
Gene Mills, 77, began working in the store, sweeping, cleaning windows and taking out the trash. It was a time where he learned the foundation of running a clothing store, how to treat customers, how to measure someone for a suit without using a measuring tape, how to keep the racks stocked and how to match a tie to a suit.
"I have a pretty good knack for being able to size people without even touching them," he said. "I could look at them and almost tell what size they wore. I could tell you what they liked. I could tell you what they didn't like."
Robert Wolpert played a big role in those lessons.
"He didn't leave his business very much," Gene Mills said. "He was a people's person. He had great ethics. Everybody in Loris liked him."
Gene Mills grew up in Gore Town, about six miles out of Loris. He graduated from Loris High. He and his wife Bonnie have two children, Tony and Gigi. Bonnie Mills has assisted with the store through the years, especially when she and Gene Mills would travel to New York and Charlotte to purchase women's apparel.
Making a career out of working in the store, let alone buying it, wasn't something Gene Mills thought he would do when he first began working there. But he came to love the business of men's suits and sales.
He enjoyed it so much, he bought the business in the early 90s.
"One day, [Robert Wolpert] said he was tired and wanted to retire. I bought it and that was it," Gene Mills said.
As far as changing the name, it didn't cross Gene Mills' mind.
"Somebody said, 'You're not going to change the name?'" Gene Mills said, responding: "I'm going to leave the same name on it that's always [been] on it."
Not changing the name "says how much they cared for each other," Irene Wolpert said of her late husband and Gene Mills' bond.
Business has been good through the years, he said, adding it allowed him and his wife to support their family.
"My customers keep coming back to me," he said.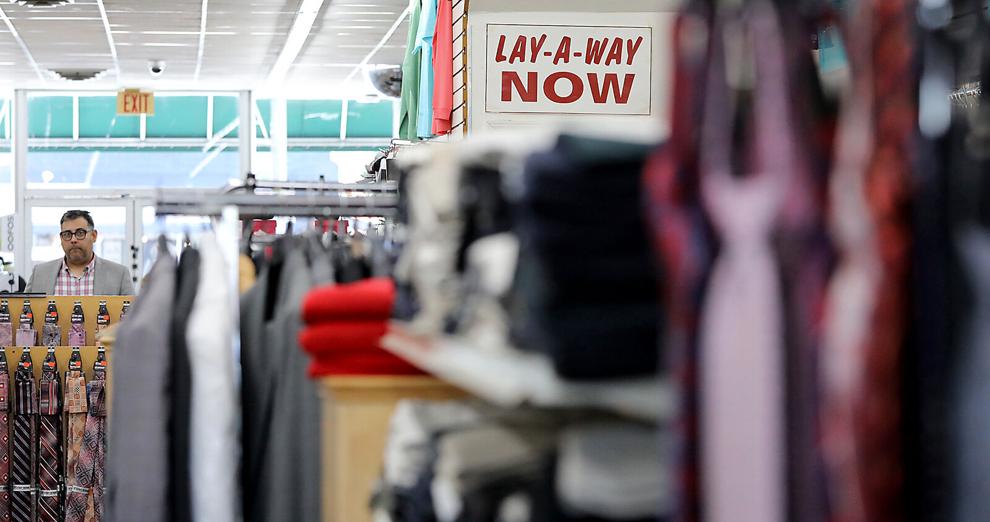 Ricky Hardee is one of those customers. In fact, Hardee and Gene Mills worked together in the '60s at the store.
"I get good quality products. I get it at a good price. I get good service," Hardee said. "I mean, they do it all. I don't have to go anywhere else."
Hardee began working in the store to make some extra cash while in high school.
He recalls the busyness of downtown Loris and the store "stayed open until people quit comin' in."
Keeping the business alive
A customer can enter Wolpert's from the front door, located on Main Street, or the back door on Walnut Street. The store used to be half the size it is today, and the new half — formerly a parking lot — was added on in the mid '60s.
What has kept Gene Mills in business for decades? The love for the industry.
"If you don't like the business, you're not going to be successful," Gene Mills said. "If you're not going to put the hours in and the time in, you might as well stay home."
Though the store doesn't offer credit lines for store purchases, they do lay-a-ways, sell footwear year round, still sell Levi's and offer tuxedo rentals.
When walking in, there aren't signs pointing to items like shoes, a men's or women's section. Instead, that's what the sales employees are tasked to do: point them in the right direction.
The Mills family knows the business is more than simply turning on the open sign and making sure there are enough products on the shelves.
It's about greeting customers at the two doors on either end of the store, assisting them in finding what they need, offering free, same-day alterations.
"You got to sell what people like. If they don't like a style, you've got to move on," Gene Mills said. "You've got to sell them what they want, and be willing to adjust."

Beulah Whittley, Wolpert's seamstress of 21 years, makes those same-day alterations happen.
"It's just like being home," she said of working in the store. "People will come in and it's like a family reunion. It's just a friendly place. It's home away from home for me.
"I've never had a dreadful day in coming [to work]," Whittley said.
Gene Mills taught his grandson to never judge people.
"You don't ever know by looking at somebody who they are, what kind of money they have, what character they are," Cameron Mills said. "You gotta treat people the right way … and you gotta do that to everybody."
Hardee recalls that same fairness in traits Robert Wolpert expressed while working at Wolpert's.
Wolpert was "more than fair" and he treated everyone equally, Hardee said.
"Everyone got the same service," he said. "[Robert Wolpert] had good product, and we had one price. Nobody got special prices. It was a unique place to be part of. Mr. Wolpert was one of the finest people I've ever met."
Cameron Mills said those traits and lessons have been passed down from Robert Wolpert, to his grandfather and now to him. And now, Cameron Mills is able to teach his father Tony Mills the lessons he has learned. Tony Mills recently retired, and, alongside Cameron, is working to continue the legacy of Wolpert's.
"I call it my ship," Cameron Mills said of the store. "I'm constantly trying to keep this ship going through the waves."
After 54 years working in the store and though he never had a set date to retire, Gene Mills stepped back after being diagnosed with another type of cancer in his lymph nodes in 2019.
At the time, he had been battling Leukemia for 10 years.
After going through radiation and chemotherapy in the summer of 2019, Tony Mills said his father was given a good report: no more cancer cells were in the lymph node area around his neck. But the cancer had spread to his liver and stomach. Gene Mills has been continuing treatment, which has not eradicated his cancer, but has kept it "at bay," Tony Mills said.
Since the COVID-19 pandemic, Tony Mills said his father has only been in the store half-a-dozen times.
Gene Mills's presence is certainly missed at the store, and beyond.
Singleton Bailey, owner of Loris Drug Store, said he and Gene Mills have collaborated over the years as business neighbors.
"It has been a pleasure to work alongside him through the years," Bailey said. "We miss seeing him up here. Cameron is doing a good job, and we are glad Cameron's stepped up to fill Gene's shoes."
Respect for Gene Mills also echoes to Loris City Hall, with the city issuing a proclamation March 8 in appreciation of Gene Mills's service and dedication to the city.
And a longing for Gene Mills's expertise in measuring for suits with his eyes, matching ties continues to echo throughout the nearly 95-year-old department store.
"There's not a day [that] goes by that customers don't ask about him," Tony Mills said. "Not one day. He'll continue to fight until the good Lord calls him home."