Margie Lambert expected this.
The owner of The Bar and Garden City Beach Bar & Grill saw flooding at her two Atlantic Avenue businesses before – particularly in 2016 because of Hurricane Matthew.
This time around, she figured a full-moon king tide Monday night, when Hurricane Isaias lumbered along the Grand Strand before making landfall late in North Carolina, spelled "double jeopardy" for the two spots.
"Mother nature," she said seated near a wet vac used to clean the dampened floor of the lower-lying The Bar. "What can you do? Just regroup and go back at it."
Lambert was one of multiple business owners in Garden City left picking up the pieces Tuesday morning after the storm also brought rain, gusts and beach erosion to the community along with inundation to roads and homes.
Sandbags lined the avenue where arcade employees tidied up, with folks clearing debris off the roads hours after the hurricane caused storm surge.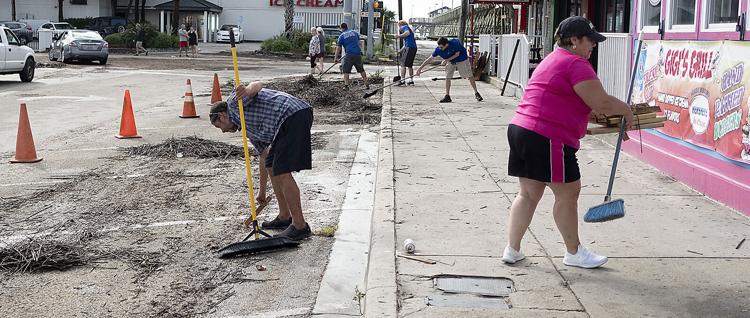 Crews with the state Department of Transportation were in the area conducting storm cleanup operations, according to a tweet from the DOT, pushing water and sand off local streets such as Waccamaw Drive. Workers also used heavy equipment for replenishment near where beach goers lounged near the ocean.
Football players from Myrtle Beach Prep such as Reginald Bellamy, a 2017 graduate of North Myrtle Beach High School, were doing what they could to help the community.
Not long after uprighting newspaper boxes that had fallen as a result of the storm, players from the postgraduate program could be seen picking up debris at a home on Dogwood Drive North by Garden City Chapel & Retreat.
On the avenue is the coffee shop Matt Hutton started running more than three years ago.
"Every year since … I've had to evacuate or gotten hit by a hurricane," he said.
Luckily, he added, the damage at Garden City Coffee Grounds was minimal, and the shop's operators have worked to make the building resilient. The front of the business saw about an inch of water and roughly five to six inches of inundation in the back.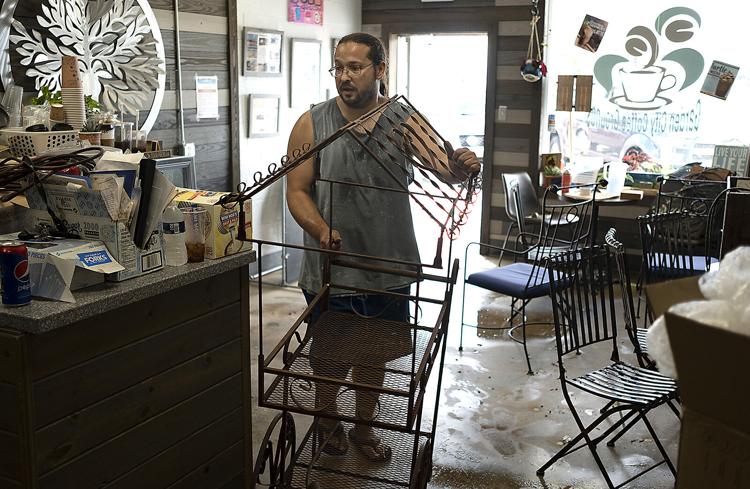 However, the flooding frustrated Hutton, who's forced to clear the standing water out, dehumidify the shop and take sanitary measures.
While one can take steps like weatherstripping and using sandbags to protect a business as well as getting items off the floor and moving them elsewhere, there still might be damage.
"We can mitigate as much as we know and can, but once it passes a certain height, there's just so much you can do," he said. "It's going to trickle in somewhere, some way."
The damage adds to what's already been a challenging year for the business, which had seen sales start to pick up this week ahead of the storm. Hutton noted he's even worked as a painter to supplement his income.
"Everything's lining up against us," he said.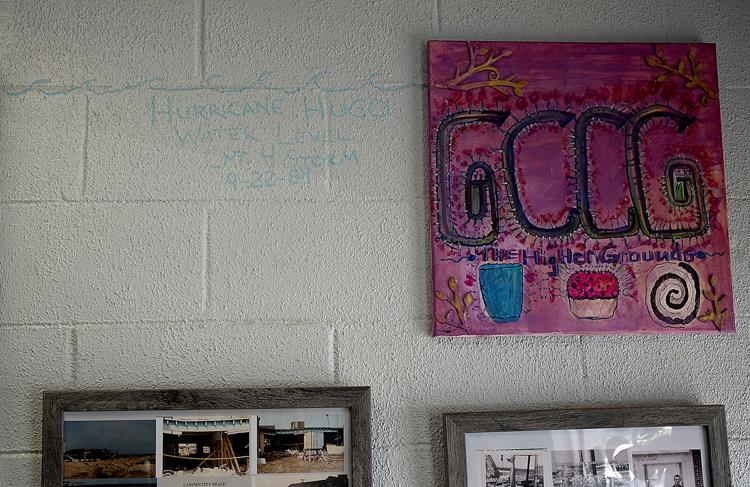 Times were tough at Lambert's bars because of the COVID-19 crisis, too.
The pandemic caused her to shut both establishments down for two and a half months.
Even now, neither bar can't sell alcohol after 11 p.m. because of an executive order issued by S.C. Gov. Henry McMaster.
"I've got Clorox and whatever else I need to sanitize and get everything else cleaned back up and get back open," she said Tuesday.
Among the steps taken at The Bar was getting a closet cleaned out to make room for a beer shipment.
"It's a damn mess," she laughed. "I just try to go with the flow."
In Hutton's case, the hurricane was worse than he had anticipated.
"It sucks," he said. "This is already one of the worst years with Covid."
Further piling on is an above-average Atlantic Hurricane season forecasted.
"We're already getting damage … in the beginning of August," he said.
Despite what happened, Lambert remains positive.
"I'm very thankful," she said. "We can clean the mess up."
Her power has remained on, and she was able to get assistance through the new federal Paycheck Protection Program.
Some friends came out to help with the cleanup Tuesday, and she showed gratitude for her bartenders who pitched in.
Lambert said other businesses, meanwhile, especially small ones, are "shutting down left and right."
She was emotional as she expressed gratitude for the locals who have come out to show the bar their support.
"Sometimes they make me cry," she said, "because of some of the things they do to help or support the bar."
And Hutton hopes the preparations made at his café can help it open back up in a day or two, barring any equipment failure.
He noted the damage could have been worse.
For now, Lambert hopes she doesn't have to deal with any more storms in the near future.
"I'm hoping to goodness that we don't get any more this year," she said. "We've still got a long way to go."