Calling Jacob Hancher by his nickname — "Tiny" — was the ultimate irony.
Yes, the Myrtle Beach police officer had the frame of an offensive lineman. But his friends remember his heart and ear-to-ear grin were outsized, too.  
"I've heard several people describe him as a big teddy bear, which is very accurate," said Makaeley Coleman, a friend of Hancher's and a fellow patrol officer with the Myrtle Beach Police Department. "I don't think anyone disliked him in the slightest. He made everyone feel safe, he made everyone feel happy and you just knew if he was coming to a call of yours he had your back 100%."
Hancher was killed in the line of duty Saturday night. He was 23 years old.
Police were responding to a domestic dispute in the 400 block of 14th Avenue South when they were confronted by 20-year-old John Aycoth, who exchanged gunfire with officers. Hancher was killed, and another officer was injured. Aycoth also died during the shooting.
Hancher is survived by his mother, stepfather, father, stepmother, two sisters, three step-siblings, maternal and paternal grandparents, step-paternal grandfather and several aunts, uncles and cousins.
A public viewing will be held at 4 p.m. Thursday at the Myrtle Beach Convention Center followed by a public funeral service at the convention center at 2 p.m. Friday.
Hancher will be buried in Waldorf, Maryland, on Oct. 13.
"Jacob- I love you and will miss you forever," his father Jeffrey Hancher wrote on Facebook.
Those close to the officer described Hancher as warm and kind — someone devoted to caring for others. He did that as a police officer, a volunteer firefighter and as mission worker with his church.
"He wanted to live a life of service," said Richard Green of Horry County Fire Rescue, who worked with Hancher at Station 45 in Carolina Forest. "Everything he did was to help and give back."
Born in Silver Spring, Maryland, Hancher graduated from Thomas Stone High School in Waldorf in 2015. Prior to moving to the Myrtle Beach area, he was an Eagle Scout with Troop 417, also in Waldorf. He also served as a member of the Waldorf Volunteer Fire Department Fire Station 3 from 2014 to 2015.
During his time on the Grand Strand, he attended Horry Georgetown Technical College.
Before he joined the force, Hancher spent four years as a community service officer, a city employee who assists with police functions such as directing traffic and managing school crossings.
Being a police officer was his dream job.
"He came here as an 18-year-old and had lots of gung-ho and wanted to learn," Green said.
Colleagues described Hancher as both a strong volunteer firefighter and a good policeman.
"Always there to help out," said MBPD Cpl. Alex Stewart, who supervised Hancher. "If he saw you working on anything … he'd be the first one to step up."
Hancher even trained so he could help folks as an emergency medical technician.
"He took the time and put it in because he wanted to do a little more than just fighting fires," said Green, noting that Hancher assisted crew members on a fire call last Thursday.
Recently, Stewart sent Hancher to a location a few hours away to pick up an inmate. The young officer didn't mind.
"He [was] just happy to do it," Stewart said. "I don't know if there's anything that could get that guy down. I really don't. He was just always there to back everybody up, always there going to calls, always being active [and] so eager to learn."
While this week has been painful, Myrtle Beach officers and HCFR personnel have leaned on each other in their time of grief.
The outpouring of condolences and support has helped them cope.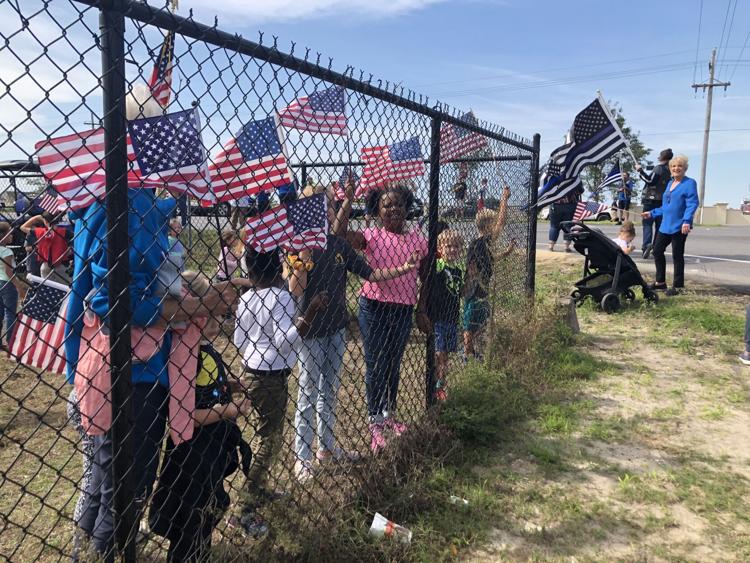 "It's 100% a family," Coleman said.
Before Hancher's death, the last Myrtle Beach officer killed in the line of duty was 28-year-old Joseph "Joe" McGarry, who died on Dec. 29, 2002. McGarry had been taking a break with his partner at a Kings Highway donut shop when he thought he spotted a suspicious person in the parking lot. McGarry went outside and was shot in the head.
After McGarry's death, his motorcycle stayed with the officers in the department.
Hancher eventually purchased it.
"He loved riding his motorcycle," Green said.
Since Hancher's death, his community has shown its support for police in multiple ways.
Folks lined local streets as Hancher's body was taken to the Medical University of South Carolina in Charleston and escorted back to Myrtle Beach.
They left doughnuts at the fire station and flowers around the police station sign.
Fire trucks hoisted American flags that softly fluttered in the wind on the Robert M. Grissom Parkway bridge. Kids raised their own smaller banners as they huddled near the funeral home when the fallen officer was transported there.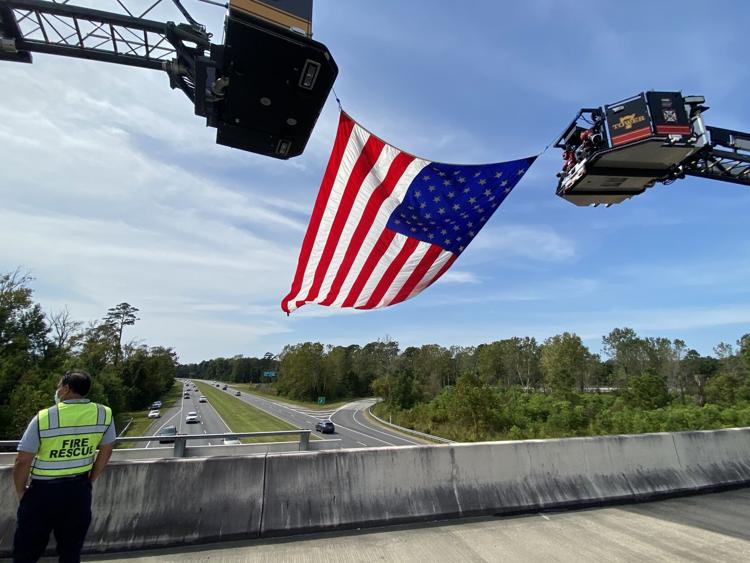 A memorial fund established by the nonprofit Serve & Connect had received more than $40,000 in donations as of Wednesday.
"It makes me very happy that I'm a part of this community," Coleman said. "It's very unfortunate circumstances, but I didn't really realize how much people can come together [due to] something like this and support each other, so that's very nice to see."
"It's sometimes overwhelming," Green said, "especially to us."
Hancher's coworkers and others in the community also took part in a walk at The Market Common to honor him.
"Jacob loved serving this community," Myrtle Beach Police Chief Amy Prock told a crowd that gathered there Monday night. "He truly had a servant's heart; he truly loved his Lord and he will truly be missed."
As they searched for comfort, coworkers shared stories and laughed about memories.
"That's how we get through it," Green said. "We try to celebrate [his] life."
Stewart called Hancher an "upbeat, joyful, giving" person.
"He cared about everybody [else] more than he cared about himself," he said.
Coleman said she and Hancher had become close friends, particularly during the last month.
They'd often talk about work or movies or jam out to Disney songs such as "Hawaiian Roller Coaster Ride" from Lilo & Stitch.
"He just turned that thing up," Coleman laughed. "Any song he was playing, he would pretty much sit there and sing the entire song."
Hancher was also a fan of the Taylor Swift track "Love Story."
When singing along to the tune one night, his friend captured the moment. The MBPD recently shared that video on its social media accounts.
"It was funny because we kind of try to get little candid videos and pictures of people and send it to group chats and stuff sometimes," Coleman said. "I've never saved a video of anyone before, but for some reason that night I saved that one, and I couldn't tell you why. … I'm very glad I did it now."
After sharing the video, Coleman got messages from officers throughout the country.
They shared their own memories of colleagues they had lost.
"It reaches even outside the community," Coleman said. "Definitely within the community is where I feel it the most. I don't think we would be able to get through it without this community."
Stewart agreed.
"It's absolutely incredible," he said. "It's what he [Hancher] deserves."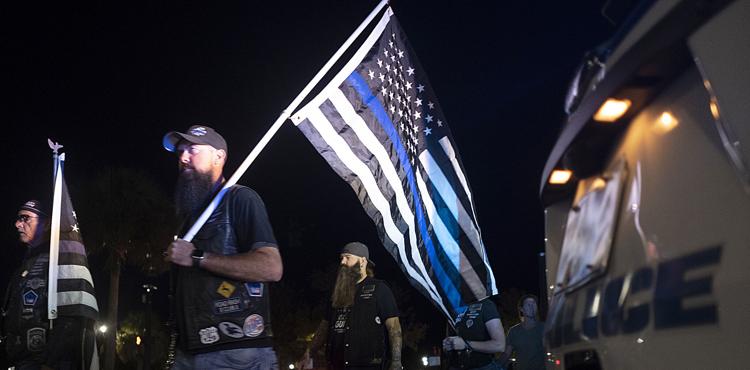 Hancher was outgoing.
"He talked to everyone," Coleman said. "That's just the kind of person he was. Even if he didn't really know you, he would take the time to try to get to know you."
Green remembered another moniker for Hancher: "Baby Huey," a reference to a cartoon about a giant duckling.
Hancher's "Tiny" nickname also belied his big personality, friends said.
"It's just tragic because his life was just getting started," Green said.
"Being a police officer isn't something that you want to do," Stewart said. "It's something you're born to do. He was the definition of that."
His smiling face greeted families when helping with traffic at Myrtle Beach schools.
Coleman recalled a friend of hers realizing she knew of Hancher from his time helping with school crossings. Seeing his smile made her day, she told her.
"He had that smile that made everybody's day," Coleman said. "He made me excited to come to work. He made other people excited to come to work. You just knew you were going to have a good day if he was around."
"I don't think there is a single time where he's ever not had those rosy cheeks and that smile on his face," Stewart said.
Hancher was punctual, preferring to arrive at work early.
"He was always the most energetic, upbeat person at work," Stewart said. "I'll ask him, 'Hey, how are you doing?' and then he'd always joke around and be like, 'Better now that you're here.' He's just always a positive person."
He was also a man of faith. As a parishioner with the Catholic Church of St. James in Conway, he was a missionary during a 2017 visit to Honduras.
A black and blue bow now is on the flagpole next to the sign at the Ted C. Collins Law Enforcement Center in Myrtle Beach adorned with a black stripe.
Flowers, a handwritten note reading "Rest in peace" and, perhaps appropriately, a teddy bear rest against it.