They came to him in the fall asking if their graduation ceremony could be different from years past. They wanted the ceremony moved from the auditorium to the football field.
"I had no idea what lengths you would take to make this happen," said Myrtle Beach High School Principal Zachary McQuigg, standing in the end zone looking out at about 240 students flanked by a pair of loved ones.
Only a handful of folks sat in the aluminum seats of Doug Shaw Memorial Stadium to comply with social distancing guidelines in the wake of the COVID-19 pandemic.
But these students, some present in the stadium and some watching online, know about change. They were born as the world grappled with the aftermath of Sept. 11, 2001. Now as graduates, they are facing more global changes.
"The reality is though, you are the ones who inspire me," he said nodding his head.
Myrtle Beach High School students graduate
Throughout Horry County Tuesday morning, schools began holding group graduations. Along with Myrtle Beach, North Myrtle Beach, St. James, Loris and Conway held ceremonies on the schools' football fields. Socastee, Aynor, Green Sea Floyds and the Early College High School will hold their graduations on Wednesday. Carolina Forest High, the district's largest school, could not hold one ceremony for all the students because of concerns about social distancing. 
School district officials initially planned to hold virtual ceremonies for each school, but they changed their minds after a backlash from seniors and parents.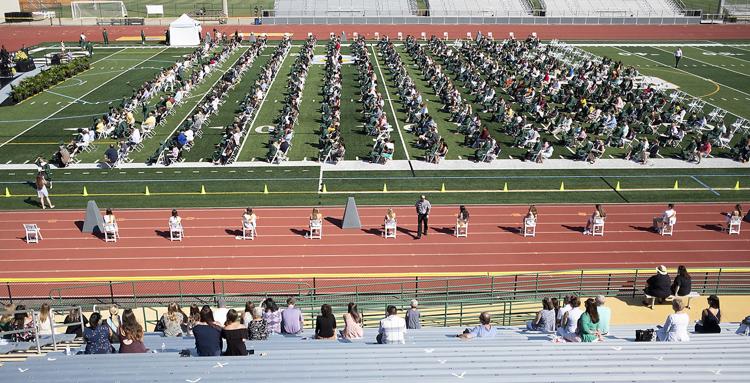 The students, like others across the country, have had the last few months of their senior year dictated by new social norm rules because of the pandemic. They've had classes via Zoom meetings and completed assignments via digital services.
"It wasn't supposed to be like this," said Carrington Lea Callihan, the Myrtle Beach High class laureate. But, she smiled, the class wanted to have more of graduation ceremony than a digital gathering, so there were calls, emails and petitions until Horry County Schools put ceremony plans in the hands of the principals.
While McQuigg spoke, Ajuwon Anderson adjusted his cap and tapped on his iPhone. At the end of the ceremony he would post a live feed of him turning the tassel on his Seahawk green mortarboard as he pointed the iPhone at his smiling face.
The touchscreen phone, i or otherwise, isn't as old as the graduating seniors. Since their birth, there have been inventions such as YouTube, Facebook, Instagram and Twitter.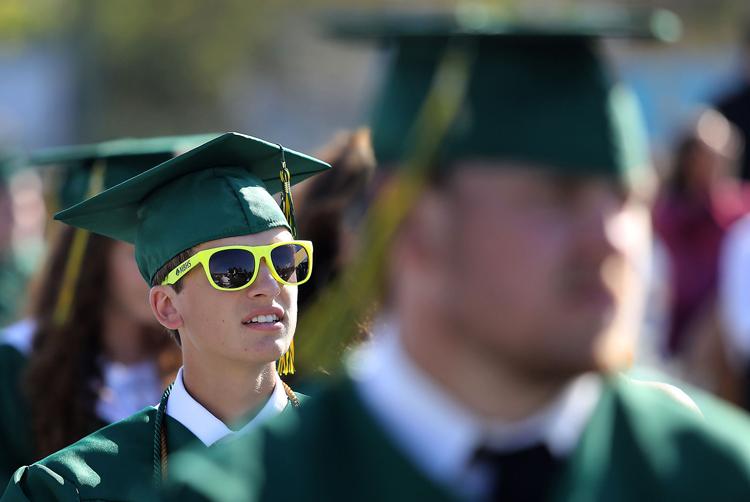 Valedictorian Thomas Zachary Melillo Riga said he had looked to YouTube for inspiration while writing his speech, but found nothing fitting to tell is classmates stepping away from the certainty of high school into adulthood. 
"There is no set path and, just like this speech, I don't know what I'm doing," he joked.
McQuigg and other faculty members lined the stage facing the field as a table loaded with diplomas folders sat in the middle. Each graduate answered the call and crossed the stage foregoing traditional handshakes. They grabbed a diploma case from the stacks and walked off the stage.
Tassels were turned and pictures were posed for as the graduates milled around between friends and family members.
Jonathan Munoz unbuttoned his white collar and loosened the black tie his father Jesus Munoz had placed around his neck in the stadium parking lot as Pomp and Circumstance played softly through the stadium speakers. He had entered the stadium cinched up as a student, but with a mortarboard and diploma case tucked beneath the arm of his flowing gown, he left with his parents as a graduate.
—Janet Morgan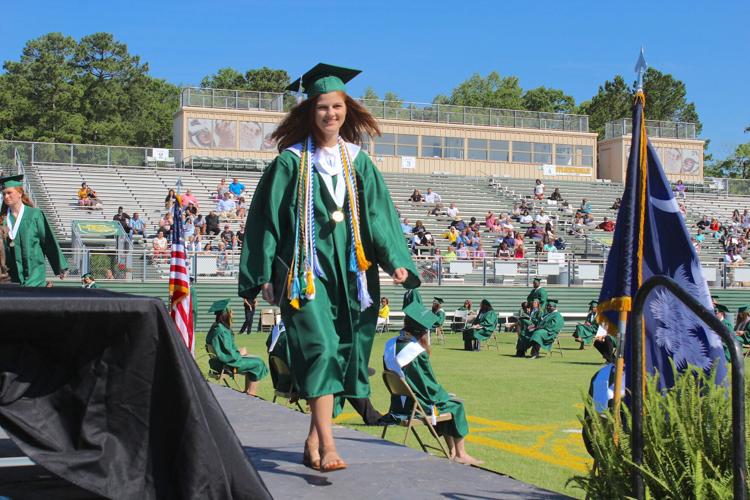 Conway High School
For the first time in a decade, Conway High School held graduation on the school's football field.
"I'm really excited," said senior Brittany Montgomery, reflecting on her educational journey. "It's been 13 years in the making." 
There were 223 seniors who opted for the group graduation, in which students were spaced six feet apart on the field, wore masks, and were only allowed two guests each in the stands. Fifty-six of the graduates opted for no ceremony, and 67 decided to have individual ones with more family members instead. 
Senior Cody Johnson said he was relieved to be graduating, and when he heard school officials were working hard to provide an in-person graduation, he felt honored. 
"I'm proud of myself that I got through it all," Johnson said. 
It was an especially important day for Dorothy Fetzer, who had two sons receiving their diplomas that day. Her son Trevor, who has autism, and his brother Dustin stood proudly in their caps and gowns. 
"I finally did it," Trevor Fetzer said with a smile.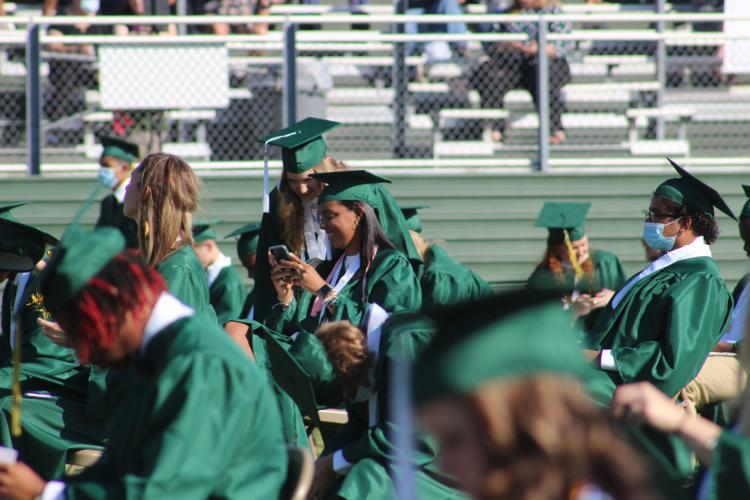 Senior Robert Smith said he wasn't worried about what type of graduation they would have. 
"As long as I get my diploma," he joked. 
Principal Lee James, who begins new duties as a principal specialist for learning services for the school district on July 1, addressed the students fondly, saying he hated they missed so many of the traditional "lasts" of senior year. 
Nicolette DeGrecio served as the school's valedictorian with Stephen Stec as the salutatorian. Jasmine Koepcke was the class laureate, and Chloe Cribb was honored as the outstanding senior. 
Terrell Hakeem "Tonka" Hemingway was awarded the Top Tiger for 2020. 
"Through it all, this class has pressed on and persevered to the end of our high school career," Cribb said.  
Senior Class President Connor Chaplin led the Class of 2020 in the turning of the tassels.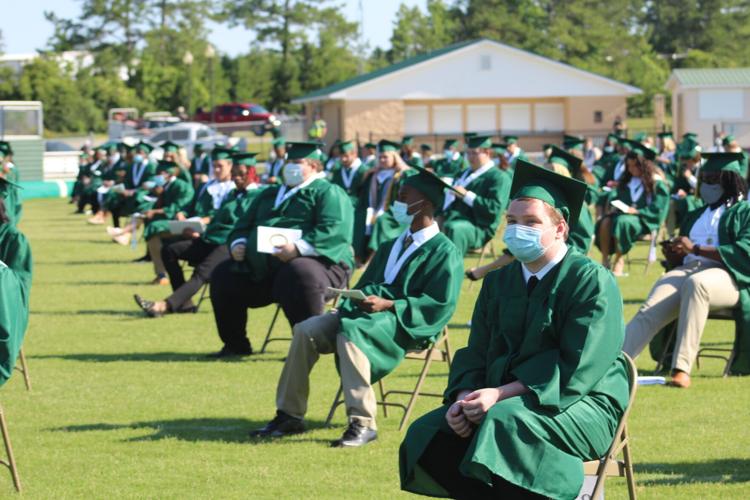 "I cannot wait to see the amazing things that this class will do," Cribb said. "The Class of 2020. The class that will go down in history. As Jay-Z once said, 'Mama, we made it.'"
—Katie Powell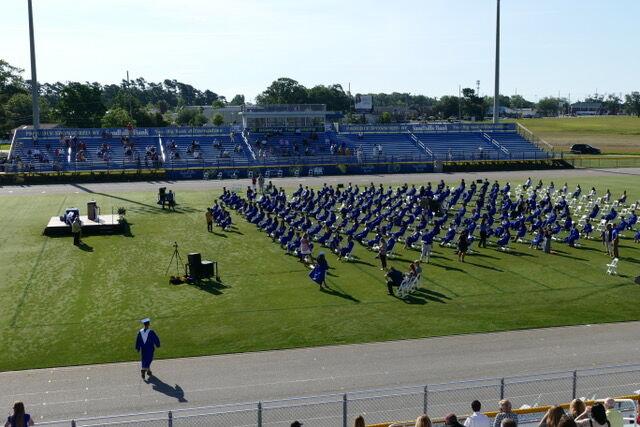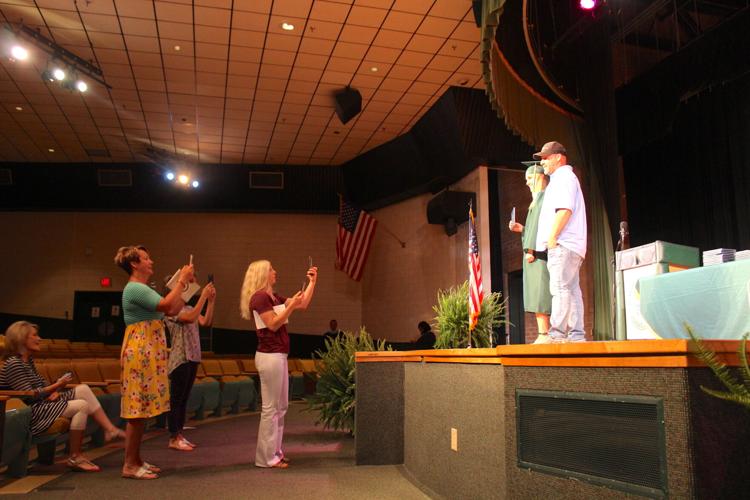 An individual ceremony
Conway High senior Lakelyn Chestnut chose to have an individual graduation instead of participating in the large group ceremony at the Conway High football field. 
"I loved it," Chestnut said. 
Her aunt Ashley Darden said that because they are a large family, the individual graduation was a better fit since they could have up to eight family members. Those attending the group ceremony were only allowed two guests. 
"I'm so glad they gave us the option," Darden said. "It was a lot nicer than I thought it might be."
While Pomp and Circumstance played through the loudspeakers, the principal Lee James greeted the graduates onstage while family gathered in the front to take photos and cheer. 
"Be as loud as you want, take as many pictures as you want," James said. 
Chestnut took the stage and turned her tassel as her family whooped loudly and took photo after photo. 
The day meant a lot to graduate Tanasha Bellamy's family too. 
"This was an amazing opportunity," said Tiffany McCloud, Bellamy's mother. 
Bellamy also chose the individual graduation so that her large family could celebrate the moment with her. 
"I am happy," Bellamy said. "I feel accomplished." 
McCloud said Bellamy wants to be a novelist and is in the process of writing a few books already. 
"She loves God,"the proud mother said. "She's headed in the right direction."
—Katie Powell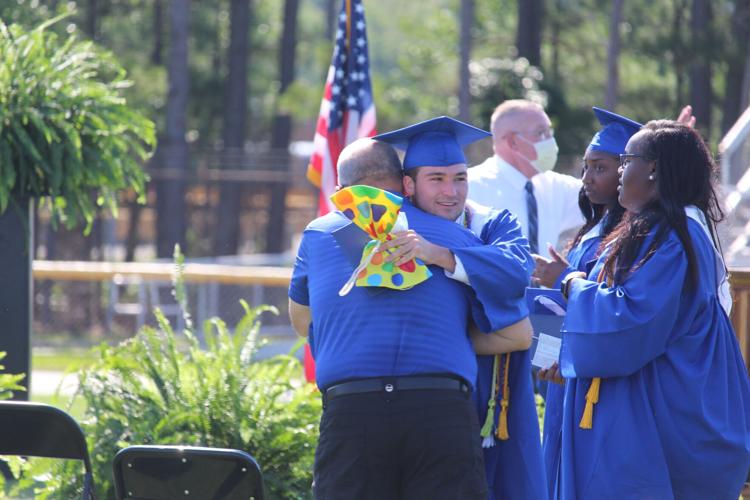 Loris High School 
A scoreboard celebrated Loris High School's class of 2020, who turned their tassels during a graduation ceremony at the school's football field. 
Some graduates hurled their caps into the air as onlookers snapped photos from the bleachers. Each graduate was allowed two guests, with pairs watching the graduation spaced out to practice social distancing. Some graduates and guests wore face masks, and masks were offered to attendees.
This year's graduating class had over 200 students and more than 140 signed up for the large group ceremony.
Addressing his fellow graduates, salutatorian Jacob Black sported a clown bow tie to honor his Nana.
"She was a Daisy Elementary School teacher and touched a lot of people's lives." he said. "She taught me to be unique and choose to be happy."
Black touched on how the country saw tragedy because of 9/11. On Tuesday, the school's class of 2020 graduated amid the coronavirus pandemic.
Valedictorian Heather Ghent encouraged her classmates to act, challenging them promote a better, more sustainable world, fight injustice and systemic racism, and tackle other complex issues.
"There is no time for dreams in a world where we cannot breathe," she said. "We can do great things. We've always been capable. And now is our time to make a difference for future generations to come."
—Viraj Naik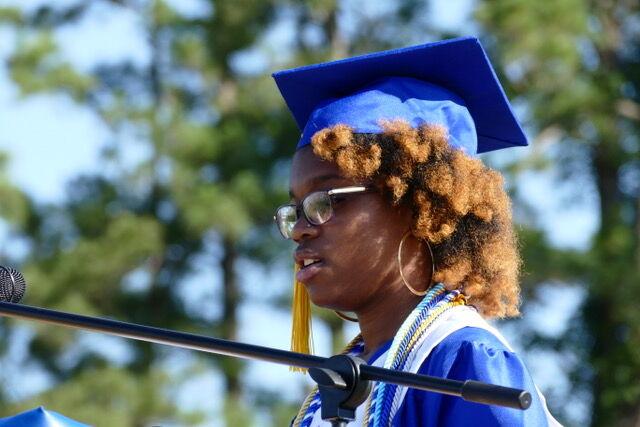 North Myrtle Beach High School
COVID-19 turned the lives of the class of 2020 upside down.
The viral disease took the last three months of high school for North Myrtle Beach's 318 graduates. 
"Our new normal is Edgenuity, Zoom calls, homemade meals, at-home workouts and binge-watching shows like 'Outer Banks' and the 'Tiger King,'" salutatorian Jordan Berger told the 168 seniors who took part in Tuesday's ceremony at Heniford Field. "For a class with 2020 vision, we never saw it coming."
Her twin sister, valedictorian Jenna Berger, spoke of living in the moment. 
"Had we known what was to come three months ago, we may have walked a little slower in the hallway or laughed a little more with our classmates," she said. "But we can't turn back time."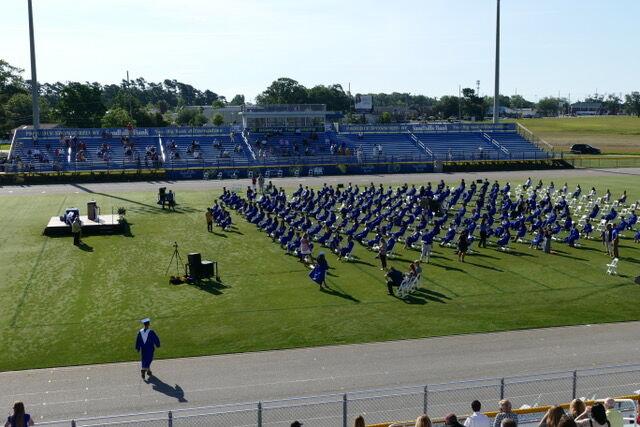 Time doesn't stop, so going forward, seniors should learn to live in the moment, cherish the memories they do have, and do good things even if no one is watching, Jenna Berger added. 
"There's a lot in the world that needs changing, but we can do it one voice, one act and one idea at a time," she said.
The twins both plan to attend Charleston Southern University: Jenna Berger wants to study nursing and Jordan Berger plans to major in English.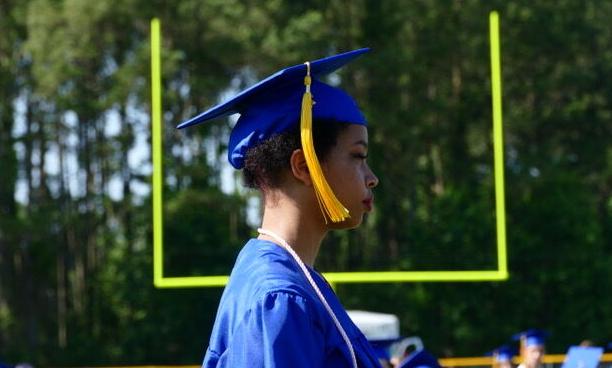 Precious Kilian, another graduate, said she plans to go to Horry-Georgetown Technical College to study cosmetology and business so she can start her own hair salon.
This summer, she said she plans "to work and get my own place.
"I'm glad that this is over, and I'm very proud of myself for getting through it."
Student Body President Emphasis Crawford said she plans to go to Coastal Carolina University to major in business administration and bring her skills back to the community of Poplar where she grew up.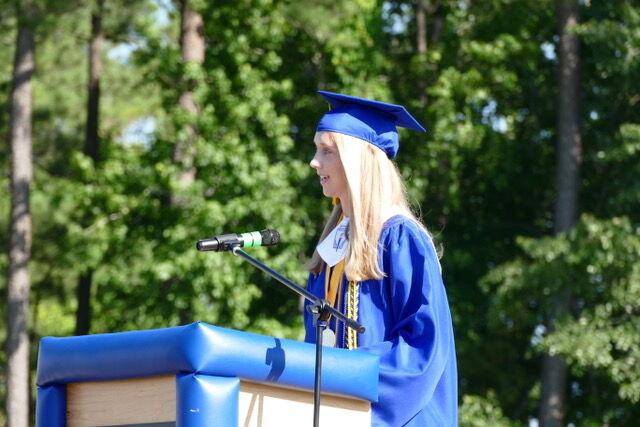 "I'm kind of glad I didn't cry because I can get really emotional," Crawford said. "Class of 2020, it's supposed to be perfect vision. It definitely wasn't perfect. More like blurry, real blurry. I'm just glad we all had a chance to make it with all we've been through."
—Christian Boschult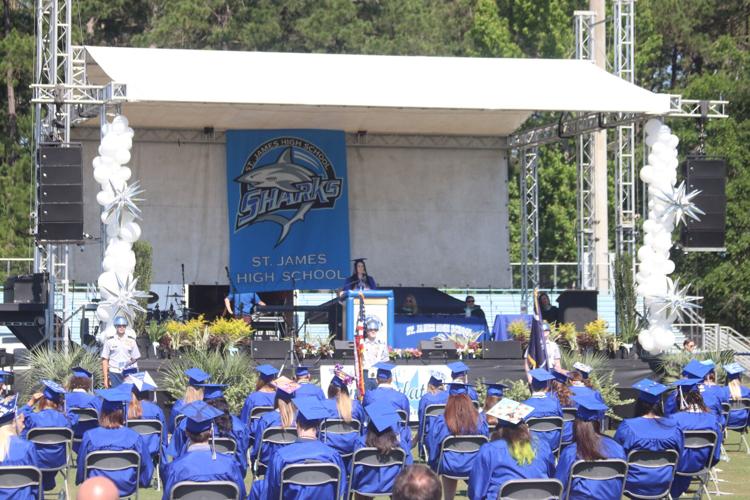 St. James High School
The St. James High School graduating class of 2020 was celebrated on the school's football field Tuesday.
More than 260 graduates walked across the stage to receive their diplomas with friends, family and St. James High School staff members in attendance.
"We are unlike any other class that has set foot on this stage," senior Thomas Barrineau said.
"These past couple months have certainly been different," said Lexington Whalen, St. James' valedictorian. "They included challenges never faced in every aspect of life. We had overcome the unexpected and plan for a time where no precedent has been set."
The class of 2020 has endured so much in their four years. As freshmen back in 2016, they had to overcome Hurricane Matthew and the flooding that followed. Two years later, it was Hurricane Florence. And in the 2019-2020 academic year, not only was there Hurricane Dorian but then came the coronavirus pandemic.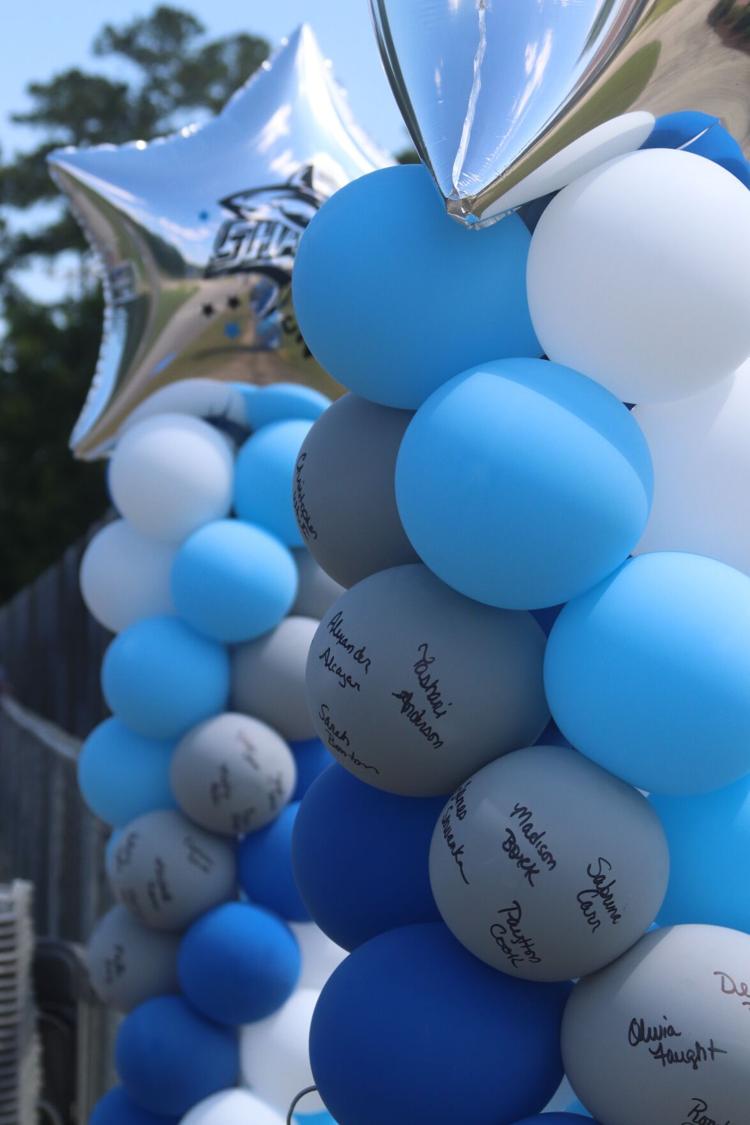 Despite the roadblocks that were placed in the way of the graduating class of 2020, many students kept their minds open and remained positive as they continue to do their work as students through this pandemic. 
"There are approximately 936 months in the average lifetime and we are spending about 0.26 percent of it at home right now," Barrineau said. "Why let such a mall obstacle in your life swallow up your hope? There will be tough times but it's about how you will take on that situation."
 "In the midst of the pandemic, we are all facing a plethora of issues, such as unemployment, disease and large scale conflicts," said Hudson Hok, the school's salutatorian. "It may seem that these problems are out of our hands and we can't do anything to resolve these issues. But we are not hopeless. We will be a part of the front lines to combat these issues in the coming years. We are the leaders of the future."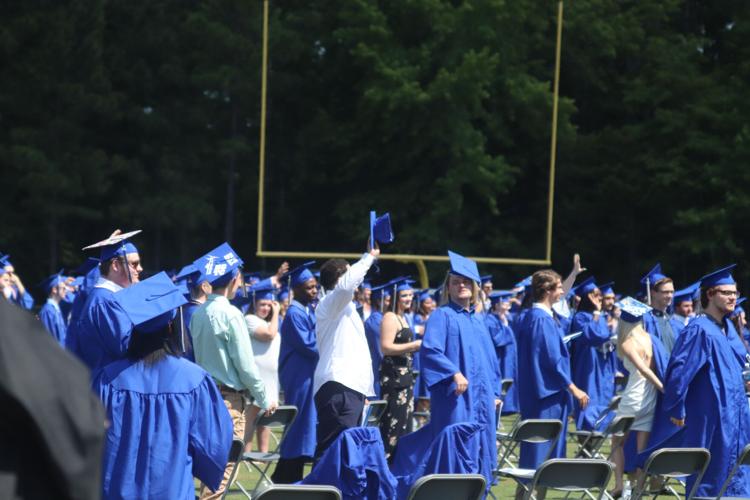 St. James Principal Vann Pennell shared his gratitude for the students and their dedication to online learning as well as to his teaching staff for rolling with the challenges that came to educating so many students via the online platform.
"When we left school on March 13, we had no idea how to do e-learning," he said. "They buckled their chinstrap and they hit it straight on. They have become exceptional at the job they have done. I am blessed to have them here at this ceremony."
Pennell also said it was "an honor to be at graduation for these kids."
"They mean so much to me," he said. "They have kept me young and enthusiastic as we have gone through this journey together."
The graduating class of 2020 at St. James high school will go down as one of the most successful classes in school history with 203 of the 371 graduates receiving the recognition of cum laude, a GPA of at least 3.75, or better. A total of 44 students received the distinguished summa cum laude recognition, by receiving a GPA of 4.75 or higher. 
Prior to the turning of the tassels, Pennell took some time to address the graduates and share stories from his life as advice for the outgoing class. And then came the sendoff — a personalized uplifting message from legendary wrestler Ric Flair.
—Ian Livingston Brooking
Aynor High School 
Aynor High School took social distancing seriously during their Wednesday morning graduation setup, having students and their guests wait in their cars in the parking lot until their names were called to enter the football field to be seated for the ceremony. 
Senior Rachel Wilkinson and her family waited anxiously for their turn. 
"I'm really excited. I thought they weren't going to have anything," Wilkinson said. "I'm glad I got to be with the people I grew up with one last time."
Malcolm Walters, whose son Nicholas would be walking across the stage within the hour, said he was proud.
"It's an emotional day … where did the time go?" Malcolm Walters said. 
The decision AHS made to give students choices for graduation made twins Riley and Kennedy Phipps happy. Riley Phipps said it was "even better" that the school decided to let them have a choice to have a large group graduation. 
Senior Fred Pollard showed off his graduation cap, and said he was really happy he was getting to walk across the stage instead of watching it on a screen. 
Ronnie and Cindy Smith were beside themselves about their graduate, Blayne Smith. 
"We are bursting … I'm tickled, we're so proud," Cindy Smith said. 
AHS had 15 students that opted for no ceremony, 14 who enjoyed an individual celebration, and 163 who chose to graduate with their class together.
—Katie Powell
Socastee High School graduation ceremony
Socastee High School
Trinity McIver's voice cracked as she talked about her senior year at Socastee High School.
"Who knew it would all end like this?" the student body president said to about 240 classmates seated feet apart on the football field Wednesday morning to comply with social distancing guidelines. "These uncertain circumstances did not stop us from finishing what we started. It only made us stronger."
In the hard-hit Socastee communities, the class endured flooding in their homes as several hurricanes hit the Grand Strand. As the last few months of their final year approached, the class was sent home in March while the COVID-19 pandemic threatened the nation.
"I think at this point, you might have been out of school more than you've been in it," said Socastee's teacher of the year, Devin Weeks, reminding the graduates of their resilience. "You have found a way to turn the down arrows up."
Jennifer Nguyen's robe was weighed down with stoles and cords marking her achievements as she walked on the stage to deliver her valedictory address.
She remembered classmates saying they wanted to be veterinarians and galaxy rulers when they were 5 years old. She wanted to be a chef.
Five years later she wanted to be a surgeon.
But now, she cautioned, is not a time to make hasty decisions about the future. It's a time to make mistakes, learn from the mistakes and grow.
And, she said echoing McIver's "silence is compliance" statement made earlier in the ceremony, it is time to act.
"Our generation is powerful," she said calling out George Floyd's name along with others who have died and have become the spark for protests around the country. "Overturning a nefarious system and recognize black lives do matter."
—Janet Morgan
Green Sea Floyds High School
The last few months have been a strange time for Jorden Herring because of the COVID-19 crisis. His senior year of high school was one he didn't expect.
But the Green Sea Floyds High School graduate wouldn't change the last four years for the world.
"I look back. I see a lot of memories. I see a lot of potential in a lot of people," he said. "I'll never forget it."
Herring, who enlisted in the U.S. Navy, was one of about 50 students who took part in a group graduation ceremony in the high school's gymnasium on Wednesday.
Seniors were also given the option to graduate without participating in a ceremony or having an individual graduation. Signs showcasing senior portraits have been displayed outside the school that students can take home with them.
The GSFHS class of 2020 has over 80 graduates, who earned over $1.2 million in scholarship money. 
Hillary Todd was salutatorian, and valedictorian Jordan Elliott received the Heart of the Trojan Award and an accompanying scholarship.
Students who took part in the group ceremony were spaced out as proud parents and faculty members from Green Sea Floyds schools spectated from the bleachers nearby. Some attendees wore masks, and equipment was wiped down between each speaker.
Addressing his classmates, graduate Ethan Damron said he believes the hardships his senior class went through will only make them stronger. Quoting novelist Paulo Coelho, he said: "You drown not by falling into a river, but by staying submerged in it."
—Viraj Naik