Lawyers for the family of Tristan Vereen on Wednesday released a statement saying S.C. Highway Patrol Master Trooper Whittney Blake Benton "illegally" stopped Vereen for a cracked windshield before fatally shooting him in a struggle.
Benton, who is white, shot Vereen, who is Black, on the evening of Sept. 11 after a traffic stop.
Civil rights attorney Harry Daniels and co-counsel Chantel Cherry-Lassiter said in their statement that "a vehicle with a cracked windshield in the state of South Carolina, is not a traffic violation according to South Carolina law," citing S.C. Code 56-5-5000, which pertains to windshield obstructions. That law does not mention cracked windshields.
"I have pictures of this windshield and there's no obstruction by any means," Daniels said in an interview.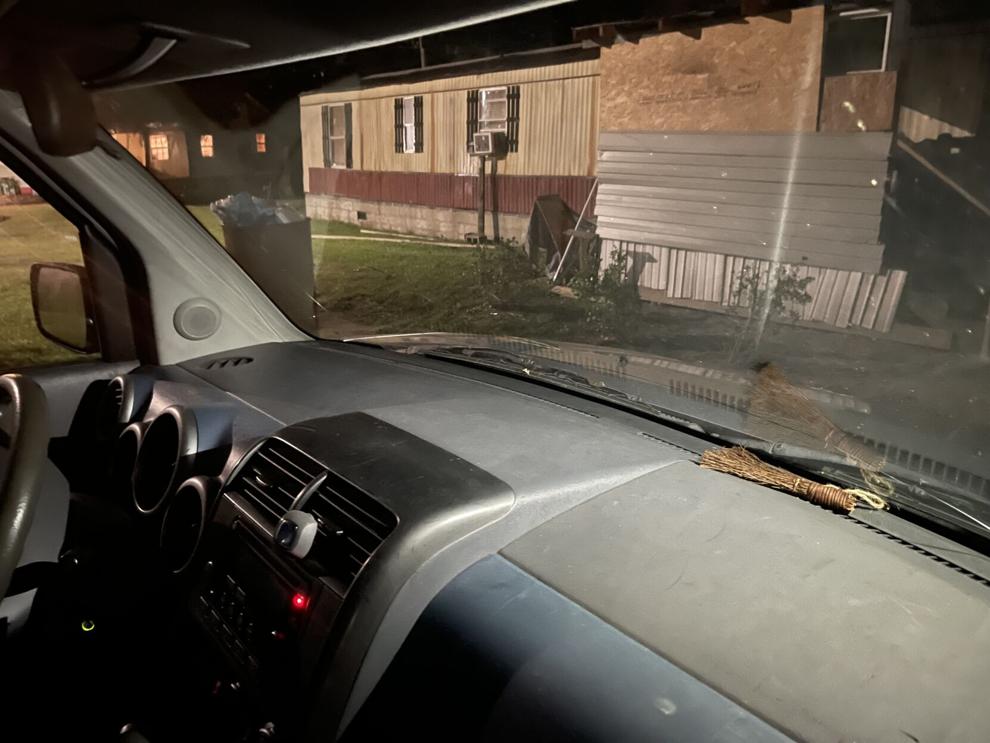 According to the 15th Circuit Solicitor's Office, Benton had pursued Vereen on S.C. 905, and Vereen's family has said the the stop was made over a cracked windshield.
Solicitor Jimmy Richardson, who on Wednesday released video of the shooting, said it was too early to tell if a cracked windshield was really the reason for the stop.
"My whole purpose for trying to put the video out was to cut down on misinformation, and right now, I haven't seen anything that says the officer stopped him for a traffic violation," Richardson said.
But Daniels said in an interview that Richardson told him Benton had pulled over Vereen for a cracked windshield, and also cited Richardson's comments about the windshield during press conference last Thursday. 
"Jimmy Richardson had told me that the officer told SLED the reason for the stop was a cracked windshield," Daniels said, adding that Richardson in his role as the county's chief prosecutor would be privy to that information and would ultimately make the decision on whether Benton should be charged in the shooting. Richardson said he never told that to Daniels and called it a "misunderstanding."
In coverage of that press conference, MyHorryNews.com reported Richardson said the windshield was cracked, but he wasn't sure if that was the impetus for the stop.
Video of the incident shows that Vereen, a 33-year-old father of four, hopped out of his SUV after Benton stopped him, and ran around the property with Benton in pursuit before a struggle ensues. Richardson said Benton used his taser on Vereen. Vereen eventually gained control of Benton's taser.
The video isn't clear as to how Vereen ended up on the ground with Benton, but at one point in the struggle Vereen got on top of Benton and that's when Benton fired the fatal shot that killed Vereen. 
During the struggle, Vereen bit Benton on the arm and gained control of Benton's taser before using it against him, according to the solicitor's office, which released photos of the wounds.
The S.C. Department of Public Safety said Benton required surgery for injuries sustained during the incident, but it declined to say what surgery was required or the type of injuries the trooper sustained. 
The family's attorneys counter that the South Carolina Supreme Court has upheld the right to resist an unlawful arrest, citing a 2001 decision in a Myrtle Beach-area case known as State v. McGowan.
In that 20-year-old case, the court upheld the right to resist an unlawful arrest but noted that the resister "is not authorized to go beyond the line of force proportioned to the character of the assault, or he in turn becomes a wrongdoer." 
"If the stop is unlawful then the killing is unlawful," the attorneys said in a statement. "Mr. Vereen had the absolute right to resist the unlawful arrest of Trooper Benton. Unfortunately, we see time after time that the rights that have been afforded to us by the United States Constitution, are not afforded to people of color when it comes to their interaction(s) with law enforcement."
"What I'm pushing here is the if the stop is illegal the killing is unlawful," Daniels said. "A person has a right to resist and off for illegal arrest or detention. If Tristan was resisting the officer by any stretch, he was within his lawful and constitutional duty to do so." 
Richardson said Benton had given a statement to the South Carolina Law Enforcement Division (SLED), which is investigating the shooting, but that he hadn't seen the statement or Benton's report on the incident. He said he couldn't speculate on the reasons for the stop.
If the windshield was the reason for the stop, Richardson said, "then we'll look into all of it, but I would have to make the same sort of leaps that [Daniels] is making."
"I don't know what report he read or hasn't read, I can't speak on that, but I can tell you what Jimmy said to me," Daniels countered. "That's what the family told me that was said. But here's the thing. You won't find any violation for a cracked windshield in the state of South Carolina and [you] can't find it because it doesn't exist. If he didn't stop him for a cracked windshield, what did he stop him for? Unlawful stop, unlawful killing."
Richardson denied telling Daniels the reason for the stop and said he never talked to the trooper, hasn't seen his report and doesn't know what the trooper said to SLED.
"I haven't seen anything like that at all," Richardson said. "I haven't seen a SLED report, I haven't seen the officer's statement. It's a reasonable assertion, but no sir, I haven't seen in any way where the officer said why he was pulled over. I'm not saying it's not there, but I haven't seen that and I could not have told him that.
"I've never talked with the trooper," Richardson added. "I'll be interested to see what his statement is because I'm going to have to wait on that. Somebody from SLED may have heard such a statement and it's a logical conclusion, but I'm not willing to make that statement without seeing what the trooper said."
SLED did not immediately respond to a request for comment on why Vereen was stopped.
The struggle was captured on a home surveillance camera, but it offers only a partial view of what happened. The S.C. Department of Public Safety has not released dash cam footage of the pursuit, and Benton, a 10-year veteran of the patrol, was not wearing a body camera during the incident.
Body cameras are funded by the General Assembly, and the South Carolina Public Safety Coordinating Council awards money to law enforcement agencies each funding cycle to pay for the cameras. 
The S.C. Department of Public Safety said it applies for money each cycle and distributes body cameras to its troopers as funding allows. 
The department said it has 53 troopers in Troop 5 that have body cameras. That unit patrols Darlington, Dillon, Florence, Georgetown, Horry, Marion, Marlboro and Williamsburg counties. 
The department has 15 troopers in Horry County who have been issued body cameras, but Benton was not one of them.