George Ferrell, the Burgess man whose private gun range prompted Horry County leaders to reconsider their reckless shooting ordinance, was arrested this week after authorities say he harassed a woman who complained about shots being fired into her neighborhood.
Ferrell, 51, was charged with second-degree harassment on Wednesday morning. He was released from the J. Reuben Long Detention Center later that afternoon on $1,000 bond, according to the jail's website.
When reached by phone, Ferrell said he had lawyers involved in the case and he didn't want to discuss the matter.
"I don't need to make any comments on it," he said.
County police reports indicate that officers have been called multiple times about bullets from Ferrell's range striking homes in the neighboring subdivision, Harmony at St. James. The development is on the opposite side of Salem Road from St. James High School.
On July 14, police met with Ferrell and he agreed to change the layout of the range so shooters would not fire into Harmony, according to a police report.
But five days later, police were called to Christy Griffith's home, which is in Harmony and borders Ferrell's property.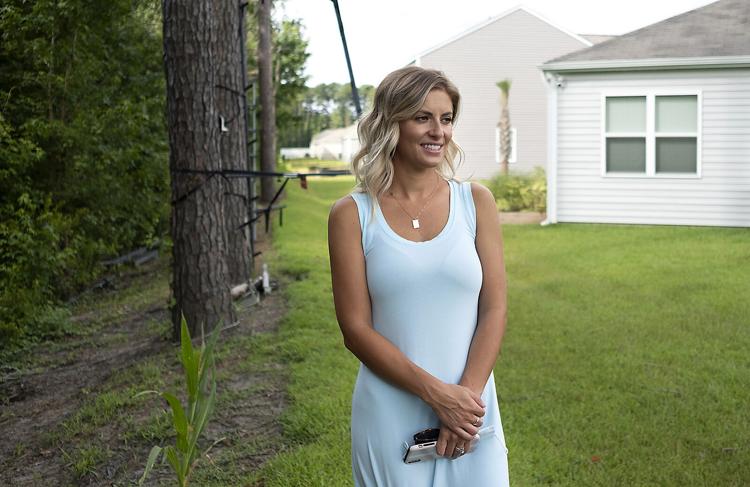 Griffith, a 31-year-old mother of two, has frequently called police about unsafe shooting at the range. Bullets have damaged her home and others in the community. However, no one has been charged with violating the county's reckless shooting ordinance. Police have said they don't have probable cause to make a criminal complaint. 
On Sunday, Griffith told police that around 8:20 p.m. Ferrell parked his vehicle on the street a few houses from hers and glared at her. 
"The complainant stated that it is not the first time that he has attempted to intimidate her," the report said. "There have been multiple complaints filed about the suspect harassing the complainant. The complainant stated that after the suspect left, she heard shots fired coming from the suspect's property."
"He was shooting like crazy," Griffith said.
Two witnesses confirmed Griffith's account and police obtained video from a security camera that showed Ferrell in the area.
When officers confronted Ferrell at his range, he denied everything, according to a police report.
Griffith said she requested a restraining order on Tuesday and spoke at Ferrell's bond hearing on Wednesday.
"I'm to the point where I'm fearing for my life," she said, adding that her kids, ages 3 and 5, won't play in her yard because of the frequent gunfire. She worries about hosting birthday parties and inviting friends over for cookouts.
"He's continuing to terrorize us," she said.
Earlier this month, Griffith called police to tell them she had received a Facebook message from Ferrell saying, "I'm not gonna stop. Bring it on," according to a police report.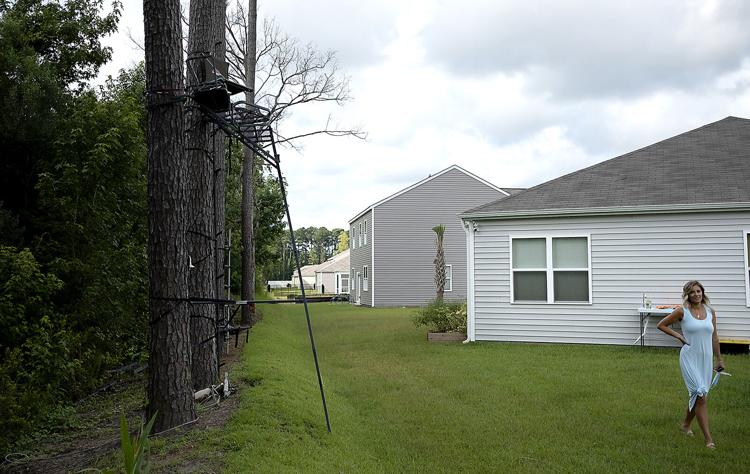 Despite Ferrell's arrest, Griffith hopes more will be done to protect her community. She would like to see Horry County Council strengthen the county's reckless shooting ordinance. 
Some council members want to create gunfire-free zones in the county's densely populated suburbs, and Griffith supports that idea. Local municipalities already have bans on shooting in city limits.  
Councilman Gary Loftus, whose district includes Harmony, has proposed rewriting the reckless shooting ordinance. He said the council will discuss possible changes to the policy at the Aug. 11 meeting of the panel's public safety committee. Loftus remains confident something will be done.
"I'm not hoping," he said. "It will pass."
Griffith sees the gunfire-free zones as the best way to prevent a similar situation from happening in neighborhoods like hers.
"We're fighting right versus wrong," she said. "We're fighting life versus death. This is serious. … No one deserves to live like this."
This week's arrest was Ferrell's third since September, according to State Law Enforcement Division (SLED) records. He was charged with indecent exposure and second-degree assault and battery on Sept. 10, and he was charged with interfering with officers serving a warrant on Jan. 19. All of those charges are misdemeanors.
In 2010, he was charged with a felony — assault and battery of a high and aggravated nature — but that case was later dropped, according to SLED records.