"Hands up, don't shoot!" demonstrators chanted as they peacefully paraded through Conway on Saturday.
The march was part of a protest following the death of George Floyd, a black man from Minnesota who was killed by a white police officer last month.
"I'm past the phase of anger," organizer Evonne Sherman said. "It's pathetic and it's disgusting that we're still dealing with this. I feel that enough is enough."
Floyd was arrested after police said he used a counterfeit $20 bill. In a video that has been shared numerous times on social media, the officer is seen kneeling on Floyd's neck for at least eight and a half minutes. In the video, Floyd is heard pleading for his life, telling the officer "I can't breathe."
Four days after the video of Floyd's death circulated on social media, the officer was arrested and is charged with second-degree murder, third-degree murder and second-degree manslaughter.
Three other officers who were on scene are charged with aiding and abetting second-degree murder and aiding and abetting second-degree manslaughter.
All four officers were fired following the incident.
A few dozen people gathered near Whittemore Park Middle School for Saturday's protest, where a voter registration table was set up, a DJ played songs, refreshments and masks were offered and demonstrators prayed before marching.
Participants traveled up 16th Avenue as they recited words such as "No justice, no peace!" before turning onto Church Street and walking down Ninth Avenue to back near the middle school.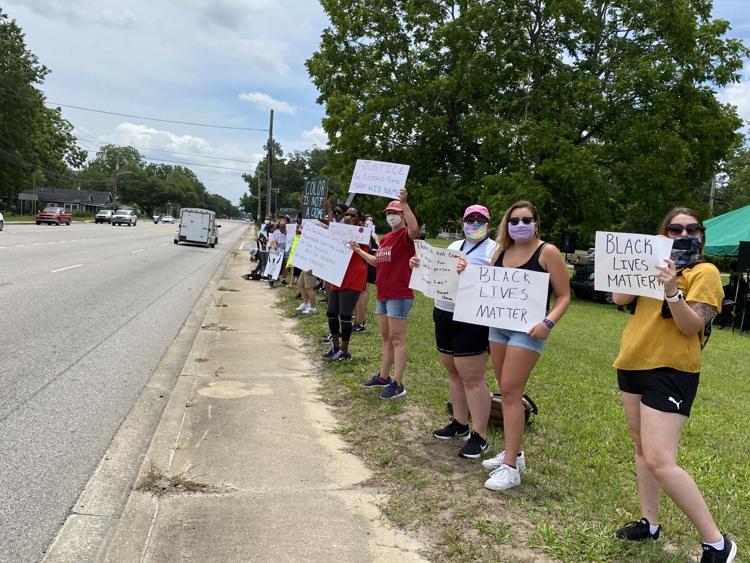 Attendees used their voices to spread the message that black lives matter as well as the signs they clutched that caused drivers on Wright Boulevard and nearby streets to honk their horns in support. Posters contained phrases such as "Silence is violence" and "Am I next?" as well as "Color is not a crime."
Sherman, a Conway resident who attends Coastal Carolina University, said she plans for the demonstration to be the first in a series of regular events meant to raise awareness about key issues.
"With all the stuff going on in the world, I feel there was no better time than to do this," she said.
She added the demonstration, where participants spoke out against systemic racism and police brutality, was a way to increase community outreach and foster more votes being cast by young people.
"We're very neutral when we shouldn't be silent," she said, "especially right now."
She encouraged attendees to voice their concerns to local and state officials. While social media gives community members a platform, Sherman stressed the importance of getting out to take action.
"You have to be selfless to make things happen," she said.
Attendee Amy Williams from Conway said she hopes for more vetting of cops who join the police force and accountability for deaths such as Floyd's.
She said as a black woman, she came to Saturday's protest to fight for a future where she doesn't have to worry about her family being impacted by senseless violence.
"I am 53, and I never thought that I would have to be out here telling people that my children's lives matter," she said. "If you're a mother and you're … complacent and you're not concerned about having a black son or daughter, then you've got a problem. You've got a soul problem."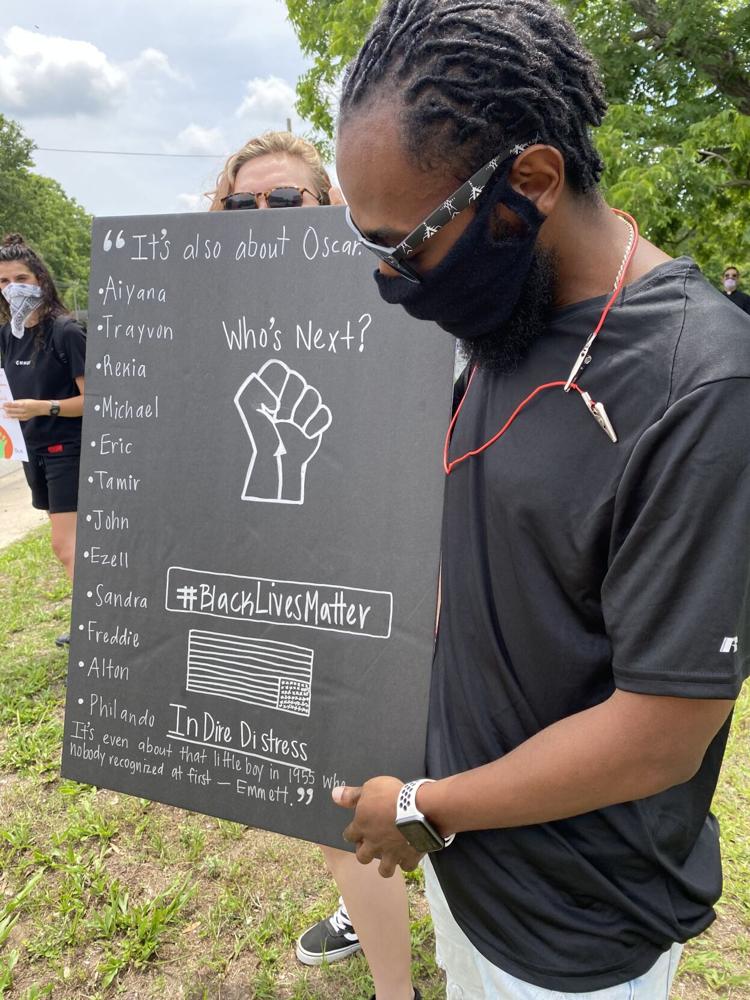 The same goes for fellow Conway resident Wesley Milton, who attended the demonstration with the desire to initiate change. The U.S. Marine Corps veteran is fearful for his own 6-year-old son's future.
He expressed his frustration with President Donald Trump, who he said has failed to address protestors' concerns, holding a sign featuring an upturned American flag.
"I feel like we're in distress right now," he said. "We're separated."
The poster also listed names of people such as Breonna Taylor, a black woman shot to death by officers in Kentucky. Police had obtained a no-knock warrant, forcing entry into her home, where her boyfriend exchanged gunfire with authorities and was injured. Officers were working a drug case, but no drugs were found in the home.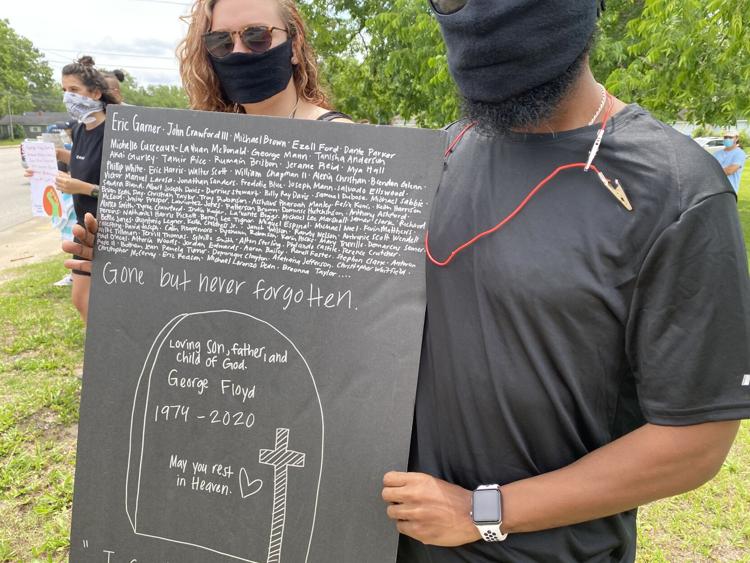 City police officers were present during Saturday's protest, joining marchers and providing them an escort. Conway Police Chief Dale Long was among those in attendance.
"It was horrible," he said of Floyd's death, adding all four officers at the scene are culpable. "It was something that shouldn't have happened."
Saturday's event was one of multiple protests that have been held in Horry County following Floyd's death.
A protest is also scheduled for Sunday afternoon at The Market Common in Myrtle Beach. That event will begin 1 p.m. at Grand Park.