For this spooky season, the City of Conway has cranked it up a notch. 
Yes, there are pumpkins in the trees along Main Street again. And, yes, there are fake cobwebs across the front of city hall.
But now for the month of October, the city will be known as the city of Halloween. Don't worry - residents do not have to change their mailing addresses or worry about city services changing. The new name is all for good fun this season.
Conway Mayor Barbara Blain-Bellamy signed an official proclamation Friday afternoon to change the city's name for the month.
"This October will offer a plethora of activities, contests, cook-offs, everything fall and fun to be enjoyed by all," Blain-Bellamy said. "I really think we are on to something big and exciting."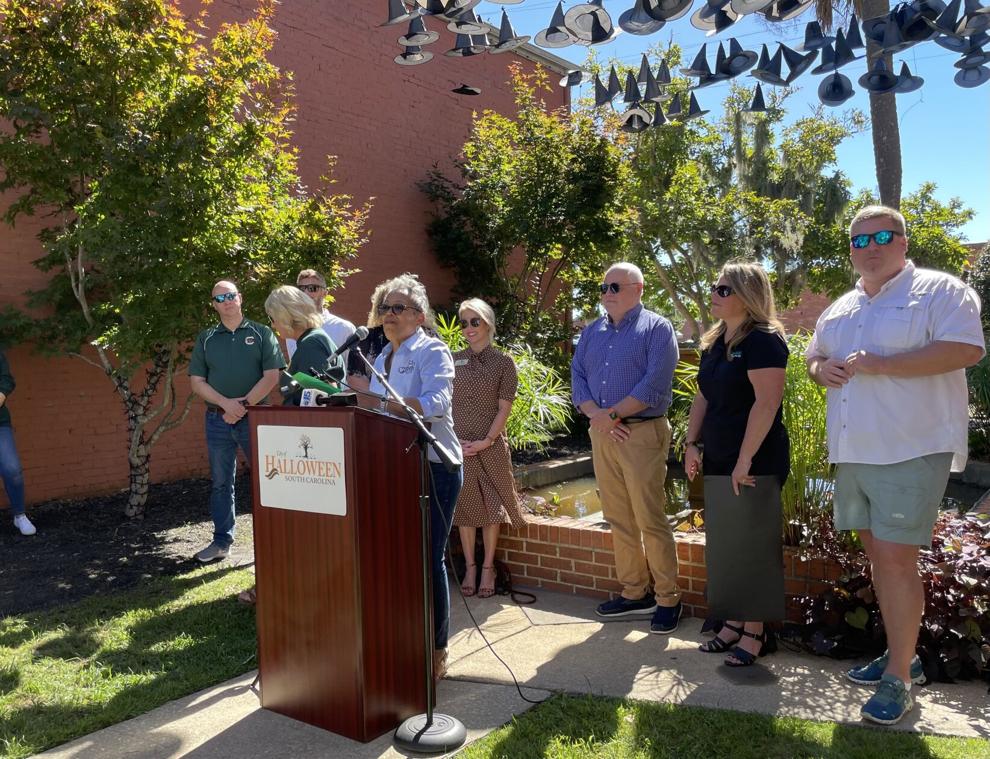 For the last three years, the city has taken spooky decor seriously. Coming over the Conway bridge into downtown, drivers can spot pumpkin baskets hanging from the trees lining Main Street. Skeletons creep at the front of city hall, which is covered in cobwebs. And witch hats hang across the breezeway beside city hall.
"We heard, 'the pumpkins make me happy,' ' the pumpkins make me smile,'" she said of the decor. 
Sales at local businesses have increased, Blain-Bellamy said, which she attributes, in part, to the decorations.
"It has been an A1 win-win," she added.
City officials began early this year brainstorming new plans for this Halloween, said Conway City Administrator Adam Emrick.
"We tried to figure out how to up the ante," Emrick said. "We pitched it to council, we pitched it to the mayor, weighted the pros and cons."
Since the pumpkins have gone up into the trees this past week, Emrick said people slow down as they come over the bridge to check out all of the decorations.
"That's what it's about," he said. "We're so excited about this."