What they do is all in the name.
The Girls Who Paint Murals, well, they are girls who paint murals. But their craft is deeper than their name.
Over the last year, Coastal Carolina University graduates Alli Dunavant and Christine Crawford have traveled near and far to paint the walls in downtown areas, the Riverbanks Zoo, nonprofits, and with every stroke of their brushes they wow and brighten communities.
"We always say that our niche is that we have no niche," Dunavant said. "We're very like client oriented."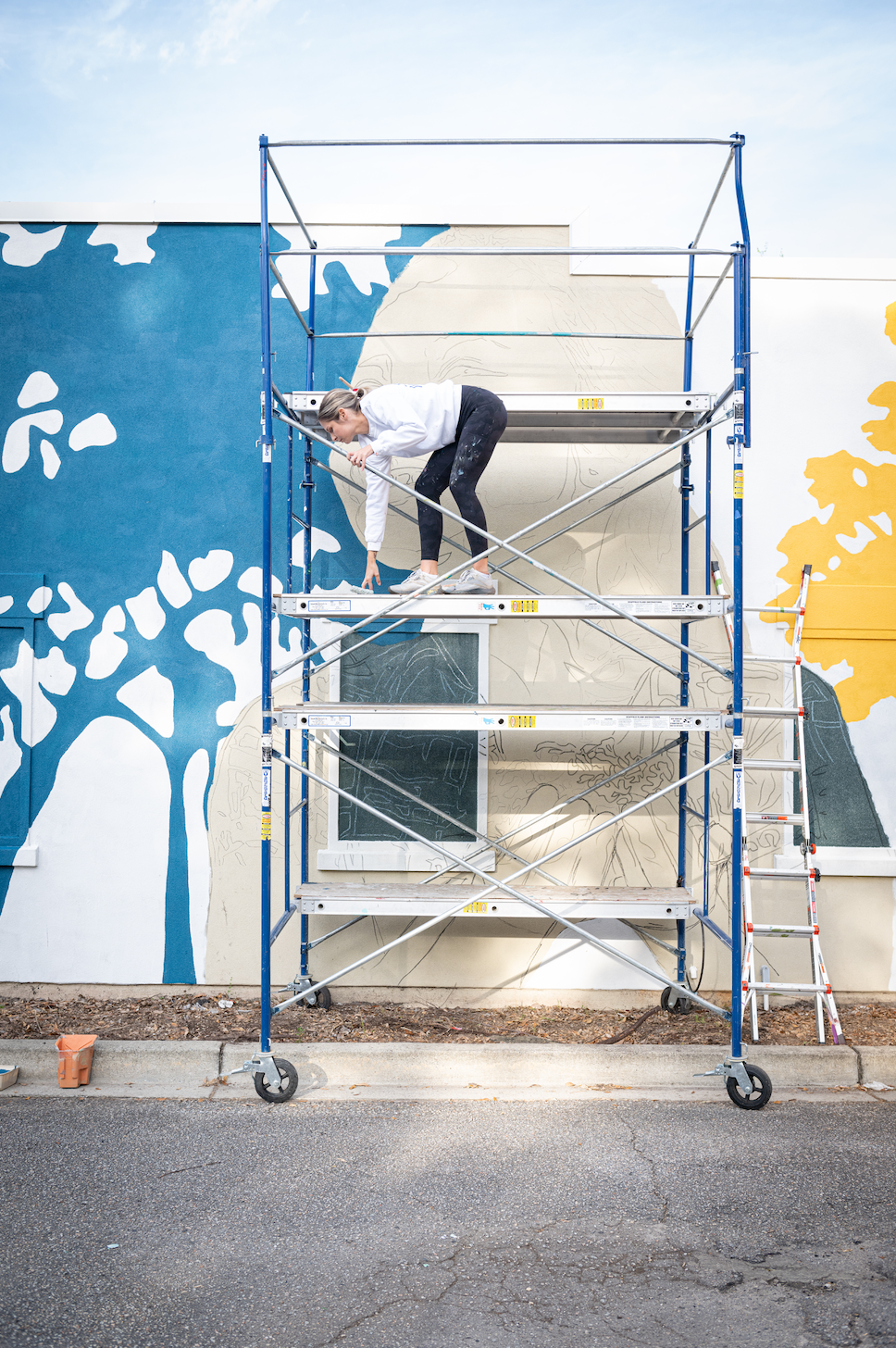 Recently, the artist duo finished a mural at A Father's Place in Conway, which is set to be unveiled Wednesday.
Crawford said the mural represents the work of A Father's Place – a resource center that helps fathers learn how to become responsible fathers and co-parents.
The mural includes a girl and a boy, with a tree blooming out of the boy's backpack and a sprout in the girl's hands. The design was a collaboration between A Father's Place, Dunavant and Crawford, and the City of Conway. The city commissioned the artists $25,000 for the mural, according to officials.
"What we really wanted to do in the design was kind of, you know, capture their mission, which is putting children at the forefront of what they're doing," Dunavant said. "And then kind of just make something that was bright and colorful for the area…"
During the five days they painted, many people would stop by to check out what they were doing and offer them water – moreso than had happened in the past 50-plus projects they've worked on together.
"A lot of the community sort of walks through that area," Dunavant said. "So to bring something that, you know, made those people in that area feel like their community hadn't been neglected, so that's something we tried to put into the design."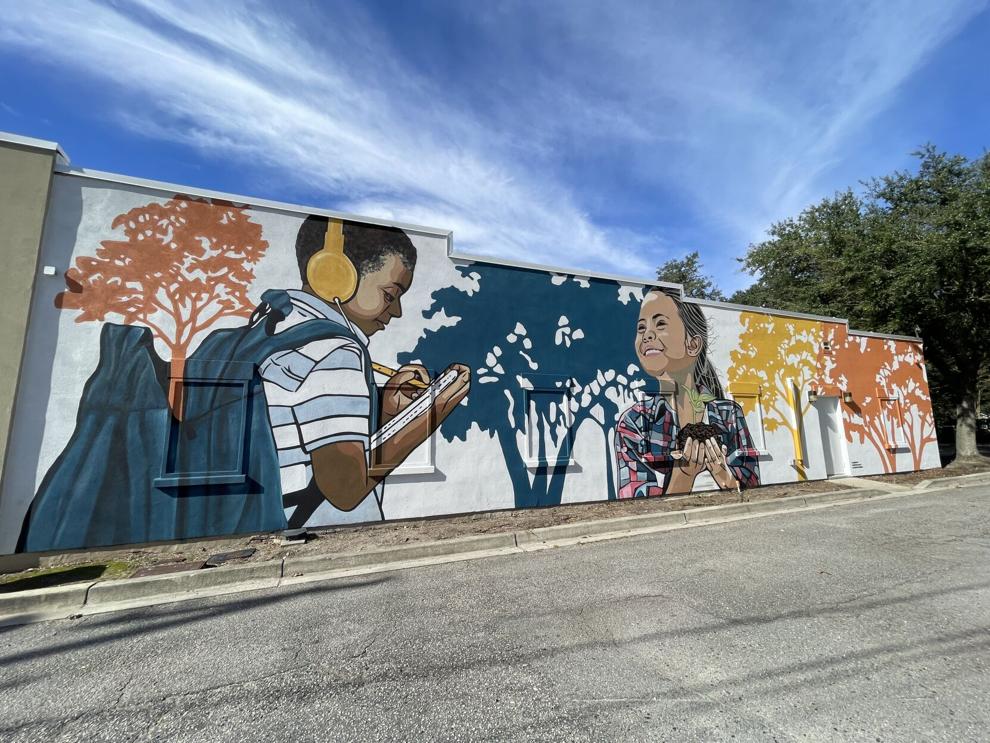 Though Dunavant and Crawford both attended CCU around the same time, their paths never crossed. It wasn't until last year that the two met on Instagram and teamed up.
Dunavant, who is based in Charleston, is originally from the North Myrtle Beach area. She graduated from the Scholar's Academy. Before the two met, she was mainly doing residential mural work. Dunavant describes her background as traditional and enjoys painting portraits and landscapes.
Crawford is from Columbia and had experience in commercial work in that area. Her background is in graphic design and she knows how to master lettering and words in murals.
Their backgrounds are the perfect combination and compliment one another through the dozens of projects they've worked on together, they said.
"We work really well together, which is kind of rare to find as like artists because it seems to be a very solo sport," Dunavant said. "So it's become a really nice blend of our two styles, which has allowed us to take on a lot more jobs and complete things really quick as well."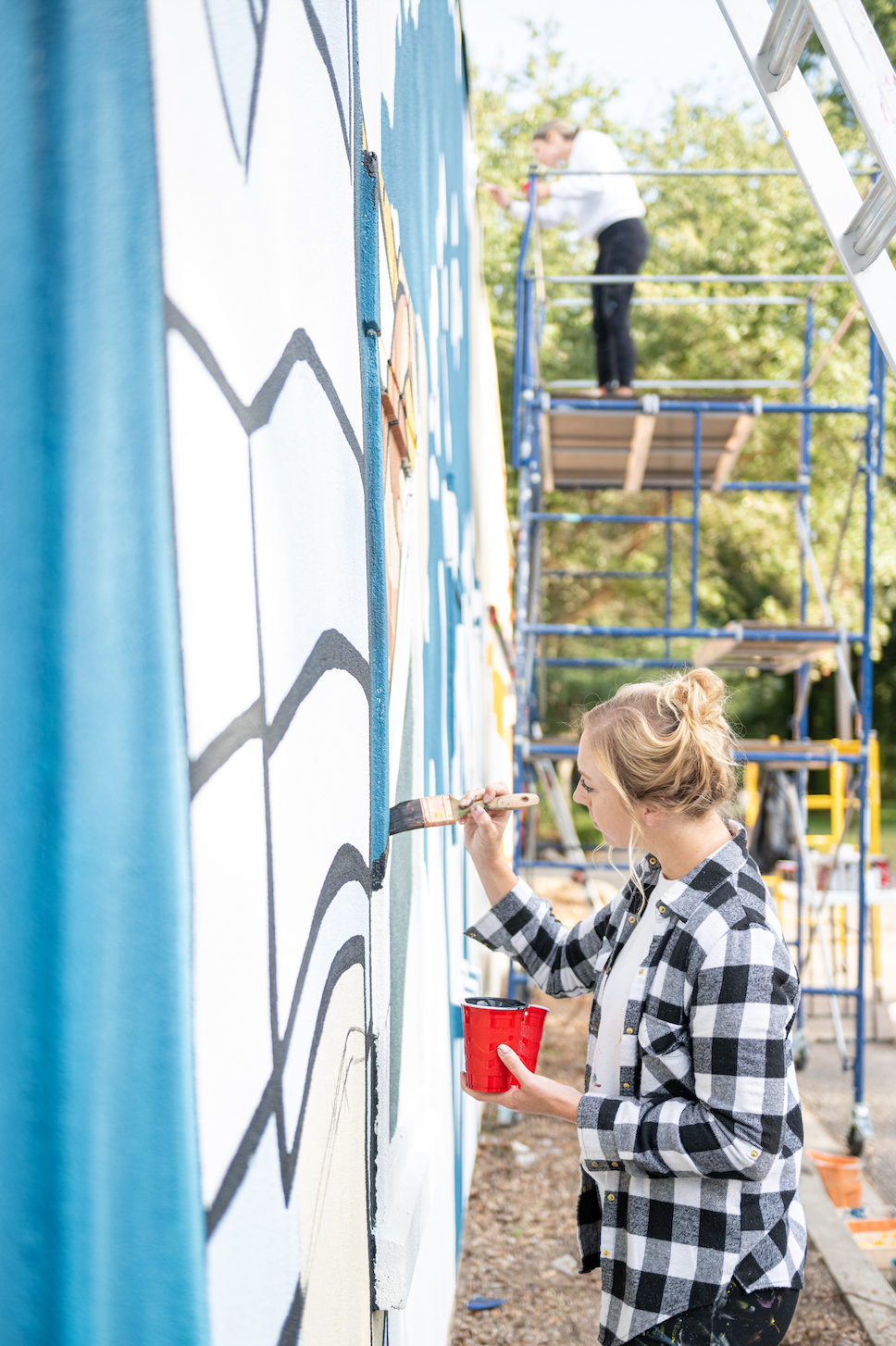 They average one to two projects per week, depending on the size. They work with outdoor paint, which takes several hours to dry, and some spraypaint, which dries almost instantly. They are constantly working around the demands of weather, putting in lots of hours of physical labor to complete the jobs.
"You put your blood, sweat and tears into it," Crawford said. "You put your body through a lot trying to paint this thing. Once your done…it's like a reward like no other."
Right now, their schedule is currency full for the upcoming weeks.
And it's possible they could be back in the area soon to paint a mural in the City of Myrtle Beach.