Developers on Wednesday pitched their plans for a new 55-and-older Del Webb community to North Myrtle Beach city council during a public workshop.  
It's the second time the city has looked at a proposal for the Possum Trot golf course. Last year, the city rejected a 700-unit proposal after residents complained about density and traffic. 
The city has been more amenable to the most recent proposal.
"I think a Del Webb community will be a good fit for the surrounding communities," said Mayor Marilyn Hatley. "I think a Del Webb will be good on the Possum Trot golf course property."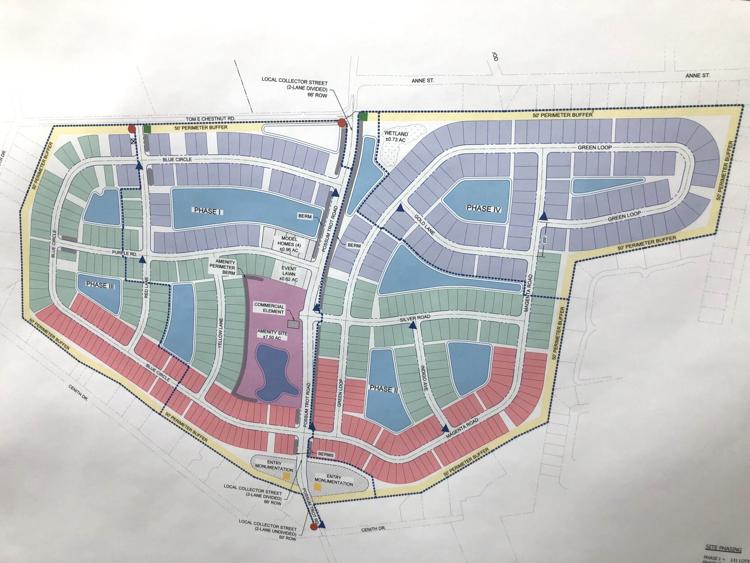 In June, PulteGroup, which owns Del Webb, pitched their plans for a 493-home neighborhood, although they hadn't submitted any plans at the time. 
On Wednesday, the developers laid out their official proposal, which asks the city to annex the land and calls for between 497 homes and 535 homes, depending on which house model is selling best. 
"Depending on the market and what is the hottest item at the time, these are going to be all different price points, so depending on which is selling the best, we would like to be able to shift between the different product series," said Graham Hawkins, PulteGroup's director of land acquisitions. "It is just a function of being able to be flexible in the market knowing that this is a 7- to 10-year project that we're trying to prepare for."
Similar Del Webb homes in Grand Dunes are selling for between $300,000 and $600,000, he said.
Because the models have different lot sizes, the final number of homes in the 170-acre neighborhood could be anywhere within that range, resulting in a ballpark density of roughly 3 houses per acre. 
The stormwater system is designed to handle a 100-year flood and send all the water into the Intracoastal Waterway. 
The plans call for three entry points: via Possum Trot Road, which will extend into the development, from Anne Street and from Tom E. Chestnut Road. 
It's a planned development district, meaning a commercial element is required, but what that element will be hasn't been determined. The development has space set aside for the commercial district, but Hawkins said he didn't know what it would be or when the decision would be made. The city will issue no more than 75 percent of single-family home building permits until the commercial element gets its certificate of occupancy. 
The design shows 36 percent of the development will be open space, with 13 percent constituting ponds, 8 percent as natural areas, 11 percent landscape and 4 percent recreational. 
Hatley said the layout, with homes backing up to the ponds, "makes for a nice development."
The developers will have to pay an $1,100 beachfront parking fee per residential unit, paid when the building permit is issued. Planning Director Jim Wood said they would also have to pay a park enhancement fee of between $124,000 and $134,000, depending on the final house count, and would pay that fee in a pro-rated amount along with the beachfront parking fee when the city issues a building permit. 
"It's $1,100 and around $300 more per unit," said Hatley. 
To alleviate concerns about construction traffic, Hatley asked city officials to make sure that construction traffic enters the site through Possum Trot road. 
"It will take a while for it to phase in, and I know that's a concern; construction traffic is a concern of some of the citizens," the mayor said. "That's why I requested that the construction traffic does not go through the communities, it goes through Possum Trot Road."
Although the developers said a traffic study showed no need for major improvements on the surrounding roads, the plans call for removing "non-conforming" and "non-permitted" parking spaces on Possum Trot road near Cenith Drive, installing a lighted, push-button crosswalk at the J. Bryan Floyd Community Center, widening Possum Trot Road near the intersection with Highway 17 and extending striping to provide minimum 150 feet left and right turn storage lanes with 115-foot taper on the approach to Highway 17.
If all goes to plan, Hawkins said they would break ground on the development in 2021. Homes would go on the market about a year after breaking ground, he said, and added that the development has a planned buildout of seven years, although it could take up to 12 years, depending on the market. 
City council still has to vote to approve the PDD.