A woman remains jailed as Horry County police say there are finally some answers in the decade-old Baby Boy Horry case.
Jennifer Sahr, formerly Jennifer Rickel, faces a homicide by child abuse charge. Hours after police named Sahr as the infant's mother, authorities arrested her around 4:30 p.m. Tuesday. The U.S. Marshals Service Carolinas Regional Fugitive Task Force took her into custody at Ocean Reef Resort, 7100 Ocean Blvd. in Myrtle Beach, without incident, a U.S. Marshals Service spokeswoman said.
Police could file additional charges.
The body of a child known as Baby Boy Horry was found abandoned in a wooded area off of S.C. 544 by utility workers on Dec. 4, 2008. On Tuesday, the Horry County Police Department identified the child's mother as Sahr, a 32-year-old Pensacola, Florida, woman.
"It is a solemn occasion," 15th Circuit Solicitor Jimmy Richardson said, "but it is an occasion to look back and to tell that the Horry County Police Department has certainly been representing the interest of justice very well."
Sahr was seemingly dressed in the same clothing she was arrested in when she appeared before a magistrate Wednesday afternoon during a brief hearing at J. Reuben Long Detention Center.
Horry County Associate Chief Magistrate William N. Hutson said a circuit judge must decide if bond is set. Until that decision is made, Sahr will remain in the jail.
Sahr appeared emotional during the brief proceedings, sniffling multiple times.
Police have not gone into details, but said scientific evidence gave Horry County police a new lead in the investigation. The State Law Enforcement Division confirmed Sahr is Baby Boy Horry's biological mother, police said.
Officers with the Escambia County (Florida) Sheriff's Office and HCPD tried to take Sahr into custody at her Florida home, but learned she had left the area.
Sahr's attorney, Greg McCollum, said his client was going to turn herself in Wednesday morning after traveling to South Carolina with her husband.
Horry County Police Chief Joe Hill said authorities have identified and spoken with the infant's father, but he declined to say if he will face any criminal charges. A statement was read on the father's behalf during Wednesday's hearing that expressed gratitude to the members of law enforcement who investigated the case.
Sahr was a student at Coastal Carolina University when the baby was abandoned. Her lawyer said she has two young children and grew up in Vermont. Her family is taking the situation "very hard," he said.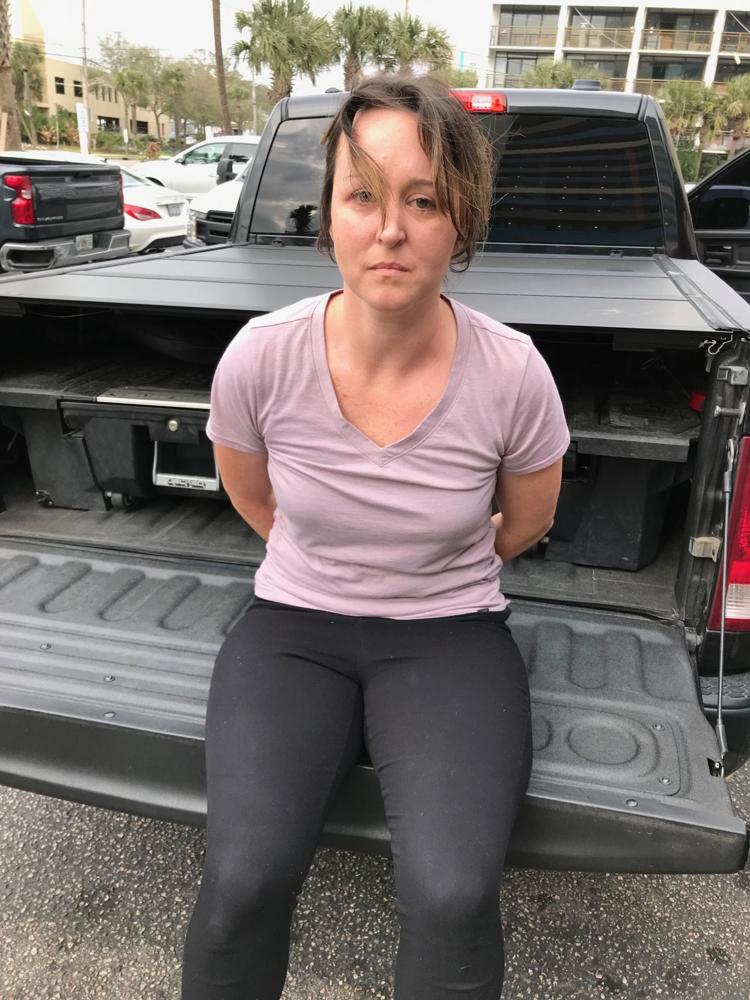 Following the infant's discovery, a memorial service led by Horry County Coroner Robert Edge and community members has been held yearly at Hillcrest Cemetery, where the baby is buried and a headstone was erected in his honor, with the hope someone will come forward with information.
While the case has impacted the public, it has also had an effect on those who investigated it.
Edge said he was surprised to find out about the new development in the case, which he described as partly a relief. 
It was difficult knowing Baby Boy Horry was abandoned and that authorities did not know who he was.
The longtime coroner described the case as unique for Horry County and a type of situation he'd never encountered before.
Edge hopes police will now be able to find out what caused the infant's abandonment.
"Hopefully justice will be brought," he said.
Horry County Police Lt. Jamie DeBari, who previously worked in the agency's homicide division, still remembers the day the infant was found, not far from where he himself was living at the time.
The baby was wrapped in a tote bag and placed inside a box. DeBari said an autopsy showed the baby had been alive when the baby was abandoned Meadowbrook Drive.
DeBari would often stop at the site of the discovery outside Conway to see if police may have missed something, or simply to reflect. He had spoken to his wife recently about his hope the case would be solved before he retires.
"I don't think this case has ever left me," DeBari said. "It has a special place in my heart."
Richardson noted that under the Safe Haven for Abandoned Babies Act, also called Daniel's Law, a parent can surrender their newborn at a location such as a hospital, police department, fire station or church.
For the HCPD, Tuesday's announcement is the second update on a high-profile cold case in a one-week span. Police announced last week that charges were levied against a suspect in a woman's 2016 murder at Myrtle Beach Mall.