Each eggshell sifted from the wet sand looked slashed, not cracked, as John McClanahan let them fall into a pile.
Terry Graham peeled each one open making sure the loggerhead hatchlings were out as about a dozen volunteers gathered to watch a nest inventory before sunrise Tuesday in Surfside Beach.
The pair removed egg after egg – 86 misshapen cradles representing successful hatchlings that had made it out of the nest while 10 whole, unviable eggs were placed to the side.
The Surfside Beach nest marks the first to hatch in Horry County this year, Graham said. But as the sand warms in the coming days more hatchlings will emerge from the nests on the Grand Strand.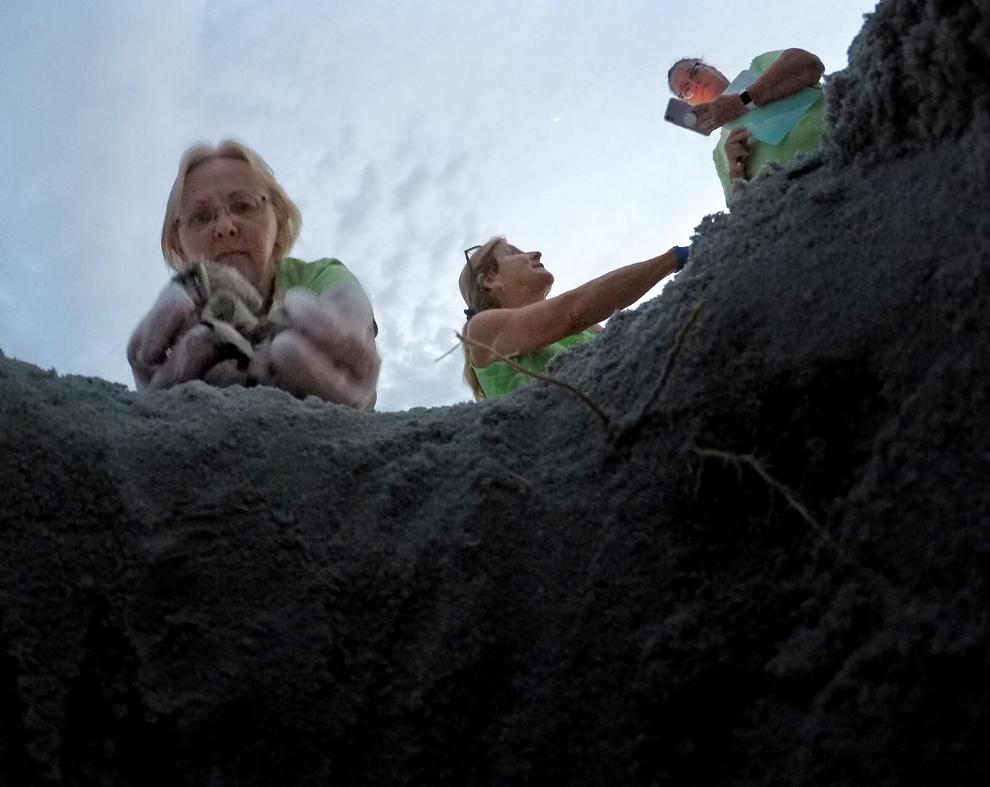 Expectations bring warnings.
"Before they get to nesting, they've traveled the north Atlantic," said Ann Wilson, Myrtle Beach State Park ranger. "So, think like a turtle that big has traveled and avoided every single danger and for it to get back to any beach. It's just, man, it's a freakin' miracle."
Wilson rolled her eyes recounting a report of tourists riding a turtle as she attempted to nest. Days later Graham shook her head in disbelief as she talked about drunken beach walkers harassing turtles at night.
"You see a turtle on the beach — you're freakin' excited; I get it," Wilson said. "The best thing you can do is walk away. I get it, I'm not walking away either. If you're going to stick around, you've got to give her space and you need to be behind her."
And pick up the litter, fill in the holes, take tents and beach chairs off the beach, use red lights on flashlights rather than any other color, turn off the porch lights facing the ocean, Graham said.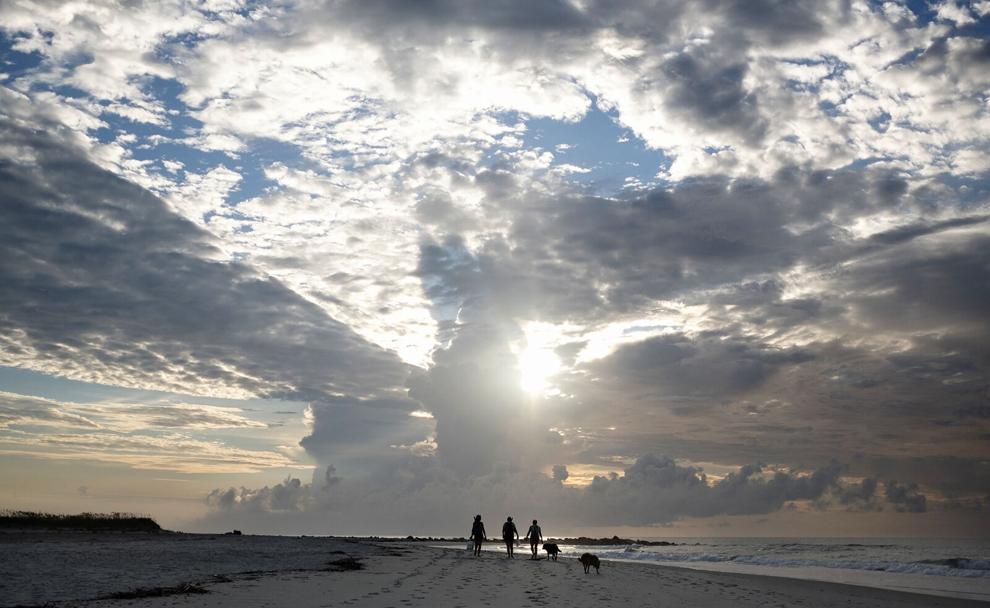 Graham is the coordinator of the Garden City Beach and Surfside group of the South Carolina United Turtle Enthusiasts (SCUTE). She's been with the organization for almost 13 years. Before she joined SCUTE, Graham owned a business in the area but after she retired, she still wasn't making time to walk on the beach. So, she decided to volunteer.
"I thought well I hadn't been on the beach in a while and I love sea turtles despite not knowing much about them so I decided to volunteer and got hooked," Graham said. "I've been doing it ever since."
Lugging supplies to her car after she had just counted the Surfside nest on Tuesday, she said there's only one more nest in the town limits.
Seaturtle.org shows 41 turtle nests on beaches in North Myrtle Beach, Briarcliffe Acres and Myrtle Beach. Graham counts 10 nests laid in the Garden City Beach-Surfside Beach area as of Aug. 3. Eight were laid in Garden City Beach with seven being loggerhead nests and one being a green sea turtle.
Loggerhead turtles, which are the most common species in the state, nest every two weeks between May and August. Once those turtles have nested this year, they won't be back to nest again for two or three more years.
Nests average at 119 eggs but it can range from as few as 50 up to 170.
The eggs, about the size of a ping-pong ball, are soft and leathery. The nest is a bowl-shaped hole several feet deep that gives the eggs about two months to incubate. Once the eggs are hatched, it can take three to four days before the hatchlings crawl from the nest. Usually hatchlings make their way to the ocean at night when it's cooler.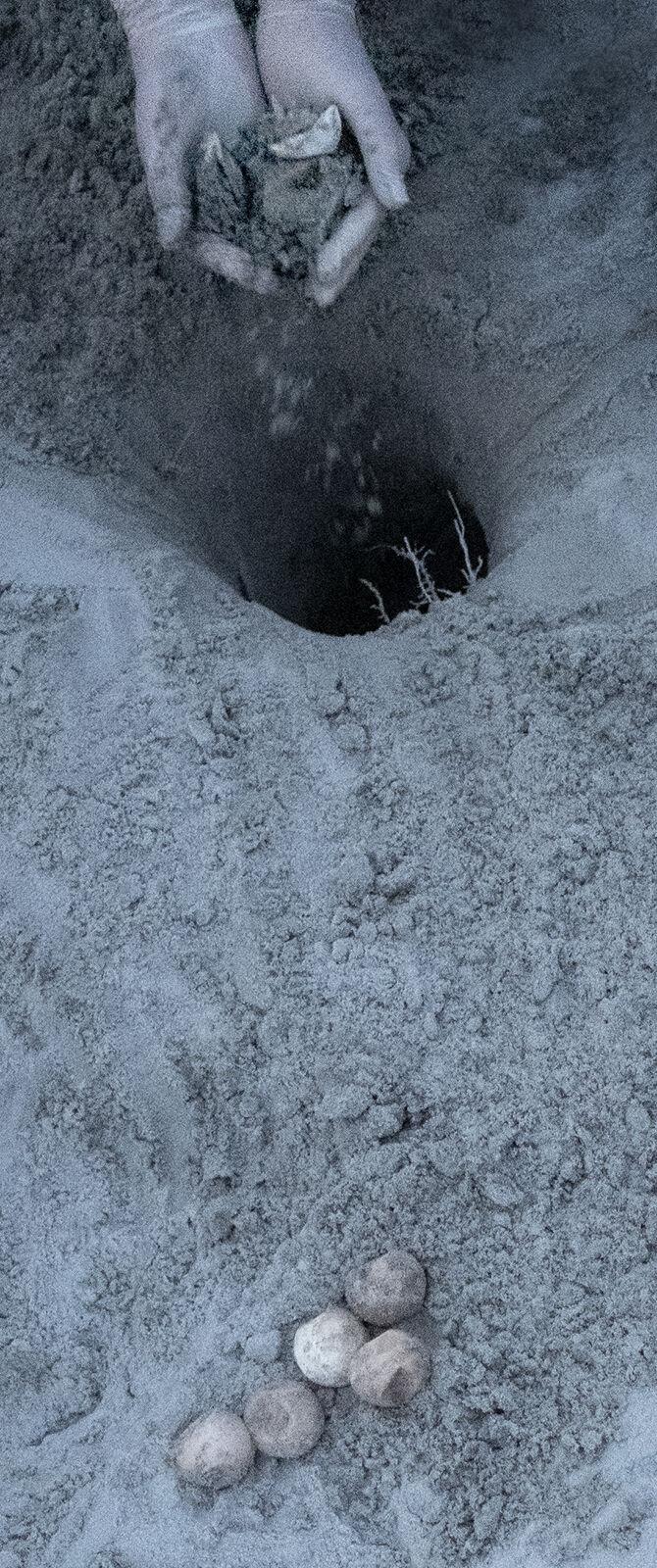 Loggerheads are wonderfully common here, Wilson and Graham agree, but it's the greens that make them smile.
Wilson said a green sea turtle will literally move one ton of sand. Its nest is "like a crater."
"Everything about a Green is bigger, bolder, deeper, harder, faster," Wilson said. "They're amazing."
Graham holds an enviable position with some turtle observers with the southern end of Garden City Beach as her territory to patrol with SCUTE. That southern end is where the same green has been returning to nest for a decade.
"We've been following 'Mama Green' since 2010," Graham said. "She comes within the same seven houses every other year."
The way the volunteers can tell if the nest is a loggerhead or green is by the track marks left on the beach. Loggerhead tracks look like commas as they use one flipper at a time to make their way up the beach while greens come up the beach as if they are doing a breaststroke – front flippers out at the same time pushing the 200-plus pound body forward as the rear tail leaves a drag mark.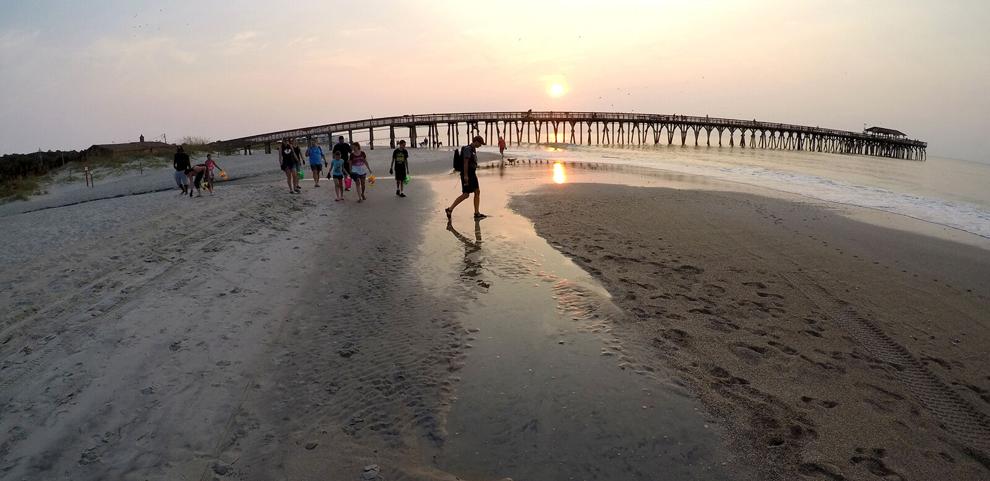 For Graham, she feels like they're behind when it comes to sea turtle nesting season, which is typically between May 1 and Aug. 31.
"The Huntington Beach State Park has 19 and they're just across the jetty from us," Graham said pointing south.
However, Lauren Roberts thinks there might be a reason why some areas are behind others.
Roberts, a volunteer at the Myrtle Beach State Park, has spent years working with turtles along Florida's heavy nesting areas. She said the nesting intervals for each species may be off sync.
"It might be that loggerheads nest every three years but greens nest every two," she said. "It's kind of sometimes you hit that perfect storm with it being a high year for green nests and a high year for loggerheads."
And maybe "weather and the food supply is messed up, then they might need another year to fill up those reserves," she said of the amount of energy needed to migrate and nest.
While the records show eight nests in Garden City Beach, one of those nests was destroyed early on July 25 as a witness told Graham he had seen a coyote eating eggs. At least 70 eggs were destroyed, Graham said. The egg remnants were scattered, some eggshells roughly 20 feet from the nest.
"It's not good news but it's real life," Graham said while surveying the damage.
Coyotes are not the only predators that have a taste for turtle eggs. Ghost crabs are known to be a threat to turtle hatchlings as they make their escape to the ocean. But the crabs also tunnel around the nests, burrow in the egg chamber and eat the eggs or attack hatchlings that have started the hatching process.
But people are the most dangerous threat to sea turtles. People litter, allow plastic and micro plastics to contaminate food sources, use artificial light to confuse nesting turtles and hatchlings.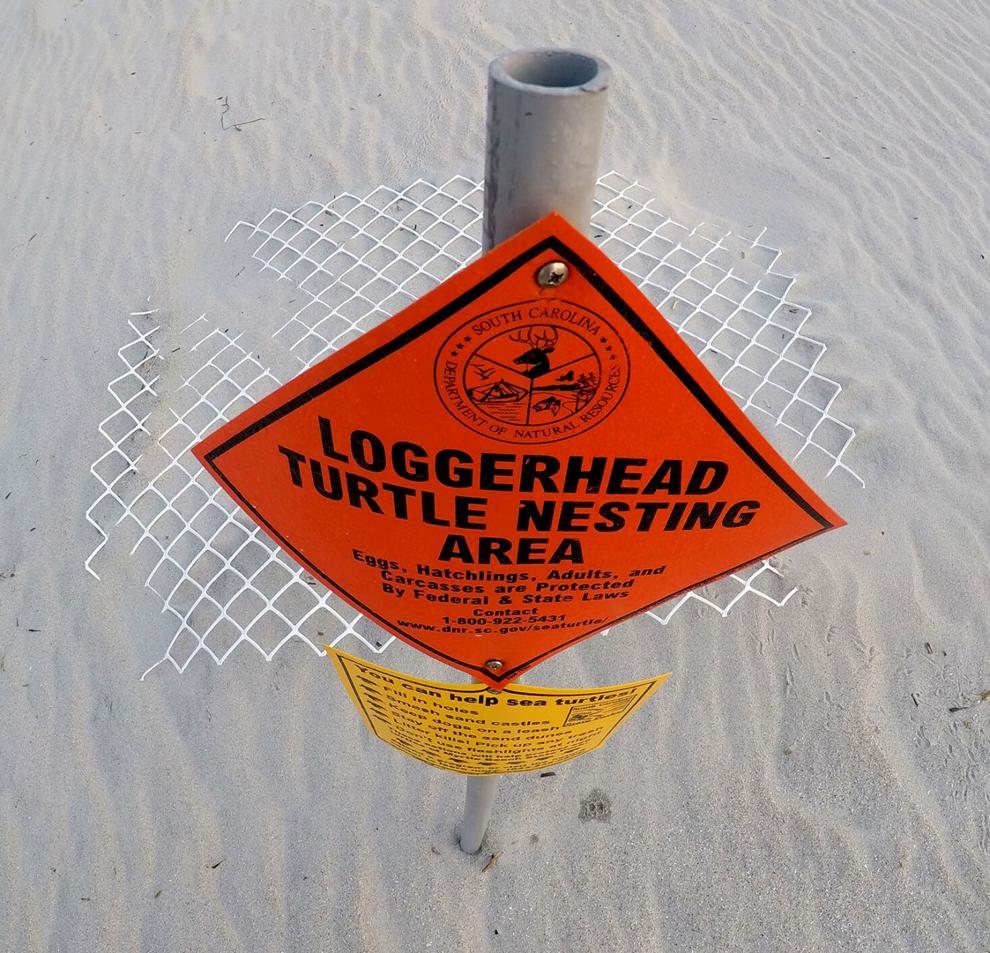 While sea turtles have consistently been on the endangered and threatened species list for decades, the efforts to protect these animals have been going on for just as long. In the late 1970s, the National Marine Fisheries Service (NMFS) was charged with establishing a turtle exclusion device (TED) that kept turtles from being caught in shrimp trawls. The regulations have been in place for nearly 20 years and the benefits are being noted.
The Florida transplant and state park volunteer Roberts said it takes 25 years for a sea turtle to reach sexual maturity. That means that the turtles that are coming to nest now are a byproduct of those efforts by sea turtle researchers and laws such as the Endangered Species Act of 1973. Those turtles that were born in the mid-90s were the offspring of turtles that survived the pre-TED regulations and didn't end up dying shrimp crawl nets.
"All species, at least in the U.S., all populations are increasing," Roberts said. "And a lot of that has to do with the fact that about 25 to 35 years ago, they instated the Endangered Species Act and the original sea turtle researchers kind of started what they were doing in the 60s and 70s and because it takes 25 or more years for them to come back and nest, I think we are now seeing in the last ten years an increase from all of those protection efforts."
The research on these turtles continues to become more advanced. When a turtle nest is discovered, one egg out of the nest is sacrificed for DNA studies. Graham or Wilson take one egg out of the nest, go down to the water and break it open, remove the yolk and fold up the eggshell and put it into a vial of ethanol. That vial is labeled and picked up by SCDNR and from there, they are sent to the University of Georgia for further research.
"They find out who the mothers are and they give us a report by the fall so we know that this mother that nested in Garden City also nested in Myrtle Beach State Park," Graham said. "They are now tracking daughters, mothers and grandmothers of turtles. Three generations of turtles that they're tracking and relate to their mother and grandmother and where they traveled and where they nested from year to year. It's just amazing the information they get from the one DNA sacrifice from each nest."
SCDNR says that as of Tuesday, a total of 5,302 nests have been laid in South Carolina this year. The state's high-water mark was 2019 with 8,798 nests. That year also saw 20 green turtle nests, which is the largest number on record in the state in one year. In the past decade, the record for total nests in a single season has been broken three times.
Why are records being broken? The ranger, surrounded by vacationers squinting at the sunrise, has an answer.
"It happened because 25, 40 years ago we started protecting turtles on the beach, we started educating people about what to do, there were more laws," Wilson said. "It was a generation. This trend — going upward — with sea turtles has not happened overnight. It's decades in the making."
Climate change has added to the challenge of protecting sea turtles.
"If we're not protecting the habitat, then what's the point of protecting this guy?" Wilson said. "That's the hardest thing [for] people to get."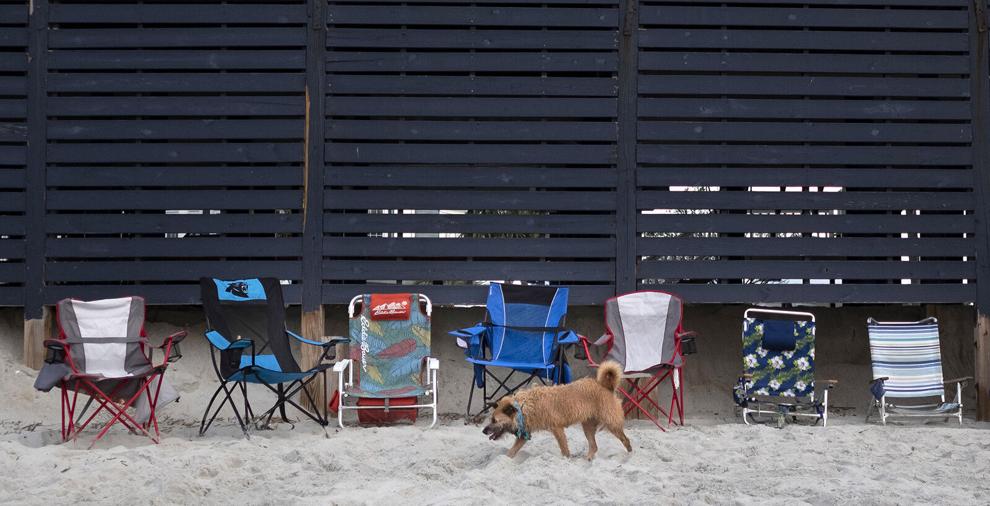 Another way people can go about protecting sea turtles is making sure to keep their lights off at night.
"That is huge to about having lights out by 10 so they don't disorient hatchlings and they disorient nesting turtles because they can also be bothered by lights," Graham said.
Using red lights and placing your lights low to the ground are beneficial for sea turtles as they will not see the lights as they come ashore and red lights do not have the effect that bright fluorescent lights have on them.
While it may be on your bucket list to see dozens of baby turtles breach the sand and make their way following the moonlight to the ocean, Graham said that that is the worst thing to have on a bucket list.
"If there's people standing there with flashes and lights and cameras and they're making noise, that can disrupt the whole hatching process," Graham said. "A little hatchling can be disoriented and go backwards and die in the grass is or go under a house and people can forget to turn their lights off. They go towards the lights so if they see house lights, they go that way."
Graham said she's pulled 58 turtles out of two swimming pools on one rescue.
Graham is one of a few people that not only has a nesting permit but also a strandee driver allowing her to transport turtles in need of medical care.
Multiple groups work together to preserve the habitat for the turtles.
Tod O'Briant, beach coordinator for the city of Myrtle Beach, said they have three rakes that cover 11 miles of beach during the spring and summer. They run from 2-10 a.m. and another team will go out to collect bigger pieces of trash.
Team members have been trained to look for tracks, nests and hatchlings. And to call Wilson at the state park when they see turtle activity.