As the end of summer approaches, Grand Strand businesses are reflecting on a season ravaged by a pandemic.
While visitors and locals crowded Myrtle Beach during the holiday weekend, the no vacancy signs lighting up and a spike in sales for some is a highlight in what's been a tough year for the Grand Strand's heavily tourism-dependent economy due to the COVID-19 crisis.
"It's just been insane," said Catherine Crutchfield, manager of Peaches Corner restaurant. "Everything's constantly changing. We haven't really had any help as far as employees go."
The pandemic caused a weekslong shutdown for hotels and public beach accesses, event and flight cancellations, local governments to enact face mask policies and folks to hunker down in their homes. Entertainment venues such as The Carolina Opry reopened last week after being closed for months.
"Certainly, it's been a challenging year," Karen Riordan, president and CEO of the Myrtle Beach Area Chamber of Commerce, said, adding businesses are working hard to keep things going each week.
"We're a pretty resilient community."
Restaurants, attractions, retail stores and the golf industry have struggled.
"Everyone's trying to build back from that initial loss," Riordan said.
On a usual Labor Day weekend, there would be six or seven other team members working at Peaches Corner, a downtown staple that Crutchfield's grandmother opened in 1937. On Saturday, there were about three employees.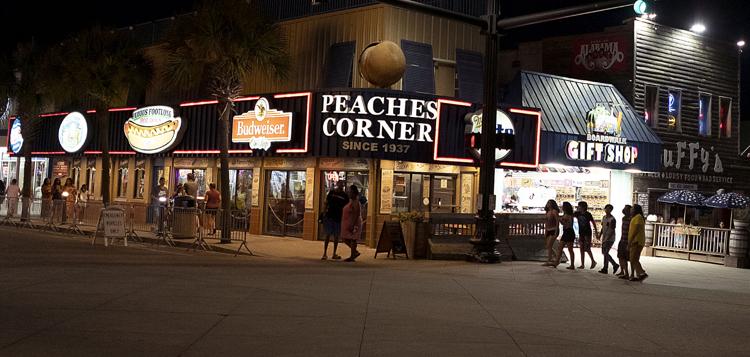 Lately, the eatery's business has been about half — or even less than half — of what's typical.
Even now, restaurants can just have 50% dine in occupancy.
Recent violence on the boulevard including a gang shootout doesn't help, either, including when it comes to employees.
"Not a great year," Crutchfield said. "It's been tough."
She hopes federal officials come up with more ways to help out businesses like her family's. The recent struggles are comparable to the period following the Myrtle Beach Pavilion amusement park's closure in 2006, she said.
A tad further south along Ocean Boulevard, parking attendant Evan Olszewski beckoned to cars as he spoke about how the pandemic has impacted business.
"At the very beginning of the season, it was pretty slow because that's when quarantine had started," the 16-year-old Socastee High School student said. "And it was fresh, so everyone was sticking with it. And then it got real deep into quarantine, and it was dead everywhere."
Over time, though, Olszewski, who's been a seasonal employee for Idle Hour Parking for more than two years now, witnessed more folks start to venture out, and Idle Hour saw a surge of traffic in June.
"It was like breaking records numbers," he said.
Since then, the numbers appear to have steadily declined, but he's occasionally seen rises during events like holidays.
He said the lot he works at was "slammed" during the Labor Day weekend, and he watched traffic back up on the boulevard.
Recently, small groups of adults have been parking at the lot as opposed to families.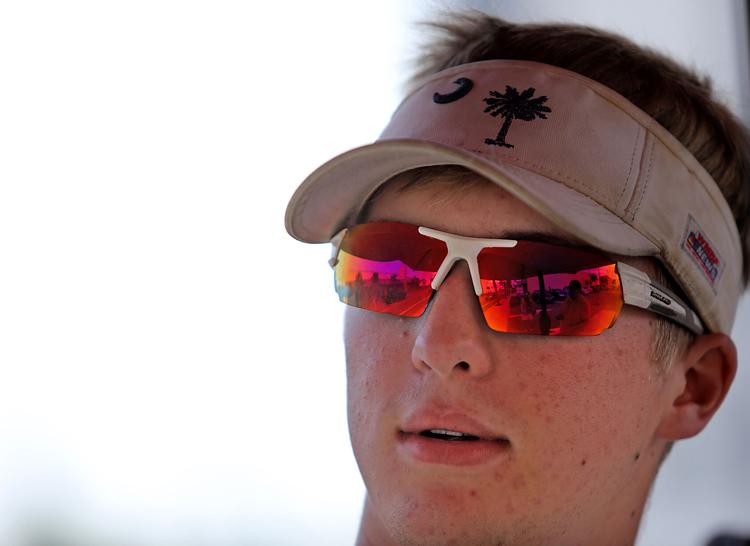 "I feel like this is the last hurrah," he said.
Day trippers Ray and Angelica Williams of Fayetteville, North Carolina, were in Myrtle Beach over the weekend out of boredom and wanted to check out some shops.
"It was either between this and Wilmington," Ray said.
The pandemic has affected the pair's travel plans this year, as the two had been set to celebrate their June anniversary on a cruise ship.
"Everything was cancelled," Angelica said.
They looked forward to walking on the boardwalk and finding a spot to eat.
For them, coming to Myrtle Beach is having peace of mind — the chance to get away and meet and new people and see new things.
"I like the beach lifestyle," Angelica said.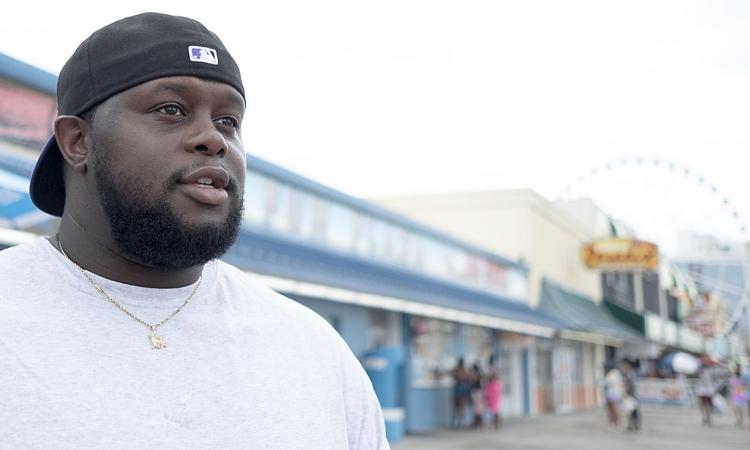 Across the county's coastline, there's hope for better days ahead.
"It's been steady," Crutchfield, the Peaches Corner manager, said. "We're paying our employees. We're paying the bills."
Myrtle Beach International Airport has seen its numbers jump since the pandemic began.
"Myrtle Beach International Airport has experienced a significant decrease in passenger traffic due to the pandemic," airport spokesman Ryan Betcher said in a statement. "However, passenger traffic has been steadily increasing since April."
The numbers back that up. The steepest decline was a 98% drop in April comparing 2019 figures to 2020 figures, according to Betcher.
But the airport's number of total passengers increased from the low of 4,179 in April to 22,856 in May. The trend continued with 99,980 in June and 168,481 in July.
While that stretch's figures are a far cry from the 1,216,607 passengers MYR handled from April through July in 2019, Betcher said "[t]he MYR airport team is optimistic that this upward trend will continue through the remainder of the year as demand for air travel to the region further stabilizes."
Myrtle Beach's sports tourism industry was hit hard by the pandemic, too.
Tim Huber, the city's sports tourism director said, at best, business for the summer's prime 10 weeks or so has been cut in half — a potential $20 million impact.
While the city hasn't seen a lot of outdoor event cancellations over the summer, there has been a significant decrease in the number of attendees.
City officials did, however, see a number of indoor event cancellations, with Huber pointing to some indoor basketball and dance events being called off.
In regard to the next three to four months, however, Huber said "there's a lot of cautious optimism."
Looking ahead at pre-registration, those numbers are on pace with prior fall figures.
"The fall could be the start of that rebound," he said, adding the Grand Strand is also seeing new events pop up such as wrestling events.
More marquee events and ones new to the area help and are new opportunities.
Huber cited the National Youth Basketball League event held this past weekend as one example of something new.
"That's a good sign," he said.
Huber also attributes a pent-up demand when it comes to the positive outlook. Parents want to get their kids out playing sports again and adults and seniors share their own desire to do the same.
While it's impossible to account for the impact on this summer, Riordan, of the chamber, said things are also looking better for golf courses and lodging during the shoulder season.
John Klaczkiewicz, of New Castle, Delaware, who was in town this weekend with Beverly Anderson, is one golfer who looks forward to playing new courses regularly on the Strand.
"I usually come once a year on a golf trip," he said. The couple has also been to Myrtle Beach with family members, having a time share in the area.
Klaczkiewicz and his friends have also come to the region to golf for the last 13 years.
"She can go to the pool or the beach while I golf," he said.
Like others, their travel decisions have also shifted. They drive instead of catching a flight.
Other routines have stayed the same, though.
The couple normally vacations in Myrtle Beach or other spots like Daytona, Florida, or North Carolina's Outer Banks in the spring, late summer or early fall.
"It's just more relaxing," Klaczkiewicz said. "There's not as many people around."
After hotels and similar accommodations businesses reopened following a shutdown that ended in the spring, Riordan said occupancy has rebounded and stabilized.
The city saw "pretty steady, stable visitation" during the last three weeks of July and in August, though Hurricane Isaias churning along the Grand Strand did "wash out" at least a couple days early last month. That's been enough for a lot of businesses to stay alive.
Riordan said there still been a large decrease in the number of visitors this summer compared to a typical one and a lot less lodging booked.
The six-week period ending Aug. 29 had 57.1% occupancy — compared to 84.8% during that same stretch last year, according to research published by the Clay Brittain Jr. Center for Resort Tourism at Coastal Carolina University. The average daily rate per unit was also down 17%, from $169.00 to $140.30.
Going forward, Riordan is hopeful community members continue to follow safe practices and that hospitals aren't inundated.
With a vaccine currently in the works and the chance for a smaller amount of COVID-19 cases and lower percent positive rates, things could look markedly different come winter and heading into the spring.
She praised city leaders for recently approving a mask mandate. State health officials have credited communities with such policies with helping stem COVID-19 cases.
"I think that that is helpful on many levels," Riordan said, adding less folks get sick and the policies also help restore confidence in tourists.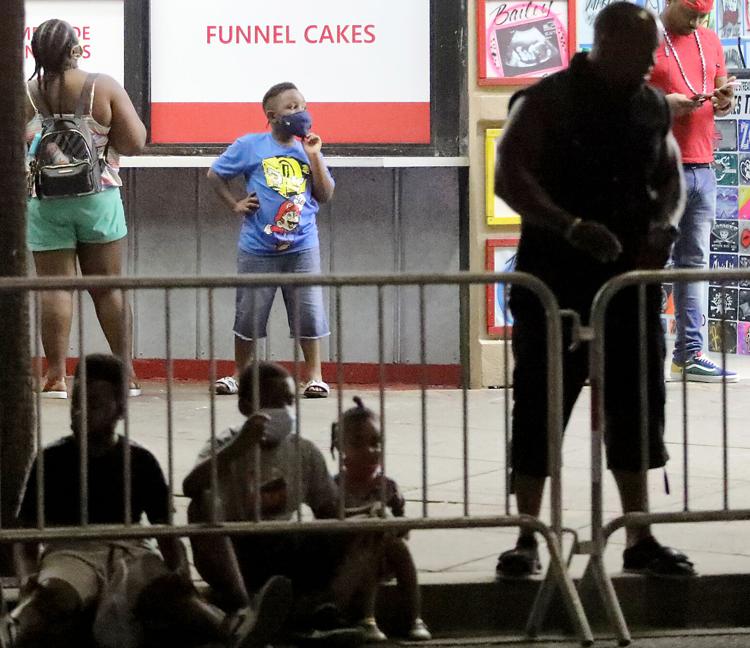 Still, folks' health, finances, and schedule affect their travel plans.
Right now, there are several factors that must be accounted for, so it's too early to tell what, say, summer 2021 could look like, Riordan said. It's hard to predict whether folks will largely be comfortable traveling.
The chamber's marketing plan is geared toward keeping Myrtle Beach on one's mind for future visits if one doesn't feel safe traveling here soon.
Bob Detwiler, who operates three golf courses along the Grand Strand, saw a severe hit earlier this year and employees opt not to work, and he blamed negative attention concerning the coronavirus.
But he is also hopeful.
"Things are beginning to pick up," he said.
In the last couple weeks, he's seen an uptick in business and said less COVID-19 numbers being reported could be why.
"I think once the election's over, business is going to boom," he said. "I think it's all going to bounce back."
With baseball teams playing again comes the opportunity to use the batting cages at Aloha Mini Golf outside of Myrtle Beach and Hawaiian Rumble in North Myrtle Beach.
One group was even hitting slow-pitched softballs on a recent day.
As time goes on, there's the potential for more normalcy.
"I feel real good about next year," he said. "I think it's going to be gangbusters."