Michael and Sandra Ayler were in line for Horry County's first free COVID-19 testing event at Myrtle Beach Pelicans Stadium by 8:15 a.m.
The mobile clinic staffed by Tidelands Health wasn't scheduled to start testing until 10 a.m. Saturday. But the Aylers were anticipating a long line. 
"We knew it was going to be a madhouse," Michael Ayler said.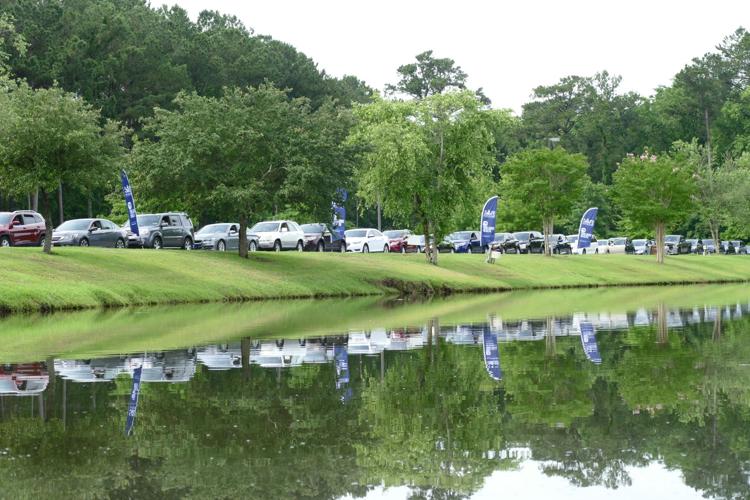 By 10 a.m., the line stretched out of the Pelicans Stadium parking lot, down Robert Grissom Parkway and had backed up on 21st Avenue North, with cars idling next to the stadium. 
The test will identify people who have the disease, even if they're asymptomatic, but it does not test for antibodies. Tidelands Health Chief Operating Officer Gayle Resetar said checking for "active disease" is the best way to slow the spread of the virus by identifying people who have it so they can limit their contact with others. 
The event is part of a larger effort by the South Carolina Department of Health and Environmental Control to test 2 percent of the population per month as the economy reopens.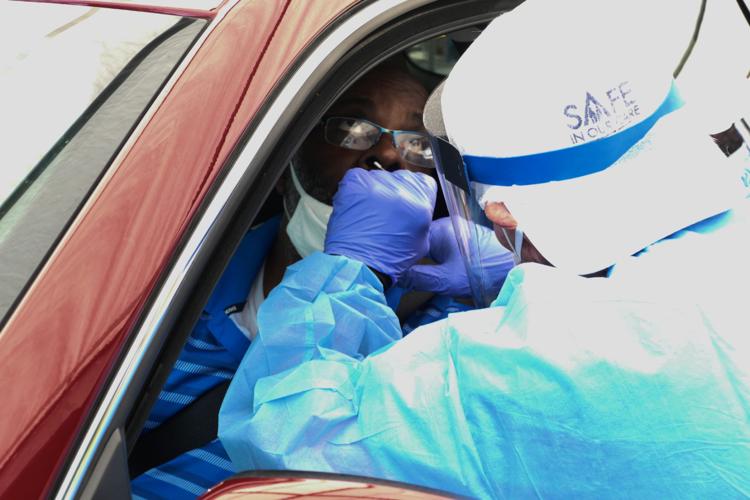 Free testing makes it easier for people who suspect they have the virus to find out without scheduling a doctor's appointment, and helps identify patients who are asymptomatic before they unknowingly spread the disease around the community. 
"The best process to control the spread of the disease is 'who has it right now?'" Resetar said. "It's too late once they've had the antibody test to control spread."
Tidelands had originally planned to take 750 samples, said Resetar, but because of widespread interest in advance of the event, they were able to get 1,000 test kits from DHEC. The testing event was scheduled to last until 6 p.m., unless tests ran out first. And around 2:30 p.m., they did. 
The test is performed with a nasopharyngeal swab, "which is basically a swab that goes up your nose to the back of your throat," said Resetar. It's the most accurate test available. 
The samples will be sent to the DHEC lab, which will test the kits to find out which ones are positive.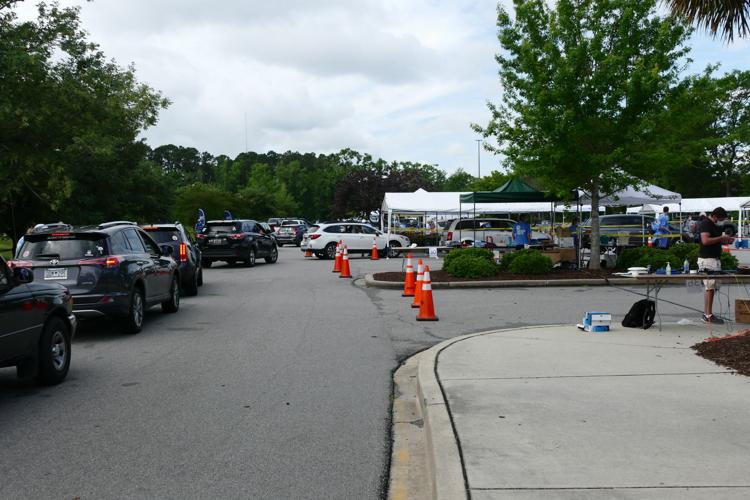 The Aylers said the test was uncomfortable, but not as bad as they were expecting. 
"You had a real tickle all the way up in your nose," Sandra Ayler said. "I thought they would jam it up in your nose really, really hard, but it was very gentle." 
Steve Carter and Beth Holmes were in line by 9 a.m. 
"I was a nurse, so I know how it gets like this, it gets so crowded, so we decided we better come early," Holmes said. "And we were right."
They're not symptomatic, but Carter works with PNC Bank and interacts with the public on a regular basis. He wanted to make sure they were okay. 
"I think everybody should get tested," Carter said. "If you can, you need to get tested, without a question." 
Tidelands expects people to get their results within 3-to-5 business day. 
Saturday isn't the only free testing event Tidelands is hosting in the area. Here's the rest of the schedule: 
• Thursday, June 4: 1p.m. to 4p.m. at Tidelands Health Family Medicine at Holmestown Road on 4320 Holmestown Road, Myrtle Beach.
• Friday, June 5: 2p.m. to 6 p.m. at Tidelands Georgetown Memorial Hospital on 606 Black River Road, Georgetown.
• Thursday, June 11: 1p.m. to 4 p.m. at Tidelands Health Family Medicine at Holmestown Road on 4320 Holmestown Road, Myrtle Beach.
• Wednesday, June 17: 10 a.m. to 2 p.m. at Belin United Methodist Church on 4182 Highway 17 Business, Murrells Inlet.
• Wednesday, June 24: 10 a.m. to 4 p.m. at Tidelands Health Rehabilitation Hospital on 100 Water Grande Blvd., Little River.
• Thursday, June 25: 1p.m. to 4 p.m. at Tidelands Health Family Medicine at Holmestown Road on 4320 Holmestown Road, Myrtle Beach.
• Friday, June 26: 10 a.m. to 6 p.m. at Coastal Carolina University on 100 Chanticleer Drive, Conway.
This story has been updated for a correction to reflect that Gayle Resetar is the COO of Tidelands Health.