This week, people in North Myrtle Beach will see billboards promoting their city on Highway 17 after getting promotional mailers from the chamber of commerce in their May utility bills. 
They may eventually see videos ads online or on television, and hear radio spots.  
Those advertisements, and recent online video messages from Mayor Marilyn Hatley, are part of the North Myrtle Beach Chamber of Commerce's two-pronged marketing effort to soften residents' attitudes towards tourists, and to convince potential visitors that it's safe to make a road trip to see the sand in the era of COVID-19. 
The effort is critical to help bring money back to the beach and keep the local economy alive, which is why it's funded in part by $260,000 from the city of North Myrtle Beach's Accommodations Tax fund, according to a spreadsheet obtained through an open records request.
That money is in addition to the 30-percent A-Tax allocation the chamber normally gets for marketing and doesn't fund the chamber's entire campaign, but helps pay for things like billboards, advertising placement, mailers, videos and a focus group to gauge residents' attitudes about the messaging. The additional city money does not fund creative work and staff time.
Less than $78,000 is budgeted for resident marketing, and the rest of the money is directed at bringing in potential visitors.
"It's the tourism that pay the taxes in our community and provide us with the things that we enjoy so much, like so many different restaurants and entertainment venues," said Mayor Hatley. "If we didn't have tourism in our community, we'd be just a little tiny sleepy fishing village, and there'd be nothing here for us to enjoy as far as entertainment."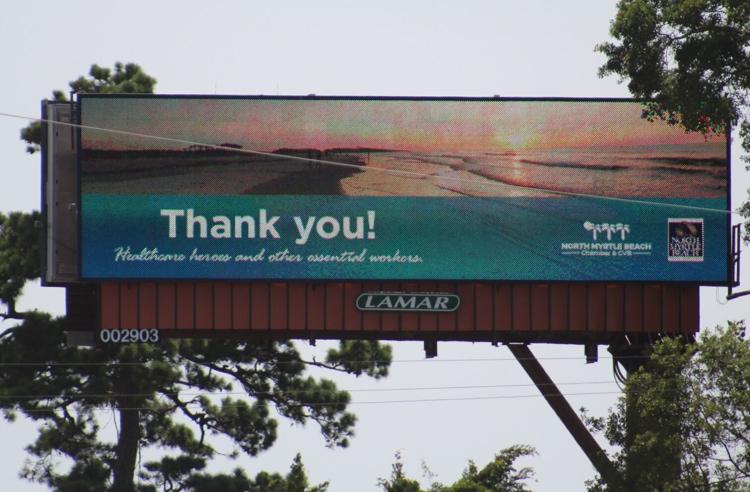 But this isn't the typical advertising of the past. In the era of COVID-19, marketing safety is a big part of the goal.
"We need to tell them what we've done and what safeguards we've put in place in South Carolina and in North Myrtle Beach. It's a different age of advertising," said chamber CEO Sheryl Kilday, adding, "we always have to advertise to get our fair share of the travelers that come to South Carolina beaches; it doesn't just happen." 
The marketing effort is supported by survey data from travel marketing research firm Longwoods International. Polling of traveling Americans across the country found that while most folks aren't ready to start travelling yet, about half of Americans feel safe taking a road trip, with 54 percent saying their next trip will be a vacation or weekend getaway. And 40 percent of people surveyed said their next trip would likely be to the beach. 
To that end, the chamber has reduced its normal marketing scope, which usually includes parts of the Northeast and Midwest, and confined it to the Carolinas, Virginias and parts of Tennessee and Ohio, according to a chamber presentation.
Perhaps reassuringly, the survey found that 79 percent of respondents would research how their next destination is managing the COVID-19 pandemic. It found that most travelers plan to adhere to social distancing guidelines, avoid large crowds, wear masks in public and carry hand sanitizer. 
Travelers also said they would be more confident in businesses that were taking precautions like providing hand sanitizer, screening employees and frequently cleaning, to name a few. 
But the chamber is fully aware that locals might be hesitant to welcome back tourists, and will use the marketing to direct visitors to resources that fill them in on the safety guidelines the city and state have implemented so that people know what's expected of them when they come.
"We want to do it in a positive way to avoid a surge, and remain respectful of how our residents feel," Kilday said. "It's a delicate situation."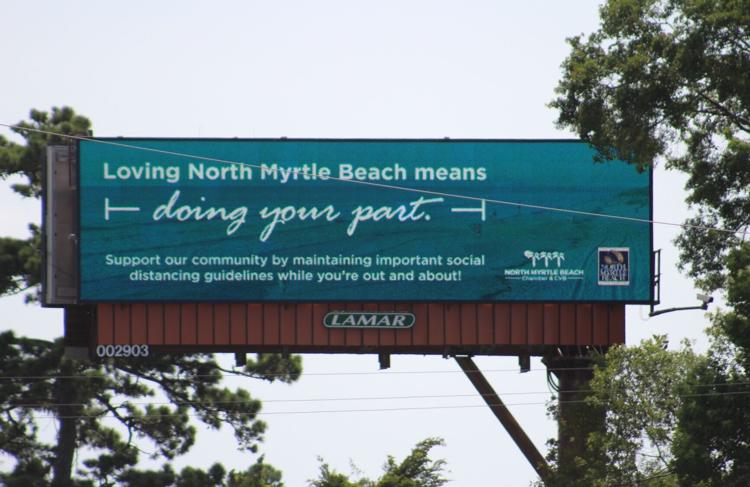 While Longwoods found that most tourists planned to take precautions when traveling, it also found that most locals weren't ready to welcome newcomers.
The $77,600 the city is spending on resident marketing includes $15,000 for video, $15,000 for direct mailers, $10,000 for a focus group, and $4,000 for billboards, among other expenses. The billboards began displaying messages on Monday and will continue for 4 weeks.
"There was lot of negative sentiment among residents, not just in North Myrtle Beach; it's happening nation-wide," said Kilday. "We were all told to stay home. And so we want to be careful, yet we know our businesses rely on visitors.
"There's not a single face of the economy, but businesses need to open," she added. "They need to have a livelihood." 
The chamber of commerce is the city's direct marketing organization, or DMO, and as such, it normally gets 30 percent of the Accommodations Tax fund, plus other allocations from that revenue stream.
The city was projecting a bit more than $3.9 million in A-Tax money, and the chamber's 30-percent allocation would have been a tad under $1.24 million of that, according to the city budget. 
But as COVID-19 blazed its way through the country, tourism burned out. Beaches, bars and boat landings closed. And the the chamber's 30 percent won't reach $1.24 million. City spokesman Pat Dowling said the final amount will be less than the projection, but the city doesn't know what that will be just yet.
"Most likely, it would have to be pro-rated on what we bring in," he added.
In April, the city banned rentals for almost the entire month. The flood of visitors into Myrtle Beach International Airport slowed to a trickle, and some airlines canceled all flights from viral hotspots into the city.
All those lost weeks at the beginning of tourism season, starting with the cancellation of North Myrtle Beach's St. Patrick's Day parade, have been a financial speedbump for the city.
"We have lost several millions of dollars just being closed the time we have been closed," said Hatley, citing lost revenue from the Accommodations Tax, the Hospitality Fee, businesses licenses and other utility payments. "All of those things affect our community. Our income was cut drastically since March."
The city was projecting $4.1 million in A-tax money during FY 2021. That number will almost certainly be reduced. 
"The city was estimating the collections for the summer months would probably be 50 percent of what it was last year," Kilday said.
Capital and infrastructure projects are also being cut.
North Myrtle Beach has the lowest tax rate of all county municipalities, at 37.1 mils, but was planning an 8-mil tax increase for the next fiscal year to pay off the 96-acre addition to the North Myrtle Beach Park and Sports Complex, as well as a menu of exciting new entertainment features. 
Projects being discussed included seven new soccer fields, six new ballfields and a batting cage, shuffleboard and bocce ball spaces, a splash pad with several large waterslides and a family entertainment center to house a proposed 56-piece arcade and interactive obstacle course. 
While the tax increase is still in the works to pay off the land, Hatley said next year's budget won't include the expensive new features in the sports complex and other infrastructure projects the city wanted to start working on, like an ocean outfall at 18th Avenue North. That outfall was projected to cost $9.5 million in FY 2021, and another $4.5 million the two years after. Fewer tourists means a drop in tax revenue, which equates to a smaller city budget. Before COVID-19, the city was projecting to spend more than $119 million.  
"Our stormwater drainage project is going to be put on hold, our ocean outfall is going to be put on hold, our underground utilities that we were planning on starting in our Cherry Grove area is going to be put on hold," Hatley said. "We've got to see what kind of income we're going to have coming in over the next three months." 
The city furloughed over 200 employees, Hatley said, but it didn't touch public safety. The pandemic's effect on future budgets will be determined by whether there's a second wave. 
There's one silver lining though: the city and chamber's efforts to bring people to town was working. Before the pandemic hit, North Myrtle Beach was gearing up for great 2020.
"January and February were actually up, year after year," Kilday said, referring to rented rooms compared to 2019. "Those are our lowest months. We were on pace to have a banner year."