As the sun went down and the stadium lights lit up Brooks Stadium, CCU fans made their way through the gates and to their seats for the Chanticleer's home opener against Campbell Friday night. 
A little over a week before Friday's game, the university received approval from the S.C. Department of Commerce to allow 5,000 attendees into Brooks Stadium for home games this season. 
For many CCU fans, Friday night's game seemed like an impossible dream after the ups and down that came with planning the 2020 college football season during a global pandemic. 
And yet, fans Steve and Roseanne Schrimpf found themselves tailgating outside of Brooks Stadium Friday night, waiting to get in and see their son, C.J., a redshirt senior long snapper, take the field.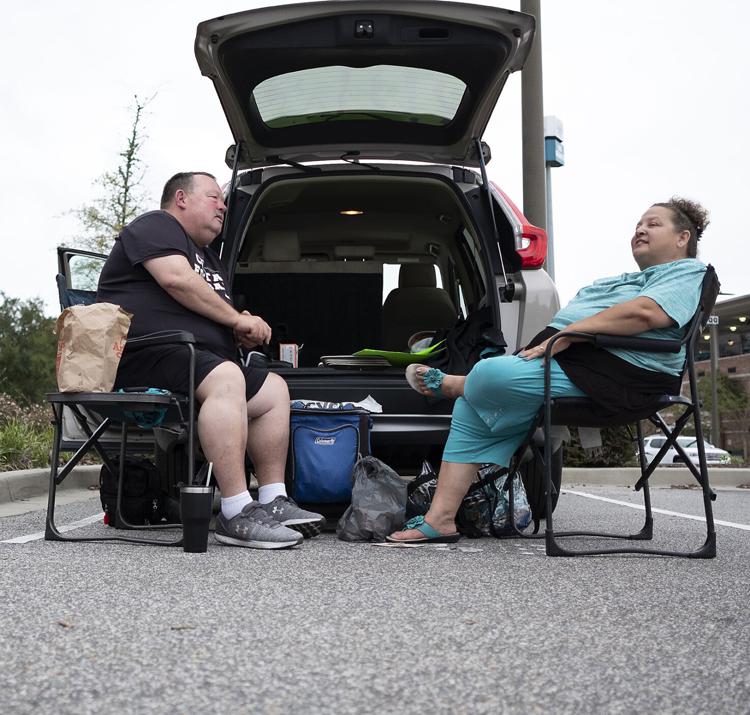 "All summer, it's been 'Do you have a schedule yet?' or 'Do you have a season yet?' and he kept saying 'No,'" said Roseanne Schrimpf. "Every day we were asking him."
The Schrimpfs traveled all the way from Phoenix, Arizona to see their son live out his dream by playing Division I football.
"So many people told our son that he wouldn't play Division I football," said Roseanne. "Earlier this year, he called us and was really hurting for a teammate that had to leave the program because they couldn't afford another semester. CJ thanked us for pushing him in both athletics and academics and for helping to pay for his education and that really meant the world to us. Tonight definitely is special."
CCU junior Hayden Bannick shared the same sentiments as the Schrimpfs, feeling incredibly uncertain all summer that a college football season would even take place.
The past two weeks, especially Friday night, put those uncertainties to rest.
"My father and I honestly didn't think that we would get to see a football game on TV, much less actually go to one in person," said Bannick. "So, to come out to Brooks Stadium Friday night and experience the atmosphere of a college football game, was pretty awesome and special."
Friday was also special for players like Carolina Forest product Antwine Loper, who took the opportunity to embrace the moment and the community that had come out and support him and his teammates.
"I loved looking up into the stands and seeing my family there, hearing my mom scream my name," said Loper, a junior offensive lineman for the Chants. "It means a lot to me being from this area and to play for Coastal."
For head coach Jamey Chadwell, Friday night's game was "special," given the circumstances.
"To be the first athletic event back on campus since baseball in March, and to have it on ESPN, what a blessing that is for our university," he added.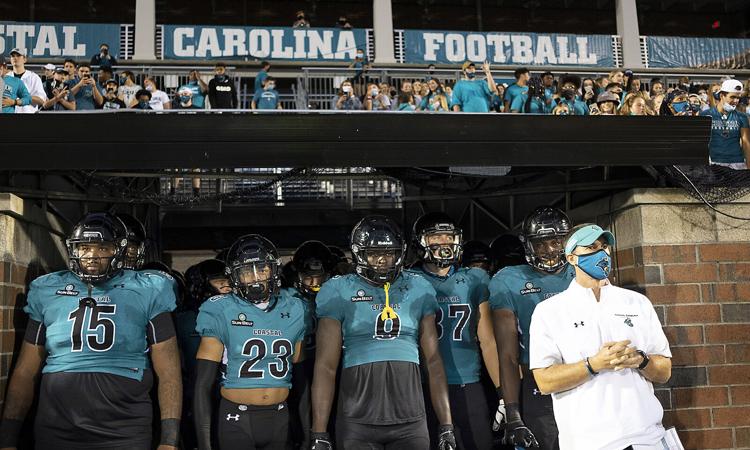 Chadwell said Friday night football games could be played around the country, with the proper guidelines.
"We can make this work if you allow us to follow protocols and those things," said Chadwell. "I hope what this shows a lot of people is that when you follow the procedures we have in place, we can have a season and keep people safe."
Coastal had a litany of guidelines and regulations going into Friday night's game. Masks or facial coverings had to be worn and there were hand sanitizing stations all around the stadium. At the concession stands, it was bottled drinks only instead of the fountain drinks that CCU fans are accustomed to. 
According to Devin McCall, a 2018 CCU graduate, even the all bathroom stalls were socially distanced.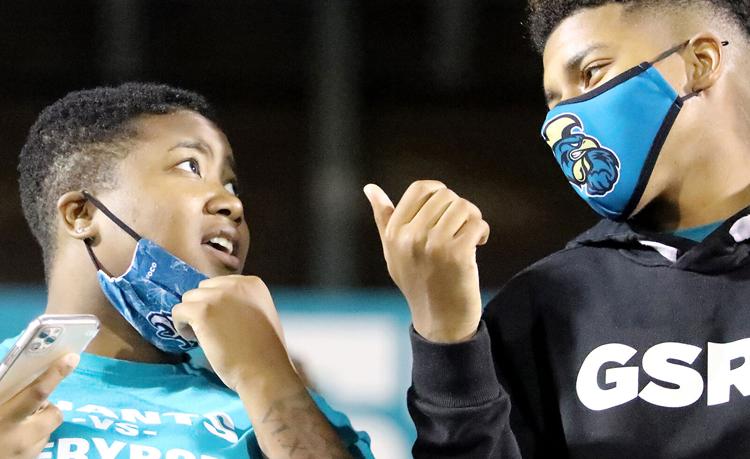 While some view these regulations as a bit of a hassle, McCall says that he felt they were necessary.
"The regulations that were in place were very much appropriate and it went by the local and state guidelines as well," McCall said.
McCall returned to his old stomping grounds to see his alma mater take the field, knowing things would be different amid this "new normal".
"It was a different feeling walking into the stadium tonight because of the new protocols that were in place," said McCall.
Stephanie Cotton was tailgating with her family prior to kickoff and said that she would rather not wear the mask but "it is what it is".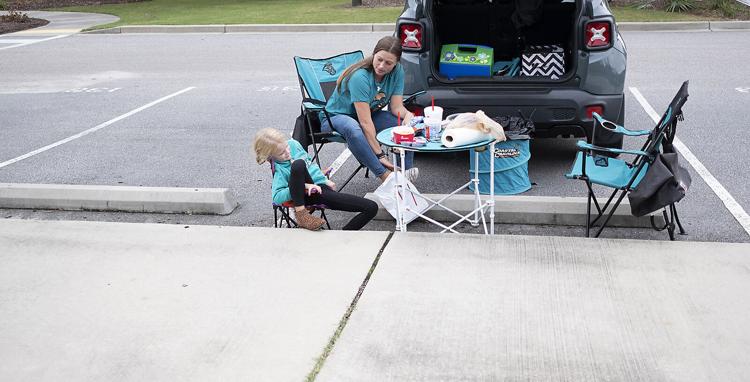 "I'm just excited to see some college football," said Cotton. "It's a nice look to actually see a stadium with fans for a game rather than it being empty." 
While Coastal was limited to 5,000 attendees in Brooks Stadium, grad student Caitlin Roche said that compared to last season, it was great to see so many people come out and support the Chanticleers.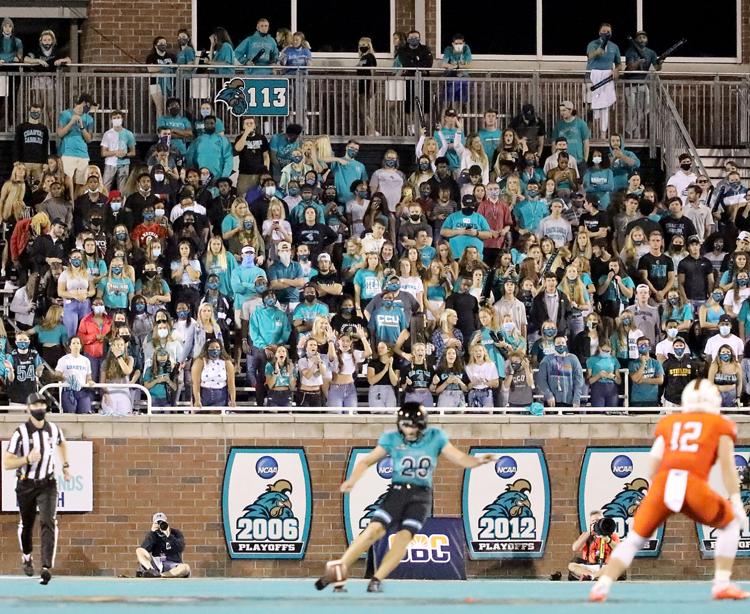 "Even with the limited amount of seats available, it was an incredible atmosphere," said Roche. "Everyone seemed to do a great job with social distancing and people were wearing their masks for the most part. It was really nice to see my friends and hear everyone cheering. It was pretty cool."
Coastal sold all of their allotted tickets and all 1,500 that were reserved for students were claimed. An official number of how many actual fans were in attendance has yet to be announced by the university.
Coastal Carolina came into Friday night's game coming off a big win over Kansas. Any doubts of a slump were quickly put to bed as the Chanticleers took a 21-3 lead midway through the second quarter. 
The Chants would rolled past Campbell with 43-21 win to move to 2-0 for the year for the first time since 2016.
"It feels great to be 2-0," said Bannick. "Just having that great start and then being off next week leading up to our conference opener at the beginning of October, it gives you a pretty good feeling about the rest of the year."
Coastal Carolina will return to the Surf Turf on Oct. 3 to take on Arkansas State. Kickoff time has yet to be announced.