It's time for college football on the Grand Strand. Well, at least for the time being.
With the COVID-19 pandemic putting fall sports into question, the Coastal Carolina Chanticleers are gearing up for a very different football season but remain hopeful that the season goes forward.
"We are excited to get things underway," Coastal head coach Jamey Chadwell said. "It is not your typical first day of camp because we have been doing full helmet practices for about a week now. We are anxious to see how our summer has been and seeing how the team will be able to carry that stuff over onto the football field."
Coastal was originally scheduled to open the 2020 season in Columbia against the University of South Carolina on Sep. 5. However, due to the SEC going to a conference-only schedule this fall, that game was scrapped.
Now CCU is looking to find an opponent for Sep. 5.
Should the university be unable to fill that open date, the season opener for the Chanticleers will be a Sept. 19 game against Duquesne University at Brooks Stadium in Conway.
Coastal was originally scheduled to play Eastern Michigan on Sep. 12, but that game is off the books after the Mid-American Conference (MAC) canceled its football season.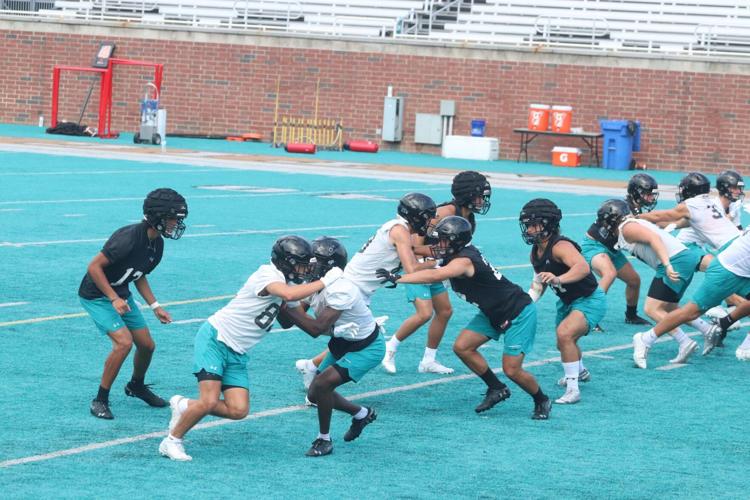 Since Duquesne is an affiliate member of the Northeast Conference and not a full member, they still have the opportunity to play non-conference games. 
"We are preparing and hoping that we will have an opponent here soon," Chadwell said.
Unfortunately for Coastal fans, the highly-anticipated game between the University of Kansas and Coastal Carolina at Brooks Stadium on Sep. 26 was canceled. 
While the Big 12 Conference has allowed their members to play one non-conference game outside of their nine game conference schedule, Big 12 teams have to host that lone non-conference game.
Per the Big 12 decision, CCU will not host the Jayhawks in 2020. However, due to the three-part series between the two schools, the Chants could still travel out to Lawrence this year as Kansas' lone non-conference game and the Jayhawks would finish the three-game series in Conway in 2021. The date for the game — if it happens — has not been determined. 
Originally, the Chants were set to travel to Kansas in 2019 and 2021, with the Jayhawks coming to the Grand Strand this year.
On Tuesday, the Sun Belt Conference, which includes Coastal, announced an eight-game conference schedule with an option for each member to add as many as four non-conference opponents, beginning with Week Zero starting Aug. 29.
"After extensive discussions and careful deliberation among the Sun Belt Conference presidents and chancellors, athletics directors, SBC COVID-19 Advisory Panel, medical advisors, and other governance groups, the Sun Belt Conference announced... that its football season will begin over Labor Day weekend," the conference said in a news release. "Sun Belt member institutions have focused since June on a safe return to athletic activities. We believe this timetable will allow for the healthy integration of the entire campus community for each Sun Belt member."
While scheduling opponents during a global pandemic has certainly been difficult, the team is focused on the upcoming season no matter what it will look like.
There is a lot of senior leadership on this year's Chanticleer team, on both the offensive and defensive side of the ball. In the backfield, the Chants senior CJ Marable will return for his senior year after becoming the first Chanticleer to rush for over 1,000 yards in a single season since De'Angelo Henderson did so in his senior year back in 2016.
"He has been a great teammate," Chadwell said. "We obviously have had our history of great running backs. The great thing about CJ is that he doesn't care how many carries or touches he gets. He wants to win and he wants to help the young guys."
Coastal has added a few new running backs this season and Chadwell said  Marable's experience and leadership is rubbing off on the younger guys.
"[Marable] is making contributions on and off the field and he's been great with these new young running backs this summer," he said. "He is already impacting our locker in a positive way."
Redshirt senior linebacker Silas Kelly missed a majority of the 2019 season due to injury, but has rehabbed his way back to form and wants to make a difference on an already stacked defensive front for the Chanticleers.
"Silas is an unbelievable person," Chadwell said. "He was huge loss for us last year. Here is the kind of teammate Silas is. When we traveled, he would come to away games on his own and be with us on the sidelines. That's the type of teammate he is. That's why a lot of our guys believe that he is a leader."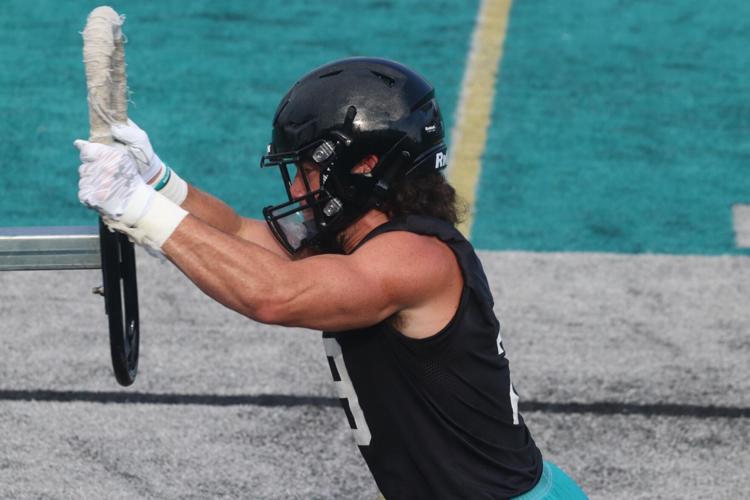 Alongside Kelly will be linebacker Teddy Gallagher, defensive end Tarron Jackson and defensive tackle CJ Brewer. That trio of seniors combined for 202 total tackles, 24 tackles for loss and 13 sacks last season. They represented 25% of all tackles, over one-third of the total tackles for loss and 62% of all sacks.
The addition of Silas Kelly, who has averaged just over six tackles per game in his career, could give Coastal one of the most dominant defenses in the conference.
"Our guys have bought into what we are trying to do here," Chadwell said. "If everyone lines up on Saturday, we have a pretty good shot to be the best. But with testing, you could lose half those guys. But we have the potential to get after some quarterbacks."
Speaking of quarterbacks, many are wondering who will be the Chanticleers' play-caller this year. The Chanticleers have not had a consistent man under center since Alex Ross graduated in 2015.
So for 2020, will it be junior Fred Payton or junior Bryce Carpenter?
"Fred is the frontrunner, based off of things that he's done over the summer," Chadwell said. "He has the lead, but he has to hold that lead. He has to do things necessary to secure that position."
In the 10 games Payton played in last season, he completed 119 of his 187 pass attempts for 1,421 yards and 12 touchdowns. He did, however, toss out seven interceptions. 
Carpenter took snaps in 11 games last season. He started the last six games of the year and helped engineer a dramatic 36-35 win over Troy on Nov. 2. Carpenter went 93-of-142 for 927 yards in the air last season. He threw eight touchdowns and two interceptions.
Carpenter was also a ground threat, rushing for 390 yards and a touchdown.
Chadwell expects a starter to be named prior to the first game.
Coastal Carolina finished the 2019 season with a 5-7 record, one win shy of achieving bowl eligibility.