Coastal Carolina student Ryan Lowndes places cut up bits of Boston Mackerel on hooks as the 25-foot research vessel bounces along Winyah Bay waves.
He hopes a shark will be on the other end of the line when it's pulled back in 45 minutes later.
There was not a cloud in the sky as more than a dozen people maneuvered around the boat that made its way throughout Winyah Bay, going as far as about 10 miles from the Harborwalk. Four CCU graduate students, including Lowndes, showed the three undergrads the ropes as they chopped up bait, baited hooks and prepared equipment for water sampling.
A second-year graduate student, Lowndes has been going out into the bay since late April conducting research on how magnetized hooks could potentially be beneficial to the conservation of sharks.
"I've always been interested in magnetism, electrical currents and how sharks can pick up on those things where most other fishes can't," Lowndes said. "I know of other work that's been done using magnets to deter sharks and I've seen some success and I wanted to build off of that."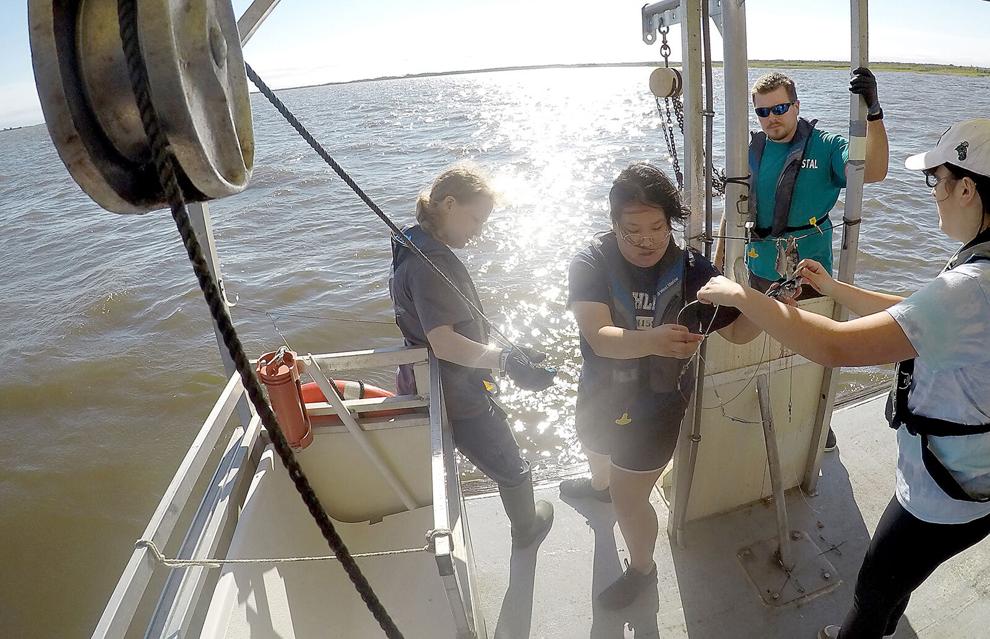 By using the sensory pores in their heads, sharks have the ability to detect electrical currents that are generated by their prey. However, recent studies have shown that magnets disrupt this ability and can ultimately deter sharks from coming near a magnetized area.
Lowndes didn't have to look far when it came to finding help on his graduate research project. Lowndes' advisor was Craig O'Connell, a researcher in shark repellants. And O'Connell worked with Dr. Dan Abel, shark biologist and professor of marine science at CCU, during his time at the university.
"[O'Connell] was my graduate student and we worked on this about 8 or 10 years ago," Abel recalled. "Ryan came here very interested in that, but we weren't sure if we would be able to accommodate him. What Ryan is doing is investigating the use of hooks that will catch the targeted species, which could be mahi, tuna or swordfish and fewer of the shark and ray species. It's an interesting science question that will have implications for both fishers and conservationists."
Lowndes looked at previous research done on the topic and ran, or in his case, swam with it.
"I went to do these smart hooks and next generation smarter hooks based off of the ideas of prior experiments that have been done with the hopes that these experimental hooks deter sharks more than the control hooks," Lowndes said.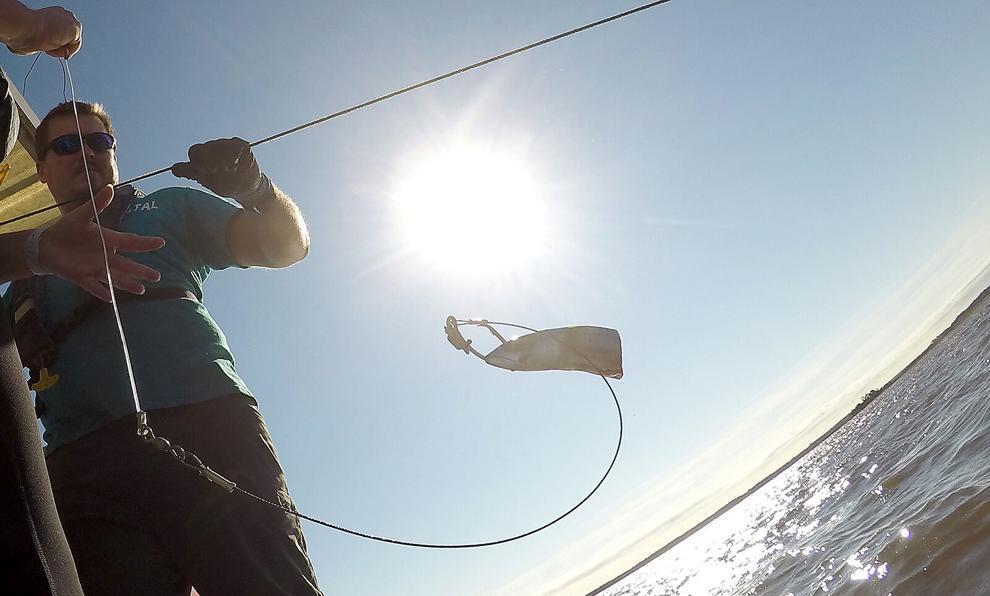 Should Lowndes' research prove that magnetized hooks can keep sharks away from fishing lines, it would not only help lessen the number of sharks caught in commercial fishing lines but also give fishers more product to haul in instead of losing it to an unwanted catch.
Each year, millions of sharks around the world are killed for their fins and meat or caught accidentally as bycatch – an unwanted fish and other marine creatures caught during commercial fishing for a different species.
A recent study from the International Union for Conservation of Nature (IUCN) showed that in 2014, 288 of the 1,199 species of Chondrichthyes – which includes sharks, rays and chimeras – were threatened. Now, nearly 400 species (or 32.6%) are threatened with extinction. The research also shows there are three species that are critically endangered (possibly extinct) which represents the possibility of the first global marine fish extinctions due to overfishing.
"They're hurting real bad all across the world," Lowndes said. "Several species are endangered and one of the biggest problems is being accidentally caught as bycatch by commercial fisheries and recreational fisheries."
Currently, there are 13 species of sharks that are critically endangered, including the Sand Tiger Shark, which are the ones commonly seen in aquariums. There are 15 endangered species of sharks, including the Great Hammerhead. In January, a study published in the science journal Nature said the global abundance of sharks and rays have declined by 71% since 1970.
Lowndes hopes his research can help find something more practical when it comes to hooks for fishers.
"This would be a huge step in the right direction but we need to do more research about what to figure out what works best for each species," Lowndes said. "Each species is different, some of have shown that it is effective where in others it's not and what would be best for each fishery."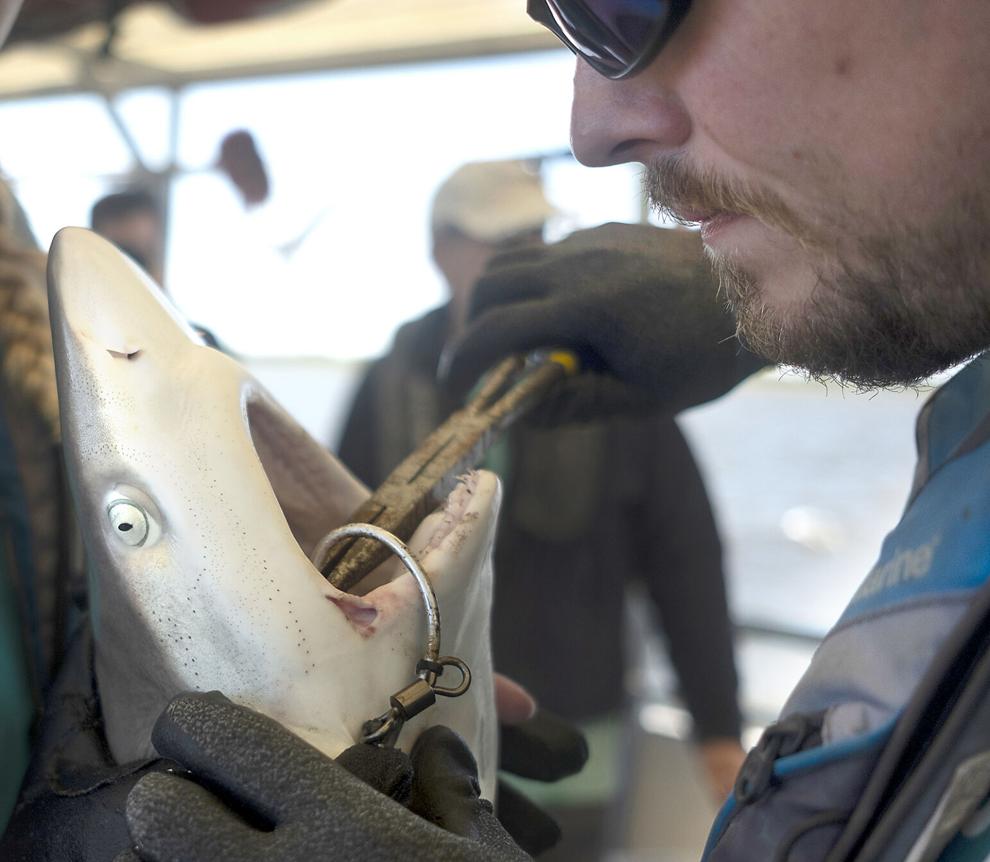 Prior to casting, students bait a total of four long lines with 25 hooks. There is a fifth line cast but it only has the carcass of a small shark attached, hoping to catch a larger shark such as Lemon Shark or a Bull Shark. Each hook is wrapped with magnesium, which takes Lowndes about 30 seconds to wrap per hook. Each hook has about 144 hours of submergence time, Lowndes said.
"It doesn't take that long," Lowndes said. "It's the magnetization that eats up the most time."
When it comes to the amount of time it takes to magnetize the hooks, well, Lowndes said it depends.
"Sometimes it's really cooperative," Lowndes said. "I'll run the magnet along the hook five times and everything is at a perfect level. But sometimes, for whatever reason, the magnetic field gets distributed improperly and I have to start over."
Of the 25 hooks per line, 15 of them are controlled or unmagnetized, while the remaining hooks were the experimental ones. The hooks were all placed in a particular order and for good reason.
"We do it this way because as sharks come in and they approach the line they are literally presented with a choice," Lowndes said. "You have three controlled treatments and the experimental hooks and the idea is if they choose the control over the experimental, that weighs a lot more than if I laid out a line of controlled and a line of experimental. Because then you can't be sure if the shark is taking the first thing it came across or is it taking it because it didn't want three or five."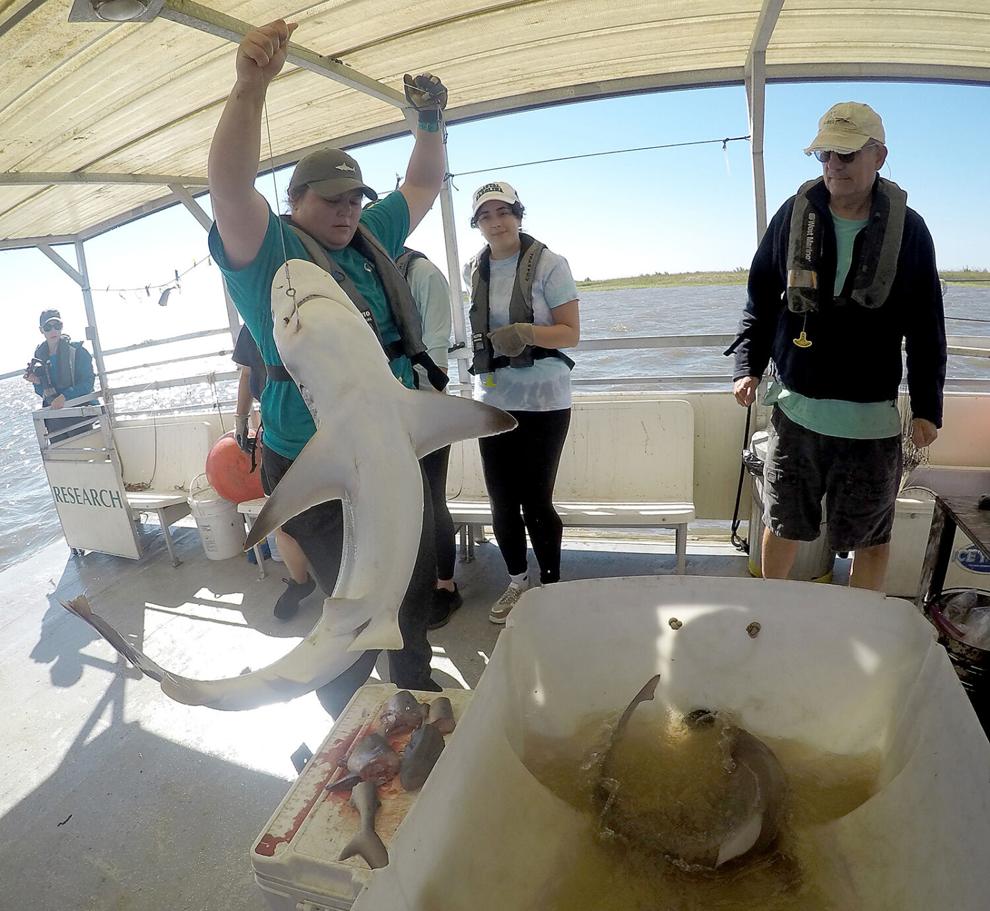 Lowndes was not the only graduate student out conducting research on a recent September boat trip on Winyah Bay — Kristina Flanigan was on board taking water samples for her research on environmental DNA (eDNA) to monitor shark community structure and habitat usage.
Flanigan uses a Niskin bottle to collect her samples and lowers the bottle 10 feet into the water column.
"That ensures that all of my samples are coming from the same depth," Flanigan said.
The eDNA can be more cost effective and less invasive than longlining because it allows researchers to monitor the shark population even if those sharks aren't being caught, she said.
"We caught a lot of Sandbar sharks but we didn't see any bulls, so hopefully my research will be able to tell us what animals are here that we aren't catching," Flanigan said.
Since April, Lowndes said research groups have picked up nearly a dozen species of sharks in the Winyah Bay, most of which have been entirely Sandbar sharks.
"Winyah Bay is very important to the juvenile sandbars," Lowndes said. "We also get Blacktips, Spinners, Bulls, Lemons, Atlantic Sharp-nose and in the winter time we get Spiny Dogfish and Dusty Smooth-hound. Most of the time, it's going to be sandbar, but sometimes we're going to have a day where we catch a bunch of everything else. Every day is fun, but those are the really exciting days."
Lowndes said they have been catching more Lemon sharks in recent weeks and had experienced a rather odd day on the water when it came to their catch.
"The Lemons are exciting to see because they're so huge and so beautiful. They're personally my favorite shark," Lowndes said. "Early on, it was a weird day, we caught 12 or 13 spinner sharks out of nowhere. We must've hit ourselves with a school that day."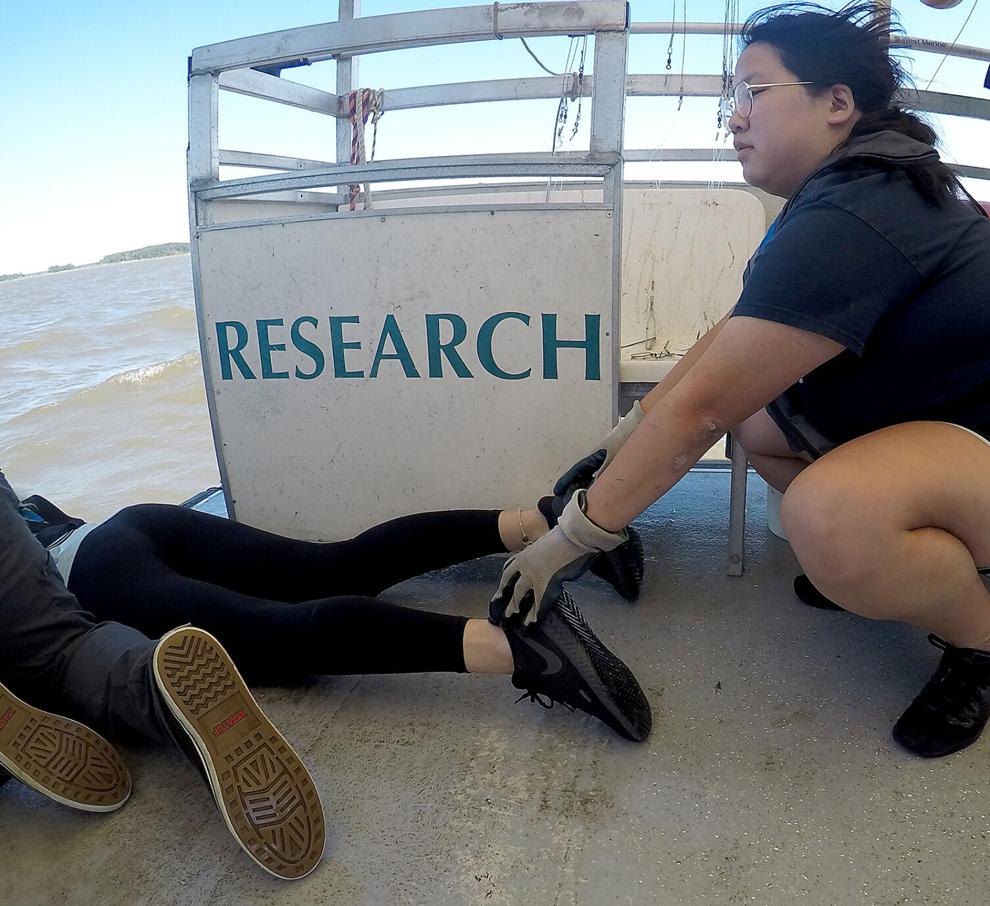 Lowndes came to Coastal from the University of North Carolina Wilmington last fall. Unfortunately, due to the COVID-19 pandemic, longlining trips were not possible because of the protocols.
"It was difficult but there was nothing you could do about it," Lowndes said. "You just hoped that things get better and you'd get out here as soon as you possibly can. It wasn't ideal but it was something that we had to live with."
Not being out on the water did have its benefits as he was able to get affairs in order when it came to his research paper.
"I used a lot of that time to write my project proposal, which helped me get everything straight in my head and helped coordinate with my committee members and make sure I had a game plan going into it when I started," Lowndes said.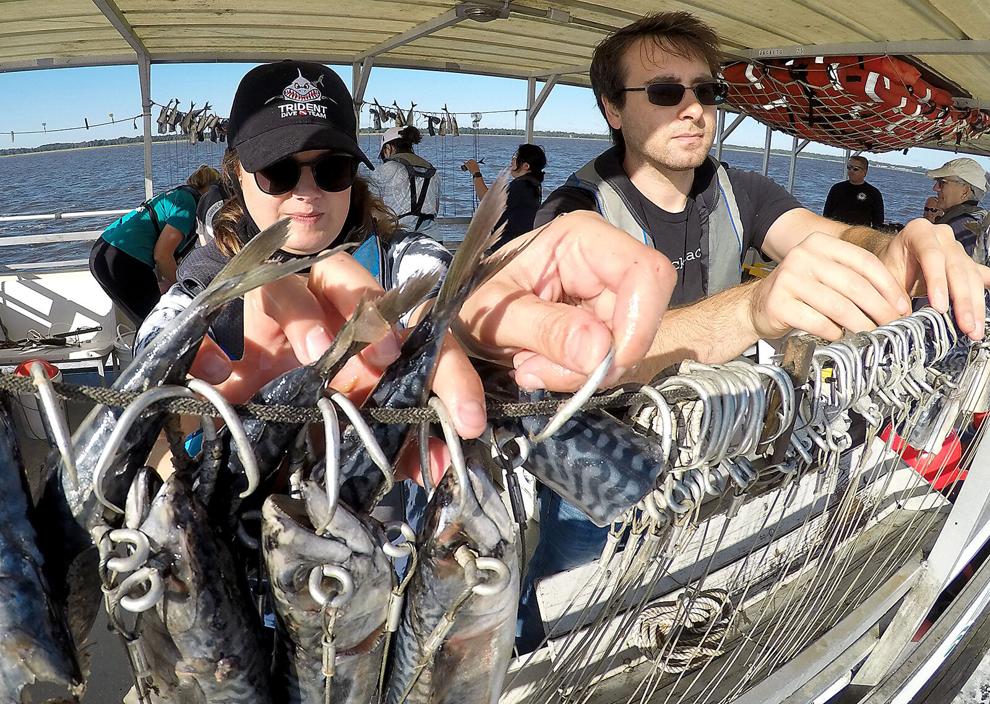 Since starting back in late spring, Lowndes is overjoyed being back and has been on every boat trip in the fall so far.
"I will take a day out on the water over any other kind of day," Lowndes said. "The worst day on the water is better than the best day in an office in my opinion."
Having these trips back is something that Abel called a breath of fresh air.
"Being out in the environment and the wide-open views, seeing the animals we haven't seen in a long time and it's great having the students back doing work," Abel said. "I think anybody who works in the field is happy to be back."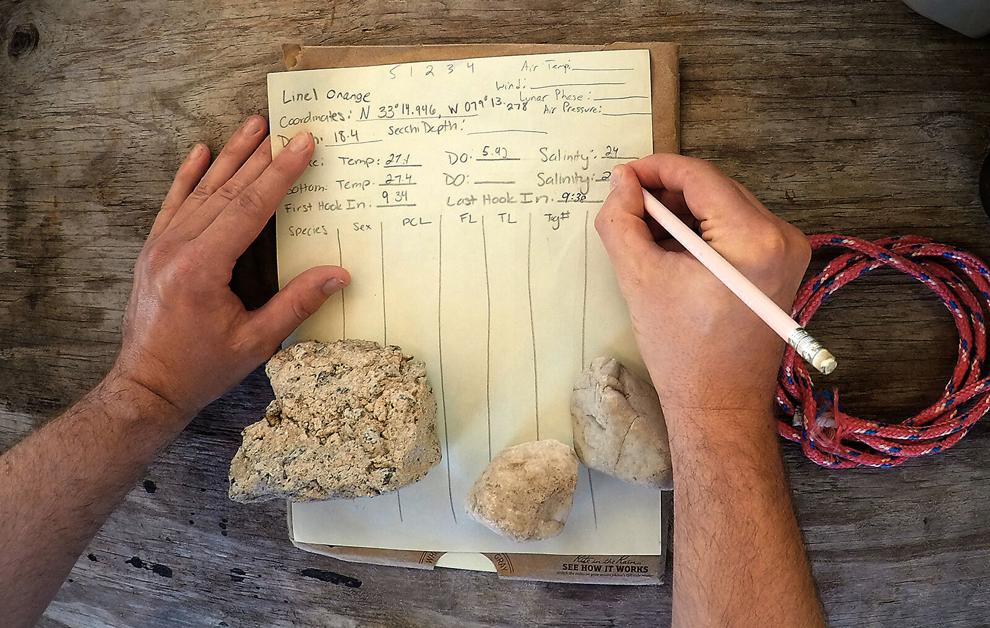 On Thursday, Sept. 23, a total of 11 sharks were caught, all were Sandbars. The largest shark caught was 149 centimeters, or roughly 4-feet, 11-inches. All sharks that were caught were measured, had their hook removed and released back into the water.
"Today was a good day," Lowndes said. "Everyone did their job. No one got hurt. None of the sharks got hurt."
Of the 11 sharks, nine of them were hooked on the controlled hooks (non-magnetized). The two that were caught on the experimental hooks were the two largest sharks caught on the day.
"Maybe the more work we do, we will be able to see these metals do repel some of the sharks but maybe there are ones that have a higher potency that can repel the biggest sharks," Abel said.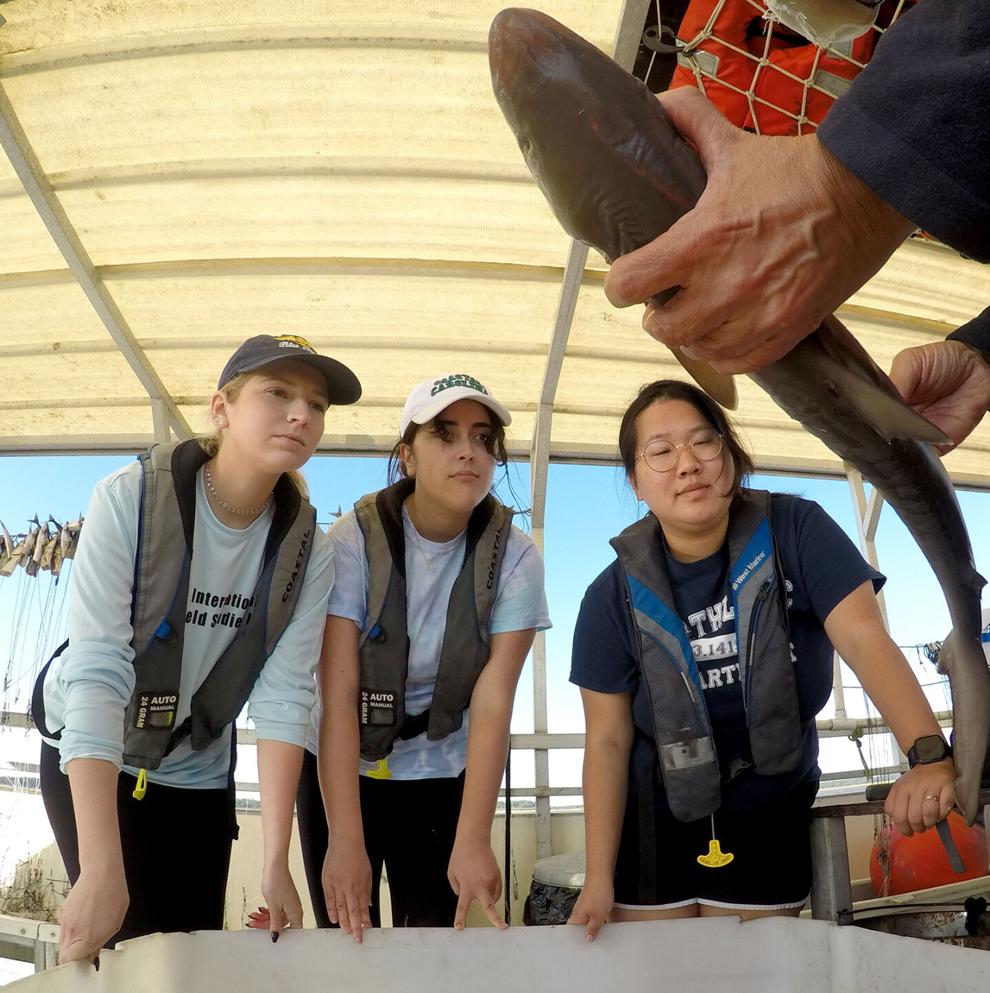 While the data collected Thursday bodes well for Lowndes's research, he still cannot make any definitive conclusions. Lowndes has to do a power analysis, a statistical term used for calculating how many sets or how many samples you'll need to collect in order for something to be significant.
"So far the trend looks like the experimental hooks are catching less sharks," Lowndes said. "Granted, I can't speak on all species. The only ones we've caught in significantly high numbers are Sandbar sharks, it's one of the few places in the world where you consistently catch Sandbar sharks. So far, the experimental hooks are catching less than the control but I can't make any definitive conclusions. I cannot say that they're working. I cannot say that they're good or bad. All I can say is that's it's trending."
With the hopes of graduating in May, Lowndes is aiming to complete his power analysis prior to that date.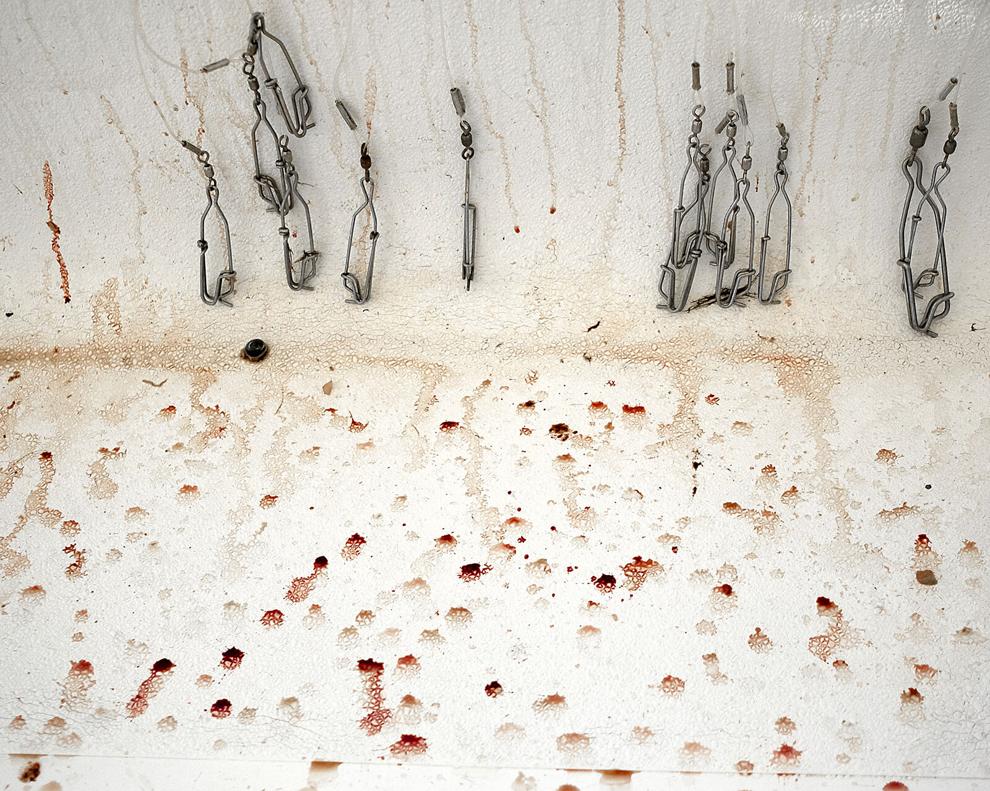 Thursday was a good day for Flanigan's research as she was able to get a water sample from each of the four longlining stops.
"That's all I could ask for," Flanigan said. "I love seeing the presence of sharks and I hope that's reflected once I process them in the lab. I think it was a good day. The weather was good. We got to see an average of two sharks per line. We had a lot of involvement from the students and guests on board."
The interactions between sharks and students on the trip hits home the two main reasons why Abel organizes trips like these.
"They say that science is learned in the lab and in the library but I like to add in the field as well," Abel said. "[The students] are in class learning about sharks but out here they're catching them, holding them and learning so much more. They also develop this attachment to the animal and they care about. It's gratifying."