Officially, Kevin Armstrong's North Myrtle Beach barbershop has been closed, but the haircuts hadn't stopped. 
Until Tuesday, that is. 
"So of course, somebody called in, made a big stink," Armstrong said. "Maybe I didn't cut their hair quick enough or something."
S.C. Gov. Henry McMaster's March 31 executive order closed a handful of "non-essential" businesses that the state thought could be breeding grounds for the novel coronavirus, the source of the highly contagious and potentially deadly COVID-19 pandemic that has shut down most of South Carolina's economy and caused rocketing unemployment claims.
That shutdown included hair salons and barbershops, which will be allowed to reopen on Monday. But with his business officially shuttered, Armstrong filed for unemployment.
"We've really killed this economy; we've shut it down," he said. "People like myself, sole proprietors, people that work for themselves as bartenders, waiters, waitresses, this is what the beach is about. Those people are hurting."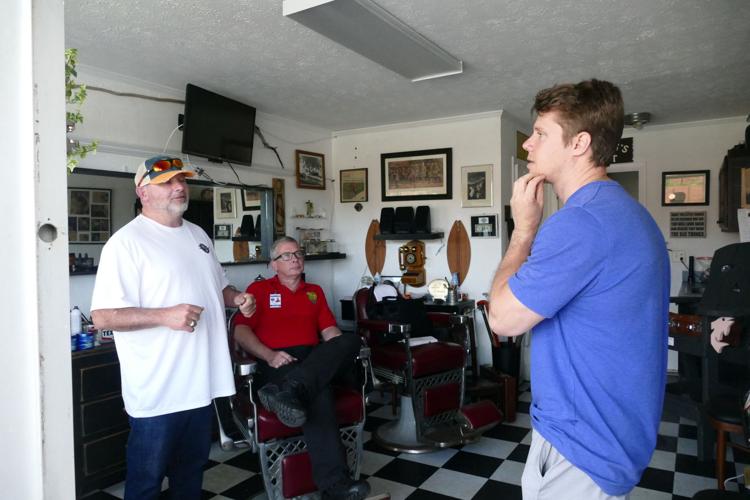 The barber from West Virginia got his start in the Grand Strand about four years ago, working at the Ocean Drive Barbershop in North Myrtle, before opening a place of his own a couple months ago in Crescent Beach. 
The shutdown hasn't stopped him from cutting hair for his regulars, which include first responders, bartenders and nurses, most whom wear their hair "high and tight" and come in frequently for a trim.
"I told them I'm not charging them, but if you want to donate something to me, that's fine," Armstrong said. "And it's worked out." 
But on Monday night, he got more than he wanted in return for the haircuts. North Myrtle Beach police stopped by and gave Armstrong a warning.
City spokesman Pat Dowling said the officers showed up in response to a complaint, and found the business closed, but Armstrong admitted to having people in his shop. Officers gave him a warning instead of a citation, because he had no prior reported violations.
Armstrong said officers told him that his business license could be pulled if he cut hair again in violation of the order.  
"I am not going to give them the opportunity to do that to me, because I've got too many people depending on me to cut their hair, and I'm depending on me cutting their hair for a livelihood," Armstrong said.
Gov. Henry McMaster on Monday announced that a wide range of businesses shuttered for the CO…
But Dowling that a subsequent violation would not trigger the city to take his business license.
"He wouldn't lose his business license," Dowling said.
As soon as the barber showed up to his shop on Tuesday morning, so did North Myrtle Beach police, who parked their vehicles across the street. After a quick chat, Armstrong told them he wouldn't give anymore cuts until he was legally allowed to reopen.
The warning left North Myrtle Beach Rescue Squad Chief Chris Price without a trim he had scheduled for Tuesday.
"If I'm working with a patient in the back of an ambulance and I can't cover their mouth because they're short of breath and they're coughing, the last thing I want is hair that's ungroomed, unkept, collecting those droplets," Price said after showing up to the shop. "As an infection control officer, it just blows my mind how they can ask us to wear masks, ask us to take all these other precautions, but not to encourage proper hair grooming is a failure."
The virus can be spread through the air by people who are coughing or sneezing. That presents a problem because it's hard to determine where those infected droplets might end up.
One of those places is in your hair. 
"You're gonna protect your eyes, you're gonna protect your face and then the next thing you know, it's in your hair," Price said. "You take your mask off, you run your hand through your hair and now you've spread it to your fingers."
Armstrong is taking some precautions while giving haircuts. He's stocked with bottles of sanitizer and regularly mops and cleans.
The folks who came in for cuts wuld generally wait in their vehicles until it was their turn, to make sure the shop had no more than three people inside at any given time.
One of those customers was North Carolina state Sen. Todd Johnson, who represents North Carolina's 35th District, near Charlotte. He owns The Cigar Shop in North Myrtle Beach. 
On April 15, two weeks after the shutdown, he came in for a cut. It was his first visit to the shop, and he needed a clean-up.
"I just needed a haircut and somebody told me this was the place to go," Johnson said. "For me, I keep it short because of my grey hair. I don't look quite as grey when I have it short."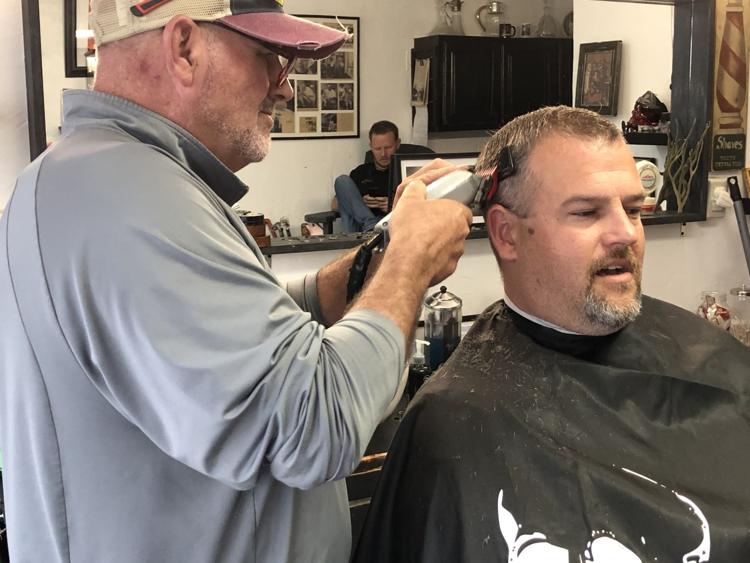 Johnson said he knew the virus was a serious threat, but said the media had helped stir up "hysteria" surrounding the pandemic. He advocated proper hygiene as one way to slow the spread. 
"What we've seen through a lot of this, there's a push to tell people to wash their hands," Johnson added. "There's a push to tell people not to get in people's faces. There's a push to tell people 'be mindful when you're grabbing gas handles.' That's stuff we should already be doing anyways, whether you're in the middle of a pandemic or just in the middle of life."
Not everyone who donates to Armstrong has gotten a haircut. The barber said several of his regulars have sent him the amount of money they would normally spend at the shop to help ensure their hangout is still open when the restrictions are lifted. 
"They went ahead and paid me anyway like they'd came in here and got a haircut, just to help me out," he said. "That was just killer. People who do stuff like that, without nothing in return, that's what it's about, man."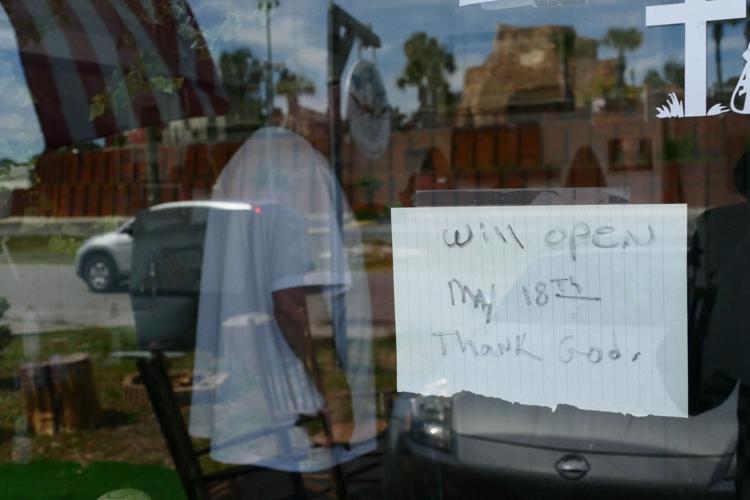 Next Monday, Armstrong and every other barber in South Carolina will be allowed to reopen. 
That includes Shaun Swinson, who's owned Maestro's Symphony for Hair in Atlantic Beach for the past five years. On Tuesday, he was getting the shop ready for customers. 
He had surgery on his right arm on March 26 and wouldn't have been able to work anyway during the early days of the shutdown. 
"It kind of worked in my favor somewhat, because I just had a surgery, so I've been out of work since the beginning of the year," Swinson said. "I'm not complaining. Financially, it's been a struggle."
Swinson, a barber for 35 years and a business owner for 25 years, said he'll regularly clean and sanitize his equipment, restrict the number of customers inside, ask everyone to wear a mask and will temperature-check everyone who comes in. 
But he gets a lot of business from tourists, and is worried about infected people from northern states bringing the virus into the area. "I really want to protect my other clients from them," he said.
And while he hopes for the best, no one knows how long the virus will be around. The Centers for Disease Control and Prevention estimates that half of Americans could be exposed to COVID-19 in the next two years.
"Life has really changed right now," he said. "This may be for the rest of our lives."